Subscribe/Access
Advertisements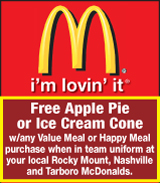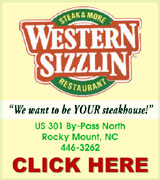 Sections
Member Options
Back
DOT studies adding interchange on I-95
The North Carolina Board of Transportation recently awarded a $2.2 million contract to widen 1.4 miles of Sunset Avenue. And, in a few years, Sunset Avenue could be seeing an even bigger makeover as the Department of Transportation is considering an interchange in the area.
An information citizens informational workshop will be held on Tuesday, February 12 on the proposed project. The project proposes an interchange at Sunset Avenue and I-95 in Rocky Mount. More ...
By Amanda Clark, Graphic Staff Writer
Wal-Mart to open March 5
Wal-Mart is now accepting applications for its Nashville location, which is scheduled to open on Wednesday, March 5.
The 143,000 square foot facility is looking to hire around 250 employees, said Manager Abigail Davis.
Davis was recently named the manager of the Nashville location and moved from Mississippi. She has worked for Wal-Mart for 18 and a half years. More ...
By Amanda Clark, Graphic Staff Writer
EAGLE LANDING
A bald eagle was spotted in Nashville on Friday and Saturday of last week. On Friday, an eagle was spotted in the Taylor's Crossroads area and on Saturday afternoon, an eagle landed at Birchwood Country Club. Pictured, the eagle sits in a Pine tree on the golf course. According to David Allen, Wildlife Diversity Supervisor for the North Carolina Wildlife Resources Commission, spotting an eagle isn't as rare as it once was. ""There are a fair number of eagles in the state," Allen said. Allen said eagles are more common in the northeast part of the state, from Raleigh east and north and estimated around 100 nesting territories in North Carolina. More ...
1 opinion posted
Momeyer town hall to relocate
In the coming months, the Town of Momeyer will be moving its offices to a new facility across the street.
The town purchased the former home of Russell and Blonnie Windley in April 2007. The house was built in 1951. More ...
By Amanda Clark, Graphic Staff Writer
Nash Arts gets new director
Kimberlee Cianciola has taken over as Executive Director of Nash Arts.
Cianciola replaces former Director Maureen Kroncke, who announced her resignation in December.
Cianciola, a Massachusetts native, has lived in Rocky Mount since 2002. She said she has, in the past, attended events at Nash Arts and was intrigued with the former Baptist Church facility. More ...
By Amanda Clark, Graphic Staff Writer
Castalia studies road maintenance plan
At January's monthly business meeting held on Tuesday, January 7th, Castalia Commissioners discussed ways to maintain the streets that it has taken them so long to repair. Mayor Ellene Leonard suggested that the town hire someone part time to maintain not only the streets, but also the buildings of the town. More ...
By Amelia Harper, Graphic Staff Writer
Library opens January 17
Nashville's Harold D. Cooley Library will celebrate its new facility with a ribbon cutting on Thursday, January 17 at 1:30 p.m. Thursday will also be the library's first day open. More ...

It's Your Party opens in Nashville
Children in Nashville and surrounding areas can now find fun just around the corner as It's Your Party recently opened up on Barnes Street in Nashville.
Kay Yanez, owner of Stonybrook Childcare, said she has wanted to open a place for kids after looking for places to take Stonybrook kids and having to drive to Rocky Mount. Stonybrook has locations in Nashville and Spring Hope and Yanez said the day care wanted somewhere close by they could take the kids to have fun. Plus, she added, Nashville needed something fun for kids to do. More ...
By Amanda Clark, Graphic Staff Writer
Spring Hope seeks funding for wastewater system upgrades
Spring Hope's Board gave the go ahead for a preliminary engineering report that will be the starting point for major upgrades to the town's 50-year-old wastewater treatment plant.
Kevin Varnell, an Engineer with Stocks Engineering, told board members that a preliminary engineering report would outline the things that needed to be done to the plant. He added that the plant has had no upgrades since it became operational. More ...
By Amanda Clark, Graphic Staff Writer
New park seeks volunteers
"We are making good progress on the park construction," Mayor Alfred Wester said last week at the regular Red Oak town meeting held last Monday. "The contractors are making good progress in clearing the land, especially now that the burning ban has been lifted." More ...
By Amelia Harper, Graphic Staff Writer
Local bank employees earn awards
Amy N. Beasley, Vice President in the Nashville branch, was selected as Division II Business Development Officer of the Year at a recent Southern Bank awards ceremony held at the Homestead in Hot Springs, Virginia. More ...

It's time for Nash County Relay
Yes, Relayers, it's that time of year again. Go ahead and put April 25 and 26 at the Rocky Mount Athletic Stadium at 6 o'clock on your calendar. Early registration deadline for teams is Thursday,January 17, 2008, at Calvary Baptist Church. Old teams, new teams, survivors, care givers, or just any folks who are interested and want to help in our fight against cancer. Team packets and information will be given out Thursday night. For those of you that haven't been "bitten by the relay bug" yet, let me share some very important facts with you. More ...
By Peggy Winstead
Club supports fight against cancer
The Culinary Club has nurtured Nash County residents for decades, preparing good food for many local families and businesses.
The organization chose to continue its caring in 2007 with a donation to the American Cancer Society. Their gift will support all residents of Nash County by helping to fund research, education, advocacy and service which is saving lives and supporting patients throughout the county. More ...

ENGAGED
Mr. and Mrs. Michael P. Murphy of Nashville and Mr. Larry R. Woodcock, of Rocky Mount, announce the engagement of their daughter, Natalie Anne Woodcock of Nashville, to Cameron Blake McKeel of Red Oak. The groom-elect is the son of Mr. and Mrs. Dwight Lee McKeel of Red Oak. An April 5 wedding is planned for 4:30 p.m. at Lakeside Baptist Church in Rocky Mount. More ...

Locals welcome veteran home from tour of Iraq
A local group welcomed Brent Williams home from Iraq with a lunch reception at the Town and Country Restaurant last week.
A group of Nash County residents, mostly veterans, showed their support to Williams through a luncheon at the restaurant. The event was set up by Larry Womack, who is the Second Vice Commander of Nashville's American Legion. More ...
By Amanda Clark, Graphic Staff Writer
Griffiths appointed VP of instruction at NCC
Nash Community College announces Deborah Griffiths has been appointed as Vice President for Instruction. Prior to becoming Vice President, Griffiths was the Department Chair for the Health Sciences Department at Nash Community College. More ...

2007 YEAR IN REVIEW
JANUARY
• Nashville's Town Council repeals sections of the town's animal ordinance. The ordinance was a replica of the county's ordinance so the town's attorney suggested taking out all parts that referenced the county. The remaining ordinances were placed under a separate chapter titled, "Animals." The issue was brought up during the ongoing legal dispute between the town and Adele Maynard regarding her dogs. More ...

Area students win art awards
Five local students won eight art awards in the 2008 Eastern/Central North Carolina Scholastic Art Awards competition. More than 75,000 students in grades 7-12 submit artwork to this contest on the regional level annually. Around 30,000 win regionally, and about 1,000 regional winners earn national awards. More ...

Mt. Zion FWB Church News
Our choir sang "Angels, Move Over" for the call to worship. Pastor Rogerson prayed the invocation and welcomed everyone. He is glad to be back in the pulpit, but still has some pain when he breathes deeply. More ...
By ROSALENE BASS
Castalia Baptist & Community News
Castalia Baptist is busy with new bible studies. On Sundays we are doing Experiencing God and Extraordinary Marriage. On Mondays at Eloise Hux's home we are studying Beth Moore's new Stepping Up study on the Psalms of Ascent. Lots of good bible reading and fellowship at the same time. More ...
By KATHY FREEMAN-ROBLES
Beulah Community News
Sunday school began at 9:45 a.m., led by our superintendent, Kenneth Massengale. We had a good attendance. After prayer and a few songs, everyone went to their classes. More ...
By WILMA ENROUGHTY
Brooklyn Community News
I would formally like to introduce you to the Brooklyn Area Community Watch.
Let me start with Brooklyn. Brooklyn – is a street located in Nashville. Area – refers to the surrounding streets in the area. Community – is defined by Webster as "a unified body of individuals or the people with common interests living in a particular area or an interacting population of various kinds of individuals in a common location." More ...
By LENA SESSOMS
Ephesus Community News
Wanda Barrett and Cleecy Richardson came into the Christian fellowship of Ephesus Baptist Church on Sunday morning during the worship hour. They were both by letter from their former church. They both want to serve the Lord with love, peace, joy, honor and praise with us each day. More ...
By LOTTIE LOU DICKENS
Red Oak Community News
Several women from Red Oak Baptist Church participated in the Adopt-a-Dorm Bible Study at Fountain Correctional Center in Rocky Mount on Jan. 7. Nell Boone led the study. Others attending were Marilyn Boone, Audrey Pearce and Suzy Pearce. More ...
By SUZY PEARCE
Peachtree Community News
The winter "blahs" have set in, but the warmth of fellowship was felt by those attending Peachtree Church on Sunday Morning. The services began with Sunday School and the lesson was based on Psalm 32, written by King David as he celebrated receiving forgiveness for his sins. The altar flowers were given by Jane May in memory of her late husband, Perry. Pastor Whitehouse chose as his sermon topic "Knowing, Growing and Sharing the Power of God". More ...
By BARBARA HARDISON
Four states, three kids - need I say more?
I'm going to go ahead and start with a disclaimer:
Sometimes, it doesn't matter how your mama raised you, you're just bound to do some things that indicate your lack of wisdom or a failure to "act like you've got some sense."
I've been telling my mama that for years — generally in reference to all my siblings — but now I'm afraid that finger is pointing back to me. More ...
Mike Brantley
Saturday's eagle sighting was a grand experience
I was sitting at my desk Saturday afternoon trying to play catch up on the billions of things I have to do when the phone rang. Jo Anne answered it (she was playing catch up too) and then came to tell me that there was a bald eagle hanging out at Birchwood Country Club. More ...
Amanda Clark
Our local department still practices hands on community policing
Dear Editor,
Recently, while I was out of town for several days, the Nashville Police Department noticed a potential problem at my property in Nashville and called to inform me. Luckily, it turned out to be nothing, but I could not be more grateful for their effort. More ...
Letters to the Editor:
NC Nails The NEW-6
ROCKY MOUNT-Nash Central had one chance -- and one chance only -- to earn at least a tie in the final NEW-6 Conference wrestling dual meet standings.
That oppportunity came last Saturday when Central tangled with league-leader Rocky Mount as part of the NEW-6 Duals at the NC Gymnasium. More ...
By Geoff Neville, Graphic Sportswriter
SNHS Pulls Away
BUNN -- Big-time players are supposed to deliver in big games – and that's exactly what happened last week for the Southern Nash Ladybirds.
SN's Dynamic Duo of Alyse Hall and Shante Neal helped Southern score a pair of clutch victories, including a NEW-6 Conference conquest at Nash Central. More ...
By Geoff Neville, Graphic Sportswriter
Bulldogs' Raffle is scheduled
ROCKY MOUNT -- The 2008 NCHSABA Bulldog Reverse Raffle will be held March 1 at 6 p.m. in the Nash Central High School Gymnaium.
Tickets are $100 each. You can get them from a coach or booster club member.
For more information, call NC Athletic Director Michael Mosley at (252) 903-6725. More ...
From Staff Reports
Wayne's Wonders
ROCKY MOUNT -- Nash Central's boys remained undefeated in NEW-6 Conference swim action last Wednesday, but the Bulldogs were unable to deliver an overall victory at the Rocky Mount YMCA.
In addition to the usual half-dozen NEW-6 contingents, league organizers also invited three other schools -- Eastern Wayne, Tarboro and Erwin Triton -- to take part in the meet. More ...
From Staff Reports
Not This Time, SN
BUNN -- Even though they are of the non-conference variety, hardwood matchups between Southern Nash and Bunn always prove to be intense.
The backyard rivals are located 10 miles from each other, and BHS head coach Gerald Melton has plenty of Southern ties, as he used to be in charge the Ladybirds' girls hoops program. More ...
By Geoff Neville, Graphic Sportswriter
Wesleyan women defeated at Chowan
MURFREESBORO -- Chowan University avenged an early-season loss to North Carolina Wesleyan on Sunday afternoon, downing the Bishops by a 64-55 score in women's basketball action.
The Hawks used an 11-3 run to start the second period to turn a one-point halftime lead into a nine-point advantage, which proved to be the final margin of victory. With the loss, the Bishops now stand at 3-4 overall. More ...
From Staff Reports
Gryphons get pair of victories
ROCKY MOUNT -- Rocky Mount officials stopped selling tickets for their varsity contests with Northern Nash last Friday night just minutes after the girls game started.
This is just the thing NEW 6 Conference athletic directors wanted when the close-proximated league was formed. More ...
By Charles Alston, Graphic Sportswriter
Nashville Opry set for January 26 at Ag Center
Elvis has returned and on January 26, he will make his debut in Nashville with a performance at the 30th annual Elsie Clark Memorial Nashville Opry.
Elvis is just one of many performers expected to grace the stage at the Saturday event. Others include Ronnie Ezzell, Joe Tripp, Fire Station, Linda Ripke, Russ Varnell, the Smith Brothers and the Bunn Boys. More ...
By Amanda Clark, Graphic Staff Writer
VEDA F. CLARK
WASHINGTON, D.C. – Veda F. Clark, Esquire, (formerly of Rocky Mount), died Friday, Jan. 4, 2008. Funeral services were held Jan. 12 at Ebenezer Missionary Baptist Church with Dr. Thomas L. Walker officiating. Interment followed at Gardens of Gethsemane. More ...

MERLE R. MCNAIR
ROCKY MOUNT – Ms. Merle R. McNair, 71, died Monday, Jan. 7, 2008. Funeral services were held Jan. 12 at Word Tabernacle Church with the Rev. James E. Gailliard officiating. Interment followed at Gardens of Gethsemane. More ...

MERLAND PERINEL "BEAR" HINES
ROCKY MOUNT – Merland Perinel "Bear" Hines, 80, died Friday, Jan. 4, 2008. Funeral services were held Jan. 12 at Ebenezer Missionary Baptist Church with the Rev. Cornolious Moore officiating. Interment will follow immediately at Gardens of Gethsemane. More ...

THOMAS F. BALLAND JR.
(June 25, 1964 – January 13, 2008)
NASHVILLE – Thomas Frances Balland Jr., 43, passed away Sunday, Jan. 13, 2008. He was born June 25, 1964 in Long Branch, New Jersey. Thomas's passions were children, animals, the Carolina Panthers and the Braves. More ...