NC Nails The NEW-6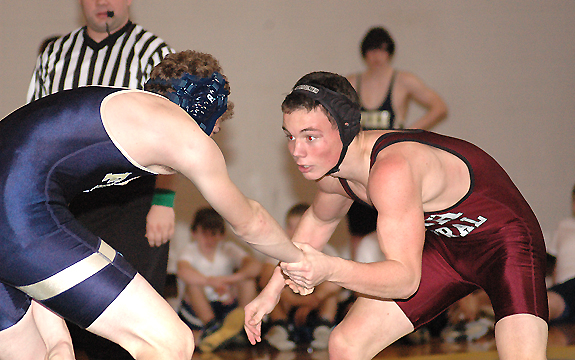 ROCKY MOUNT-Nash Central had one chance -- and one chance only -- to earn at least a tie in the final NEW-6 Conference wrestling dual meet standings.

That oppportunity came last Saturday when Central tangled with league-leader Rocky Mount as part of the NEW-6 Duals at the NC Gymnasium.

Each of the six NEW schools wrestled each other during the round-robin format, with results tacked on to the earlier-season results.

That list already included a Rocky Mount victory over the Bulldogs, so Nash Central needed a strong showing to draw even with the Gryphons in the closing event.

Central made the most of its chance, defeating RM 36-31 as part of an undefeated (5-0) day for the 'Dogs.

Nash Centrarl and RM both finished at 9-1 overall and will share the league crown. RM topped the Bulldogs 42-36 earlier in the campaign.

This time around, NC coach Lynell Perry shifted his lineup a bit, moving star Donny Wacenske up to 171 while inserting John Williams at 160.

Wacenske and Williams both earned six-point pins, while 140-pounder Steven Luper avenged an earlier loss. That point shift helped turn the matchup in Central's favor this time around.

"It all worked out for us,'' said NC head coach Lynell Perry. "We also got a little lucky, and I think having the home crowd behind us made a difference. Rocky Mount has a good team.''

Central is now 15-2 overall, but the Bulldogs have won 15 out of their last 16 dual matches following an opening loss to a solid contingent from Smithfield-Selma.

The Bulldogs have shown flashes of brilliance on the mat over the past few years, including heroics from several solid individual performers.

But Nash Central now has an overall team to be reckoned with, led by veterans such as Wacenske, Jasmine Cooper, Quinton Jeffries, Jacob Robinson and Ryan Kitchen.

"When we lost to Smithfield-Selma, some guys said, 'It's just like last year,''' Perry said. "Getting past that losing phase was hard for us. We have started to get more confidence in what we are doing. Last year, the kids would lose and keep thinking about it. It means a lot to us (to tie for first in the NEW-6).''

Nash Central also defeated Northern Nash, Southern Nash, Wilson Fike and SouthWest Edgecombe last Saturday.

The event's final results were as follows:

1) Nash Central 5-0
2) Rocky Mount 4-1
3) Northern Nash 3-2
4) Southern Nash 2-3
5) Wilson Fike 2-8
6) SW Edgecombe 0-10

The season-ending league results are as follows:

1) (tie) Nash Central and Rocky Mount, both at 9-1
3) Northern Nash 6-4
4) Southern Nash 4-6
5) Wilson Fike 2-8
6) SW Edgecombe 0-10

Nash Central's individual records from last Saturday are as follows:

• 103 -- Miles Pringle 3-2
• 112 -- Jacob Robinson 4-1
• 119 -- Lance Parker 3-2
• 125 -- Anthony Famularo 4-1
• 130 -- Stanley Battle 1-4
• 135 -- Michael Dunn 1-4
• 140 -- Steven Luper 3-2
• 145 -- Jasmine Cooper 5-0
• 152 -- Ryan Kitchen 5-0
• 160 -- John Williams 4-0
• 160 and 171 -- Donny Wacenske 5-0
• HVY -- Quinton Jeffries 3-0 and Rashard Leonard 1-1

Cooper has a sterling 19-1 record on the season for the Bulldogs. Other top NC wrestlers this season are Wacenske (28-4), Kitchen (22-5), Jeffries (23-2) and Robinson (19-3).

Nash Central will return to the mat this Saturday as part of the annual Thomas Cowles Tournament at Southern Nash.

Several of the area's top squads will be in attendance, with action slated to start at 9 a.m.

League teams will then meet again Feb. 2 as part of the annual NEW-6 Conference Tournament, which will be held at the Northern Nash Gymnasium in Red Oak.

An individual format will be used for that tournament.
Printer-friendly format
---
---