SNHS Pulls Away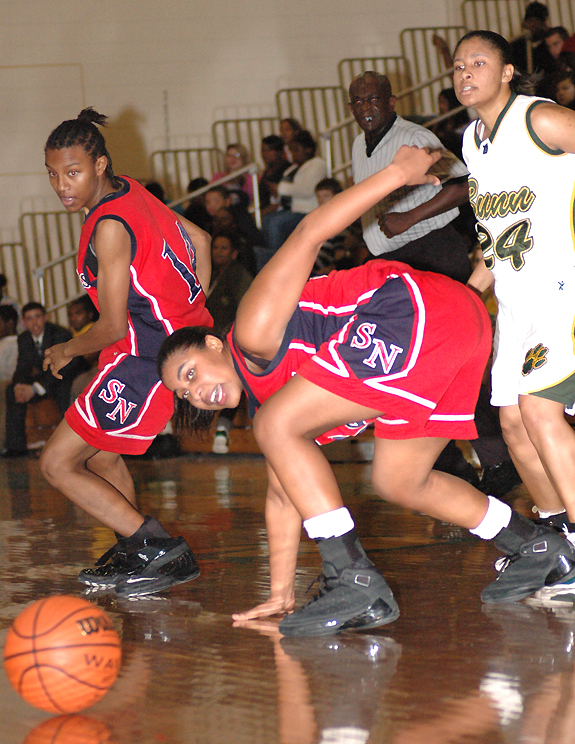 BUNN -- Big-time players are supposed to deliver in big games – and that's exactly what happened last week for the Southern Nash Ladybirds.

SN's Dynamic Duo of Alyse Hall and Shante Neal helped Southern score a pair of clutch victories, including a NEW-6 Conference conquest at Nash Central.

Last Wednesday, Neal poured in 19 points and Hall added 11 as the Ladybirds broke open a close game in the second half en route to topping homestanding Bunn 51-38 in a non-league event.

Southern continued its winning ways last Friday in the Ladybirds NEW-6 opener against Nash Central.

Hall came through with 23 points and 18 rebounds, and Neal offered 11 markers as Southern Nash outlasted the Lady Bulldogs 49-45.

Southern is now 9-4 overall to go with a 1-0 NEW-6 worksheet.

"They are doing what experienced players do,'' SN coach Scott Collie said of Neal and Hall, both of whom are juniors in their third year as starters. "It's been a good thing for us -- they have been very consistent throughout the season.

"Alyse has scored in double figures in every game except one, and Shante has done that in all but two games. And what we're getting from everybody else is also a key for us.''

Southern started out slowly against Bunn -- a club the Ladybirds had easily defeated earlier in the campaign in Stanhope.

The Ladycats were ready for this game, however, and Daniel Wright's motivated club trailed by only 26-21 at halftime.

But after Bunn collected the opening basket of the second half, the Ladybirds went on a 16-0 run to secure the decision.

Neal dropped in eight points during the decisive stretch, and Bunn would go scoreless for over seven minutes.

"Bunn has improved quite a bit since the first time we played them,'' Collie said. "In the first half, it seemed like all we wanted to do was run our offense. I told the girls that they needed to work harder on the defensive side in the second half.''

In addition to the excellence displayed by Neal and Hall, Southern Nash received eight points from steady point guard Valesha Brown, along with five markers from wing Domonica Coleman. Post Arnesia Kirtz offered four points.

Southern then tangled with Nash Central in a much-anticipated NEW-6 opener. The Ladybirds appeared to be in control at halftime, leading by a 26-17 margin against Terri Cash's squad.

But Central roared back to within 34-33 at the end of three periods, and the Lady Bulldogs would eventually surge ahead at 44-42 in the fourth quarter.

Hall would then come up with a clutch basket to tie the score at 44-44. Central got the ball back, but Brown, after a steal, drove the length of the floor and scored while being fouled with just 45 seconds remaining.

Brown converted the free throw, and Southern led by a 47-44 margin.

After a Central free toss, the Lady Bulldogs had a chance to either tie or move ahead in the closing seconds, but Southern's defense would stiffen.

Neal would then close out the victory for the Ladybirds with two clutch free throws with four ticks to play.

Jasmine Sessoms (13) and Jessica Harrison (10) combined for 23 points for Nash Central.

Collie had wanted to see how his Ladybirds would respond to the pressure of a tough NEW-6 game, and the Ladybirds were able to deliver in order to earn a victory over a solid Nash Central opponent.

With parity expected to be a keyword this winter, every NEW-6 girls basketball duel should be a showdown, with every club capable of beating the other on a given night.

Collie and his crew will have another tussle Thursday when the Rocky Mount Lady Gryphons invade the SN Gymnasium. RM defeated Southern in December as part of the annual Nash County Holiday Tournament.
Printer-friendly format
---
---