Not This Time, SN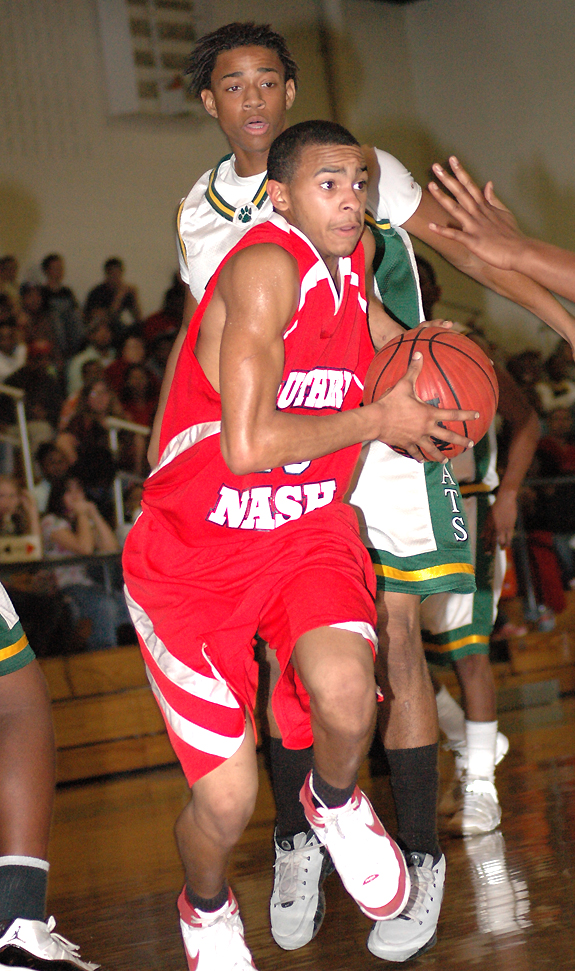 BUNN -- Even though they are of the non-conference variety, hardwood matchups between Southern Nash and Bunn always prove to be intense.

The backyard rivals are located 10 miles from each other, and BHS head coach Gerald Melton has plenty of Southern ties, as he used to be in charge the Ladybirds' girls hoops program.

Melton has maintained friendships with SN skippers Robbie Kennedy (boys) and Scott Collie (girls), and the teams often scrimmage against each other in the summer.

Melton's Wildcats may be going through an uncharacteristic slow campaign – at least with their win-loss record. But Melton doesn't want you to be deceived by Bunn's 4-10 boys basketball worksheet so far.

"We've been in every game this year except two,'' he said. "We just have been unable to hold on and win close games. We haven't been good when we've head the lead down the stretch. We haven't taken the steps we need to win those games."

Bunn got another chance last Wednesday, and the Wildcats made the most of the opportunity to claim a 41-38 non-league victory at home against Southern Nash.

Not only was it the second victory in a row for BHS, it also evened the season series at 1-1 between the foes. Southern Nash had stopped the Wildcats earlier in the campaign in Stanhope.

This time, Bunn got the best of the Firebirds in a back-and-forth game that wasn't determined until the final buzzer.

"This was good for us because we're trying to develop some consistency,'' Melton said. "This definitely helps. We're a young team, and we're gaining experience. We've had our chances in these games. We finally held on to win one.''

Bunn trailed by as many as six points in the first half, but a pair of second-stanza treys from Clay Thorne helped bring the Wildcats even at 17-17 at the break.

Bunn surged ahead in the second half, but Southern Nash roared back thanks in part to four clutch 3-pointers.

But following a made basket with 35 ticks left, SN was whistled for a technical foul for grabbing the ball while it was attempting to be inbounded.

Joey Batkoski drained the technical attempts, and Levon Stanley chipped in with four key free tosses down the stretch.

Still, Southern Nash had a chance to tie with a trifecta in the closing seconds, but a Firebirds' turnover resulted in a held ball as the clock ran out.

Thorne would lead Bunn in scoring with 13 points, while Stanley (eight) and Batkoski (seven) combined for 15 points. Melton also cited Nikko Alston and Stephen Wilder for strong rebounding work.

Tim Brathwaite racked up 10 points for the Firebirds, who made some big shots down the stretch, only to come up just short.

Southern Nash will return to the hardwood this Thursday when the Firebirds host the Rocky Mount Gryphons in a NEW-6, Nash County showdown at the SNHS Gymnasium in Stanhope. The boys game will tip off at approximately 7:30 p.m.

Rocky Mount defeated Southern Nash three weeks ago at the annual Nash County Holiday Tournament, which was held at the RM Gymnasium.

The Gryphons went on to win the event, while the Firebirds would finish in fourth place.
Printer-friendly format
---
---