Saturday's eagle sighting was a grand experience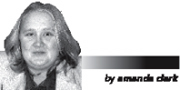 I was sitting at my desk Saturday afternoon trying to play catch up on the billions of things I have to do when the phone rang. Jo Anne answered it (she was playing catch up too) and then came to tell me that there was a bald eagle hanging out at Birchwood Country Club.

Just the day before, a gentleman had called to tell us an eagle was in the Taylor's Crossroads area, hanging out in a tree but I was out and about and by the time I got back in the office, it was later and I was afraid I had missed my opportunity.

So, on Saturday, I immediately took off and went to try to capture this once in a lifetime moment on camera. As I was driving there, I wondered if I'd be able to find this eagle. I've never seen an eagle and I had no idea really what they looked like. So I figured it may look like just another bird in a tree. I was wrong.

As I pulled around the curve near the pond at the golf course, I immediately saw it. There was no mistaken that this was an eagle. So I pulled over and got out and went over to take a picture. I shot two pictures with my small lens just in case he happened to fly away. Then, as I was trying to figure out how to switch lenses, the eagle took off and headed towards the actual golf course. I was slightly devastated because I was hoping to get a closer picture of him. So I hopped in my car and drove around the block to see if I could spot him. I didn't but I decided to go back to the country club and see if anyone else had. They had and they pointed me in the right direction. This eagle had flown to another tree and was perched in it. There were several people watching it and it was looking down, almost as if wondering why we were all so amused at its presence.

I finally did figure out how to switch my camera lens so I snapped a few more pictures and then just stood there and watched the eagle. It really is a beautiful animal. And, just like that, as if to say, we had seen enough, it took off and flew away.

It was one of those moments you never forget and as simple as it was, it made my day. That, and the fact that the country club people let me drive a golf cart. That was awesome too.
Printer-friendly format
---
---