Subscribe/Access
Advertisements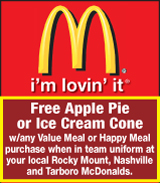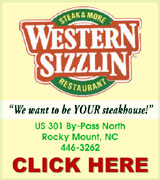 Sections
Member Options
Back
Locals caught selling Rx drugs
The Nash County Sheriff's Office has arrested six more Nash County residents on charges of selling prescription drugs.
The arrests are part of an eight-month undercover drug operation targeting street level suspects. The Sheriff's Office has been working for over a year on Operation:Punisher to infiltrate organizations operating in Nash County who distributed prescription pills, ecstasy pills, cocaine and marijuana. Sgt. Dennis Wooten, of the Narcotics Division of the Nash County Sheriff's Office, said the two operations were tied together.
More ...
Amanda Clark, Graphic Staff Writer
Towns offer new polling locations
Many registered voters in Red Oak and Castalia have received notices of new polling places for the upcoming elections. According to Nash County Board of Elections Director John Kearney, the decision to change the polling sites was made out of concerns for convenience and safety. All other polling sites are unaffected. More ...
Amelia Harper, Graphic Correspondent
Nashville says no to Ag Districts
The Town of Nashville has opted not to participate in the county's Voluntary Agricultural District program.
Charlie Tyson, Nash County Extension Director, has made rounds to each municipality in the county asking that they establish voluntary agricultural districts within their town limits. Nash County voted last year to establish Voluntary Agricultural Districts. The purpose of the Voluntary Agricultural District Ordinance is to promote agricultural values and the general welfare of the county. More ...
Amanda Clark, Graphic Staff Writer
ALL SMILES
Lee-Ann Walters, a first grader at Nashville Elementary School, tries on the hat of Nash County Sheriff Sergeant S.K. Ricks at Careers on Wheels Day last Tuesday at the school. Over 24 presenters came out to the school and parked their vehicles around the school, speaking to students about their jobs. All the classes got to rotate to each vehicle and learn about the different types of careers in their community.
More ...

NRMS Board concerned with K-2 achievement gap
"What are we doing for our kids who are not developing?" asked board vice chairman Evelyn Bulluck at the Nash-Rocky Mount Schools (NRMS) board meeting Monday night. "What are we doing to get them where they ought to be?"
The board reviewed a report on the system's assessment of grades K-2, which describes student readiness based on reading, writing, and math abilities at grade level. Based on NRMS Assistant Superintendent Connie Luper's report, the majority of students in grades K-1 entering the system this school year were classified as "still developing" readers and by the middle of the year the majority were classified as "developed" readers. More ...
Michele A. Cruz, Graphic Correspondent
Nashville Fire Department receives SAFER grant
The Town of Nashville was recently notified that they have received the Staffing for Adequate Fire and Emergency Response, or SAFER, Grant.
The grant, if accepted, will provide funding for the hiring of two additional full-time fire fighters. More ...
Amanda Clark, Graphic Staff Writer
Rocky Mount man faces drug charges
A confidential tip led to the arrest of a Rocky Mount man at a convenience store in the West Mount community.
The Nash County Sheriff's Office receive information on April 9 that 24-year-old Leandrous Murray, of Rocky Mount, would be at the West Mount Stop and Shop in possession of cocaine. Deputies located Murray in his vehicle at the Stop and Shop. During investigations, a handgun was seized. More ...
Amanda Clark, Graphic Staff Writer
DEPC hosts State of the Child Briefing
Community and business leaders joined together last week to hear a presentation from the Down East Partnership for Children (DEPC) on the issues facing our children today.
Obesity and poverty were the leading issues facing children in Nash and Edgecombe Counties.
Jessica Jones, who serves as the Research and Evaluation Director for DEPC, provided statistics on the two issues. More ...
Amanda Clark, Graphic Staff Writer
Nash County young farm couple learn to grow their business
A young Nash County farm couple, Brent and Sue Leggett, were among the inaugural group of young, beginning, small, and minority farmers who recently completed a Farm Credit University (FCU) AgBiz Planner program, sponsored by AgCarolina Financial, a farmer member financial cooperative serving central and eastern North Carolina.
More ...

MILITARY NEWS
Navy Seaman Elizabeth A. Mullins- Jones, daughter of Lynn Whitley of Elm City, recently graduated from the U.S. Coast Guard Recruit Training Center in Cape May, N. J.
During the eight-week training program, Mullins- Jones completed a vigorous training curriculum consisting of academics and practical instruction on water safety and survival, military customs and courtesies, seamanship skills, first aid, fire fighting and marksmanship. A major emphasis is also placed on physical fitness, health and wellness.
More ...


ROBINSON

Ward Drug hosts intern students
Ward Drug Company of Nashville welcomed Marchelle Robinson and Susie Goodnite to the pharmacy team for the month of April.
Marchelle is a student at UNC Eshelman School of Pharmacy. She completed the first three years of her coursework at Elizabeth City State University as part of UNC Eshelman School of Phamacy's partnership with Elizabeth City State University. She will graduate in May 2010 with her Doctor of Pharmacy degree. Marchelle was a member of Student National Pharmaceutical Association (SNPhA). More ...

Nash youth earn top spots in Meat Animal Show
Nash County 4-H'ers fared well in the 73rd annual Eastern Carolina 4-H Meat Animal Show and Sale, held April 6 and 7 in Rocky Mount.
Mark Hucks, Nash County Agriculture Extension Agent, said all the kids worked hard to prepare for this year's show.
PIctured (Above): Nash County youth earned the top four spots in the Lamb Showmanship competition at the Meat Animal Show and Sale. Pictured (L-R) is: Taylor Joyner, fourth place, Rebecca Peede, third place, Maryanna Bennett, reserve champion and Kayla Hartsell, grand champion, with Judge Colby Ferguson. More ...
Amanda Clark, Graphic Staff Writer
Federal drug bust nets 18 arrests in Nash County
Close to 50 Nash and Wilson County residents have been arrested over a three-year period for drug trafficking.
United States Attorney George E.B. Holding paid a visit to the Wilson County Sheriff's Office Tuesday morning to announce the conclusion of Operation Cold Wind, a joint investigation between the Wilson County Sheriff's Office, Wilson Police Department, Nash County Sheriff's Office and the North Carolina State Bureau of Investigations. More ...
Amanda Clark, Graphic Staff Writer

BIRTHDAY CANDLES – Peggy Winstead lights birthday candles at survivor tables in celebration of the number of cancer free years. Pictured at this table are (left to right) Elaine and Macon Robertson and William "Snookie" Sullivan.

Local cancer survivors celebrate birthdays
Around 500 survivors, caregivers and family of survivors came out to Englewood Baptist Church Monday night for Relay for Life's annual Survivor Dinner.
Nash County Ruritans sponsor the event, serving meals to those in attendance.
Tony Russ was the guest speaker for the event. More ...
Amanda Clark, Graphic Staff Writer
RURITANS SPONSOR SURVIVOR MEAL
Wallace Reams of the Momeyer Ruritan Club joins other Ruritans across Nash County to provide Monday night's meal to local cancer survivors. Ruritans cooked the meal and served guests on Monday night.
More ...

IN THE FIGHT TOGETHER
Betty and William "Snookie" Sullivan of Nashville pose with Jerry Pappas (right). Jerry and wife Retha have been volunteers with Relay for Life since 1996. Retha is an American Cancer Society Ambassador.
More ...

Beulah Community News
I hope everyone had a good week. At Beulah Church of Christ we have a lot of members, and friends, that are having health problems. Roger Parker had liver surgery which went really well. He came home on Sunday and hopes to regain his strength and be back with us at church. Merriette Rose went to the emergency room but doing some better and back at home. His wife Bell hasn't been feeling well also. More ...
WILMA ENROUGHTY
Mt. Zion FWB Church News
We had 91 in Sunday school. Zach Tyner read the Bible verse for today. The Beginners Sunday school class sang two songs for the Sunday school. Amy Tyner is their teacher. Amy is musical and is doing a good job teaching our children and youth to sing. They love it. We are pleased and glad for them. Thanks children for the good singing. More ...
ROSALENE BASS
Ephesus Community News
Pastor David Eidson delivered our message in word from John 3:19-21 (NIV) This is the verdict: Light has come into the world, but people loved darkness instead of light because their deeds were evil. All those who do evil hate the light, and will not come into the light for fear that their deeds will be exposed. But those who live by the truth come into the light, so that it may be seen plainly that what they have done has been done in the sight of God. More ...
DEBBIE PHILLIPS
Peachtree Community News
Sunday was another beautiful spring day as people gathered for worship at Peachtree. Pastor Whitehouse spoke on the scripture passage from Romans 9:1-5. His sermon topic was "What is the State of Your Soul?" part2. The choir sang "In Remembrance". Sanctuary flowers were given by Ann Browder in memory of her husband, Bobby. The service closed with the observance of the Lord's Supper. More ...
BARBARA HARDISON
Red Oak Community News
Madgie Macklin, Dorothy Pearce, Audrey Pearce, and Suzy Pearce attended the reception in honor of Peggy Parker's 80th birthday on Saturday, April 17. The celebration was given by her children Tom Parker and Cheryl Pridgen at Marvin United Methodist Church in Rocky Mount.
More ...
SUZY PEARCE
HUNTIN' FOR A CURE
The Nash County Relay for Life Team "Huntin' for a Cure" got together recently and sold brunswick stew to raise money for Relay for Life, which will be held this weekend, April 23 and 24 in Rocky Mount. The team sold 430 quarts of stew. This has become an annual event for the Relay team and it is always a success. Pictured above are members of the "Huntin' for a Cure" team with the many quarts of brunswick stew. More ...

Banana splits for supper can be scary
Just one of those weeks when my mind starts to wonder on a variety of topics ...
•Were April Showers a casualty of the economy? Does that mean we will have a Recession-adjusted amount of May Flowers?
•I've noticed that in the last several weeks when I go out to work in the field, there are two buzzards circling overhead almost everytime. This brings up three key questions: 1. What do they know that I don't? 2. What's for lunch? 3. Why does anyone watch "Dancing with the Stars"? More ...
Mike Brantley
Relay for Life is this weekend
Well it's getting close to the end of April which means two things. One, May is almost here and two, it's Relay time!
Yep, Relay for Life is this weekend and as usual, it's going to be a huge event.
I attended the Relay Survivor Dinner on Monday night and as always, it was such an inspiring event. It's an honor to be able to be around so many survivors. More ...
Amanda Clark
Fond memories of Nashville
I was reading The Graphic online and just thought I would take a moment to reflect on my wonderful memories of Nashville. My husband Bruce and I lived there only two years, from 1997 – 1999 when he accepted a transfer with his company to Rocky Mount. A while back, though seems like only yesterday! During my time there I was the Executive Director of the Nash County Arts Council, and my office was in the Nash County Cultural Center. We were transplanted back to Indiana; Hoosiers we will always be I suppose! More ...
Letters to the Editor:
Backward Glances
This photo was originally published in The Graphic June 29, 1967. Marlowe Watson, daughter of Van Watson of Gold Rock, sold some good ole' summertime lemonade to her uncle, George Watson, (second from right) and two thirsty farm agents. On the right is Bill Shackelford, assistant county agent, and making the purchase is J.P. Woodard, Nash County extension chairman. (Graphic photo by Smith.)
More ...


BALL CONTROL. Northern Nash's Jasmine Richardson (left) gains possession in the midfield while being defended by Southern Nash's Karla Flores during Monday's Big East Conference girls soccer matchup on the SNHS campus in Stanhope.

JOE'S MILESTONE
STANHOPE -- Joe McCarthy came to Nash County in the 1980s to play soccer at North Carolina Wesleyan College.
Little did McCarthy know that he would never leave.
McCarthy, considered one of the forefathers on prep soccer in the county, won the 500th match of his storied boys/girls career Monday as his Northern Nash Lady Knights bested host Southern Nash by a 5-0 score in a Big East Conference matchup. More ...
GEOFF NEVILLE, Graphic Sportswriter

READY AT THE PLATE. Nash Central's Grayson Bass prepares for her at-bat during last week's softball game against Wilson Hunt.

Bulldogs look solid in league
RED OAK -- Two of the area's top performers engaged in a pitcher's duel when Nash Central traveled to Northern Nash last Tuesday for a Big East Conference softball showdown.
Central senior Ashley Bone tossed a six-hitter as the Lady Bulldogs scored a 4-2 decision against host Northern.
Nash Central remained undefeated with the victory, but the Lady Bulldogs' streak would end Thursday with a 5-1 loss at home against league foe Wilson Hunt. More ...
GEOFF NEVILLE, Graphic Sportswriter

EYEING IT. Northern Nash's Andrew Wooten looks over a potential par putt during Monday's Big East Conference Golf Match at The River at Lake Royale. Wooten would sink the putt as part of a tremendous par save on the 17th hole.

The River Challenges Golfers
BUNN -- As always, difficult conditions -- especially on the green -- awaited golfers during Monday's Big East Conference match at The River at Lake Royale in Franklin County.
Fike -- the league's top contender the entire year -- was once again the overall winner with 306 strokes.
Northern Nash was strong in the No. 2 position with 332 strokes, followed by Southern Nash (334), Rocky Mount (349), Wilson Hunt (363) and Nash Central (365). More ...
GEOFF NEVILLE, Graphic Sportswriter
Nash Co. Rec hits the court
RED OAK -- The Nash County Parks and Recreation Department will host the following tennis clinics at the Ennis Park Courts:
• Session 1 is slated for Mondays and Wednesdays in May from 3:30-5 p.m.
• Session 2 will be held June 14-18 from 4-6 p.m.
More ...
Staff Reports

ON THE SWEET SPOT. Southern Nash's Mariah Gray lines a hit for the Ladybirds during last Wednesday's home, extra-inning softball victory against the Bunn Ladycats.

14 Innings Later...
STANHOPE -- After one inning, a slugfest appeared to be in store for last Wednesday's non-conference softball contest between Bunn and host Southern Nash.
Both teams exploded offensively in the opening frame, scoring four runs apiece.
However, neither club would be able to dent home plate again until the bottom of the 14th stanza. More ...
GEOFF NEVILLE, Graphic Sportswriter
Southern Nash falls to Rocky Mount HS
STANHOPE -- Probably the only two Southern Nash baseball players who flashed a smile last Thursday evening were sophomores Tevin Boykin and Zack Parris.
Why
Because they were the only two Firebirds that managed to get a hit off Rocky Mount junior Benton Moss as the Gryphons blanked Southern Nash 7-0 in Big East action. More ...
CHARLES ALSTON, Graphic Correspondent
NC Wesleyan topped at USA South tourney
BURLINGTON -- The top-seeded North Caroilna Wesleyan Battling Bishop baseball team dropped its first two games at the 2010 USA South Conference baseball tournament, falling to 5th-seeded Ferrum by a 6-2 score last Thursday before losing a 13-7 decision to 4th-seeded Christopher Newport last Friday.
Junior Zach Alexander was 4-for-7 with a double, homerun, two RBIs, and two runs scored over the two-game span, while sophomore Patrick Laffin went 5-for-9 with his second homer of the season. More ...
Staff Reports

DEFENSIVE EXCELLENCE. Amber Jones has been a steady performer along the back row during her career with the Northern Nash High School girls soccer squad.

Amber Picks NCWC
RED OAK -- Responsibility and reliability are two keywords then describing an effective backrow soccer player.
And Northern Nash's Amber Jones has lived up to those lofty standards during his standout four-year career for the Lady Knights.
Jones has started in each of those campaigns, and he's already earned two All-Conference awards -- and is well on her way to a third this spring. More ...
GEOFF NEVILLE, Graphic Sportswriter
Mudcats hit the comeback trail
ZEBULON -- For the second consecutive day, the Carolina Mudcats spotted the Montgomery Biscuits a big 5-1 lead before coming all the way back to win the game in their final at bat 8-7 on Sunday afternoon before 5,924 at Five County Stadium in a Class AA Southern League baseball showdown.
More ...
Staff Reports
Pirates win three versus rival UAB
GREENVILLE -- John Wooten's walk-off single in the bottom of the 12th scored Kyle Roller from second base completing No. 26 East Carolina University's sweep of Conference USA baseball foe UAB Sunday afternoon, 6-5.
With the win, the Pirates (24-12, 6-3) extend their current winning streak to six games, while UAB (10-15, 5-7) drops its fourth consecutive game. More ...
Staff Reports
Big Day For Billy At LC
LOUISBURG -- Billy Godwin took a 35-mile trip down Memory Lane last Saturday.
During his six-year stint as the Louisburg College baseball coach, Godwin would depart his Nash County home every morning in his trusty-but-rickety Datsun pickup truck.
It was a time Godwin always relished, as he would often ponder the responsibilities of life as the aging pickup would take him through Castalia, and then on to SR 56 through Edward Best -- and eventually to Louisburg. More ...
GEOFF NEVILLE, Graphic Sportswriter
ANOTHER RUN SCORES
A Southern Nash player crosses the plate as Bunn catcher Stormi Barham awaits the throw during last Wednesday's fast-pitch softball matchup at Ladybird Field on the SNHS campus.
More ...

MORE BIG EAST LINKS ACTION
Southern Nash's Matthew May hits an approach during Monday afternoon's Big East Conference Golf Match, which was held at The River at Lake Royale in Bunn.
More ...

VERNELL "JEAN" ARRINGTON
CHARLOTTE - Funeral services for Vernell "Jean" Arrington, 72, who died Saturday, April 10, 2010, were Friday, April 16, at 2 p.m. at Union Hill Baptist Church. Burial followed in the Union Hill Church cemetery with Rev. Thomas McCullers officiating. More ...

CHARLES LEONARD JOHNSON
Charles Leonard Johnson, 82, passed away Wednesday, April 14, 2010. He was born January 18, 1928 in Nash County, oldest son of the late Charlie Andrew and Hilda Hollingsworth Johnson. He was preceded in death by sister, Patty Ann J. Mizell and brothers, Ira H. Johnson and John D. Johnson. More ...

JOSEPH RAY BOONE
Joseph Ray Boone, 59, passed away Wednesday, April 14, 2010. He was born May 1, 1950 in Nash County. He was the son of the late, Joseph and Annie Chappell Boone. He was preceded in death by a sister, Frances Carroll and four brothers, Milton, Robert, Jimmy and Chad Boone. More ...

EUGENE HARDY
WHITAKERS - Eugene Hardy, 70, passed away Saturday, April 17, 2010. He is survived by his wife, Mary Hardy; two daughters, Pamela F. Hardy of Rocky Mount and Jacqueline Hardy of Nashville; two sons, David L. Hardy of Rocky Mount and Antoine Evans of Whitakers; three sisters, Blanche Wheeler, of Newport News, VA, Sylvia Howell of Hollister and Emma McCargo of New Haven, Connecticut; five brothers, Nick Hardy, of Nashville, William "Bill" Hardy of Whitakers, Larry Hardy of Atlanta, Ga, Welford Hardy and Raymond Hardy, both of Hollister; six grandchildren, and seven great grandchildren. More ...

WILLIAM "DOUG" DOUGLAS PARKER
NASHVILLE - William "Doug" Douglas Parker, 40, passed away, Wednesday, April 14, 2010. He was born March 4, 1970 in Cleveland County, NC. He was preceded in death by his mother, Patricia Cook Parker. More ...