Subscribe/Access
Advertisements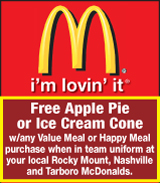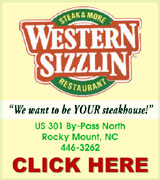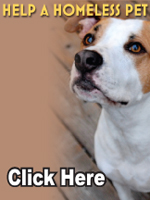 Sections
Member Options
DEPC hosts State of the Child Briefing
Community and business leaders joined together last week to hear a presentation from the Down East Partnership for Children (DEPC) on the issues facing our children today.

Obesity and poverty were the leading issues facing children in Nash and Edgecombe Counties.

Jessica Jones, who serves as the Research and Evaluation Director for DEPC, provided statistics on the two issues.

In the two counties, there are 17,792 children between the ages of zero and eight. Of those, 19 percent are living in poverty. Of the 10,253 children in early elementary schools in two school districts, 71 percent are eligible for free or reduced lunch.

One out of every five child who entered kindergarten in the fall 2009 was identified as being overweight or obese. Nearly one in every three children ages two to 11 seen in public health sponsored clinics are overweight or obese.

The DEPC is constantly working to address those issues. A Healthy Kids Collaborative was launched in 2008 and has over 50 partners working together to increase access to healthy foods, opportunities for physical activity and increasing awareness and education on ways to address the issue with parents, child care providers, medical providers and the broader community. On July 14 from 10 a.m. until 12 p.m., a Healthy Kids, Healthy Communities Summit will be held.

To continue working on the issues facing our young people today, however, money was needed to continue funding the programs that target these issues. The State of North Carolina is the main provider of public funding for the partnership. Henrietta Zalkind, DEPC Executive Director, said they've been told to plan for a 10 percent budget reduction. That's added to an already $440,000 taken since 2008.

So far, Zalkind said money from the private sector has helped fill in the gaps but the DEPC could not afford to take another cut.
"So please tell your stories," she said.

Zalkind encouraged community leaders and parents alike to contact legislators and tell them the importance of the DEPC and the programs it offers the communities. Zalkind said it is stories like Babs Harrell's that make a difference.

Harrell spoke during the event last Thursday and said the DEPC has not only strengthened her parenting skills but also her socialization and leadership skills.

Harrell, of Tarboro, came to the Partnership in 2007 with her two and a half year old son, Bronson. She said she was looking for things to do and had spent several days online trying to find mommy groups and play areas she and her son could participate in.

"When I saw the Down East Partnership site, I was so excited because I really thought I had found what I was looking for," Harrell said. "Little did I know I had just scratched the surface."

Harrell started attending playgroups with her son in 2007. Today, she has two sons and still attends those playgroups, sometimes more than once a week.

"We have met so many wonderful parents, kids and playgroup leaders," she said. "We were even able to meet some moms who had just formed a Stay At Home Mommy Group called Crayola Moms."

"The Down East Partnership is the only organization I have ever been a part of that actually lets you learn with your child," Harrell added. "I wanted to be the one that taught them how to color, how to count, how to read. The Down East Partnership has not only allowed me to learn right along side of them, they have better equipped me as a parent and a teacher."

Last year, Harrell lead a playgroup for the first time. She said she enjoyed being able to prepare the lesson and work with other children.

Zalkind said these stories are the ones that show the difference DEPC is making.

"We cannot afford not to invest in our kid's futures," she said. "We gotta hold the line. We can't take anymore cuts."

In addition to contacting legislators, Zalkind said an Every Child Campaign will kick off, coinciding with the Reach Out Rocky Mount campaign.

The goal is to raise $100,000, which is what Zalkind predicts the budget gap will be. For those who give to the DEPC through Reach Out Rocky Mount, their contributions will be doubled.

For more information on the DEPC, visit www.depc.org. For more information on the Reach Out Rocky Mount campagin, go to www.FunRunRM.org.

Printer-friendly format
---
---