Subscribe/Access
Advertisements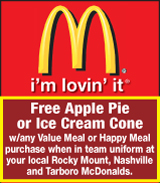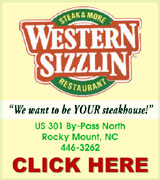 Sections
Member Options
Back
Evidence to remain part of trial
NASHVILLE - Twin motions to suppress evidence in the first degree murder trial of James Wesley Stallings were denied during a special hearing held last week, clearing the way for a trial, possibly in March.

Judge William C. Griffin denied two motions put forth by Stallings' attorney David Sutton. The motions were to suppress evidence found during a search of Stallings' home after the murder and to suppress statements made by Stallings during questioning after the murder. More ...
By Amanda Clark, Graphic Staff Writer - 1 opinion posted
Southern Nash area now part of water plan
NASHVILLE - With Spring Hope out of the picture, Nash County is looking at new areas to serve in Phase 1 of the County Regional Water System. Monday night, county officials met with citizens at the Rocky Mount-Wilson Airport to provide an update on the project as well as answer questions. More ...
By Amanda Clark, Graphic Staff Writer
WHAT'S THAT?!
Stanley Brown (center) feels a mock 'brain in a bag' Friday at Nashville Elementary School. Candy Madrid and Leigh Lasher-White, of The Children's Museum and Science Center, came out to speak to the students about the human machine. More ...

Council looks at town's needs during retreat
NASHVILLE - Personnel needs, equipment needs and future growth needs topped the list of items discussed during Nashville's 2007-2008 Annual Budget Retreat, held last Tuesday.

Several new positions were recommended in departments including the library and fire department. The library requested three additional part-time employees while the fire department requested an additional fire engineer. More ...
By Amanda Clark, Graphic Staff Writer
Locally owned funeral home opens in Nashville
NASHVILLE - Nashville's need for a full-service funeral home has been fulfilled, thanks to the recent addition of Cornerstone Funeral Home on Highway 58.

Owner Daniel Moss said the new addition will hopefully be an asset to not only Nashville, but all of Nash County. More ...
By Amanda Clark, Graphic Staff Writer
School board prioritizes facility needs
CORINTH—The Nash-Rocky Mount Schools (N-RMS) administration proposed "Seven Paths to the Future" for the school board to consider as they build their facilities plan and consider next year's budget. Meeting at Rose Hill for their annual retreat last Thursday, the board heard plans for improvement of facilities and updates on current alternative programs for at-risk students and on current personnel issues and trends. More ...
By Michele A. Cruz, Graphic Correspondent
Distinguished Citizen event is March 1
The Nashville Chamber of Commerce will hold its annual Distinguished Citizen Award event Thursday, March 1 at Nash Arts honoring local people in the community. A.B. Swindell will be the guest speaker. More ...

Stomach virus hits Nash
A Norovirus outbreak in Nash County has health officials encouraging frequent hand washing.

The gastrointestinal illness had sent between 75 and 100 residents to the emergency room at Nash General Hospital by last Monday. Symptoms of the virus include nausea, vomiting, diarrhea, cramping, and abdominal pain. More ...

Man arrested for murder
A Louisiana man is in custody after allegedly murdering his girlfriend and setting her body on fire.

Brizuela Jose De Jesus Madrid, 39, of Gretna, Louisiana was charged with first degree murder after officials with the Nash County Sheriff's Office discovered a female's body on fire off Lonesome Pine Road in Whitakers. Salem's Fire Department received the initial call of a woods fire on Thursday, February 15. More ...
By Amanda Clark, Graphic Staff Writer
NCC announces new employees
Nash Community College (NCC) is pleased to announce that Brandon Cyrus, Mary Douglas, Rita Joyner, Bob Miller, Audrey Pait, and Chef Don Sexauer recently joined the faculty of NCC. More ...

History - it was what it was, warts and all
Warning: this week's Soapbox might be a little depressing.

A while back, I received a press release from a small college in Michigan which told of how Mount Vernon's curator had taken an unofficial poll of teenagers touring George Washington's home. More ...
Mike Brantley
It's everyone's business to protect our children
In this week's Graphic, you'll find the special edition of "Protecting Our Children," a publication we print annually that contains information about the issues in today's society that threaten our children's innocence. More ...
Jo Anne Cooper
1st-Round Fury
ROCKY MOUNT - Like so many opponents this season, Western Harnett left the Nash Central High Gymnasium with a serious case of motion sickness.

Either Western was intent on playing a man-to-man defense, or the visitors didn't have a quality scouting report on Central's trademark motion offense.

Regardless of the cause, the effect was a miserable night for Western Harnett, which was blitzed by Nash Central's never-ending maze of screens, cuts and curls on offense. More ...
By Geoff Neville, Graphic Sportswriter
Winners crowned in NEW-6
ROCKY MOUNT - Nash Central High was the site of the second NEW 6 Basketball Tournament and the Bulldogs were hoping to celebrate before the home folks in the finals last Friday.

But Rocky Mount put a dent in those plans. And on Friday, RMHS' hopes of repeating as champion were also doused.

No. 2-seeded Wilson Fike's boys and top-seeded SouthWest Edgecombe's girls prevailed as champions in the finals. More ...
By Charles Alston, Graphic Correspondent
A Shelton Salute
LOUISBURG - When formulating plans for the first Lee Fowler Day in 2006, the people at Louisburg College had students like Dana Shelton in mind.

Shelton, a sophomore softball player from Southern Nash High, has been simply perfect in the classroom during her tenure at LC.

Shelton has maintained a 4.0 grade-point average while also being a key performer for the Lady Hurricanes, who always boast one of the top squads in the Region X softball standings. More ...
By Geoff Neville, Graphic Sportswriter
ECU falls on road vs. UCLA
LOS ANGELES - Brandon Crawford's grand slam in the bottom of the eighth inning secured a series win for the 15th ranked UCLA Bruins as they defeated East Carolina 9-7 last Saturday afternoon inside Jackie Robinson Stadium.

In a game that saw the lead change hands seven different times on the day, UCLA (5-4) trailing by two, 7-5, heading into the bottom of the eighth, got some clutch hitting from All-American shortstop Crawford. More ...
From Staff Reports
Teams have high diamond hopes
ROCKY MOUNT - Sometimes those who are supposed to know it all, really don't know it all. But on the odd occasion, they hit it right on the nose.

Will the NEW 6 3-A Conference baseball coaches get it right in 2007? We'll have to see. More ...
By Charles Alston, Graphic Correspondent
Billiards greats head to Nash for tourney
ROCKY MOUNT - The best billiards players in the world will be in Rocky Mount this week and organizers are banking on a new venue.

"We want it to be more of a festival atmosphere," said Tony Davis, CEO of PrimeQuest, the tour sponsors responsible from bringing the WPBA tour event to the company's headquarters in Rocky Mount. More ...
By CAREY JOHNSON, Graphic Staff Writer
Gryphons win at Jacksonville High
JACKSONVILLE - Rocky Mount's Tashawn Mabry may be a freshman, grade-wise, but he's far from being a ninth-grader on the hardwood.

The 6-foot-5 forward had one of his best games of the season Monday night. It was a perfect time for his performance considering it was an NCHSAA 3-A state playoff opener -- on the road, no less. More ...
By Charles Alston, Graphic Correspondent
CAROL MALONE
SHARPSBURG – Carol J. Malone, 60, died Thursday, Feb. 15, 2007. Funeral services were held Feb. 20 at the Mount Caramel Baptist Church with the Rev. Leonard Johnson officiating. Burial followed in the Gardens of Gethsemane Cemetery. More ...