A Shelton Salute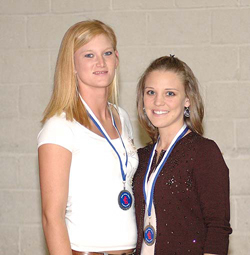 LOUISBURG - When formulating plans for the first Lee Fowler Day in 2006, the people at Louisburg College had students like Dana Shelton in mind.

Shelton, a sophomore softball player from Southern Nash High, has been simply perfect in the classroom during her tenure at LC.

Shelton has maintained a 4.0 grade-point average while also being a key performer for the Lady Hurricanes, who always boast one of the top squads in the Region X softball standings.

To honor student-athletes such as Shelton, LC formulated Lee Fowler Day, when the North Carolina State University Athletic Director comes to Holton Gymnasium to hand out awards to performers who have achieved at least a 3.0 G.P.A.

The second annual Lee Fowler Day was held last Tuesday on the LC campus, and Shelton received a gold medal for being a 4.0 student.

Shelton received an ovation when her name was called, and she embraced outgoing LC President Reginald Ponder, who is retiring at the close of the semester.

Fowler then gave Shelton a medal and a handshake.

"Dana Shelton is someone who we are extremely proud of,'' said LC Athletic Director Mike Holloman. "She makes the college and athletic department proud. She is a leader on the softball team and also on our campus. She is a student-athlete that we are excited to have here.

"With Dana's academic background, she could have gone to any school out of high school, but she chose to come here and play softball.''

Shelton wasn't the only Nash County resident to be saluted as part of the Lee Fowler Day festivities. Kym Lamm, another former Southern Nash softball standout, earned a silver medal for maintaining a 3.5 or above G.P.A.

Lamm is a freshman at Louisburg who has joined Shelton on the Lady Hurricanes' softball squad for the spring season.

Louisburg College, coached by Don Gines, is the defending Region X Tournament champion, and the Lady Hurricanes are coming off an appearance in the National Junior College Athletic Association National Tournament last season.

The Lady Hurricanes will return home March 24 for a doubleheader against Region X rival Aiken Technical College.

First pitch is scheduled for 1 p.m. at Sheilah R. Cotten Field on the Louisburg College campus.

The Region X Softball Tournament will be played May 2-6 in Florence, S.C. as LC will look to defend its championship.

Other Southern Nash grads who have excelled for the Lady Hurricanes in the past include Brandy Winstead and Sherry Boone.

After graduating from Louisburg College this spring, Shelton expects to continue her academic career at North Carolina State University in Raleigh.

After the 2007 campaign, Lamm will have one more year of eligibility remaining at Louisburg College.
Printer-friendly format
---
---