Subscribe/Access
Advertisements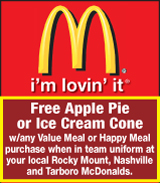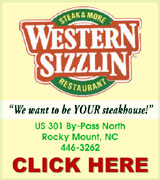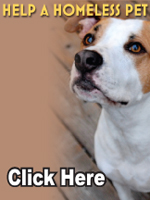 Sections
Member Options
School board prioritizes facility needs
CORINTH—The Nash-Rocky Mount Schools (N-RMS) administration proposed "Seven Paths to the Future" for the school board to consider as they build their facilities plan and consider next year's budget. Meeting at Rose Hill for their annual retreat last Thursday, the board heard plans for improvement of facilities and updates on current alternative programs for at-risk students and on current personnel issues and trends.

At the conclusion of the facilities presentation, the board asked the administration to look at all the system's facilities needs and present a concise, prioritized list with dollar amounts for them to consider and approve and present to the County Commissioners. Although facilities needs have increased in the system, capital outlay funding has been dramatically reduced over the years, falling by $2.4 million in the past seven years.

Funding options for the system's needs include monies from Nash and Edgecombe counties, lottery funds, and a state bond. The lottery funds are projected to supply the system with $2.2 million this year and the bond may give the state $2 billion — the system's cut of these monies is yet to be decided.

The board's initial thoughts were that all safety issues should be first on the list. Current safety project needs for the system total over $24 million.

The planned new high school, to accommodate 1800 students, remains the board's top priority in facility improvement, followed closely by a new elementary school or schools. The board discussed that available land they own near Nash Central High School might be considered for a new elementary facility.

Board chairman Rick Horner added that year-to-year needs for operational items should also be close to the top of the list, with items such as the new water hookup with the county and demolition of the old Spaulding facility.

N-RMS Superintendent Rick McMahon informed the board that the County Manager has requested a listing specific items and a plan concisely with dollar figures, which the administration could now put together based on the board's direction and priority recommendations.

The focus of the retreat's morning session centered on facilities and seven paths for consideration. These include new schools, additions and renovations, capital and safety projects, performance contracting, capital outlay funding and leasing projects, and land banking. As a result of hearing the important needs across the system, the board again discussed their need for a standing committee on facilities that would spend time concentrating on facilities and planning.

Due to the five-year projected student growth of 1-2%, 6-7% of which is forecast at the elementary school level, new schools are a must, explained Mark Strickland, N-RMS special assistant for auxiliary services.

Current overcrowding totals show the current number of seat deficits in the system's elementary schools is 636; middle schools, 605; high schools, 740. The five-year projection shows seat deficits in the elementary schools will be 1249; middle, 474; and high, 476.

Seating capacity data for the elementary schools is broken down into four areas of the system based on location. Of the system's 17 elementary schools, overcrowding in five years is projected to be heaviest in the Nashville, Benvenue, Englewood, Winstead Avenue elementary school district areas; totaling a 541-seat deficit.

This overcrowding is followed closely by Bailey, Coopers, Middlesex, and Spring Hope elementary school districts, totaling a projected 425-seat deficit in five years.

The last two district areas total seat deficits of less than 150 seats in the coming five years. The Pope, Braswell, Johnson, Baskerville, and Williford elementary school district areas total a projected 148-seat deficit. The Cedar Grove, Hubbard, Red Oak, and Swift Creek elementary school district areas total a projected 135-seat deficit, with all 135 seats needed at Cedar Grove.

The average age of all N-RMS school buildings is over 43 years old. The system uses mobile units on most sites to alleviate overcrowding and allow greater flexibility for activities at each campus. These units, which include 132 classrooms, cost the system over $360,000 each year.

Overcrowding and older facilities require careful planned action, especially in the next budget year, Strickland said. The new high school, planned for construction on land the board recently purchased in Rocky Mount, may cost between $50 and $55 million to complete. The administration and board discussed that this project could be five years away. The new elementary school or schools may cost between $15 and $34 million, Strickland reported.

Renovations and additions include middle and high school programs, replacing old and worn out fieldhouses and tracks as well as windows and roofs on several school buildings, Strickland explained. Cafeteria and heating/air conditioning upgrades are also necessary is some schools. Rotting wood and other serious structural issues need to be addressed at a few sites.

Strickland pointed out, for example, that Red Oak Elementary School has a nice gym and cafeteria but needs roofing and window replacements and may be too small of a school for that site. Swift Creek Elementary School has a nice gym and auditorium but needs a new cafeteria and administration area.

Braswell Elementary School, he said, has a nice auditorium, but the building is very old, needs a new cafeteria and roofing and window replacements, and also has heating/air conditioning issues. The board suggested that the administration talk with the area historical commission about grant funding for Braswell, because it is an old building and in the historic district of Rocky Mount.

Included in facilities renovations needs are those required at the administration office building in Nashville. Carpet, walls, roofs, and heating/air conditioning require replacement and improvement at this time, Strickland noted.

He said that the items he had pointed out are just some of the many additions and renovations currently needed at schools across the district.

Storage is becoming a problem for furniture and equipment, Strickland also pointed out, which needs to be in a central location for easy distribution. Part of the old Spaulding Elementary School building is currently being used for storage, but the facility needs to be demolished, he said. The board agreed they would like to clean up that area soon.

Capital and safety projects include several important replacements and improvements, Strickland shared. Mechanical, electrical, and plumbing needs total $8.6 million. Roofing, windows, exterior doors needs total $7.1 million. Rest room, fire alarm, and structural needs total $6.6 million. Gym bleachers needs total $630,000, he said.

Safety concerns at Coopers Elementary School regarding car traffic have been addressed in a formal plan, but no funding is available to implement the plan at this time, Strickland explained. Playground equipment also needs to be replaced throughout the system.

The board is considering further connections to the county's water system, which is being extended and will soon be available for Southern High, Southern Middle, and Coopers Elementary schools. This also comes with a need for $300,000 - $350,000 for the system to complete this water connection. The deadline for inclusion in the county's new extended water lines is Feb. 28.

Strickland explained performance contracting and capital leasing projects are worthy of the board's consideration when planning for new and improved facilities. Performance contracting saves the system money in energy costs, and leasing projects, as utilized by other school systems in the state, may be the way to handle new buildings within the constraints of budget limitations.

Land banking, he explained, may also be something the board should consider. As land prices increase every year, early planning can help identify sites for upcoming construction in order to purchase these properties in advance at a better price.
Printer-friendly format
---
---