Subscribe/Access
Advertisements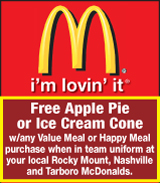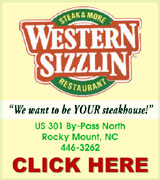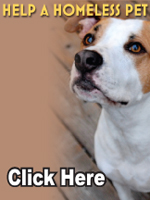 Sections
Member Options
1st-Round Fury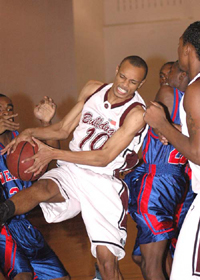 ROCKY MOUNT - Like so many opponents this season, Western Harnett left the Nash Central High Gymnasium with a serious case of motion sickness.

Either Western was intent on playing a man-to-man defense, or the visitors didn't have a quality scouting report on Central's trademark motion offense.

Regardless of the cause, the effect was a miserable night for Western Harnett, which was blitzed by Nash Central's never-ending maze of screens, cuts and curls on offense.

The result was an impressive 86-52 victory for the hosts during Monday night's first-round action of the Class 3-A State Boys Basketball Playoffs.

Central, which has dropped only three games this season, advanced to a second-round playoff game -- also at home -- tonight at 7:30 p.m.

And the Bulldogs did so in convincing fashion, pulling ahead to stay with a strong second frame.

With Western Harnett playing a man-to-man, that played into Central's strategy, as the Bulldogs prefer to use their no-post set to create easy scoring opportunities.

And there were plenty of those Monday night, especially in the second stanza, which saw Central go on a 20-6 run to take charge for good.

With Western Harnett seemingly wearing down with each possession, Central was just getting started. Trey Sumler was the Bulldogs' greatest offensive benefactor, tallying 26 points -- 11 of which came in the decisive second stanza.

Nash Central began the frame holding an 18-16 margin after a spirited first quarter. But Central would reel off a 12-2 spurt during the first three minutes of the second stanza, and the outcome of the matchup had all but been determined.

Sumler got things going with a layup that was followed by a stretch that saw the sophomore star reel off seven uncontested points.

The residue of the span could be seen after David Lacey's bucket with 12 ticks left sent the Bulldogs to the break with a commanding 38-22 lead.

As Nash Central's players sped to the locker room, the Western Harnett performers walked off the court, seemingly in a state of disbelief.

But once again, Central was on the verge of making a believer out of an overmatched opponent.

Despite being smaller than almost every foe, the Bulldogs continue to excel, mainly because of their abilities to effectively execute their half-court offense.

Even though Central has displayed a long-range shooting touch throughout the year, opponents usually take their chances with a zone, mainly because NC's motion scheme can be nearly impossible to defense.

Western Harnett, however, stayed with a man-to-man for almost the entire game Monday night.

Four players would reach double figures in scoring for the Bulldogs, led by Sumler's 26-point effort.

Michael Speight was strong for Nash Central with 20 points, followed by Lacey (16) and Kwame Foster (10).

Central was also effective defensively, utilizing a 1-3-1 set to keep a taller Western Harnett club from lighting up the scoreboard.

Western senior Kermeriaz Harrington, who is 6-foot-6, was limited to 12 points by the smaller Bulldogs. Teammate Johnny Elliott, a guard who has been battling an illness for the past few weeks, chipped in with 13 points, including a pair of clutch trifectas early in the game to keep Western Harnett close.

Nash Central made history with its strong regular season, as the Bulldogs claimed the NEW-6 Conference championship while posting the best record in the young existence of the school.

Now comes an opportunity for the Bulldogs to travel as deep as they ever had in the Class 3-A State Boys Basketball Playoffs.

If Central wins today, the Bulldogs will achieve that lofty goal.

Three years ago, Nash Central reached the second round of the postseason, only to lose a tough battle at Hertford County.

That's the best finish Nash Central has ever made, but the Bulldogs can eclipse that mark today. If Central wins, the Bulldogs will be back in action this weekend in the sectional championship.

The East Regionals are scheduled for next week at Minges Coliseum on the campus of East Carolina University in Greenville.
Printer-friendly format
---
---