Nash has shown great effort to make water project successful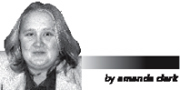 Nash County is going full force in recruiting members for its regional water system. In doing so, it has held several informational meetings to give citizens the opportunity to ask questions. And the citizens have come out and they have asked questions.

On top of most citizens' minds is the cost of this project and how it will benefit them. As a rural Nash County resident myself, I was excited to learn about the county's water plan. Unfortunately, the system is not going out my way. However, if it were, I would have the same questions most citizens have had at these informational meetings and I applaud the citizens for coming out to these meetings and for asking questions. Some questions may seem simple but every question is a good question and brings Nash County residents one step closer to understanding just what this system will do for Nash County.

I also applaud Nash County officials for making themselves available to the citizens. Whether you feel the project is a good idea or not, the county is at least trying to answer questions about the system, both good and bad. It's better than just throwing the project in your face and saying, "Join or else!"

The cost may be an issue that holds some back from joining in. In the end, after everything is added up, the project could cost citizens around $1,000. That's a hefty price to pay but for water you can actually drink, it's a cost I think is well worth the price tag. In the end, I think it'll be worth it. But the good news is, if you don't agree, you don't have to connect. It's optional.

The county has worked hard to make this project happen. They are still working to make it feasible and are still available to answer any questions.

I applaud our county board and county staff for taking the extra effort to get in the community and answer questions. That is, after all, what they were hired to do. And it's good to see Nash County is doing its job.
Printer-friendly format
---
---