Locally owned funeral home opens in Nashville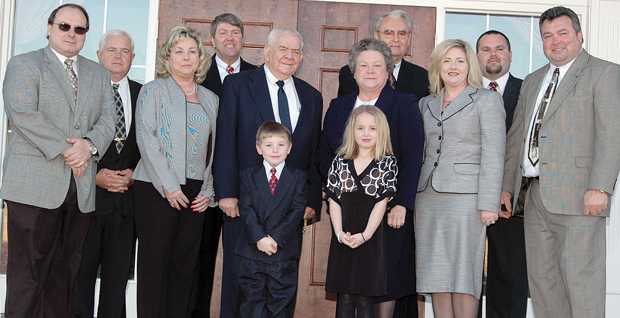 NASHVILLE - Nashville's need for a full-service funeral home has been fulfilled, thanks to the recent addition of Cornerstone Funeral Home on Highway 58.

Owner Daniel Moss said the new addition will hopefully be an asset to not only Nashville, but all of Nash County.

"We felt like Nash County needed a funeral home in Nashville," Moss said. "I saw a need for a family-owned funeral home. (And) we are a family-owned funeral home and we are local."

Construction on the new building started in 2004. Moss attributes the location to Pastor Kenneth Johnson of Nashville Praise and Worship, along with the congregation. The church agreed to sell Moss the land to build Cornerstone.

Moss, who is also a minister at Taylor's Chapel Church in Sandy Cross, said there are two types of funeral homes: corporate owned and family owned. "(With) family-owned, you have more options," Moss said. "Corporate-owned, there are no negotiations."

Moss said Cornerstone offers options for all budgets, religions and backgrounds. "We're full service," Moss said. "We offer professional services to all faiths and creeds. We got whatever you need and we got it here."

Moss takes pride in being family-owned and operated. He added that Nash County and surrounding areas need someone to lift them up after the recent tragedy of Julie Bowling, who was murdered by her husband Mark, and his mistress, Rose Vincent. The Bowling's owned and operated Bowling Funeral Home.

"My heart goes out to Julie," Moss said. "We're trying to bring healing to the community. We're here to heal the community and rebuild the trust."

Ricky Precise will serve as the manager of Cornerstone. Moss' parents, James and Helene Moss, will also help when needed, as will Moss' wife, Amanda.

Moss said he will offer pastoral services to those who are in need. "If it's needed, I'm available," he said. "We provide ministering or counseling."

Cornerstone offers cremation as well as pet needs. "We are full service," Moss said. "Pre-planning and pre-need arrangements are encouraged. (And) all pre-need contracts are welcome."

An open house will be held on Sunday, February 25 from 1 until 5 p.m. For more information, call 459-0001.

"Nashville has been needing a large facility to accommodate the people for a long time," Moss said. "We invite everyone to come, look, take a tour. We ask the people to support us."
Printer-friendly format
---
---