Subscribe/Access
Advertisements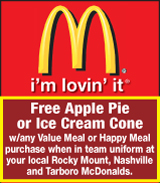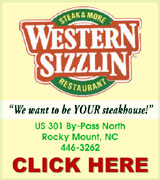 Sections
Member Options
Back
Stoplight denied on Washington
A stop light is not necessary on Washington Street in front of Lowe's Foods, Department of Transportation officials told the Town of Nashville recently.

DOT began a survey in September to determine whether a stop light was warranted. Town Manager Preston Mitchell told council members last Tuesday night that the DOT had completed the survey and found that a light was not needed. More ...
By Amanda Clark, Graphic Staff Writer
Spring Hope says no to county water
Count Spring Hope out. The board made its final decision regarding the county's water system Monday night and decided against tapping on to Phase 1 of Nash County's Regional Water System. The vote was a unanimous 'no.' More ...
By Amanda Clark, Graphic Staff Writer
Seniors dance the night away in town
It's Friday night in Nashville and things are just heating up at the Senior Center on North Alston Street. The lights are low and the music is turned up and folks from all over are dancing the night away. It's the Senior Center's monthly community dance, held the first Friday of every month from 7 until 10 p.m. More ...
By Amanda Clark, Graphic Staff Writer
Local man avoids prison for sex crime
A Nashville businessman recently pleaded guilty to taking indecent liberties with a child.

Joseph Wayne Macklin, Jr., of Hunter Hill Road, Rocky Mount, entered a guilty plea in Superior Court in January. As a result, Macklin, 28, received 36 months probation. He is also required to register as a sex offender. More ...
By Amanda Clark, Graphic Staff Writer - 1 opinion posted
Castalia votes to start street repair project
Castalia commissioners voted on Tuesday, February 6 to allow Stocks Engineering to begin work to solve drainage issues on three streets in Castalia: Harrison St., Estelle St., and Church Street, one of the main thoroughfares through the town. The estimated costs of the repairs will be over $75,000 which will be paid out of designated Powell Bill funds. More ...
By Amelia Harper, Graphic Correspondent
Nashville man sentenced to jail for tax evasion
A former Nashville insurance agent was sentenced to one year and one day in jail for failing to file tax returns.

Ted R. Pinner, Jr. was indicted in May in the United States District Court for not reporting his earnings from 2000 to 2003. More ...
By Amanda Clark, Graphic Staff Writer
Nash County begins junk car cleanup
A new effort to clean up the county has begun with the implementation of a junk car program. The program went into effect January 1 and recently picked up its first car.

Commissioners granted approval for the program in the Fall of 2006, with a January 1 implementation date. According to Rosemary Dorsey, the program is another way the board is trying to make the county more attractive. More ...
By Amanda Clark, Graphic Staff Writer
Local students qualify for National Honor Roll
LYNBROOK, N.Y. – Thirty-three students from the Nash County area qualified for induction into the Spring 2006 National Honor Roll.

The National Honor Roll recognizes high-achieving high school and middle school students. More ...

A few interesting notes about the Club of 43
Just this week, as we were putting up our Presidents' Day tree and stringing our multi-colored lights on the porch to honor the men who have led our country, the thought occurred to me that not everyone pays much attention to this holiday.

About that time, I popped the head off my dapper Chester A. Arthur ornament and almost tripped over our Warren G. Harding action figure, complete with mistress and Teapot Dome playset. More ...
Mike Brantley - 1 opinion posted
We seem to be on the right track compared to others
It's good to hear Nashville's town government is planning for the future.

We reported in last week's Graphic that the town's Comprehensive Plan Task Force is moving forward with plans to map out Nashville's needs for the next 20 years, obtaining assistance from skilled planning professionals as well as involving citizens of the town. More ...
Jo Anne Cooper
Nag-free on Valentine's Day
Today is Valentine's Day and like most women, I'm curious about what my valentine will bring me.

Valentine's Day is very exciting as a kid. But, once you're married, the excitement goes away and it seems a little harder to think of special things to do for your significant other that you don't do every day. More ...
Amanda Clark
A Tribute in Memory of My Sis Elsie
During the Nashville Opry recently, a tribute was given to Elsie Clark, one of the event's founders. The tribute was written by Clark's sister, Mildred Thompson. Many of you have requested a copy of the tribute, so we're publishing it, courtesy of Mrs. Thompson.
More ...
Just Perfect!
STANHOPE - Simply perfect.

Nash Central's storybook boys basketball season added another chapter last Friday as the Bulldogs wrapped up NEW-6 Conference play with a convincing 68-57 road decision at county rival Southern Nash.

After the regular season finale, the Bulldogs improved to 21-2 overall to go with an unblemished (10-0) mark.

Nash Central trailed by as many as six points in the first quarter against the fired-up Firebirds (7-15, 4-6), who were celebrating Senior Night.

But NC squelched the festivities with a strong second period, which featured a 28-7 spurt by the Bulldogs. More ...
By Geoff Neville, Graphic Sportswriter
Southern edged by Ladycats
STANHOPE - Different night, same story.

When the teams met earlier in the season, Bunn fell behind early but rallied for a non-conference victory over Southern Nash in girls prep basketball action.

Last Wednesday, the Ladycats trailed again well into the third quarter before blitzing SN down the stretch to earn a 42-31 victory.

Bunn was behind 15-11 at the break but outscored the Ladybirds 16-4 in the third stanza to take charge.

The Ladycats, who have also clinched the Northern Carolina Conference regular season crown, upped their mark to 17-5 overall and 8-1 in the NCC. More ...
By Geoff Neville, Grarphic Sportswriter
No-hitter tossed by Wesleyan
ROCKY MOUNT -- For the second consecutive year, NC Wesleyan pitcher Blake Rice has tossed a complete game no-hitter in his first outing of the season.

The victim on Sunday, Frostburg State University, had just four runners reach base as Rice struck out seven and walked only two on the day. More ...
From Staff Reports
NC's Mercer making his way to East Carolina
ROCKY MOUNT - While watching Maurice Mercer early in his career, Nash Central High football coach Kenneth Grantham knew he had the potential to be a Division I player.

It was just a matter of putting things together.

That, however, would prove to be the hardest part for Mercer, who was temporarily suspended from the team as a sophomore before choosing not to return to the program that season. More ...
By Geoff Neville, Graphic Sportswriter
College Choices
STANHOPE - Over the past decade, Southern Nash has proven to be a fertile recruiting ground for football schools in the Division I Atlantic Coast and I-AA Southern Conferences.

Two more Firebirds can be added to that prestigious list after last Wednesday's National Signing Day ceremonies on the SNHS campus. More ...
By Geoff Neville, Graphic Sportswriter
Super State Swimmers
HUNTERSVILLE - Southern Nash's Victoria Hardy and Nash Central's Tyler Leggins capped off their spectacular seasons with fourth-place finishes at last Saturday's Class 3-A State Swim Meet.

Hardy earned her medal in the Girls 100 Breaststroke, while Leggins' medal came in the Boys 50 Breaststroke. More ...
From Staff Reports
RMSH Duo Signs
ROCKY MOUNT - B.W. Holt and Chad Smith were beaming like new fathers. You could see nothing but pride in their eyes.

Last Wednesday, they watched two pillars of Rocky Mount's successful football program announce to the world that they were moving on. More ...
By Charles Alston, Graphic Correspondent
NEW-6 tourney kicks off
ROCKY MOUNT -- Rocky Mount's boys basketball coaching staff must have let out a large collective sigh at the end of its game Monday night. After all, the Gryphons put an end to their three-game losing streak and kept their playoff hopes alive.

RMHS got 23 points and 12 rebounds from freshman forward Tashawn Mabry as the Gryphons beat SouthWest Edgecombe 65-57 in the opening round of the NEW 6 Basketball Tournament at Nash Central. More ...
By Charles Alston, Graphic Correspondent
Knights claim finale over Gryphons
RED OAK - No doubt Northern Nash point guard John Lucas has dished off many times to center Steven Baker for an easy basket.

But when they do and it comes as the winning score in a conference overtime game with your biggest rival on your home floor, then that's priceless. More ...
By Charles Alston, Graphic Correspondent
EDWIN SPEIGHT DANIEL SR.
ELM CITY – Edwin Speight Daniel Sr., 92, retired Nash County farmer, died Saturday, Feb. 10, 2007. He was born Oct. 5, 1914, son of the late Samuel Speight Daniel and Fannie Vick Daniel. Mr. Daniel was a lifelong member of Mt. Zion United Methodist Church where he served as a treasurer and trustee for many years. He was a member of the Coopers Ruritan Club for more than 50 years and received the Ruritan National Foundation's highest honor for service to his club and community. With his interest in farming, he served on the Nash County Farm Bureau Board of Directors for more than 40 years. Mr. Daniel gardened extensively and was an accomplished woodworker. More ...
Oct. 5, 1914 – Feb. 10, 2007