Just Perfect!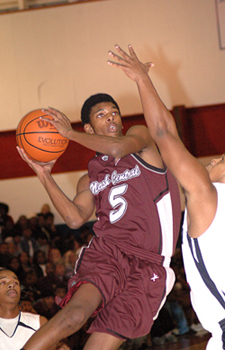 STANHOPE - Simply perfect.

Nash Central's storybook boys basketball season added another chapter last Friday as the Bulldogs wrapped up NEW-6 Conference play with a convincing 68-57 road decision at county rival Southern Nash.

After the regular season finale, the Bulldogs improved to 21-2 overall to go with an unblemished (10-0) mark.

Nash Central trailed by as many as six points in the first quarter against the fired-up Firebirds (7-15, 4-6), who were celebrating Senior Night.

But NC squelched the festivities with a strong second period, which featured a 28-7 spurt by the Bulldogs.

With Southern Nash sitting back in a zone defense, Nash Central drained four key trifectas as part of the surge, three of which came from Kwame Foster.

Because of the trademark motion offense run by NC head coach Michael Mosley, opponents usually prefer to run a zone against the Bulldogs, as opposed to a man-to-man.

That puts the pressure on NC's perimeter players to deliver, and they did so during the decisive stretch against the Firebirds.

SN coach Robbie Kennedy even resorted to a man-to-man for a few possessions, but the Bulldogs picked up consecutive baskets in the paint, and SN went back to its original plan.

Either way, the Bulldogs weren't about to be denied. Whizzing the ball around the outside with quick, crisp passes, Nash Central was able to get plenty of open looks before SN's defenders could adjust.

The display was especially impressive at the end of the second quarter during a clutch 14-0 spurt by the Bulldogs.

Wing Greg Speight got things going from 10 feet out as he drained a jumper after finding a seam in the Southern Nash zone.

A Foster trey was followed by a Mark Brown three that featured exceptional ball movement from the now-rolling Bulldogs.

Foster then poured in another 3-pointer at the 31-second mark before Speight closed out the half with a steal, layup and ensuing free throw with just one tick remaining before intermission.

What had been a close game had quickly turned into a runaway for the Bulldogs, who would crown their perfect regular season -- and NEW-6 Championship -- 16 minutes of action later.

Foster would pace NC's balanced scoring attack with 15 points, while SN center Bryan Tabron offered a game -high 21 points.

Central, which will undoubtedly receive a favorable draw for the upcoming Class 3-A State Playoffs, will also be at home for this week's NEW-6 Conference Tournament.

GIRLS GAME: Two key baskets down the stretch from Jessica Harrison helped Nash Central rally to defeat Southern Nash in a close girls contest last Friday at the SN Gymnasium.

Harrison's final bucket with 31 seconds remaining would prove to be the eventual game-winner during a 32-31 triumph for the Lady Bulldogs.

Central entered NEW-6 Conference Tournament action with a 10-13 overall record to go with a 4-6 league mark. Southern Nash is 14-8 and 5-5.

Both coaches had to be shaking their heads somewhat following the back-and-forth game, as each club squandered an opportunity to win before Harrison came through down the stretch for Nash Central.

The Lady Bulldogs, utilizing a speed advantage, led by seven points early in the fourth quarter before the resurgent Ladybirds went on a 12-2 spurt.

It didn't help matters that NC's Janna Oxendine was in foul trouble, which allowed SN head coach Scott Collie to utilize a full-court press that caused a quick flurry of Nash Central turnovers.

Alyse Hall scored on a layup off a steal for SN to tie the score at 28-28 with 4:36 to play.

Hall then gave SN the lead at 30-28 on a stickback at the 3:35 mark before SN pushed its lead to three on a Shante Neal free throw.

Harrison brought NC to within 31-30 with 2:33 remaining. Following an exchange of possessions, the Ladybirds decided to free the ball, only to see a player take an ill-advised shot off a drive to the basket.

The mistake was parlayed into a basket by Harrison at the other end that would give the Lady Bulldogs the lead for good.

Southern called time-out to set up a shot, but Hall's attempted pass was picked off by Oxendine with seven seconds left.

SN came up with a near-steal from Neal off an inbounds pass before the ball squirted toward halfcourt in a play that resembled a rugby scrum.

The Ladybirds would earn possession with just one second remaining after the play, but the inbounds pass inexplicably went to the backcourt, and time expired without Southern being able to get off a quality shot -- much to the dismay of Collie.

Harrison (11) and Oxendine (10) combined for 21 points for the winners, while Jelissa Ward would chip in with six points.

All of Oxendine's markers would come before the break, as she was bothered by foul difficulties in the third and fourth quarters.

Hall poured in a game-high 18 points for Southern Nash, seven of which came in the initial stanza of action.

Neal was next for Southern Nash with five, followed by Erin Grady and Lavaia Hinnant with three points apiece.

Both clubs will be in action this week at the NEW-6 Girls Conference Tournament at Nash Central.

Beyond clear-cut favorite SouthWest Edgecombe, the girls portion of the bracket looks to be competitive.
Printer-friendly format
---
---