Nash County begins junk car cleanup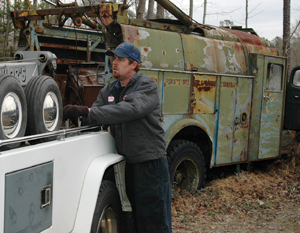 A new effort to clean up the county has begun with the implementation of a junk car program. The program went into effect January 1 and recently picked up its first car.

Commissioners granted approval for the program in the Fall of 2006, with a January 1 implementation date. According to Rosemary Dorsey, the program is another way the board is trying to make the county more attractive.

"It's sort of another effort, along with the dilapidated homes, to get rid of the visual blight in parts of the county," Dorsey said.

The county also has a program which allows Nash County residents to dispose of their dilapidated mobile homes at the landfill at no charge. The program started as a temporary effort but was continued indefinitely. The junk car program, Dorsey said, is another way for citizens to dispose of their unwanted vehicles at no charge. "There's no fee," she said. "There's no cost for the program."

The program will run until the end of the fiscal year. At that time, Dorsey said commissioners will review its success and possibly look at a junk car ordinance. "We just started this way as a voluntary effort," Dorsey said. "Then we'll see if we need to take the next step."

Taylor's Exxon of Nashville is picking up the cars for the county at no charge. Their first stop was last week on Aventon Gin Road. Taylor's will tow the car and receive the recycle fee from the cars they pick up.

"There's no cost to the county," Matthew Richardson, Solid Waste Manager said. "Everybody's a winner in this."

Getting your junk cars picked up is an easy process, Dorsey said. First, the cars must be located outside the city limits. "At this time we're only collecting the cars from the rural parts of the county," she said. An application must be filled out and turned in. Dorsey said there is a three-day turn around period for getting the vehicles removed. "It's a simple process and we're more than happy to get these cars removed," Dorsey said. "They can be operable or non operable. We'll get them either way. But they're all being recycled."

Citizens interested in finding more out about the program can contact Richardson at 459-9899 or the Planning Department at 459-9809.

"We are ready and waiting to get the applications in," Dorsey said.
Printer-friendly format
---
---