Nag-free on Valentine's Day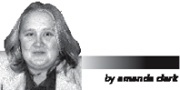 Today is Valentine's Day and like most women, I'm curious about what my valentine will bring me.

Valentine's Day is very exciting as a kid. But, once you're married, the excitement goes away and it seems a little harder to think of special things to do for your significant other that you don't do every day.

When my husband and I were dating, he started giving me roses every Valentine's Day. He bought candy, teddy bears and all sorts of other mushy stuff to go with it. I must admit, I was spoiled.

Each year, the number of roses would increase a dozen. So by the third year of dating, I was receiving three dozen roses. In marriage though, several dozen roses cost a lot of money, money which techinically comes out of my pocket too, so it just isn't as sweet anymore. I would prefer he wash three dozen dishes instead, preferably after cooking me a nice dinner.

As for my husband, he'd probably prefer that I not nag him on Valentine's Day. That would be the best present in the world for him, better than chocolate or any trinket I could give him. One full, nag-free day and he's a happy man. (For those of you who don't know, nagging means reminding him of the things he forgot to do today.)

It's not that I don't like or look forward to Valentine's Day but after so many years of trying to think of romantic things to do for a man, I've gotten a little bitter. There's only so many ways you can tell a man"I love you." Poetry and flowers just don't work. I think at this point, the nag-free day will probably be the best gift ever. If only it were the gift that kept on giving. But I can only remain silent for one day, and that's pushing it.

Printer-friendly format
---
---