Southern edged by Ladycats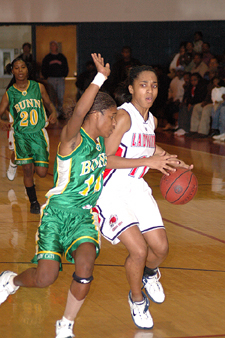 STANHOPE - Different night, same story.

When the teams met earlier in the season, Bunn fell behind early but rallied for a non-conference victory over Southern Nash in girls prep basketball action.

Last Wednesday, the Ladycats trailed again well into the third quarter before blitzing SN down the stretch to earn a 42-31 victory.

Bunn was behind 15-11 at the break but outscored the Ladybirds 16-4 in the third stanza to take charge.

The Ladycats, who have also clinched the Northern Carolina Conference regular season crown, upped their mark to 17-5 overall and 8-1 in the NCC.

"I told the girls at halftime that our defense was good, but we were stagnant on offense,'' said BHS head coach Daniel Wright. "We needed to pick it up, and we did. We executed our offense much better in the second half.''

Southern, controlling the tempo as it likes to do, slowed down BHS in the first half and went to intermission holding a four-point lead.

Bunn fought back to tie the score at 19-19 before, following another BHS basket, the Ladycats received back-to-back 3-pointers from Nita Cotton to move ahead 27-19 going into the final eight minutes.

BHS' cushion grew to as many as 13 points in the fourth frame.

Cotton paced BHS with 13 points, while Carolyn Wilkins chipped in with 11 markers. Vita Cotton grabbed a team-high 10 boards for the Ladycats.

Southern, which has enjoyed a strong season in the NEW-6 Conference, got 16 points from star wing Alyse Hall.

BOYS GAME: Down by as many as 11 points, Bunn rallied to within four (43-39) in the final period before Southern Nash pulled away for a 63-54 decision.

Bunn, playing without injured point guard Kimani Yarborough, received 21 points from Dominic Alston, but it wasn't enough to avoid losing to SN for the second time this season.

SN led 28-25 at halftime and extended its advantage to 43-32 before Bunn went on a 7-0 spurt to get back into the game.

But Southern Nash forward Kwamaine Battle, who had signed a football scholarship to Virginia Tech earlier in the day, came through with two clutch baskets to help the Firebirds re-establish control of the non-conference matchup.

Marcus Howard topped Southern with 20 points, followed by Bryan Tabron (16) and Battle, who finished with 13 tallies.

Earlier in the season, Southern Nash won at the Bunn Dome, and the Firebirds were determined last Wednesday to show that conquest wasn't a fluke.

"We hadn't beaten Bunn twice since the first or second year that I was here,'' said Southern Nash boys basketball coach Robbie Kennedy. "We were definitely playing for pride. To me, it was a big deal. Bunn has been playing very well, so this is a good win for us.''

Even though it was a non-conference matchup in the final week of the regular season, the intensity level was still high, mainly because the two schools are located less than 10 minutes apart.

Bunn led by as many as seven points early at 13-6 following Jairod Barnes' driving layup at the 3:43 mark of the initial frame.

But Howard got hot down the stretch at the end of the first quarter, pouring in 10 points in a span of three minutes to bring Southern Nash to within 17-16.

Bunn, however, received a trey from Joey Batkoski at the buzzer to push its margin to 20-16 at the end of the period.

Southern's defense was solid in the second quarter, limiting the Wildcats to just five points (and only one basket) as the Firebirds would head to intermission holding a three-point advantage in the contest.
Printer-friendly format
---
---