Seniors dance the night away in town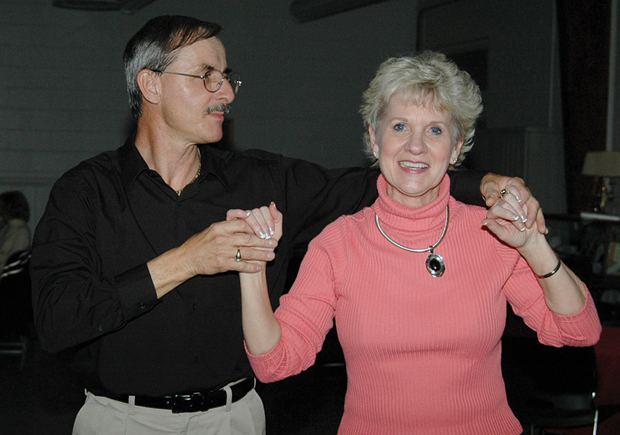 It's Friday night in Nashville and things are just heating up at the Senior Center on North Alston Street. The lights are low and the music is turned up and folks from all over are dancing the night away. It's the Senior Center's monthly community dance, held the first Friday of every month from 7 until 10 p.m.

Folks from all over come out on these Friday nights to socialize, snack and most importantly, dance. And don't let the location fool you. Seniors aren't the only ones seen on the dance floor. "For the community dance, all ages are welcome," said Jamie Wilson, Senior Center Coordinator. "It's something for everyone here."

The dances first started around three years ago. The Senior Center decided to host a special Valentine's Day program, which included dancing. Wilson said there was so much feedback from the community, the center began hosting dances once a quarter. After the first year, it changed to once a month.

Now, the monthly dances have gotten so popular, a dance committee was formed to help organize the refreshments and publicity. Refreshments, by the way, are included in the $5 admission charge, a price you can't beat for three hours of fun.

"It's a great place to come out and meet people," Wilson said. "It's not like going out to a bar."

The dances are smoke and alcohol free. Roadrunner DJ Service provides the music. "We play great music for shagging, two-stepping," Wilson said. "You can do a whole lot of dances at our dance. We really try to please everyone."

Janice Winstead comes to the dances every month. She also attends the Tuesday line dancing classes at the center, which are held Tuesday and Thursday for seniors. "I love it," Winstead said.

Gail Corbett also attends the dances each month and is one of the line dancing instructors at the center. "It's wonderful," Corbett said of the dances. "It's exercise. It's fellowship. It gives the seniors something to do and is for the whole community."

Leroy Jones can barely keep still at the dances each month. Jones loves to dance and each month, comes out to the center to show what he's learned from all the line dancing classes he takes during the week. "It's just good exercise," Jones said. "It keeps your mind occupied and it's a lot of fun. I'm just having a good time."

The next community dance is set for Friday, March 2. Wilson encourages Nashville citizens, along with citizens from neighboring communities to swing by and check it out.

"Everybody's welcome," Wilson said. "The surrounding counties are welcome. We really want to be a part of the community and let folks know we're here."

For more information about the community dance, call 459-7681.
Printer-friendly format
---
---