Subscribe/Access
Advertisements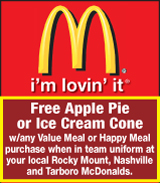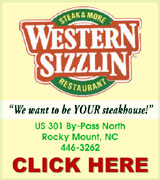 Sections
Member Options
Back
School redistricting plans remain disputed
NASHVILLE—Concerned parents and teachers attended the Nash-Rocky Mount Schools (N-RMS) Board of Education meeting Monday night to let them know their opinions on the reassignment plans currently being discussed for elementary schools and the policy regarding placement of students of employees. The standing-room only crowd overflowed into the hallway outside the boardroom to support those who spoke and to hear the entire meeting. More ...
By Michele Cruz, Graphic Correspondent
Eleven drug dealers busted in Nash County
NASHVILLE - Eleven drug dealers have been taken off the streets in the past two weeks, thanks to combined efforts of local law enforcement in an undercover operation.

The investigation, led by the Nash County Sheriff's Department, has been ongoing for around four months. According to Lt. Scott Parker, the operation targeted street level drug dealers in several Nash County communities, including Spring Hope, Bailey, Middlesex and Rocky Mount. More ...
By Amanda Clark, Graphic Staff Writer - 1 opinion posted
Nashville barber celebrates 60 years operating business
NASHVILLE - Willard Inscoe has been in business in Nashville for 60 years and has no plans to stop.

The 91-year-old barber said he enjoys his work and likes to stay busy. As long as he is able, Inscoe said he will continue to cut hair from his Virginia Avenue barber shop. More ...
By Amanda Clark, Graphic Staff Writer - 1 opinion posted
Nashville Task Force to get outside assistance
NASHVILLE - Nashville's Comprehensive Plan Task Force has acquired the assistance of two professionals, Charles Taylor told council members during their regular meeting Tuesday night. More ...
By Amanda Clark, Graphic Staff Writer
SNOW BUDDIES
Joey Davis, Griffin Wingfield, Anna Scott Wingfield, Holly Davis, Zach Joyner and Lauren Joyner, build a snowman at 805 South Creek Drive in Nashville. More ...

Red Oak's basketball program grows
Pat Griffin and Jim Fretz came Monday to Red Oak's regular business meeting to thank the town board and to present an update on the progress of the Red Oak Basketball program to which the town board awards an annual donation. Last year, Red Oak contributed roughly $9000 to the program: this year, it has budgeted more than $12,000 for the events. More ...
By Amelia Harper, Graphic Correspondent
Teacher dies in auto accident
A Friday morning accident killed a Rocky Mount teacher and injured two others in a head on collision on Old Carriage Road. More ...
By Amanda Clark, Graphic Staff Writer
Snow make-up day is Feb. 19
Nash County students received their first snow day of the year, as snow fell throughout Nash County last Thursday, canceling school. More ...
By Amanda Clark, Graphic Staff Writer
County is asked to amend sign laws
Nash County's Board tabled a text amendment request which would exclude real estate, political and public auction signs from all Unified Development Ordinance (UDO) regulations. More ...
By Amanda Clark, Graphic Staff Writer
Hockey ticket sales benefits Communities in Schools
RBC Centura Bank, through their Invest in Success Campaign, has donated 100 hockey tickets to Communities In Schools to benefit their Scholarship Endowment Fund. Tickets are for the Carolina Hurricanes game against the Ottawa Senators on Tuesday, February 27, at the RBC Center. More ...

Scouting for Food begins
Local scouts have begun their annual "Scouting for Food" drive and ask that Nashville residents help fill their bags with non perishable food. More ...

Champions for Children honored
The Down East Partnership for Children (DEPC) recognized eight outstanding citizens from Nash and Edgecombe Counties last week at its Champions for Children Reception. More ...

Castalia board reviews goals at recent retreat
CASTALIA - Castalia Commissioners met with mayor Elene Leonard for a six hour retreat held at Gardner's Restaurant on Saturday, February 3. Commissioners reviewed the goals set at last year's retreat and the progress made on those goals. They also carefully examined current employee policies and proposed possible changes to be discussed at regular business meetings in the future. More ...
By Amelia Harper, Graphic Correspondent
Politics and students' views on computer gender
It's time to clean out the Soapbox notebook again, with many thanks to contributors from Rocky Mount, High Point and my father-in-law in Rappahannock County, Virginia.
· · With candidates already announcing their campaigns for the 2008 election year, it's never too early to get sick of politics. More ...
Mike Brantley
Award recipients are truly champions for children
I had the pleasure of spending an evening with a room full of champions last week. No, it wasn't a sporting event or a competition. I was at the Champions for Children reception held by the Down East Partnership for Children.

The event was held this year at the Imperial Centre, which I thought was a wonderful idea. More ...
Jo Anne Cooper
Preparing for UNC's victory
Tonight UNC will take on their greatest rival and after last Saturday's game against NC State, I'm a little worried.

I was still moving this past weekend so while I was driving back home, I turned my radio to the game, no doubt the score would show UNC winning. NCSU hasn't had a great season so I didn't think they had a chance this go around. But suddenly, the announcer said NCSU was ahead by about 4 points. I had to listen again to be sure I heard correctly. More ...
Amanda Clark
Bulldogs nab NEW boys title
ROCKY MOUNT -- When your school is relatively new, your athletic program's history is made virtually every year.

But Nash Central's boys basketball program has never seen a season like this one before. More ...
By Charles Alston, Graphic Correspondent
Wesleyan a winner in extras
WINCHESTER, VA. -- After overcoming a 13-point halftime deficit, the Battling Bishop men's basketball team scored the first six points of overtime last Saturday afternoon to down homestanding Shenandoah University by an 83-78 score.

Junior guard Lenny Hall, who netted a team-high 24 points, knocked down a 10-foot jumper with 15 seconds remaining in regulation to knot the score at 66-66 and force the extra period. Wesleyan improves to 9-10 overall, 4-3 in USA South play. More ...
From Staff Reports
County stars shine in pool
GOLDSBORO -- Once again, Nash County will be well-represented at the states following a strong performance at last Saturday's Class 3-A East Regional Swim Meet.

Top-12 finishers from the regionals qualify for this weekend's state event, which will be held in Huntersville. More ...
From Staff Reports - 1 opinion posted
NASH CENTRAL REGIONAL SWIM STARS
Nash Central High's participants at last weekend's Class 3-A Eastern Regionals in Goldsboro were (l to r) Max Sherard, Taylor Keel, Rebecca Johnson, Stephanie Jones, Exum Toney, Chelsey McKeel, Cody Strickland, Kimberli Silveri, Justin Murray, Emerald Bunn, Brandon Atkins, Emily Brown and Tyler Leggins. Emily Wayland is not pictured. (Submitted Photo) More ...

Firebirds come through with win vs. Fike
WILSON -- Southern Nash's boys traveled to Wilson Fike Friday night and came away with a 70-58 upset win over the Golden Demons.

Junior guard Marcus Howard popped in 21 points, while seniors Kwamaine Battle added 15 and Bryan Tabron chipped in with 10 to allow the Firebirds to pull off the NEW 6 Conference shocker. More ...
By Charles Alston, Graphic Correspondent
JAMES JEROME "JIMMY" MEADE, JR.
NASHVILLE – Following a courageous battle with cancer, James Jerome "Jimmy" Meade, Jr. went home to be with the Lord on Sunday, February 4, 2007. More ...
May 19, 1919 - February 4, 2007