Nashville barber celebrates 60 years operating business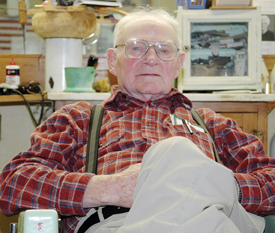 NASHVILLE - Willard Inscoe has been in business in Nashville for 60 years and has no plans to stop.

The 91-year-old barber said he enjoys his work and likes to stay busy. As long as he is able, Inscoe said he will continue to cut hair from his Virginia Avenue barber shop.

Inscoe has always cut hair. As a boy, he grew up on a farm in Nash County and started to cut his dad and brother's hair. Eventually, neighbors would come for haircuts. When Inscoe entered the military, he cut hair there too.

"I've been barbering all my life," Inscoe said. "There's nothing else I particularly wanted to do. (And) I ain't quite ready to give up yet."

Inscoe said he used to stay busy cutting hair but as time goes on, his haircuts have dwindled down to about 20 per week. "That's about a good day's work for a good barber," he said. "But I don't want that many now."

Still, Inscoe is happy keeping his business open to the regulars while many others have settled down to enjoy retirement. "The rest of them had sense enough to quit," Inscoe joked. "But shoot, since I feel all right, I don't see no reason to quit."

When he's not cutting hair, Inscoe enjoys woodworking. His shop is surrounded by wood creations Inscoe has made. "I got a junk shop here, I call it instead of a barber shop," Inscoe said. He also spends time at Rock Creek Church, where he says he still gives a third of what he makes each week.

Inscoe admits that like other things, barbering has changed a lot in 60 years. But for him, it's stayed the same. He still has the same type of equipment he started with. "I still cut hair like I always have," Inscoe said. "I don't go for all this fancy styling. I just like to cut a decent set of hair."

Inscoe still charges $6 for a hair cut and offers sodas for 35 cents each. He doesn't see any reason to change it.

Many in Nashville have had several generations of men get their hair cut by Inscoe. Inscoe has cut three generations of the Collier's hair, starting with Moses Boone. Recently, David and Melanie Collier's son, Drew, received his first haircut from Inscoe. "He cut my grandfather's hair when he first came to Nashville," David said. "He's a great guy. He's been cutting hair since he was a teenager."

As far as quitting is concerned, Inscoe said he hasn't thought about when he will settle down. He enjoys his time working and said as long as he's able, he will continue to cut hair for Nashville.

"I just do what I can," Inscoe said. "I've got along fine in Nashville."
Printer-friendly format
---
February 17, 2007 at 12:00am
My Grandpa gave me my first haircut over thirty years ago, and he gave me my last one last summer when I was fortunate enough to visit him. In this troubled world, I am hard pressed to find a man more worthy of respect and emulation than Willard Inscoe.
---