Subscribe/Access
Advertisements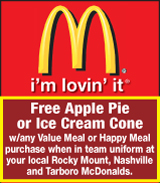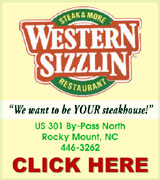 Sections
Member Options
Back
NRMS recruits for dual language program


Nash-Rocky Mount Public Schools are actively working to recruit students at four elementary schools for a new global learning opportunity.
A Dual Language/Immersion Program will be introduced during the 2017-2018 school year at Coopers Elementary, Bailey Elementary, Middlesex Elementary and Winstead Avenue Elementary Schools. As part of the Dual/Language Immersion program, the four sites would be considered Global Ready School sites.
The Dual Language/Immersion program uses two languages for literacy and content instruction.

More ...
AMANDA CLARK, GRAPHIC STAFF WRITER
Middlesex fires police chief


The Town of Middlesex has fired its police chief, after he was charged with assaulting his girlfrield last week.
Authorities allege that William Dennis Murray, 43, went to the woman's Franklin County residence last Tuesday evening and assaulted her.
Nash County sheriff's deputies arrested Murray on March 15 and turned him over to the Franklin County Sheriff's Office, which charged Murray with assault on a female and communicating threats, both misdemeanors.

More ...
AMANDA CLARK, GRAPHIC STAFF WRITER
CAREER DAY
NFL football player James Hurst of the Baltimore Ravens visits Nashville Elementary during Career Day which was held last Friday. Numerous other presenters from the community were on hand to talk with all grade levels about various careers.
More ...
Music series kicks off on April 21st


The Town of Nashville will kick off its new Creekside Music Series next month with local artist Matty Begs.
The town received $2,000 in grant funding through the North Carolina Arts Council's Grassroots Arts Grant Program. Nash Arts acts as a liaison in administering the grant.
The grant is a 50/50 grant so the town is putting up an additional $2,000 to make the music series happen.

More ...
AMANDA CLARK, GRAPHIC STAFF WRITER
Nash to honor Billy Morgan


Nash County Commissioners are looking at ways to honor former Commissioner Billy Morgan.
Morgan passed away in January, just months after retiring from his seat on the board. Morgan had served 29 years on the Board of Commissioners.
Danny Tyson requested in February that the board consider naming a building after Morgan.
The board met on Monday to discuss a variety of items, one of which was how to appropriately honor Morgan.

More ...
AMANDA CLARK, GRAPHIC STAFF WRITER

OPENING DAY -- Brothers Torry and Terrance Holt, of Holt Brothers Construction, were guests at the ribbon cutting for the new Sheetz in Nashville.

Sheetz opens for business in Nashville


The Town of Nashville welcomed its second tenant to Nash Crossing last week, as Sheetz officially opened.
The convenience store held its grand opening festivities last Thursday morning, starting with a ribbon cutting ceremony to formally open the store.
On hand for the ribbon cutting were Joe Sheetz, President and CEO of Sheetz, as well as brothers Terrence and Torry Holt, of Holt Brothers Construction in Raleigh, which served as the general contractors for the project. The Holt brothers are also former NFL football players.

More ...
AMANDA CLARK, GRAPHIC STAFF WRITER
American Legion honors long-time member


American Legion Post 110 hosted its annual Ladies Night on Monday evening, focusing on the spouses and widows of service men in the organization.
Though the event's focus was on the ladies, an American Legion member was recognized for his long-term service to the organization.
Buddy Moss was recognized by Commander Jim Boehm for his 51 years of service to the American Legion. Moss was presented the Certificate of Continuous Membership by Boehm.

More ...
AMANDA CLARK, GRAPHIC STAFF WRITER
High-speed Internet need tops legislative forum


Nash County Commissioners met with legislators Thursday night at the annual legislative forum and dinner to discuss issues facing Nash County.
Nash County Board Chairman Robbie Davis said after he called the meeting to order, "I'd like to genuinely thank everyone for being here tonight." Later he continued, "One thing we can all agree on is as long as we're talking we're going to do a much better job for Nash County."
Each legislator was invited to speak on the 2017 session and what has been accomplished so far.

More ...
JESSICA A. SMITH, GRAPHIC CORRESPONDENT
Spaulding Middle School site bidding ward continues


The bidding war for the former Spaulding Middle School site continues.
Nash-Rocky Mount Public Schools announced last week that it had received another offer of $42,500 to purchase the Spaulding School. That bid will be good through March 30.
The bid comes from SND, LLC and Randall B. Pridgen, out of Rocky Mount.

More ...
AMANDA CLARK, GRAPHIC STAFF WRITER
Fire
An abandoned mobile home caught fire last week after a grass fire got out of control on Cedar Grove School Loop Road. The fire started after someone was burning debris and it got out of hand, an official with the Red Oak Fire Department said. The fire spread to a mobile home on the corner of Parker and Cedar Grove School Loop Roads. The home is considered a total loss. The fire is still under investigation.
More ...
NASHVILLE POLICE REPORTS
INCIDENTS
A damage to property (Vandalism) was reported on 3/12/17 at the Tar River Learning Center, 323 E Sixth Street
A possession of drug paraphernalia and aggravated possession of marijuana was reported on 3/12/17 at W Washington Street and Taylor Store Road
A driving while impaired was reported on 3/13/17 at 803 Old Wilson Road
More ...
NASH COUNTY SHERIFF'S OFFICE REPORTS
A larceny/theft of money, personal items was reported on 3/13/17 at 791 W Battleboro Avenue
A burglary (breaking and entering) was reported on 3/13/17 at 13361 Taylors Store Road
A larceny/theft of money, personal items was reported on 3/13/17 at 2506 Oak Level Road
A breaking, entering and larceny was reported on 3/14/17 at 7085 Strickland Road
More ...
Local church celebrates 117th anniversary
A local church is celebrating its 117th anniversary.
St. James Church of Christ, Disciples of Christ, in Elm City recently celebrated its 117th anniversary with three evenings of worship services on March 8, 9 and 10. In addition, a community outreach day was held on Saturday, March 11.
The Community Day was a day of fun activities for adults and children, including games, educational activities, food and a cake cutting.
More ...
Nash County Republican Party holds annual convention


The Nash County Republican Party held its annual convention recently in the Brown Auditorium at Nash Community College.
The convention is held every year as a means of taking care of necessary business, such as the adoption of the Plan of Organizations and the election of delegate to district and state conventions, and also to celebrate recent electoral victories. As Josh Wester said in his opening remarks, "2016 was a banner year for Republicans. We are happy to celebrate so many electoral victories and accomplishments."

More ...
Jessica A. Smith, Graphic Correspondent
Nash Central Middle wins N-RMPS Battle of the Books
Teams representing all six middle schools in the Nash-Rocky Mount Public Schools (NRMPS) district competed in the Middle School Battle of the Books competition on Tuesday, March 14, 2017. For the second year in a row, Nash Central Middle School (NCMS) won the competition. Red Oak Middle School finished second and Southern Nash Middle School finished third.
"Middle School Battle of the Books is a competition that requires participants to read a list of 27 books and each team is quizzed on the list of books read.
More ...
NCMS wins district Quiz Bowl event
Nash Central Middle School (NCMS) won the Nash-Rocky Mount Public Schools (NRMPS) Middle School Quiz Bowl event that was held on March 16, 2017 at the Booker T. Washington Theater in Rocky Mount. Southern Nash Middle School finished second in the competition and Edwards Middle School finished third. Quiz Bowl is an academic competition where teams compete in a head-to-head challenge to be the first team to answer various academic questions.
"Quiz Bowl is a wonderful opportunity for students to participate in healthy competition based on a series of questions related to various core content areas.
More ...
ENGAGED
Jon Williamson, of Bear Grass, and Christy Jo Suthard, of Atlanta, Georgia are pleased to announce the engagement of their daughter, Britany Jo Williamson, of Castalia, to Mark Bass, of Castalia. He is the son of Dallas and Nancy Bass, of Castalia. An April 1, 2017 wedding is planned at Sunset Stables in Robersonville.
More ...
MILITARY NEWS
U.S. Air Force Airman Ethan M. Riggenbach graduated from basic military training at Joint Base San Antonio-Lackland, San Antonio, Texas.
The airman completed an intensive, eight-week program that included training in military discipline and studies, Air Force core values, physical fitness, and basic warfare principles and skills.
Airmen who complete basic training also earn four credits toward an associate in applied science degree through the Community College of the Air Force.
More ...
Local named to Dean's List
Nash County resident Michelle Leigh Kay was recently named to the Dean's List at Central Carolina Community College for the Fall 2016 semester.
Students named to the Dean's List earned a grade point average of at least 3.5 for the term, were registered for at least 12 semester hours and received no grade lower than a C, with no incomplete grades.
More ...

First Grade
Nashville Elementary Career Day
Nashville Elementary School students had the opportunity to learn about numerous careers during last week's Career Day. Numerous people from the area were on hand to talk to students about various careers including representatives from Nash County EMS, Nashville Fire Department, Nash UNC Health Care, The Nashville Graphic, Carolina Girls Photography, State Employees Credit Union, East Care, Nash Central High School, WHIG-TV, Nashville Parks and Recreation, Nash County Sheriff's Department, Stocks Engineering, Rocky Mount Police Department and more.
More ...
Graduates
Cadets from Nash Community College's 48th Basic Law Enforcement Training (BLET) Academy were recognized for completion on Tuesday, March 7, 2017. The training program includes physical and classroom state commission mandated topics and methods of instruction covering topics such as criminal, juvenile, civil, traffic, and alcohol beverage laws, investigative, patrol, custody, and court procedures, emergency responses, ethics, community relations and more.
More ...
CSX donates clothing to NCC Success Closet
Students at Nash Community College are one step closer to being career-ready thanks to CSX. The company donated new professional outfits to the college, that were assembled by a group of CSX intermodal employees, who volunteered their time for the project.
"We saw an opportunity to connect our partners at Dignity U Wear and Edgecombe and Nash Community Colleges, which both share goals related to career readiness -- and we're excited to see the closets of professional wardrobes that were created as a result of this collaboration," Tori Kaplan, Vice President, Communications and Field Support, CSX.
More ...
Nash County Animal Friends' Notebook


Everyone should be responsible for the stray dogs that are in your area, especially if you take pity on it and start feeding it. At that point, you are starting to become the owner. Now remember, please, that a stray dog may have an owner. They may have taken off on an adventure. There are several things you must/should do. First secure it, so it will be safe. Then report the found dog to the Shelter, in case the owner is looking there (besides it is the law), and also check for a microchip at any vet or the Shelter.

More ...
CAROL VIERELA, NASH COUNTY ANIMAL FRIENDS
PEACHTREE COMMUNITY NEWS


It was a sunny, but chilly morning as Peachtree folks gathered at the church for worship. Sanctuary flowers were given by Annie Belle Edwards. She gave the beautiful arrangement of spring flowers in memory of her husband, Harold, on the occasion of his ninetieth birthday.
The Adult Choir sang "His Strength is Perfect" under the direction of the pastor. Jane May played a beautiful piano arrangement of "I Shall Know Him".
Beverly Wilson's sermon for the children was about 'water 'and how important it is to us. She told the story about Jesus waiting at a well for a drink of water.

More ...
BARBARA HARDISON
Luke's Word for the Week


There is an ancient practice known throughout the Christian faith called The Stations of the Cross. It's also referred to as The Way of the Cross, which comes from the Latin phrase, Via Crucis. It began hundreds of years ago when pilgrims journeyed to the Jerusalem landscape and retraced the steps Jesus took during his passion that lead to his death and resurrection. It was meant to be a somber time of reflection, meditation, and consideration all that Jesus went through and how he truly was the fulfillment of the Suffering Servant, as prophesied in the Old Testament book of Isaiah.

More ...
LUKE WHITEHEAD
RED OAK NEWS


Women in Action of Red Oak Baptist Church met on Thursday, March 16. They enjoyed a spaghetti and salad supper together. Audrey Pearce shared the program. Everyone worked together to complete 58 Dolls on Mission! The dolls will be traveling later to Cambodia and will be given to the children at the orphanage. The group also plans to prepare and serve a meal at the Homeless Shelter in Rocky Mount.

More ...
SUZY PEARCE
Nash County Blood Drives March 2017
Monday, March 27 from 3 until 7 p.m. at Sandy Cross United Methodist Church, 3725 Sandy Cross Road, Nashville
Tuesday, March 28 from 9 a.m. until 3 p.m. at Edgecombe Community College, 225 Tarboro Street, Rocky Mount
Tuesday, March 28 from 8 a.m. until 1 p.m. at Faith Christian School, 133 Faith Christian Drive, Rocky Mount
More ...
New left lane law might mean progress


If you think the state legislature has been pretty worthless overall, take heart. A new bill is in the works that will certain cross party lines and benefit all of society.
Senate Bill 303 -- No Hs, no Bs no 2s -- would slap a $200 fine on drivers who drive below the speed limit in the left lane or "impede the flow of traffic," unless the driver is passing or getting ready to make a left turn.
Just to clarify: this does refer to four lane roads, not the two lanes that make up most of the county.

More ...
Mike Brantley
Recent proposal gives state government far too much power


Dear Editor: I would like to express viewpoints on several important issues that impact my life as a senior citizen. A recent move in Raleigh by state legislators to stop local governments from providing leadership and the ability to pass local ordinances that make life better for the residents living in the 100 counties, except by their approval, is taking fiduciary powers too far.

More ...
Letters
Pigs will be pigs - they say!


I'm out and about a lot, covering different events throughout the county and lately, I've been asked by several people about my pigs.
"How are the pigs doing," they ask.
I find myself answering their question first in my head because I was always taught to think before you speak. Then, I redact most of what I thought and end up saying, "Oh, they're good but they're a handful!"

More ...
Amanda Clark
Backward Glances


LIONS CLUB OFFICERS INSTALLED -- This photo was originally published in The Graphic on June 20, 1974. The Nashville Lions Club installed officers for the 1974-75 year at the Town and Country Restaurant in Nashville. Aaron Phillips (left) zone chairman for Lion District 31J and a member of the Rocky Mount Luncheon Lions Club, installed the new set of officers.

More ...
A PICTORIAL LOOK INTO THE PAST

SPIVEY SOARS IN THE CONFERENCE. Nash Central High School senior Myia Spivey (left) is made the All-Big East Girls Basketball Squad.

Big East Salutes Central Stars


RED OAK -- The three-mile stretch between Nash Central and Northern Nash featured an amazing array of basketball skills during the 2016-17 season.
In boys action, Northern Nash won the Big East Conference regular season championship and ended up making its best run in the postseason since 1995 by making the quarterfinals of the Class 3-A State Playoffs.
Just across US 64, Nash Central was a winner in the Big East Conference tournament in both boys and girls in back-to-back fashion.

More ...
GEOFF NEVILLE, Graphic Sportswriter

TOP DOG. Nash Central High School No. 1 Singles Player Cameron Johnson returns a shot as part of his team's home victory Monday afternoon against the Louisburg Warriors in boys prep tennis action.

KINGS OF SWING


ROCKY MOUNT -- When Nash Central traveled to Louisburg last Wednesday, the weather was so cold and windy that the teams agreed to suspend play after singles competition -- and with the visiting Bulldogs already clinching the team victory by a 5-1 score.
Conditions were much more favorable for Monday's rematch at the NCHS Courts, but the result was still the same.
Nash Central took four of the six singles matches and swept the doubles on its way to defeating the Warriors by a 7-2 margin in non-conference boys tennis action.

More ...
GEOFF NEVILLE, Graphic Sportswriter
NC nabs victories over SC


MYRTLE BEACH, S.C. -- The 20th annual Carolinas Classic All-Star Basketball Games, sponsored by the North Carolina Coaches Association and the South Carolina Athletic Coaches Association, were played March 18 in Myrtle Beach.
North Carolina swept the two games with only weak resistance.
Mikayla Boykin (Clinton HS) who is headed to Duke was the women's MVP on a team which had six double-figure scorers.

More ...
Staff Reports
NCWC rolls on diamond


ROCKY MOUNT -- The North Carolina Wesleyan College Battling Bishop baseball team honored its 2017 senior class on Sunday prior to its home doubleheader with Greensboro College.
NC Wesleyan went on to win the opener 5-0 before dropping game two 11-1.
Sunday's first game saw senior T.J. Wilkie turn in his strongest peformance of the season, combining with freshman Michael Smith for the shutout.

More ...
Staff Reports
NCHS in second in golf standings


WILSON -- Through two events, long-time powerhouse Wilson Fike is once again in first place in the Big East Conference boys golf standings.
But the Nash Central Bulldogs are lurking following Monday's second league meeting, which was held at Happy Valley Golf Club in Wilson.
Fike was the overall team winner with 339 strokes -- eight shots ahead of Nash Central.
Northern Nash was third at 376, followed by Southern Nash (392) and Wilson Hunt (393).

More ...
Staff Reports
Golf event scheduled


ROCKY MOUNT -- The 8th Annual Earl Coley Golf Classic will be held May 26 at the Belmont Lake Golf Club in Rocky Mount.
All proceeds from the event will go to the O.D. Moore Scholarship Foundation.
A four-person captain's choice team scramble format will be utilized.
Check-in will be at 8:30 a.m. and will be followed by a shotgun start at 9 a.m.

More ...
Staff Reports
Nash Central topped by league foe Wilson Fike


ROCKY MOUNT -- Host Nash Central High School was defeated by long-time powerhouse Wilson Fike by a 9-0 margin last Thursday afternoon in Big East Conference boys tennis action.
With the victory, the Golden Demons improved to 4-1 overall and 2-0 in conference play.
Nash Central, coached by Frank Poyer, dropped to 2-2 overall and 0-2 in the Big East

More ...
Staff Reports

ON HIS WAY. Rocky Mount's Damian Moore competes in a boys relay event at the T Sanders Invitational Track and Field Chamionships, which were held last Saturday at Franklinton High School.

Salute To Sanders


FRANKLINTON -- Conditions certainly weren't ideal for the annual T Sanders Track and Field Championships, which were hosted last Saturday by Franklinton High School.
Rocky Mount braved the rainy weather to take part in the event, but Nash Central decided not to attend.
Rocky Mount took 17th place overall with 14 points in the girls standings, while the boys claimed eight place overall with 28 points.

More ...
Staff Reports
East Carolina swept versus Mercer


GREENVILLE -- Chase Burks tossed seven scoreless innings, while JT Thomas registered four hits including his third home run of the weekend leading Mercer to an 8-2 win over No. 8 East Carolina University Sunday afternoon in baseball action at Lewis Field inside Clark-LeClair Stadium.
With the win, the Bears improved to 17-4 on the season, while the Pirates were swept at home for the first time this year and fell to 13-7.
Burks (1-0) struck out a career-best seven batters allowing two walks and six hits over his personal-best seven frames.

More ...
Staff Reports
TRYSA hosts youth event


ROCKY MOUNT -- The Tar River Youth Soccer Association hosted 250 youth last month in an academy showcase in Nash County.
The event featured 28 teams from 8 different associations across Eastern North Carolina. The event is the largest regional academy showcase in the eastern part of the state this spring.
This event was important for Rocky Mount and Nash County as it brought kids, parents and families to local facilities.

More ...
Staff Reports
HERE IT COMES
Nash Central's Nagee Wilkins prepares to blast a serve at No. 3 Singles as part of the Bulldogs' home tennis match Monday afternoon versus the Louisburg Warriors.
More ...