Subscribe/Access
Advertisements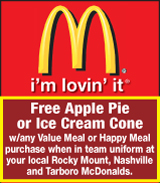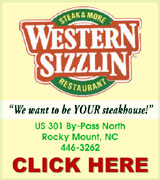 Sections
Member Options
Back
POP Clinic discontinues mobile service
Local rescuers were devastated to discover last week that the Pet Overpopulation Patrol, or POP-NC, was closing and would discontinue its mobile spay/neuter clinics in Nash County.
The clinic has been coming to Nashville since November 2010, setting up on the grounds of the Nash County Animal Shelter. More ...
Amanda Clark, Graphic Staff Writer

COLE

Locals face drug charges
Three Nashville residents were arrested for drugs after a traffic stop last week.
According to the Nash County Sheriff's Office, a vehicle stop was conducted at the on-ramp to Highway 64 near Nashville on Tuesday, March 12. During the stop, deputies detected the odor of marijuana coming from inside the vehicle and received permission to search the vehicle. More ...

OPRY TIME
Nashville's Business and Professional Women (BPW) hosted its 35th annual Elsie Clark Memorial Opry on Saturday at Nash Arts. The event was rescheduled from January because of the weather. Pictured above, guest vocalist Sara McDaris performs with Carolina Grass members Tommy Daughtridge (on guitar) and Lee Flood (on fiddle). Other Carolina Grass members include Eddie McDaris (bass/vocals), Larry Taylor (guitar/vocals), Dr. Steve Peters (fiddle) and James Brown (mandolin). More ...

Joyner lobbies state tanning bed bill
A local woman is hoping the General Assembly will pass a bill that bans those under 18 from using tanning beds.
Dale Joyner, of Nashville, joined an advocacy team associated with the American Cancer Society's Cancer Action Network last Wednesday. The group is opposed to young people using tanning beds. A bill went before the Regulatory Committee and was approved. The bill will now be sent for a vote by the House. More ...
Amanda Clark, Graphic Staff Writer
Middlesex changes water sewer billing
The Town of Middlesex is changing the way it bills citizens for water and sewer services.
Commissioners voted unanimously last Monday night to change the billing of water and sewer services from the nearest thousand to the nearest gallon.
Currently, the town is charging residents $4.50 per 1,000 gallons for water and $13 per 1,000 gallons for sewer. More ...
Amanda Clark, Graphic Staff Writer
Bailey man charged in fatal crash
A Bailey man faces two charges of felony death by motor vehicle after killing an Elm City woman and her three-year-old son last week.
According to the North Carolina Highway Patrol, 25-year-old Stacey Deans, of Bailey, was driving on South Church Street around 9:30 p.m. on Monday night when he crossed the center line and struck another vehicle head-on. More ...


Chief Professional Officer for the Boys and Girls Club of Nash/Edgecombe Counties Ron Green (at left) congratulates the 2013 Youth of the Year Israel King. King is a senior at Nash Central High School.

King named Youth of the Year
Israel King's life changed on August 25, 2008.
It was the day he joined Saint Mark AME Church and was baptized. It was also the day he met Kevin Harris, who ultimately encouraged King to attend the Boys and Girls Club.
Since joining the Lucy Ann Boddie Brewer unit around five years ago, King has pushed himself to excel. More ...
Amanda Clark, Graphic Staff Writer
School sites detailed in facility report
Last week, the Nash-Rocky Mount Schools (NRMS) board began its review of the long-range facility needs report, as the first step in creating the NRMS capital improvement plan. The nearly 300-page report is the conclusion of the work of Smith Sinnett Architecture (SSA), NRMS maintenance department, and Brady Trane.
More ...
Michele A. Cruz, Graphic Correspondent
NASHVILLE POLICE BRIEFS
ARRESTS
Joseph Gregory Murphy - 3/11/13 - charged with all other offenses
Heather Pridgen - 3/13/13 - charged with all other offenses
Lenwood Armston, Jr. - 3/14/13 - charged with driving while intoxicated and parole and probation violations More ...

NASH COUNTY SHERIFF'S OFFICE REPORTS
An unauthorized use of a motor vehicle was reported on 3/11/13 at 1370 North Wesleyan Boulevard
A missing person was reported on 3/11/13 at 940 Young Road
A narcotics violation was reported on 3/11/13 on the 600 block of E. Castalia Road
A larceny of a motor vehicle wa reported on 3/11/13 at 3910 W. Castalia Road More ...

DOT closes Nash County road for pipe replacement
The N.C. Department of Transportation closed a 2.4 mile-long section of Turkey Foot Road near Red Oak in Nash County Tuesday morning, March 19 until Friday, March 22. The closure is necessary for crews to replace a crossline pipe under Turkey Foot Road in preparation of a road resurfacing project this summer. More ...


Reagan Davis, of Pack 37, was the Tar River District 2013 Pinewood Derby Champion. Pictured is Davis at the Coopers Pack 37 Clubhouse with his trophies.

Local Scout wins District Pinewood Derby
Sixty scouts competed in the Tar River District 2013 Pinewood Derby Championship on Saturday, March 2 at Golden East Crossing Mall in Rocky Mount.
Reagan Davis, a scout from the Coopers Pack 37, was named the District Champion.
Three other Coopers Pack 37 Scouts also placed in the top three in competitions. More ...

Wal-Mart celebrates 5 years
Nashville Mayor Donald Street treated Wal-Mart Manager J.J. Golden to a little pie last week as part of the store's five-year anniversary celebration.
Street shoved a whipped cream pie in Golden's face as part of a challenge Golden issued to store associates to raise money for the Children's Miracle Network. More ...
Amanda Clark, Graphic Staff Writer
MCTEACHER NIGHT
McDonald's in Nashville hosted a McTeacher Night on Tuesday, March 5, with teachers working behind the counter to help raise money for the school. A portion of what was made was given to the school. Pictured above, Teacher's Assistant Christy O'Leary takes an order from parent Sammy McKeel. More ...

Davis honored at Republican Convention
The Nash County Republican Party honored long-time member and County Commissioner Robbie Davis at its most recent county convention held on Thursday, March 7 in the Brown Auditorium at Nash Community College where the group held a dinner which was provided by the Momeyer Ruritan Club. There, Davis was honored as the recipient of the 2012 Faye Eagles Volunteer of the Year Award for outstanding volunteer service to the organization and the community. More ...
Amelia Harper, Graphic Correspondent - 1 opinion posted
Schools noted for PBIS programs
Seventeen NRMPS schools were recently recognized by the North Carolina Department of Public Instruction for their implementation of Positive Behavior Intervention and Support (PBIS) programs.
PBIS programs are a way to impact the learning environments in the schools in order to support high student performance and to reduce behavioral problems. PBIS has been implemented in NRMPS since the 2005-2006 School Year. More ...


SIMMONS

School system announces new administrators
Nash-Rocky Mount Public Schools recently announced three new administrative assignments during the NRMPS Board of Education meeting held March 4.
Thomas Crabtree was named the Assistant Superintendent for Human Resources. Ashley Simmons was named the Chief Public Information Officer. Ann Mitchell was named the principal of the new Rocky Mount Middle School. More ...

Davis named NCAF Volunteer of the Year
Nash County Animal Friends, (NCAF), recently announced Jodie Davis as its Volunteer of the year. Jodie Davis was one of the first volunteers with NCAF. She initially started as a pet handler but due to regulations at the shelter, volunteers were not allowed to handle pets over four-months old. Jodie quickly learned how to be a photographer and started uploading photos for NCAF. More ...

DONATION
Coats Veterinary Hospital recently donated a universal microchip scanner to the Nash County Animal Shelter. The veterinary hospital raffled off a cat and dog basket to raise money to buy the scanner, which cost around $350. Kennel Manager Shanna Floyd said she found out the animal shelter had an outdated scanner that would not scan all types of microchips so she decided to hold the fundraiser. More ...

MOUNT ZION FWB CHURCH NEWS
Robert Tyner reported that we had 71 in Sunday school today. We want to do better than that. Pray for us as we call and knock on doors. Bobby Farmer prayed the dismissal prayer.
Our choir sang "He Did It All For Me" for the call to worship. Pastor Aycock welcomed everyone and prayed the prayer of invocation. Algie Jones Jr. led in the congregational hymns "At The Cross" and "Nothing But The Blood." More ...
ROSALENE BASS
PEACHTREE COMMUNITY NEWS
On a chilly St. Patrick's Day Peachtree folks gathered for worship. Pastor Whitehouse greeted the congregation and visitors present. The sermon topic for the day was, "It is not Enough to be Orthodox in our Theology." It was based on scripture passages Revelation 2: 12-27 and Romans 1:25. He quoted Dr. Hershel Hobbs, a great Baptist theologian, who said "---the truth in God's word in not up for compromise". More ...
BARBARA HARDISON
RED OAK NEWS
Congratulations to Blake and Natalie McKeel on the recent birth of their son, Emerson Blake! Proud grandparents are Bill and Lucy McKeel.
Members of Red Oak Baptist Church will participate in the Guardian Care Ministry on Thursday, March 21 at 10:30 AM. More ...
SUZY PEARCE
Nash County 4-H
The Nash County 4-H Livestock Judging Team, the Quad Pods, recently finished second for sheep and swine as a team and third overall team at the NC Hereford Invitational Livestock Judging Contest in Raleigh at the NCSU Beef unit. More ...

Nash County Blood Drives for March 2013
Thursday, March 21 from 12 until 5:30 p.m. at Spring Hope Elementary School
Monday, March 25 from 3 until 7 p.m. at Red Oak Volunteer Fire Dept., 7951 Red Oak Blvd.
Thursday, March 28 from 12:30 - 6:30 p.m. at Nash Central High School in the gym, 4279 Nash Central High Road, Rocky Mount More ...

NEW MEMBER
Toni Suiter, at left was welcomed into the UDC Bethel Heroes Chapter 636 at their March meeting. Making the presentation of her certificate of membership was Margaret Sink, Registrar (at right). To be a member of the United Daughters of the Confederacy, you must offer proof that an ancestor served in the confederacy during the War Between the States. More ...

NASH COUNTY RELAY FOR LIFE EVENTS
Sister of Hope – 42" Vizio TV $1 Raffle tickets. Winning ticket drawn at Relay (Do not have to be present to win)
Sister of Hope – Yard Sale, Friday, April 5th, 8 am - 4 pm; Sat. April 6th. 8 am - 12 noon at Sowers Photography. N. Wesleyan Blvd., Rocky Mount. More ...


Chase Taylor, a kindergarten student at Nashville Elementary, looks through a telescope with assistance from Matt Canady, a student at Nash Community College.

Astronomy Night at NES
Nashville Elementary School hosted Astronomy Night on Friday, March 1 at the school.
Each class at the school learned about the solar system, doing different projects as part of the curriculum.
As a part of Astronomy Night, students came out with their families to check out all the projects and to participate in more solar system projects. In addition, students were able to look at telescopes. More ...

Troxler appoints Bissette Assistant Commissioner
Agriculture Commissioner Steve Troxler recently announced several staff appointments at the N.C. Department of Agriculture and Consumer Services, including a Spring Hope man.
Scott Bissette, of Spring Hope, was appointed as Assistant Commissioner overseeing the NC Forest Service. He had been serving in the interim since December. More ...

Local photographer receives honors
Nashville Photographer Angela Blankenship recently attended the 2013 Professional Photographers of North Carolina Convention in Durham and received several honors. Blankenship won first place in the children's category. Four of Blankenship's prints received the Court of Honor award for receiving a score of 80 or above. More ...

MILITARY NEWS
Marine Corps Pfc. Anthony A. Diaz-Meyer, son of Delia Diaz of Rocky Mount, earned the title of United States Marine after graduating from recruit training at Marine Corps Recruit Depot, Parris Island, S. C.
For 13 weeks, Diaz-Meyer stayed committed during some of the world's most demanding entry-level military training in order to be transformed from civilian to Marine instilled with pride, discipline and the core values of honor, courage and commitment. More ...

Lions Club
The Nashville Lions Club recognized Diane Swindell at the March 6 meeting and presented her with a15-year Lions Chevron lapel pin. The pin was for Swindell's mother, Lioness Frances Ludlum, who passed away in November 2012. Pictured above (L-R) is Diane's husband, former Senator A.B. Swindell, Diane Swindell and Lions President Mary Boehm. More ...

Western Carolina grads, honor lists
Western Carolina University has announced its graduation and Dean's List for Fall Semester 2012.
The university in December conferred degrees on 638 students who completed their studies during the fall semester. A total of 182 undergraduate students received academic honors, with 42 graduating summa cum laude (with highest honors), 68 graduating magna cum laude (with high honors) and 72 graduating cum laude (with honors). More ...


Batts

Batts, Mitchell appointed to Nash Health Care Board
Jeffrey Batts, a partner in the law firm of Batts, Batts & Bell, LLP, and Melvin M. Mitchell, president of the Melvin M. Mitchell Agency, were appointed to the Nash Health Care Board of Commissioners.
A North Carolina native, Batts was born and raised in Rocky Mount, and his extensive experience represents 20 years of dedication to the community. More ...

RECOGNIZED
Braswell Milling recognized long-time employee Bobby Scott in December for his 50 years of service to the company. Scott received a plaque for his service. Pictured is Scott with Trey Braswell, Executive Vice President of Braswell Milling. More ...

World Thinking Day
Pictured above (L-R) is: Raven Davis, Courtenay Wells, and Hannah Tollefsen of Troop 3249 with their World Thinking Day projects. (Contributed photo) More ...

Teen programs added to Rocky Mount Parks and Recreation
The City of Rocky Mount's Parks and Recreation Department is now making teens a primary focus with year-round teen programming, increasing after City staff realized that a majority of summer camps and other initiatives were for much younger individuals. More ...

A five-year old's strategy of pickin' up chicks
It started with a family dinner in Wilson, but it ended with me shoveling manure in the dark. All because of a particular 5-year-old. At least that's the story I'm going to stick with.
After meeting family for a long overdue visit to Cracker Barrel — one of just a handful of places the kids will all be happy — there were things to do. More ...
Mike Brantley
Boys & Girls Clubs are changing lives
Last Tuesday, I attended the Boys and Girls Club annual Youth of the Year event.
What a special event it was!
The Boys and Girls Club really works hard to make the Youth of the Year finalists feel like stars. They get the red carpet treatment all the way.
And they should. More ...
Amanda Clark
McKoy is indeed a "Distinguished Citizen"
Eddie McKoy was long overdue recognition for his volunteer work here in Nashville and he's never been one to stand in the spotlight. But recently the spotlight found him as he was named the 2013 Nashville Chamber of Commerce Distinguished Citizen of the Year.
Eddie is so deserving of such an honor. More ...
Jo Anne Cooper
Backward Glances
This photo was originally published in The Graphic on April 26, 1973. Nash County farmers were transplanting tobacco. Jake Johnson (left) and Alston Carpenter (right) were setting tobacco in the field behind a tractor driven by John Lucas. More ...
A PICTORIAL LOOK INTO THE PAST

CRASH COURSE. Northern Nash's Elana Martinez (left) tries to gain possession of the ball during action last Friday against West Brunswick High School at The Brittany For The Girls Soccer Showcase, which was held at Gillette Park in Wilson.

HALF THE BATTLE
WILSON -- The true meaning of The Brittany For The Girls Soccer Showcase centers around sportsmanship and having run -- two areas that typified the career of Brittany Willis during her playing days at Wilson Hunt High School.
Gaining an invite to The Brittany is an honor for any school, and being a part of the event is always cherished by Northern Nash veteran head coach Joe McCarthy. More ...
GEOFF NEVILLE, Graphic Sportswriter

BALL CONTROL. Southern Nash's Harley Crowder possesses the ball during Monday's home soccer setback vs. Bunn High.

SN falls against Ladycats
STANHOPE -- Whitney Bunn has broken her share of opposing hearts during her four-year girls basketball career at Bunn High School.
Now a senior, Bunn has led the Ladycats to a trio of Elite Eight appearances in the Class 2-A State Playoffs, and she has earned a scholarship to Furman University. More ...
GEOFF NEVILLE, Graphic Sportswriter

MOVING FORWARD. Nash Central's Tina Coggin (left) sends the ball ahead for the Lady Bulldogs during last Friday night's contest with South Brunswick as part of the 2012 Brittany For The Girls Soccer Showcase at Gillette Park in Wilson.

Central Off To A Great Start
WILSON -- Since this is his first season as Nash Central High School's girls soccer coach, Ryan Cherlinczuk-Ruiz can't provide an effective gauge of how improved the Lady Bulldogs are this spring.
But the numbers don't line, and Central is off to its best start n school history with a 6-0-2 mark through eight contests. More ...
GEOFF NEVILLE, Graphic Sportswriter
SN's Leon selected to squad
GREENSBORO -- Southern Nash High School's Carlos Leon will make history this summer as the first-ever Firebird to take part in the East-West All-Star Soccer Game.
Leon, who helped lead the Firebirds to the Elite Eight of the Class 3-A State Playoffs last fall, has been selected for the prestigious honor. Earlier, Leon, a defender, earned All-State honors from the North Carolina Soccer Coaches Association. More ...
Staff Reports
NCHSAA HOOPS FINALS RESULTS
CHAPEL HILL -- Here are last Saturday's schedules for the North Carolina High School Athletic Association Basketball Championships: More ...
Staff Reports
ECU baseball squad wins vs. Jacksonville
JACKSONVILLE, FLA. -- Luke Lowery belted a home run in his second straight game and David Lucroy struck out seven batters helping East Carolina University (11-8) to a 6-4 non-conference baseball series win over Jacksonville (6-14) Sunday afternoon at John Sessions Stadium. More ...
Staff Reports
WCU's Sumler claims All-Tourney award
CULLOWHEE -- Western Carolina University redshirt junior guard Trey Sumler was named to the 2013 Southern Conference All-Tournament team following the completion of the nation's oldest post-season tournament.
It is the second straight season that Sumler landed on the honorary postseason tourney squad, also earning first-team accolades following last year's epic tournament run to the title game. More ...
Staff Reports
NC State wins series at Wake Forest Univ.
WINSTON-SALEM -- No. 17 North Carolina State University's pitching staff rose to the occasion in Sunday's rubber match, holding Wake Forest to two runs on six hits as the Wolfpack took the diamond series with a 5-2 win at WFU's Gene Hooks Field.
The Pack (16-5, 3-3 ACC) grabbed a 2-0 lead in the third on Bryan Adametz's two-run double. More ...
Staff Reports
Bishops take series at Maryville
MARYVILLE, TENN. -- North Caroina Wesleyan College's baseball squad earned its second straight USA South series win over the weekend, taking two of three games at Maryville College.
Junior Will Beasley tossed a gem in Saturday's opener to help Wesleyan to a 3-1 win, while senior Jake Alexander went 2-for-3 with two RBIs in Sunday's 10-1 rubber game victory. More ...
Staff Reports
CHANDLER REMAINS CALM
Northern Nash's Chandler Pierce (right) avoids traffic and sends the ball up field during last Friday night's Brittany showdown against West Brunswick. More ...

I'LL TAKE THAT
Northern Nash's Taylor Locklear (right) comes up with a takeaway for the Lady Knights during The Brittany action last Friday against West Brunswick. More ...

LETICIA'S QUEST
Southern Nash's Leticia Cantera (right) jousts with Bunn's Erica Levinson for possession of the ball during Monday afternoon's matchup at the SN Soccer Complex in Stanhope. More ...

NCHS TEAM UNITY
Nash Central's players huddle up before taking the field last Friday against South Brunswick as part of The Brittany For The Girls Soccer Showcase. More ...

MASTER JIQUEL S. COPELAND
ELM CITY ––Master Jiquel S. Copeland, 3, of Elm City, North Carolina, died on Monday, March 11, 2013, at Nash General Hospital in Rocky Mount, NC. More ...

WILLIAM ALBERT FORBES
ROCKY MOUNT –– William Albert Forbes, 60, of Rocky Mount, died on Wednesday, March 13, 2013, at Rex Healthcare Center in Raleigh. More ...

ROOSEVELT WHITEHEAD
BROOKLYN, NEW YORK –– Roosevelt Whitehead, 74, of Brooklyn, New York, died on Monday, March 11, 2013, at SUNY Downstate Medical Center Long Island College Hospital in Brooklyn, New York, More ...

ANNETTE L. BATTLE
RED OAK - Funeral services for Annette L. Battle, 77, who died on Friday, March 8, 2013, were Friday, March 15, at noon at St. John Missionary Baptist Church with Rev. Herbert Scott officiating. More ...

REATHA MAE RICHARDSON
SPPRING HOPE - Funeral services for Reatha Mae Richardson, 74, who died on Thursday, March 14, 2013, will be today (Wednesday, March 20) at 1 p.m. at Pleasure Hill Baptist Church. Burial will follow in the Spring Hope Memorial Garden with Rev. Wilson Battle officiating. More ...

MARGARET ROBERTSON WEAVER
Margaret Robertson Weaver, 71, of Fayetteville and Rocky Mount, passed on Wednesday, March 13, 2013. Born in Nash County on November 21, 1941, she was the daughter of the late Mary Lee Bone Robertson Smith and late Ben Siler Robertson. She was preceded in death by her parents, Mary Lee and Ben, and her stepfather, Daniel Smith, and one son, infant Randy Weaver.
More ...