Subscribe/Access
Advertisements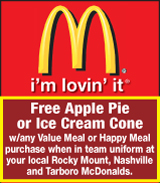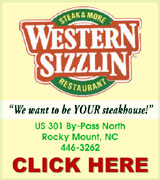 Sections
Member Options
Back
Nash County buys land pegged for new poultry plant
The Nash County Board of Commissioners voted Monday to purchase the property that is being considered by Sanderson Farms for a poultry plant.
The action was taken following a closed session.
The property, located on Highway 97, is currently owned by Cecil and Bertine Williams. More ...
Amanda Clark, Graphic Staff Writer
Southern Nash teen dies in car accident
A 16-year-old Elm City girl was killed in a single car accident after her vehicle ran off the road on Saturday.
According to Sergeant Eddie Thomas, of the North Carolina Highway Patrol, Caroline Wynne Hathaway was traveling west on Sandy Cross Road around 5:30 p.m. when she came across a curve and lost control of her 2000 Isuzu Rodeo. More ...
Amanda Clark, Graphic Staff Writer
Nashville Christmas Celebration
Snow couldn't keep children away from Nashville's Annual Children's Christmas Parade held Saturday, December 4. The parade went on despite the falling snow. Pictured above, Stephanie Bolin takes her two and a half month old daughter, Lillian, to see Santa for the first time following the parade. Not pictured is father Allen Bolin. More ...
GRAPHIC PHOTOS BY AMANDA CLARK
Fire destroys garage at Taylor's Exxon
A Taylor's Exxon employee was injured during a fire at the business last Wednesday morning.
According to Chris Bissette, Nash County Fire Marshal, an employee, whose name was not released, was working on the fuel system of a vehicle when he dropped a work light. Bissette said when the bulb broke, it gave a quick electrical flash, causing a flash fire. More ...
Amanda Clark, Graphic Staff Writer
Town purchases more property on Boddie Street
Nashville's Town Council approved the sale and purchase of property behind the Police/Fire Complex at its regular meeting on Tuesday night.
The approval comes a little over a year after the town approved another purchase of property at 404 S. Boddie Street. In November 2009, council members approved the purchase, agreeing to pay around $70,000 for the property. More ...
Amanda Clark, Graphic Staff Writer
Red Oak continues to discuss lighting at park
The park at Red Oak will soon glow a little brighter, it seems. Red Oak commissioners met Monday with a representative of Musco, a sports lighting company, to nail down options for lighting the baseball fields at the W.B. "Bill" Ennis, Jr. Memorial Park. The park, which was jointly funded by the Towns of Red Oak and Dortches, has been open for more than a year, but has only had lighting for the tennis court areas. More ...
Amelia Harper, Graphic Correspondent
Nashville business owner passes away
Dan Allen Joyner, owner and operator of Joyner's Recreation in downtown Nashville, died Saturday, December 4, 2010 at the age of 70.
Dan opened the downtown business in 1969 which is often referred to as a Nashville landmark by both locals and visitors. More ...
Jo Anne Cooper, Graphic Publisher and Amanda Clark, Graphic Staff Writer
Morgan to serve as Chair of Nash Board of Commissioners
Nash County Commissioners have a new chairman, as commissioners voted 4-3 to put Commissioner Billy Morgan in the top seat.
Commissioner Robbie Davis has served as chairman of the board since February 2009, when he took over the seat after Claude Mayor announced his resignation from the board.
More ...
Amanda Clark, Graphic Staff Writer

Vickie Glover stands in front of her Christmas decorated dining room Friday night during an open house. Each year, over 100 people come out to tour Glover's home and see all the Christmas decorations.

Local woman decorates house to spread Christmas cheer
Vickie Glover has always loved Christmas. Seventeen years ago, she decided she wanted to spread the Christmas joy.
Each year, on the first Friday night of December, Glover holds an open house at her home on South Browntown Road, just outside of Dortches. Glover invites over 100 people to come out and visit and get a sneak peek at all her decorations. More ...
Amanda Clark, Graphic Staff Writer
NRMS receives clean audit for 2009-2010
At their Monday night meeting, Nash-Rocky Mount Schools (NRMS) received a clean audit report for fiscal year 2009-10 from Dixon Hughes (DH). "This audit is the cleanest you can get," DH Manager Mark Soticheck told the board. "Your finance office did a wonderful job." More ...
Michele A. Cruz, Graphic Correspondent
Nash unveils Project Lifesaver
Nash County recently announced a program that will help locate people with cognitive impairments faster.
Project Lifesaver was announced during a press conference last Monday morning. Project Lifesaver is a rapid response program that locates people with a cognitive impairment, such as Alzheimer's, Autism, Down Syndrome and Dementia, that wander away from their caregivers.
More ...
Amanda Clark, Graphic Staff Writer
BBQ Chicken Plate Sale
The Red Oak Middle School Football parents held a BBQ Chicken Plate Sale to benefit the Terry Pittman Fund on November 12 at the school. The dinner profited over $9,000 thanks to the efforts and support of the entire community helping with cooking, preparation and purchasing of plates and the businesses that provided donations.
More ...

MOUNT ZION FWB CHURCH NEWS
We had a good Sunday school lesson from Isaiah titled "Receiving Comfort and Strength". God called Isaiah to preach judgement when they were living in sin and rejecting God's ways. Then, He called him to preach messages of comfort and hope. More ...
ROSALENE BASS
RED OAK NEWS
The International Mission Study was held at Red Oak Baptist Church on Wednesday, Dec. 1. As participants arrived to begin their journey to Thailand, they were greeted with a taste of Thailand in the form of tapioca pudding, tropical fruit, and apple slices. More ...
SUZY PEARCE
PEACHTREE COMMUNITY NEWS
The perfect snow storm came on Saturday evening. It was exciting to watch the flakes falling. Everything became a winter wonderland. But on Sunday morning the roads were clear and church services could be held as scheduled. By noon most of it was gone. That's the way to have snow! More ...
BARBARA HARDISON
EPHESUS NEWS
On behalf of Ephesus Baptist Church and the Tar River Baptist Association, I would like to take this opportunity to thank Batchelor's 17th Annual Biker Toy Run for their continued support of Christian Family Ministries and Toy Store. Generous donations were received in excess of $4,500.00 along with truckloads of toys, making it possible for others to have a wonderful Christmas. More ...
DEBBIE PHILLIPS
BEULAH COMMUNITY NEWS
Happy birthday to Randy Williams who turned 30 years old on the 4th of December. One of his sons, Mason Williams also had a birthday this week. He is 4 years old. They both had a birthday party on Saturday night, to celebrate. Natalie, Randy's wife (Mason's mother) did a great job getting things fixed for the party. More ...
WILMA ENROUGHTY
GIVING BACK
The Down East Luncheon Ruritan Club recently made a $100 donation to Nash County Foster Care. Pictured above (L-R) is Mary Todd, with the Down East Luncheon Ruritan Club and Shirley Williams of Foster Care. (Contributed photo)
More ...

Military News
John F. Rudolph
Civilian John W. Rudolph, son of Margaret M. and John F. Rudolph of Elm City, recently enlisted in the United States Navy under the Delayed Entry Program at Navy Recruiting District, Raleigh. More ...

Christmas gifts for outrageous shoppers
It always seems that when Thanksgiving comes late, people get a late start on their Christmas shopping.
Sure, there is Black Friday, but we all know that is less about shopping and more about women's version of deer hunting. Then there's Cyber Monday, when all across America people take a break from using Facebook at work to shop for Christmas gifts. That's more about just changing up the way you goof off. More ...
Mike Brantley
We are lucky to have dedicated firefighters
Last Wednesday morning, there was a fire at Taylor's Exxon in Nashville. When I got there, the fire was fully involved and I must admit, I was worried about what could happen. The fire was in a car shop and I'm sure there were lots of flammable things in and around there. I immediately worried there would be some type of explosion and then my worried turned to the firefighters who were working feverishly to put the fire out. More ...
Amanda Clark
Nashville visit was rewarding experience for Moldovans
Under sponsorship of the Open World Leadership Program of the U.S. Library of Congress, we at the International Affairs Council recently hosted a group of visiting mayors and local government officials from Moldova. Our goal was to introduce them to good government practices and ideas they could take back and use to the benefit of their communities and in the process build lasting relationships to promote understanding and the future sharing of information. More ...
Letters to the Editor:
New legislation will be healthier for children
Thank you Congressman Jones!
With your vote earlier this week, the U. S. House of Representatives has made a tremendous investment in the health of our nation's children with the historic passage of the Healthy, Hunger-Free Kids Act. More ...
LETTERS TO THE EDITOR:
School Board member thanks community
I would like to personally thank each and every person that has helped me through this campaign year including my close friends for going the extra mile. I would like to also thank all the voters of District 2 and assure them I will work hard to support all those within District 2.
More ...
LETTERS TO THE EDITOR:
We must be good stewards in our use of this Earth
Millions of years ago God created this earth. After creation he placed mankind upon the earth and told him to use of everything upon this earth. God re-irritated the point about use of everything on this earth again to Noah after the floods. More ...
Letters to the Editor:
Backward Glances
This photo was originally published in The Graphic November 13, 1958. Paul Breedlove (left) is congratulated on being the first donor to the Nash County 4-H Development Fund by T.H. LeCroy of Rocky Mount, treasurer of the organization. (Graphic photo by Smith.)
More ...
A PICTORIAL LOOK INTO THE PAST

WINTER WONDERLAND. With the snow falling, Nash County's Grant Jones (with ball) tries to elude a Mebane defender during last Saturday afternoon's semifinal action at the Statewide Athletics Committee Football Tournament at Eastern Alamance.

SWAC Snowdown
MEBANE -- Nash County has rolled through its share of overmatched foes during its 36-game football winning streak.
But the Firebirds have also shown an ability to excel when necessary during close games -- even though there haven't been many of them. More ...
GEOFF NEVILLE, Graphic Sportswriter

FORWARD THINKING. Nash Central's Rush Sherard competes in an IM event during last Wednesday's Big East Conference Swim Meet, which was held at the Harrison Family YMCA in Rocky Mount.

Two In A Row For NC
ROCKY MOUNT -- Just in case anybody thought Nash Central's season-opening victory was a fluke, the Lady Bulldogs offered an encore performance last Wednesday in the second Big East Conference swim meet of the 2010-11 campaign.
Central was dominant once again at the 10-team league event, racking up 152 points to outdistance second-place Wilson Fike (135 points) at the Harrison Family YMCA. More ...
GEOFF NEVILLE, Graphic Sportswriter

ON THE LOOKOUT. Nash Central's Nate Pittman (with ball) tries to find an open teammate during last Friday's road basketball game against Bunn.

Dogs Hit The Road
BUNN -- Last Friday night's boys basketball showdown between non-league rivals Nash Central and Bunn featured almost an exact scenario to the earlier girls matchup.
Just with the outcome switched.
In the girls game, Bunn was the better team down the stretch, and the Ladycats were able to pull away for the victory. More ...
GEOFF NEVILLE, Graphic Sportswriter
Diamond event is targeted
ROCKY MOUNT - First Annual Coleman-Pitt Post 58 American Legion Baseball Camp is set for Tuesday and Wednesday, Dec. 28 and 29 at Nash Central High School.
It will be open to students in grades 6-12. More ...
Staff Reports
HIGH SCHOOL GRID SCORES
CHAPEL HILL -- Listed are last Friday's semifinal results and this weekend's championship schedule for the North Carolina High School Athletic Association State Football Playoffs: More ...
Staff Reports

SN DRIBBLE DRIVE. Southern Nash's Logan McNinch makes her way to the basket during the Ladybirds' home basketball victory last Tuesday night against the Franklinton Lady Rams.

SNHS Opens Season
STANHOPE -- Playing up one classification level and with a shorthanded roster, the Franklinton Lady Rams were unable to effectively match up Tuesday night against the host Southern Nash Ladybirds.
Southern, in its season opener, broke open a tight game in the third period and went on to defeat Franklinton by a 33-25 margin at the SNHS Gymansium. More ...
GEOFF NEVILLE, Graphic Sportswriter

DEFENSIVE STANDARD. Southern Nash's Marcus Hicks (left) and Tony Wills (middle) double team Franklinton's Jamal Johnson during last Tuesday's matchup.

Southern Nash claims a thriller
STANHOPE -- With Kevin Williams still not at 100 percent because of an injury, the Franklinton Red Rams have been looking to other offensive options during the early portion of the 2010-11 boys basketball campaign.
Some of those players stepped up for Franklinton during last Tuesday's road game at Southern Nash -- which also featured Williams' regular-season debut as he continues to nurse a leg injury suffered during FHS' football playoff game in mid-December. More ...
GEOFF NEVILLE, Graphic Sportswriter

INSIDE INTENSITY FOR NC. Nash Central's Jasmine Williams (right) tries to avoid the defense of Bunn's Marisa Bellamy during last Friday night's girls basketball showdown at the Bunn Dome.

Dogs Edged By BHS
BUNN -- Rare are the well-played games in the early portion of the high school basketball season.
Teams are still working out their kinks, and players are getting used to competing with each other.
But that wasn't the case during last Friday's girls hoops showdown between Nash Central and host Bunn. More ...
GEOFF NEVILLE, Graphic Sportswriter
NC Wesleyan enjoys solid hoops weekend
ROCKY MOUNT -- In the USA South Conference women's basketball opener for both squads, North Carolina Wesleyan College used a strong defensive effort to secure a convincing 72-42 victory over Mary Baldwin College last Saturday afternoon in Everett Gymnasium. More ...
Staff Reports
RM's Gainey claims 300th career victory
PINETOPS -- Rocky Mount girls basketball coach Pam Gainey joined SouthWest Edgecombe's Sandra Langley and Northern Nash's Grover Battle as the Twin Counties' only 300-game winners last Friday evening as her girls demolished Langley's Cougars 72-26. More ...
CHARLES ALSTON, Graphic Correspondent / Submitted photos by David Hahula
CLR hosts its annual banquet
ELM CITY -- County Line Raceway put a close to the 2010 racing season with its annual awards banquet.
The track honored the Top 10 in each division in an event held last Saturday night, December 4 at the Wilson County Fairgrounds. More ...
Staff Reports
BIG EAST CONFERENCE SWIMMING HIGHLIGHTS
LADY KNIGHT IN ACTION. A Northern Nash swimmer takes part in a distance freestyle event during last Wednesday afternoon's Big East Conference Swim Meet at the Harrison Family YMCA. (Graphic photo by Geoff Neville)
More ...

BIG EAST CONFERENCE SWIMMING HIGHLIGHTS, 2
SOUTHERN STANDOUT. Southern Nash's Turner Perkerson takes to the water for the Firebirds during their appearance last Wednesday at the Big East Conference Swim Meet in Rocky Mount. (Graphic photo by Geoff Neville)
More ...

PAUL JOHNSON
ROCKY MOUNT - Paul Johnson, 71, of Rocky Mount, died on Wednesday, December 1, 2010, at Nash General Hospital in Rocky Mount. More ...

REGINALD LAVON COOPER
ROCKY MOUNT - Reginald Lavon Cooper, 43, of Lancaster, SC, and formerly of Rocky Mount, died on November 27, 2010 at his residence. More ...

DAVID BARNETT
ROCKY MOUNT - David Barnett, 39, of Rocky Mount, died on Sunday, November 28, 2010 at Nash General Hospital in Rocky Mount. More ...

BARBARA ANN CAMPBELL
ROCKY MOUNT - Barbara Ann Campbell, 70, of Rocky Mount, died on November 27, 2010 at Moses Cone Hospital in Greensboro. More ...

RACHEL BARBEE STOKES
NASHVILLE - Rachel Barbee Stokes, 95, passed away on Friday, December 3, 2010. She was the daughter of the late Luther Franklin and Nettie Pearl Pridgen Barbee. Rachel was preceded in death by her husband Paul Lee Stokes Jr. and daughter Crystal Stokes Smith of St. Petersburg, Florida. More ...

DEBRA BROWN HINES
ROCKY MOUNT - Debra Brown Hines, 57, of Washington, DC, and formerly of Rocky Mount, died on Monday, November 22, 2010 at United Medical Center in Washington, DC. More ...

BOBBY HENRY RACKLEY
ROCKY MOUNT - Bobby Henry Rackley, 77, passed away on December 5, 2010. He was born on May 10, 1933, the son of the late Navy Rackley and Eva Pridgen Rackley.
More ...

BARBARA JEAN BATTLE
ROCKY MOUNT - Mrs. Barbara Jean Battle, 71, of Rocky Mount, died on Wednesday, December 1, 2010, at Nash General Hospital in Rocky Mount.
More ...

PLUMMER "PAP" BATTLE
ROCKY MOUNT - Plummer "Pap" Battle, Sr., 91, died November 28, 2010. Funeral services were at Mt. Olive Baptist Church, Saturday, December 4 at 2:00 pm. Rev. James Williams officiated.
More ...

KENNETH "ROADIE" M. TAYLOR
CASTALIA – Kenneth "Roadie" McKinley Taylor, 85, of Castalia, died Sunday, December 5, 2010, at Franklin Regional Medical Center. He was preceded in death by his wife, Jesse Faulkner Taylor and his sister, Elsie Cone. Mr. Taylor loved to go to his son, Wayne's business, Taylor's Exxon in Nashville and spending Christmas at his daughter Connie's home. Graveside services were held Tuesday at 2:00 p.m. at the Taylor Family Cemetery in Castalia with his grandson Ken Hill officiating. More ...