Subscribe/Access
Advertisements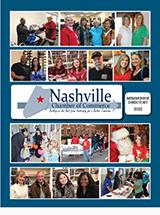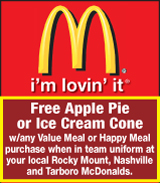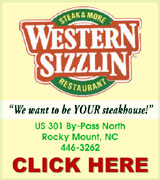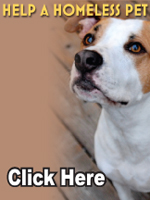 Sections
Member Options
EPHESUS NEWS
On behalf of Ephesus Baptist Church and the Tar River Baptist Association, I would like to take this opportunity to thank Batchelor's 17th Annual Biker Toy Run for their continued support of Christian Family Ministries and Toy Store. Generous donations were received in excess of $4,500.00 along with truckloads of toys, making it possible for others to have a wonderful Christmas.

On Sunday morning, Pastor David Eidson lit the Advent candle of Love.

The message in Word was from Hebrews 9:27 where it tells us that all of us will die. He reviewed the five R's of Death: Reality, reason, realm, readiness, and results. Death teaches us the finality of life's choices.

Prayer Concerns: Mabel Barbee, Edward Bass, James and Linda Beasley, Doug and Karen Bryant, Linda Bryant, Betty June Bunn family, Jerry Cates, changed hearts for all of us, Howard Chilton, Tim Collie and family, Student Pastor Dan Crumley and family, Ben and Leanne Crusenberry, Lottie Lou Dickens, Tom Druppel, Pastor David Eidson and family, Ephesus church family, Jay Gardner, family of Caroline Hathaway, Rev. Johnny Hudson, Brenda Hunsinger, Marie Jenkins, Jimmy Kimball, Harriet Livesay family, military men and women, Anne and Phillip Murray, Margaret Pridgen, Irene Reavis, Carolyn and Edward Rouse, Lee and Sue Rouse, unspoken requests, veterans, family of Billy Williams, Gilbert and Barbara Williams, Word of Life participants and their dedication, Youth and their relationship with God

Birthdays: Dec. 8 - Claire Boesen and Meredith Eidson; Dec. 9 - Samantha Roark and Ronnie Murray; Dec. 10 - Sue Rouse, Anthony Severini, and Jennifer Tedder; Dec. 11 - Jennifer Coppedge; Dec. 12 - Diane Green and J. Phillip Murray; Dec. 13 - Mike Bauer, Wanda Barrett, and Sally Sandifer; and Dec. 14 - Lois Abernathy, Tom Druppel, and Matthew Warren. Happy birthday to all of you!

This Wednesday: Dec. 8 at 6 p.m. – Adult Choir practice. At 7 p.m. – Adult Bible Study in fellowship hall, Mission friends, Children in Action, and Youth Bible Study. There is something offered for the entire family on Wednesday nights!

Next Sunday: Dec. 12 at 8 a.m. – Men's Bible study with coffee.

Christmas Talent Show: Our Annual Christmas talent show and party will be held on Wed., Dec. 22, at 7 p.m. Plan to share your family's or individual talents with the rest of us. See Jenny Alford to sign up for the talent show.

Christmas Eve Service: There will be a candlelight service at 5 p.m. Plan to bring your family and friends for this celebration of the birth of Jesus.

Remember, Jesus is the reason for the season.

Printer-friendly format
---
---