Subscribe/Access
Advertisements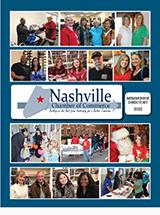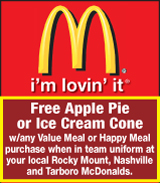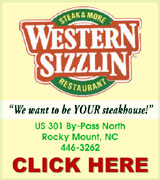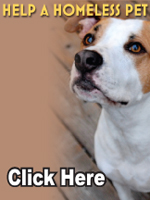 Sections
Member Options
NRMS receives clean audit for 2009-2010
At their Monday night meeting, Nash-Rocky Mount Schools (NRMS) received a clean audit report for fiscal year 2009-10 from Dixon Hughes (DH). "This audit is the cleanest you can get," DH Manager Mark Soticheck told the board. "Your finance office did a wonderful job."

NRMS board chairman Bob Jenkins commended the administration, specifically the financial office under Susan Blackwell's leadership, for managing the system's finances so well.

Auditors give a "clean opinion" to a company when financial statements fairly present the company's financial condition, position, and operations — the best report given by an external auditor. Soticheck said DH's audit opinion is that NRMS is "as clean as a whistle."

The DH report shows that NRMS "did a great job monitoring and preserving fund balance" and "reined in expenses to match with revenue coming in," Soticheck said, in a "fiscal year that presented a lot of change."

The 2008-09 school year brought a state-cut $105 million budget, he said, and the 2009-10 school year went down to $95 million, "a $10 million swing, which was quite a hit." The general fund, he said, totaled $4.8 million last year and is under $4.2 million this year, a 14 percent decrease.

With such financial challenges, Soticheck continued, the system "jumped through hoops of requirements" for federal and state monies, in perfect compliance.

Soticheck reported that the NRMS child nutrition program is holding up well and is a "healthy program," operating with budget cuts as well.

NRMS Superintendent Rick McMahon brought a 2011-12 projected budget update to the board, as speculations continue to indicate drastic reductions ahead for school systems across the state. McMahon said the new legislature may want to reduce government spending, but wonders how the school programs will operate without it.

A Republican majority in both the House and the Senate will control the 2011-12 state legislature, for the first time since 1898. Led by Sen. Phil Berger, President Pro Tempore of the Senate, and Rep. Thom Tillis, Speaker of the House, the newly elected majority issued a pledge of goals to be completed in the first 100 days after they take office in January 2011.

On their list to complete in the first 100 days is "funding education in the classroom, not the bureaucracy" and "eliminating the cap on charter schools."

"We commit to govern the state by focusing on these priorities," the pledge states. Their overall goals while in office are to "balance the state budget without raising tax rates" and "make our tax rates competitive with other states."

"The governor asked us to prepare 5 percent, 10 percent and 15 percent reductions to our budget," McMahon said. And when the school systems created those scenarios, the NC Department of Public Instruction (NCDPI) sent them to the state office to show the leadership what these kinds of cuts would mean.

Short by 50 positions since 2008-09, McMahon said, a 5 percent reduction next year would eliminate 60 more positions next year on top of the 50 already lost. He shared that the NRMS central office staff has already been cut by 20 percent and would also be cut again if the budget drops for next school year.

"Teacher assistants would be basically wiped out," he said, "as the only funding for them would be for kindergarten." Board member Franklin Lamm said that would hurt their transportation department, as most teacher assistants are bus drivers.

McMahon added that the number of assistant principals would also be drastically cut, as only two of the system's 17 elementary schools would qualify for an assistant, none of middle schools would get any, and the high schools would only get enough funding for 1.5 positions.

Board member Doneva Chavis-Battle said these predicted cuts should be a wake-up call for parents. "Parents need to step up and get more involved," she urged. "We're going to have bigger classrooms, no assistants, and will still be required to meet testing levels. It's time for parents to step up."

"It's very likely that a lot of hard decisions will have to be made next year," McMahon said. "We want to protect classrooms and jobs — that drives everything we do. But we have quite a challenge facing us."

"We would begin by reducing positions of those newly hired," he said, as NRMS contracts are only made for one year, and "we may not fill every vacancy."

The best-case scenario — a 5 percent cut — would bring a reduction of $6 million to the NRMS budget. But, McMahon said, there's a good chance that the cut will be 10 percent. The NRMS system gets 65 percent of its budget from the state, he said.

In the last two years, he said, school systems were restricted from changing grades K-3 due to budget deficits and could only take away positions from grades 4-12. "Now we may got into K-3 positions next year for positions, and increase class sizes there as well, " he said.

Class sizes at the high school level are currently up to 35, and NCDPI reports that if 5% or 10% budget cuts are made, "classroom teacher reductions…would result in class sizes increasing at every grade."

"At a time when everyone seems to believe that education and learning are keys to survival in the global economy, we cannot turn back the clock," State Superintendent June Atkinson said in a recent NCDPI press release. "North Carolina public schools received less from the state's general fund in 2010-11 than in 2006-07, even though we now have at least 40,000 more students. These cuts would continue this underfunding. We have already reduced non-essential costs. Additional cuts will hit the classroom and hurt teachers and students."

Although North Carolina is the sixth-fastest growing state in the nation with a growing student population, the state ranks 42nd in the nation for the amount of money spent per student.

Currently, nearly 1.5 million students are served in the state's 115 local public schools and 100 charter schools. The state guarantees a free public education to all students who meet age and residency requirements in the state constitution.

The NRMS system serves over 17, 000 students on 28 campuses and is governed by an 11-member board. Newly elected board members Bonnie Batts, Reginald Silver, Robert Bynum, Jon Hardy, and Brenda Brown were sworn in at the Monday night meeting. Board member Cindy Berry, who lost her seat to Batts, received special recognition plaque for her 10 years of "meritorious service" on the board.

The board's next work session is scheduled for Monday, Jan. 24, at 6 p.m. in the NRMS central office in Nashville. The public is invited to attend this meeting, which will include discussion on administrative guidelines for field trips, elementary instructional support, policy revisions, budget amendments, and information on the career technology education program.

The public may address the board at their next regular meeting, scheduled for Monday, Jan. 10, at 7 p.m. in the NRMS central office in Nashville. Anyone wishing to speak must sign up with the superintendent's office before Monday, Jan. 10, at 12 noon.

Printer-friendly format
---
---