Subscribe/Access
Advertisements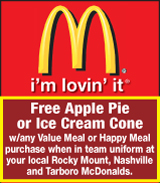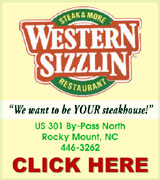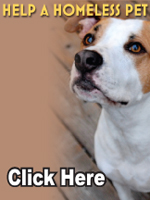 Sections
Member Options
Back
Focus group meetings begin
NASHVILLE – The first three of seven focus group meetings for Nashville's Comprehensive Plan were held last week at the O.D. Moore Building in Nashville.
Large landowners and real estate agents met last Tuesday while commercial and industrial developers met on Wednesday and citizens met on Thursday. The meetings were to give the groups the opportunity to participate in the long range planning for the Town of Nashville. More ...
By Amanda Clark, Graphic Staff Writer
NASH COUNTY'S GOT TALENT
NASHVILLE – Nash Arts was full of talent on Friday and Saturday night as the second annual Nash County's Got Talent Show kicked off. Twenty talented musicians took to the stage Friday night but on Saturday, only ten were called to perform. In the end, five Nash County residents were named the top three talents. More ...
By Amanda Clark, Graphic Staff Writer
Citizens say no to water-sewer plan proposal
CASTALIA – At the November monthly business meeting held on November 13, Castalia Commissioners were faced with a petition from worried citizens who urged them to abandon the most recent water and sewer proposal and to look for other solutions instead. Last month, Castalia held a public forum on the issue during which engineers presented various plans that would mean water and sewer bills ranging from $115-$200 a month for the average customer, depending on the type of system installed and the amount of grant money the town would receive. More ...
By Amelia Harper, Graphic Correspondent
Spring Hope gets $840,000 grant for sewer rehab
SPRING HOPE – The Town of Spring Hope could soon see improvements to its water and sewer systems after the board received word it had received a $840,000 grant from the Cleanwater Management Trust Fund. And, last Tuesday night, the board approved a contract for phase two of its water line replacement project. More ...
By Amanda Clark, Graphic Staff Writer
Nashville woman goes to Africa on mission trip
NASHVILLE – The people of Rwanda, Africa can still recall the genocide of 1994 that killed close to one million people. Today, those left behind are cleaning up the pieces and telling their stories with hopes that people will see the progress being made. A Nashville resident was one in a group of 13 who went on a mission trip in October to the country to help with the healing process.
Cindy Taylor went with a group of Wisconsin residents through SOLACE, a ministry that offers holistic support for survivors of the genocide and war in Rwanda. Taylor said she was the only one out of the group not from Wisconsin but knew of the group through a friend. More ...
By Amanda Clark, Graphic Staff Writer
Local towns to celebrate Christmas
With Thanksgiving just a day away, local communities are preparing for their annual Christmas celebrations.
In Nashville, celebrations will kick off on Saturday, December 1 at 3:45 p.m. with Red Oak and Nash Central Middle School bands performing holiday selections. Next will be the judging of children's decorated bikes, wagons and scooters, following by a parade through downtown Nashville. Finally, the children will sing Chrsitmas carols while waiting for Santa to arrive. Nashville's Fire Department will escort Santa into town and children will get to visit with Santa at the Nash County Office Building. More ...
By Amanda Clark, Graphic Staff Writer
County looks at changing reevaluations
Nash County's Board met Tuesday morning to discuss whether or not to change the county's reevaluation cycle.
Due to the Thanksgiving holiday, The Nashville Graphic's press time was prior to the meeting. Visit the website at www.nashvillegraphic.com for information on Tuesday's meeting. More ...
By Amanda Clark, Graphic Staff Writer
Man thrown from car in accident
A Hispanic man was thrown from his vehicle running off the road and flipping his car on Saturday night.
According to the Highway Patrol, 20-year-old Jaime Humberto Delafuente, Jr was driving south on Old Carriage Road when he crossed the center line and ran off the road to the left. Delafuente was not wearing a seat belt and was thrown from his vehicle as it overturned. More ...

Jones, Andersen unite in marriage
Amy Catherine Jones and David Lee Andersen were united in marriage on Oct. 19, 2007, at Highgrove Estate in Fuquay-Varina. The Rev. Barbara Lodge officiated at the 5 p.m. ceremony.
The bride is the daughter of Marshall and Luanne Jones of Rocky Mount. Parents of the groom are Victor and Sonja Chavez of Garner. More ...

Stancil named Volunteer Instructor of the Year
ROCKY MOUNT, N.C. (Nov. 5) – The men and women who volunteer as hunter education instructors for the N.C. Wildlife Resources Commission serve as teachers, mentors and coaches. The service they deliver is, quite literally, lifesaving. More ...

Coopers names Tyson Ruritan of the Year
Coopers Ruritan awarded Jane Tyson of the Macedonia Community the Ruritan of the Year title at its annual appreciation banquet last week.
Jane and husband Danny joined Coopers Ruritan Club in March of 2004. She has served the club as treasurer for nearly two years. More ...
By Jo Anne Cooper, Graphic Publisher
Mt. Zion FWB Church News
There were 93 in Sunday school with seven of those visitors today. We missed those who were absent, but we praise God for all that came, especially the visitors. Come back. We had more visitors come for worship service. You come back too. More ...
By ROSALENE BASS
Red Oak Community News
Girls in Action and Children in Action members from the North Roanoke Baptist Association joined together on Saturday morning at the Associational Center in Dortches to pack 580 red boxes for the women at Fountain Correctional Center. This is an annual project of the NRBA Woman's Missionary Union to provide Christmas gift boxes filled with shampoo, body wash, note pads, socks, bath sponges and other assorted items for the women which will be presented to them during two Christmas parties. More ...
By SUZY PEARCE
Peachtree Community News
Veteran's Day has come and gone. It was observed in many ceremonies throughout the area. Now Thanksgiving is upon us. It is fitting that these two holidays seem to merge. There are many things to give thanks for, but Freedom stands out as one of the most important. We owe a great debt of gratitude to the veterans who have served throughout the history of the nation to ensure and preserve freedom. Add the names of veterans that you know to your Thanksgiving prayer. More ...
By BARBARA HARDISON
Beulah Community News
Happy Thanksgiving to Everyone!
I hope everyone is having a great Thanksgiving with family, friends and plenty of food. Let's keep those in our prayers who are less fortunate. Also remember to keep the sick in our prayers. Visit those in nursing homes and those confined at home. More ...
By WILMA ENROUGHTY
Ephesus Community News
Rev. Tony Futrell's message Sunday was "Ultimate Thanksgiving", taken from Matthew 25:14-13. This is a wonderful time of the year, there's so much to be thankful for everyday. More ...
By LOTTIE LOU DICKENS
Sorority celebrates 60 years
Alpha Delta Kappa, an international honorary sorority for women educators, celebrated its 60th anniversary during the month of October.
Gamma Tau, the local chapter, celebrated Alpha Delta Kappa's Founders' Day at its October meeting. Barbie Creech of Cary, District VI vice-president, presented the program. More ...

Growing older, I'm thankful for different things
By the time you read this, myself and other large people around the country will be just hours away from reveling in our favorite holiday of the year — Thanksgiving.
I've spent past Thanksgivings in this space making a case for why it is perhaps the greatest of our holidays in America. More ...
Mike Brantley
Town focus group sessions have been poorly attended
I was very disappointed in Nashville citizens and business owners last week.
Focus groups began on Tuesday night for Nashville's 20-year Comprehensive Plan. The focus groups gave stakeholders of the Town of Nashville the opportunity to participate in the future of Nashville and discuss what they like and dislike about the town. Three meetings were held last week and at each meeting only three or four people showed up. Those people came out and dedicated an hour of their time towards Nashville's future. It's a shame that out of close to 5,000 residents, only a handful can show up to a meeting that gives them the opportunity to take part in Nashville's future, which inevitably is their future as well. More ...
Amanda Clark
It's time we make a change for our youth
If you're a parent of a child who attends high school, or even middle school, then what you're about to read won't be shocking, that is if you've been paying attention and if your child has an open relationship with you and can discuss what's going on at school. More ...
Jo Anne Cooper
LOCAL CONNECTION
ROCKY MOUNT - North Carolina Wesleyan senior football players Bo Brown and Judd Hyde have played side-by-side in the middle of the Battling Bishops' defense the last four seasons.
As inside linebackers on Coach Jack Ginn's squad, the Nash County natives have been the backbone of Ginn's 3-4 defense in virtually every game Wesleyan has ever played. They along with 24 other seniors are now being rewarded for all their hard work. More ...
By Charles Alston, Graphic Correspondent
Nash clubs move into 3rd round
ROCKY MOUNT -- Nash Central is beginning to really enjoy this home-field advantage stuff in the playoffs.
Playing in their second straight postseason contest in the Dawg Pound, the third-seeded Bulldogs began stretching their muscles offensively and defensively last Friday night as they blew away No. 6 seed Wilson Hunt 53-20 in their second-round NCHSAA 3-AA football playoff matchup. More ...
By Charles Alston, Graphic Correspondent
Southern Nash opens 2007-08 wrestling campaign
STANHOPE -- Southern Nash opened its 2007-08 wrestling season with hosting a five-team event last Saturday at the SNSH Gymnasium in Stanhope.
The young Firebirds, coached by Eddie Coble, went 1-3 during round-robin action.
Other competing schools were Athens Drive, South Central, Franklinton and South Johnston. More ...
By Geoff Neville, Graphic Sportswriter
Wesleyan concludes campaign
ROCKY MOUNT -- The undefeated Duhawks of Loras College advanced to Sunday's sectional championship of the NCAA Division III Men's Soccer Tournament by downing North Carolina Wesleyan at Scalf Field by a 2-1 score.
Loras (22-0-1) converted an early penalty kick and later got a much-needed insurance goal to effectively end the best season in Battling Bishops' history. Wesleyan, ranked 2nd nationally for much of the season, finishes 2007 with an 18-2-0 mark. More ...
From Staff Reports
Bishops stay alive with amazing playoff victory
WASHINGTON, PA. -- The North Carolina Wesleyan football team continued its impressive 2007 season last Saturday afternoon, knocking off top-seeded Washington & Jefferson by a 35-34 score in overtime in the first round of the NCAA Division III football playoffs at Cameron Stadium. More ...
From Staff Reports
High School Grid Scores
CHAPEL HILL -- Listed are last Friday's results from the North Carolina High School Athletic Association State Football Playoffs: More ...
From Staff Reports
NC PLAYOFF PAIRINGS
CHAPEL HILL: Listed are Friday's third-round schedule for the North Carolina High School Athletic Association Football Playoffs: More ...
From Staff Reports
Wesleyan kicks off men's hoops season
VIRGINIA BEACH -- The North Carolina Wesleyan College Battling Bishop men's basketball team opened up regular season play over the weekend, splitting a pair of games and earning a runner-up finish at the Virginia Wesleyan Cox Communications Tip-Off Classic in Virginia Beach. More ...
From Staff Reports
The Entertainment SCOOP
"Christmas Carol of HOPE" - Get into the holiday spirit with one of Nash Art's most popular and enjoyable presentations. Set in depression era America. Directed by Jim Singleton. Performance time is 8 p.m. Admission is $10 for non-members and $8 for Nash Arts members, seniors and children under 12. More ...

SUSAN SILLS LOWE
NASHVILLE – Susan Sills Lowe, 44 died Wednesday, November 14, 2007. She was born in Nash County on July 30, 1963. Susan was preceded in death by her mother, Lizzie Parker Sills and a sister, Darlene Sills. More ...

FLONNIE COLEY WALKER
LOUISBURG - Flonnie Coley Walker, 94, of Louisburg, died Sunday, November 18, 2007. She was born on June 4, 1913. More ...