Subscribe/Access
Advertisements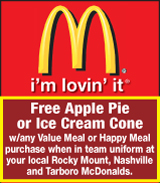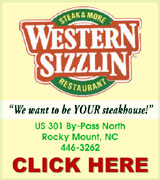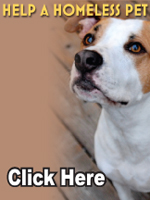 Sections
Member Options
Back
Deal named interim county manager
Wayne Deal will serve as Nash County's Interim Manager, Nash County Commissioners unanimously agreed last week.
Commissioners met in closed session for over 30 minutes last Wednesday inside the media center at Rocky Mount High School to discuss who would replace Bob Murphy, who served as County Manager for 12 years. More ...
Amanda Clark, Graphic Staff Writer
Over 40 file for local elections
Filing for municipal elections has ended and over 40 have filed for seats on Nash County Municipal Boards.
Filing ended at 12 noon on Friday, July 19, with nine filing on that day.
A host of seats are up for grabs in this municipal election, including the mayor's spot in seven towns.
In Middlesex, three have filed for the mayor's seat, including incumbent LuHarvey Lewis and Commissioner Dale Bachmann. More ...

Jackson outlines changes for NRMS
Nash- Rocky Mount School Superintendent Anthony Jackson spoke at the school board retreat on Monday, outlining the changes and challenges that he foresaw for the coming school year. The six hour retreat was held at the Rocky Mount Middle School on July 22.
"The school system is changing; the landscape is shifting," Jackson said in his introductory remarks. More ...
Amelia Harper, Graphic Correspondent

Pictured (L-R), Olive Ann Parker, a Rocky Mount Academy Student from Rocky Mount and Madalyn Bardowell, a Southern Nash Middle School student from Nashville, work together on soldering a circuit board during an Engineering Camp at NC Wesleyan College.

Students attend summer engineering camp at NCWC
Middle schoolers had the opportunity to become engineers for a week at the annual NC State Engineering Summer Program at NC Wesleyan College.
The students were from five North Carolina counties, including Nash, Edgecombe, Wilson, Halifax and Northhampton and included a mix of boys and girls. More ...
Amanda Clark, Graphic Staff Writer
National Night Out in Nashville
Nashville's Police Department is encouraging citizens to come out and take part in the first annual National Night Out Against Crime on Tuesday, August 6 from 6 until 8 p.m.
National Night Out is an annual event designed to strengthen the community by encouraging citizens to engage in stronger relationships with each other and with their law enforcement partners. More ...

Twin county plan up for approval
Nash County Commissioners will have the opportunity to endorse the Twin Counties Vision and Strategic Plan at their next regular meeting.
Commissioners met with Edgecombe County Commissioners and Rocky Mount City Council members last week to listen to a presentation on the plan, which was presented by the co-chairs of the Community Partners Coalition. More ...
Amanda Clark, Graphic Staff Writer
Davis lobbies for school construction bill
Nash County Commissioner Robbie Davis feels a bill being proposed in the House should be a statewide bill to allow counties the option to assume responsibility for construction, improvement, ownership, and acquisition of public school property.
The Nash-Rocky Mount Board of Education doesn't agree. More ...
Amanda Clark, Graphic Staff Writer
NASHVILLE POLICE BRIEFS
INCIDENTS
A damage to property (vandalism), breaking and entering commercial and larceny after a breaking and entering were reported on 7/14/13 at Murphy's Express, 1185 Eastern Avenue
An obtaining money/property by false pretense was reported on 7/15/13 at 1103 Greenbriar Road NW More ...

NASH SHERIFF'S OFFICE REPORTS
An arson was reported on 7/16/13 at 8271 Red Oak Battleboro Road
A breaking, entering and larceny of a motor vehicle was reported on 7/16/13 at 10394 Chestnut Ridge Road
A narcotics violation was reported on 7/16/13 at I-95 Southbound at the 145 mile marker
A breaking, entering and larceny of a residence was reported on 7/16/13 at 5383 Red Oak Battleboro Road More ...

RELAY FOR LIFE DONATION
Nashville Graphic Advertising Representative Deborah Tucker presents a check to Retha Pappas as a donation to Nash County's Relay for Life from the proceeds of the newspaper's 2013 Relay for Life special edition. The Graphic publishes the special edition annually to help publicize the event and donates a portion of the ad sales back to Relay for Life. Also pictured with Retha is her little dog, Oliver. More ...

Scout to give benches, bird boxes for Nashville parks
Nashville's Town Council gave the go ahead earlier this month for a local scout to put benches and bird boxes at Glover Park.
Owen Phillips, who is a Life Scout with Troop 40 in Rocky Mount, presented his project to council members at the regular meeting on July 2. More ...
Amanda Clark, Graphic Staff Writer
BOARD OF ELECTIONS
Memers of the Nash County Board of Elections were sworn in recently by Nash County Clerk of Superior Court, Rachel Joyner. After being sworn, the board elected Kevin Lewis as Chair and Thomas Steed III as Secretary. Both Kevin Lewis and Kelly Shore are returning members to the board. More ...

LIONS AWARD
Past District (31-J) Governor (PDG), Jim Boehm (right) receives the National Lions Award for starting two new clubs on his watch during the past twelve months. The pin, authorized by National Lions President, Wing Kun Tam, was gladly presented by PDG, Lion Mike Flora (left) of Rocky Mount. More ...

Rocky Mount Public Utilities sponsors ECU intern
Rocky Mount Public Utilities (RMPU) is sponsoring Keithen Dolberry, an engineering student at East Carolina University, who was selected to receive an American Public Power Association Demonstration of Energy-Efficient Developments (DEED) program scholarship. More ...

Wolbert named Nash Wound Care Center Director
Tammy Wolbert of Winterville has been named program director of the Nash Wound Care Center. Wolbert will be responsible for achieving clinical, operational and financial results at the center.
Originally from Vienna, VA, Wolbert earned her bachelor's degree in business administration from Averett University in Danville, Virginia. More ...

Nash County Blood Drives for July 2013
Wednesday, July 24 from 1:30 until 6 p.m. at Sunset Avenue Baptist Church, 3732 Sunset Ave., Rocky Mount.
Saturday, July 27 from 9:30 a.m. until 2:30 p.m. at Greater Joy Baptist Church, 322 Anderson Street, Rocky Mount. More ...


Pictured above, youth work on making their own suncatchers while at Cooley Library's Red, White and Blue Blast.

Cooley Library hosts summer programs
Patrons of Cooley Library have had plenty to do over the past two weeks, as the library hosted three sepearate events for youth.
On July 11, the library hosted a Red, White and Blue Blast to celebrate the Fourth of July. Youth were able to enjoy some good food while making their own suncatchers. More ...
Graphic photos by Amanda Clark

Cole Strickland won first place last month at the Carolina Holstein Show.

Locals place at 4-H District Show
The Bridles and Halters 4-H Club participated and competed in the annual 4-H District show for Orange County on Friday, June 21.
Cloverbud participants included Maura Kennedy, McKenzie Kennedy and Presley Gibbs.
Winners in Junior Showmanship included Colton Gibbs, first place, and Wes Parrish, second place. More ...
Contributed photos
RED OAK NEWS
What a lovely day! On Sunday afternoon, July 14, men, women, and children gathered at Rose Hill Farm in Nashville for the GA Family Reunion celebrating 100 years of missions education through Girls' Auxilary and Girls in Action. The grounds of the farm, pond, and the "smokehouse" along with sunny weather provided the perfect scenic backdrop for this historic event. More ...
SUZY PEARCE
MOUNT ZION FWB CHURCH NEWS
Our choir sang "Isn't He Wonderful" for the call to worship. Pastor Aycock prayed the prayer of invocation and welcomed everyone. Hymns of worship were "Love Divine" and "Victory in Jesus." Algie Jones Jr. led the congregational singing. More ...
ROSALENE BASS
Assessment referendum vote set for Small Grain Grower Association
The North Carolina Small Grain Growers Association (NCSGGA) has announced that an Assessment Referendum will take place on August 7, 2013. Polling places will be located throughout the state in each county extension office. This assessment is for a six year period on all small grain (wheat, rye, oats, barley, rape seed/canola and grain sorghum). More ...

UDC Bethel Heroes Chapter 636
Margaret Sink (at left), Registrar, presents a new member certificate to Veryl Trueblood (at right) at the July meeting of the UDC Bethel Heroes Chapter 636. Veryl is the great granddaughter of Samuel Trueblood who served in the Confederate Army in the War Between the States. More ...

You don't know what you got until –– it breaks
First came the wobble. Then the thunder. Then there was a drainage problem. This wasn't about a trip out for Indian food. It was much more ominous.
It is amazing the truths about life you can find in metal/hair band lyrics from the 1980s. For example, one local columnist may or may not have once owned a CD produced by Cinderella that included the hit, "You Don't Know What You Got Till It's Gone." More ...
Mike Brantley
Lots of summer fun right here at home!
This summer has proven to be quite busy. Each week, I've had several camps to attend and take photos of.
As I was talking to someone earlier this week, we were talking about all the things going on around here. She said, "people certainly can't complain about a lack of things to do in this area for youth."
She was right. More ...
Amanda Clark
Lone action not so good if trying to "unite" board
Reports recently divulged that one of our county commissioners seemed to have taken it upon himself to contact NC House Representative Jeff Collins requesting that Nash County be included in NC Senate Bill 236 which would have given county commissioners the option to assume ownership and authority over school facilities and construction. More ...
Jo Anne Cooper
Backward Glances
UNDEFEATED SEASON –– This photo was originally published in The Graphic on October 29, 1970. Coach Pete House is carried off the field by his players following W.L. Greene's victory over Bailey which gave the Greene "Machine" an undefeated season. More ...

Nash County Animal Friends' Notebook
It is official –– we have people surrendering their dogs to the Nash County Animal Shelter because they think that NCAF & PAWNC (Nash County Animal Friends & Promoting Animal Welfare in NC) can save them-- dream on!! More ...
Carol Vierela, Nash County Animal Friends

PLENTY OF GOOD TIMES. Nash Rec's Kara Smith seems to be enjoying her time in the pool during last Thursday evening's Nash-Halifax Swim League matchup against homestanding Westridge in Rocky Mount.

A SWIM SHOWDOWN
ROCKY MOUNT -- Nash Rec and Westridge have staged some fierce pool battles over the years, and last Thursday's reunion proved to be no different.
Visiting Nash Rec kept its hope for an undefeated regular season alive by besting Westridge 465-306 in Nash-Halifax Swim League action. More ...
GEOFF NEVILLE, Graphic Sportswriter
It's Football Fever In Red Oak
RED OAK -- Not even the most optimistic employee at the Nash County Parks and Recreation Department could have envisioned the amazing success achieved by the organization's Nash County Firebirds youth football program.
In just five seasons, the Firebirds have won two state championships -- and finished in second place one other time. More ...
GEOFF NEVILLE, Graphic Sportswriter
Southern practices scheduled
STANHOPE -- Southern Nash High School has announced tryout dates for its 2013 fall sports season.
All athletes must have an updated physical form in order to participate.
Here is a list of opening-day practices: More ...
Staff Reports
County Line back on the track again
ELM CITY -- Coming back to County Line Raceway after a rainout two weeks ago, fans, drivers and staff filed into the speedway ready for some dirt track racing last Saturday night.
Up first was the Middlesex Family Dental Super Stock 4s with Bill Winstead & Jamie Bailey on the front row.
Winstead would come out in front of Bailey followed by John Proctor, Austin Holcombe and Jesse Duke. More ...
Staff Reports

PITTMAN'S PROWESS. Nash Central High School's Nathaniel Pittman enjoyed an outstanding basketball career with the Bulldogs. He has signed with St. Andrew's University.

Nate Is Now A Knight
ROCKY MOUNT -- Nash Central High School's gymnasium had a lonely feeling to it last Thursday, with the exception of the incessant beating of a basketball against the facility's hardwood floor.
While many of his peers were on a beach or resting on a couch to beat the heat, Nathaniel Pittman was hard at work, contininuing to craft his art as a standout hoopster. More ...
GEOFF NEVILLE, Graphic Sportswriter
Sabourin shines for Mudcats
ZEBULON -- First baseman Jerrud Sabourin broke out of a slump to drive in four runs for the Carolina Mudcats in an 8-3 win over the Wilmington Blue Rocks on Sunday afternoon at Five County Stadium.
Sabourin, hitting .148 in July, tripled in three in the first and drove in another for the Carolina Mudcats (14-14, 36-62), who picked up the Class A Carolina League diamond decision. More ...
Staff Reports
MACKENZIE'S MOMENT
Nash Rec's Mackenzie Tanner makes a strong push toward the finish line during last Thursday evening's Nash-Halifax Swim League matchup on the road against Westridge. More ...

N-HSL SWIM HIGHLIGHTS, 1
SWIM MEET MASTERS. Among the competitors from last week's Nash-Halifax Swim League meet between Nash Rec and host Westridge were (above) Nash Rec's Ashley Michael. More ...

N-HSL SWIM HIGHLIGHTS, 2
SWIM MEET MASTERS. Among the competitors from last week's Nash-Halifax Swim League meet between Nash Rec and host Westridge were (above) Westridge's Kayla Miller. More ...

TOUGH TO TOP IN THE POOL
Lance Norris has been an exceptional performer in the Boys 9-10 Division this season for the Nash Rec Swim Team. Norris will look to claim a conference title this Saturday as part of the Nash-Halifax Swim League Championships. The event will be held at the Harrison Family YMCA in Rocky Mount. More ...

Nash Arts announces August event schedule
Nash Arts Center has announced its August event schedule.
•The Barnes Project –– Christian/Gospel/Contemporary Gospel/Soul will perform Saturday August 3, at 7 p.m. Admission is $10.
•Dance Camp Instructed by Bethany Williams –– Ballet, Jazz, Hip Hop, & Modern Dance, August 5-9
Ages 5-7: 9a.m.-12p.m. More ...

ALICE POWERS BRASWELL
Alice Powers Braswell passed away on July 21, 2013. Born September 5, 1923 in Rocky Mount. She is predeceased by her husband George W. Braswell. More ...

BARBARA PERKINS DEBOE
Barbara Perkins DeBoe, age 89, passed away on Monday, July 15, 2013. Born in Danville, Virginia on January 26, 1924, she was the daughter of the late Charlie Otis Perkins and Minnie Pearl Hayden Perkins. She is also preceded in death by her husband of 48 years, Lee Willis DeBoe; sisters, Carrie Williams and Annabell Myers; and brothers, Melvin Perkins, Billy Perkins, Charles Perkins and Irvin Perkins. More ...

BETTY SCOTT RICH
Betty Scott Rich, 81, of Rocky Mount, died Monday night, July 15, 2013 at Vidant Medical Center in Greenville . Betty was born August 9, 1931 to Flora Jane Hall Scott and Truman Jay Scott. In addition to her parents, Betty was preceded in death by her brother Elmer Scott. More ...

CHRISTOPHER (CHRIS) RAY HELTON
Christopher (Chris) Ray Helton, 23, passed away July 16, 2013. He was born January 15, 1990, in Charlottesville, VA but lived the majority of his life in Nash County. More ...

CONNIE MUSTIAN MARKS
Connie Mustian Marks, age 68, passed away on July 16, 2013. She was born in Warren County on February 27, 1945. She was the daughter of the late Irvin and Myrtle Mustian. Connie was preceded in death by her loving husband of 44 years, Terence Ivey "Terry" Marks, II; and her brother, Brantley "Bo Bo" Mustian. More ...

DOROTHY C. ROSE
Dorothy Coggins Rose, 85, passed away Thursday, July 18, 2013 at Rex Healthcare. Born in Nash County, she was the daughter of the late Joseph and Ida Vick Coggins. More ...

GEORGE T. BROWN
George T. Brown, 78, passed away Thursday, July 18, 2013. He was born February 19, 1935 to the late Martin Luther and Zora Page Brown. He was also preceded by a grandchild, Christopher Jeffrey Scarbel; brothers, Martin L. Brown, Jr., Rev. Luther E. Brown, Rev. James C. Brown, Rev. Rubert E. Brown and Edgar R. "Buddy" Brown. More ...

KENNETH MICHAEL LANE
Kenneth Michael Lane, age 56, passed away July 16, 2013. A native of Rocky Mount born on November 27, 1956, he was the son of Joseph Stanley Lane Sr. and Hazel Overton Lane Boykin. He was preceded in death by his wife, Mona "Pixie" Reeves Lane. More ...

LEACY ANN SILVER
Leacy Ann Silver, 68, passed away on Tuesday, July 16, 2013. She was born August 28, 1944 to the late Elliott and Juanita Lynch Evans. Leacy was also preceded in death by three brothers, Jerry "Pete" Lynch, Arthur Evans, and Elton "Bland" Evans and one grandson, Tylan Silver. More ...

MARIE LOIS THROWER DIXON
Marie Lois Thrower Dixon, age 84, passed away on Tuesday, July 16, 2013. Born in Halifax County on May 13, 1929, she was the daughter of the late Perry Thrower and Nolie Butts Thrower. She was also preceded in death by her daughter, Mary Ann Walston and sister, Willie Mae Leary. More ...

MARIE THORNE DEANS
Marie Thorne Deans, 81, of Middlesex passed away Friday, July 19, 2013. Funeral services were held Sunday, July 21, 2013 at Joyner's Funeral Home. A graveside service ws held Monday, July 22, 2013 in Bailey Town Cemetery. The Rev. Billy Toler ll officiated. More ...

NORMAN CORNELIUS WINSTEAD
Norman Cornelius Winstead, 83, passed away, Sunday, July 21, 2013. He was born September 5, 1929 in Nash County to the late, Dempsey Richard and Rhoda Lindsey Winstead. In addition to his parents he was preceded in death by brothers, Melton, Otha, Russell, Leaston, John, Horace and Cleveland Winstead. More ...

RICHARD "LEE" HAGAN
Richard "Lee" Hagan of Nashville passed away on July 17, 2013 at UNC Memorial Hospital. He was born on November 22, 1970. More ...

SUSIE WOOD
Susie Wood, 80, of Rocky Mount, died on Thursday, July 18, 2013 in Rocky Mount. More ...

WILLIAM EARL HOLMES SR.
William Earl Holmes Sr., 83, formally of Wade, departed this life on Saturday, July 13, 2013 at Moses Cone Hospital in Greensboro. Husband of the late Thelma Alston Holmes. More ...