Subscribe/Access
Advertisements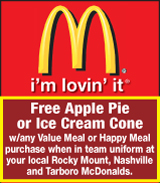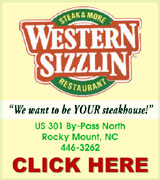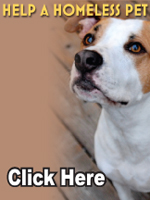 Sections
Member Options
Back

SWORN IN – Scott Parker (right) is sworn in as a new US Marshal for the Eastern District by John Clark, Director of the US Marshals Service (left).

US MARSHAL
Scott Parker, a longtime Nash County resident and former lieutenant with the Nash County Sheriff's Office was sworn in as a United States Marshal for the Eastern District last Thursday.
It's been a long process for Parker, who was recommended by United States Senator Kay Hagan last July and went on to be nominated by President Barack Obama in February of this year. Parker was finally confirmed by the United States Senate on May 28 and sworn in last week, on June 17, at the US Marshal's Service headquarters in Arlington, Virginia. More ...
Amanda Clark, Graphic Staff Writer
Leaders look at unified vision
Nash and Edgecombe County Boards, along with Rocky Mount City Council members, met last week to hear a presentation on how the Twin Counties can collaborate and become more competitive.
Dr. James Johnson Jr., a native of the Twin Counties who serves as the William R. Kenan Jr. Distinguished Professor of strategy and entrepreneurship and Director of the Urban Investment Strategies Center at UNC-CH, gave the presentation to the joint boards. After the presentation, each board was directed to meet and decide whether they wanted to move forward with hiring Johnson as a consultant to develop a plan of action. More ...
Amanda Clark, Graphic Staff Writer
Funds to help scrap homes
A grant will help the county dispose of at least 40 abandoned manufactured homes throughout the county.
Nash County was awarded a $40,000 grant through the North Carolina Department of Environment and Natural Resources to help demolish and remove abandoned manufactured homes in rural areas. The purpose of the grant is to improve public safety and protect property values. More ...
Amanda Clark, Graphic Staff Writer
Spring Hope could face $25,000 fine
The Town of Spring Hope is looking at a possible $25,000 fine if it doesn't submit a limited site assessment report to the North Carolina Department of Environment and Natural Resources (NCDENR) to prove there is no soil contamination on the existing and old town hall site. More ...
Amanda Clark, Graphic Staff Writer
Spring Hope Farmer's Market works to attract more visitors
The Spring Hope Farmer's Market is extending its hours in hopes of drawing more people to downtown.
The market, in its third year of operating, has become a favorite among those looking to pick up fresh, local, homegrown products every week. More ...
Amanda Clark, Graphic Staff Writer
Local community leader James Bunting passes away
A Nashville man who was instrumental in forming the town's first community watch organization passed away on Friday, June 11 at the age of 81.
James Bunting was remembered last Wednesday, June 16 in services at Bethlehem Missionary Baptist Church, where he faithfully attended and served as a trustee. More ...
Amanda Clark, Graphic Staff Writer
Local woman pens book on experiences with weight loss
When Eve Dickson decided that her life needed to change, she had no idea she'd end up putting her experiences down on paper and turning those experiences into a ministry. But that's exactly what she did.
Dickson, of Nashville, published her first book, Finding Myself While Losing Pounds: A Journey Back to Life" in November of 2009. The book details Dickson's journey through her weight loss surgery, including what led to the surgery and life after surgery. More ...
Amanda Clark, Graphic Staff Writer
Nash residents named to honor lists at ECU
Nash County residents were among those named to several honor lists at East Carolina University for the Spring 2010 semester.
The Chancellor's List is composed of the names of all full-time undergraduates who earn a 4.0 on all work taken with no incomplete grades. More ...

Nashville Elementary School Terrific Kids
Nashville's Kiwanis Club presented its Terrific Kids certificates to students at Nashville Elementary School recently. A student from each class in grades pre-k through fifth was selected as a Terrific Kid. Terrific Kids received a framed certificate as well as a bag of goodies. Nashville Elementary Schol Terrific Kids are listed below by grade level. More ...

DOT closes bridge on Hunter Hill for repairs
The N.C. Department of Transportation will close a bridge in Nash County on Hunter Hill Road (State Road 1604) over U.S. 301 in Rocky Mount today. The closure is necessary to repair failing concrete on the bridge.
The bridge will remain closed to traffic for about three weeks, weather permitting. During construction, a signed detour will be in place. Motorists on U.S. 301 can also expect intermittent lane closures during construction. More ...

Harrelson earns degree
Bryan Lee Harrelson, P.E., received a Master of Science degree in Engineering Management at George Washington University in Washington, D.C. on May 15, 2010.
He is a principal and Senior Mechanical Engineer with TMR Engineering of Arlington, Va.

More ...

Metal Craft plans expansion
Metal Craft, Inc., a full service industrial contractor providing general contracting and plant maintenance services, announced plans to expand their existing operations by moving into the 35,000 square foot former Lee Tractor building located at 3209 S. Church Street in Rocky Mount. The company plans to invest nearly $700,000, retain 11 existing jobs and create 40 new jobs. More ...

Golf classic raises funds for new pediatric emergency department
Nash Health Care Foundation's first annual Golf Classic, under the leadership of general chairman, Dr. John Derbyshire, raised $105,475 in support of the new Pediatric Emergency Department at Nash General Hospital.
Pictured (Above): From left, Robert "Ziggy" Zalzneck, event co-chairman; John S. Derbyshire MD, event chairman and Roger G. Taylor, event co-chairman, announce that the Nash Health Care Foundation Golf Classic raised more than $105,000 for the new Pediatric Emergency Department. Roger G. Taylor Associates, a Rocky Mount financial services firm, was the event's presenting sponsor.
More ...
Contributed
Student wins state handwriting award
Rocky Mount Academy Second Grader Abigail Newcomb has been chosen as a State Grade Level Winner in legible handwriting by Zaner-Bloser, one of the premier publishers of research-based handwriting programs in the US. Newcomb received her engraved state winner medallion today from RMA Head of Lower School, Beth Covolo. She is now eligible to compete for the title of 2010 Grade Level National Champion and Grade Level Grand National Champion. More ...

Moore chosen as Phillips Ambassador
Twenty-two undergraduates and one graduate student from the University of North Carolina at Chapel Hill have been selected as Phillips Ambassadors for 2010 study abroad programs in Asia.
Alan Moore of Franklin County will study in India with the UNC Summer in India program. Moore is a political science major. More ...

WIC program available for eligible Nash County women, infants and children
WIC, the special Supplemental Nutrition Program for women, infants and children is available at the Nash County Health Department. It is administered by the Department of Environment, Health and Natural Resources, and the Division of Maternal and Child Health. WIC provides the following benefits: supplemental nutritious foods, nutrition education, breastfeeding support, vouchers for healthy foods, and referrals to health care and community resources.
More ...

Mt. Zion FWB Church News
The Woman's Auxiliary sponsored a cook-out Saturday evening at the Fellowship Center. Carl and Algerneen Matthews cooked the hamburgers and hot dogs. Others brought the fixings; chili, slaw, potato salad, tomatoes, lettuce, baked beans, tea and lemonade and desserts. There was a good attendance and a good time of Christian fellowship. More ...
ROSALENE BASS
Peachtree Community News
On Father's Day recognition was given to all fathers present at Peachtree Church. Alvin Edwards, as the oldest father, received a gift. The children presented a goody bag to each father. They were directed in doing this by Catherine Gupton and David May. More ...
BARBARA HARDISON
Ephesus Community News
Father's Day was observed Sunday morning as Pastor David Eidson delivered our message in Word, "A Few Good Men", from Ephesians 6:1-4. He encouraged fathers to spend time with their children, pay attention to them, know where they are and who they are with, and to be there for them. To quote from verse 4 (NIV) Fathers, do not exasperate your children; instead, bring them up in the training and instruction of the Lord.
More ...
DEBBIE PHILLIPS
Nash-Rocky Mount honors retirees
Nash-Rocky Mount Public Schools recently honored 83 retirees with a breakfast at Nathan Hall at Rose Hill Conference Center. The retirees represented 2135 years of combined service in education.
More ...

No patience for the vuvuzela tooters!
If it seem like every time you turn on the TV these days — especially the news — and you hear this constant whining, droning, monotone sound that makes your ears want to bleed, it is entirely possible you might have run across C-Span or a White House Press Conference.
Slightly less annoying than that would be the latest rage among the soccer crowd, vuvuzelas. More ...
Mike Brantley
Congressman Etheridge getting scorned for all the wrong reasons
Working in the newspaper business for 25 years has taught me a lot of things including that there are always two sides to every story. I've also learned a lot more about politics than I really care to know.
I've seen a local race or two become ugly and of course watched many state and national races with disbelief about how politicians can get so far out of touch with the real world and the daily hurdles you and I have to jump to survive!
More ...
Jo Anne Cooper - 1 opinion posted
Out of my comfort zone, but I'm keeping her memory alive!
When you lose someone you love, you go through lots of emotions. There's the anger, the denial, the sadness and right after that, there's the sudden moment of insanity. That's about where I am now.
I've mentioned my friend Jennifer in this space a dozen times. She passed away unexpectedly on March 12, 2007. It's a day I'll never forget. More ...
Amanda Clark
Backward Glances
This photo was originally published in The Graphic June 15, 1967. Johnny Crocker of Dortches was photographed napping and fishing in the shade. Last week's unidentified photo turns out to be Lawrence Bass who lives in Wilmington now. His mother is Betty Bass Bailey of Nashville.
More ...
A PICTORIAL LOOK INTO THE PAST
Reader suggests that Ethridge retire
Well, well, well, once again our illustrious Congressman Bob Etheridge has shown his true colors and real personality. It amazes me and most other mentally cognizant citizens of the 2nd district just how many democrats are giving him a pass. I think the word that comes to mind is "typical". More ...
Letter to the Editor:

OPENING DAY – Cannon Puckett and Bethany Williams hold the American Flag while the National Anthem is performed at the opening day of swimming season. Teams competing Thursday were Birchwood, Westridge and Benvenue.

SEASON OPENER
Birchwood, Westridge and Benvenue swim teams competed last Thursday in Nashville at Birchwood's pool. Westridge won the season's first meet with 115 points, followed by Birchwood with 50 and Benvenue with 14. The top two swimmers for each age category are as follows: More ...
Staff Reports
Nashville offers free summer activities
The Town of Nashville Parks and Recreation Department and Harold D. Cooley Library Department will host summer activities for all age groups.
Summer camps will be available at the Parks and Recreation Department, as well as Open Gym Request Program at the Nashville Elementary Gym with the following schedules: More ...
Staff Reports
Nash County Rec events
Open gym at Spaulding Gymnasium, Spring Hope: Tuesdays – 6-8pm Ages 10-17; Thursdays – 6-8pm Ages 18 & Up - $1.00 admission fee. Call Troy Blaser 252-478-7622 or 252-462-2628
Tennis Clinic at Ennis Park, Red Oak: Session 3, June 28-July 2 from 8-10 am, ages 8 and up - $60 per person per session. Call Betsy Cuthrell 252-462-2447 252-462-2628 More ...

Nash Central 13Us win again
The 7-2 Nash Central 13U Bulldogs traveled to Southwest Edgecombe Saturday coming away with a 8-0 victory. Pitcher Tyler King breezed through the first 5 innings of play, holding the Southwest batters to 3 hits, 0 runs while striking out 8. Closer Jackson Willis entered the 6th inning in relief of King, striking out the first 2 batters he faced. More ...
Contributed
Post 58 wins over Ahoskie
AHOSKIE - With the likes of Rocky Mount's all-time RBI leader Ben Fish and former Nash Central great Xavier Macklin gone for the squad, some may have thought there might be an offensive drop off with the 2010 version of Coleman-Pitt Post 58's American Legion baseball team. More ...
CHARLES ALSTON, Graphic Correspondent
EYES ON THE FINISH LINE
Birchwood swimmer Caroline Jenkins heads for the finish line Thursday during the meet held last Thursday at the Birchwood pool.
More ...

GOOD JOB CHASE!
Birchwood Swim Team Coach Barbara Weiffenbach gives Chase Simmons a quick pep talk at last week's meet. Birchwood, Westridge, and Benvenue teams competed Thursday at Birchwood's pool.
More ...

NASH ARTS CONCERT
Travis Moss will perform at Nash Arts Friday, June 25 at 7 p.m. A humble young man and natural on stage with his guitar in hand, Travis has been performing in the Rocky Mount-Greenville area for the past five years with a mix of all genres of covers and a few of his own originals. Moss also participated and was a top ten finalist in last year's Nash County's Got Talent competition. Doors open at 6:30 p.m. Cost is $10 ($8 for Nash Arts members) For information call 459-4734.
More ...

JAMES M. KING
NASHVILLE - James M. King, 86, passed away on Friday, June 18th, 2010. Jimmy was born July 19, 1923 in Duplin County to the late Marion and Estelle Eldridge King. He was preceded in death by his wife, the former Ruby Gupton Matthews, two brothers and three sisters. More ...

LIZZIE B. WILLIAMS
ROCKY MOUNT - Lizzie Bullock Williams, 92, died Sunday, June 13, 2010 at Nash General Hospital in Rocky Mount. More ...

DOROTHY HARRIS RACKLEY MURPHY
NASHVILLE - Dorothy Harris Rackley Murphy, 87, passed away Wednesday, June 16, 2010. She was born May 5, 1923. She was the daughter of the late Alton Sidney and Elizabeth Faulk Harris. Dorothy was preceded in death by her mother and father; her husband, Francis O. Rackley; three sisters; three brothers; two grandsons, Scotty Dale Wilson and Gary Paul Wilson. More ...

CHESLEY PEARL FREEMAN
ROCKY MOUNT – Chesley Pearl Freeman Sr., 88, passed away Tuesday, June 15, 2010. He was born on April 08, 1922 to the late Jimmy Lee and Mary Freeman. In addition to his parents he was also preceded in death by his wife, Sallie Robbins Freeman, son Chesley (Chet) P. Freeman, Jr., brothers, Clarence and Alton Freeman, and sister, Frances Brown. His brother Howard Freeman passed away June 20, 2010. More ...

HOWARD CLEMMON FREEMAN
Howard Clemmon Freeman, 86, passed away Sunday, June 20, 2010. He was born October 23, 1923 in Nash County, son of the late Jimmy Lee Freeman and Mary Smith Freeman. He was also preceded in death by brothers, Clarence Freeman, Alton Freeman and Chesley Freeman; and sister, Frances Brown. More ...

JEAN ADAMS THORNE
Jean Adams Thorne, 61, passed away peacefully Thursday, June 17, 2010. She was born August 16, 1948 in Edgecombe County, daughter of the late James "Bookie" Adams and Doris Gay Adams. She was also preceded in death by her sister, Judy Adams. More ...

MILDRED VIRGINIA HARDISON DUDLEY
Mildred Virginia Hardison Dudley, 90, of Rocky Mount, died on Monday, June 21, 2010. She was preceded in death by her husband, Jasper Earl Dudley; parents, Jacob Hardison and Lala Cunningham Hardison; sisters, Marie Craft, Addie Gray, Mytle Woodard, Evelyn Parisher; and brother, Ray Hardison. More ...

JAMES THOMAS "BUDDY" ROBINSON
James Thomas "Buddy" Robinson, 83, passed away Friday, June 18, 2010. He was born July 19, 1926 in Nash County, NC. He was the son of the late Jimmy and Clara Robinson. Buddy was preceded in death by his wife of 41 years, Rachel Bissette Robinson; his sisters, Louise Robinson Burchette and Dorothy Robinson Bobbitt. More ...

FLOYD FRANKLIN "FRANK" JONES
Floyd Franklin "Frank" Jones, 74, passed away Tuesday, June 15, 2010. He was born February 29, 1936 in Nash County, NC. He was the son of the late Robert Wooley Jones, Sr. and Essie Bell Farmer Jones. More ...

DAVID EARL WHITLEY
David Earl Whitley, 38, passed away Monday, June 14, 2010. He was born January 25, 1972 in Nash County, North Carolina. He was preceded in death by his father, Bobby Gray Whitley. More ...

WALLACE EDWARD "WALLY" LUPER
Wallace Edward "Wally" Luper, 84, passed away Monday, June 14, 2010. He was born January 4, 1926 in Nash County, North Carolina. He was the son of the late Wiley Edward and Lottie Lee Saunders Luper. He was preceded in death by his mother and father; his step-mother, Susie Oast Luper; and his brother, Charles H. "Tom" Luper. More ...

CATHY SMITH KEEN
Cathy Smith Keen, 61, passed away, Friday, June 18, 2010. She was born May 21, 1949 in Johnston County. Cathy was a loving wife and mother. Cathy always loved going to the beach and gardening. Cathy will be missed by her beloved Cocker Spaniel Sam. Cathy was preceded in death by her father, Aulton Smith and Her mother Catherine Corbett. More ...