Subscribe/Access
Advertisements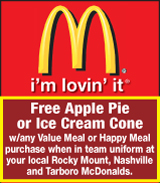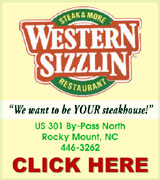 Sections
Member Options
Back
School Board meeting heats up


Despite numerous pleas to reinstate Nash-Rocky Mount Schools Superintendent Dr. Anthony Jackson, the board held firm to their decision to accept his resignation.
A special called meeting was held on Monday night at Rocky Mount High School. The meeting initially had a closed session on the agenda but was later amended to include other items. The meeting was also moved to Rocky Mount High School on Monday after reports that a large crowd would be attending.
Over 300 showed up at the meeting on Monday, filling the Black Box Theater. Some were there to show their support for Jackson but others were there to show their support for the six board members who voted to accept Jackson's resignation.

More ...
AMANDA CLARK, GRAPHIC STAFF WRITER

BISHOP

Two file for unexpired town seat


Two Nashville residents have filed for the unexpired seat once held by Patricia Rogers.
Marguerite Bishop filed on Monday, the first day to file for the November 3 Municipal Elections.
On Tuesday, July 7, James "Butch" Mull, Jr. filed for the seat.
Rogers resigned from her seat on May 27. She was appointed to the board after the death of her husband, Tommy Rogers, in 2013

More ...
AMANDA CLARK, GRAPHIC STAFF WRITER

JULY 4TH CELEBRATION -- Castalia held its annual Fourth of July Celebration Saturday which included a veterans ceremony, patriotic parade, car show, entertainment and more. Pictured above, parade participants hand out patriotic pinwheels to specta

Castalia celebrates Fourth


Castalia's annual Fourth of July celebration offered many activities and events, including a veterans' appreciation ceremony, hosted by Small Town USA, a car show, and the annual parade. According to Mayor Ellene Leonard, the entire celebration was great. "God blessed us with a beautiful day," she said. "We honored our veterans again this year. The entertainment was very good, and we had about the same crowd as usual."
The car show, put on by the Castalia Volunteer Fire Department, had a good turnout, thanks to the participation of the Franklin County Cam Twisters.

More ...
JESSICA A. SMITH, GRAPHIC CORRESPONDENT
Boys & Girls Club eyes downtown buildling


The Nashville Boys and Girls Club is continuing its search for a larger facility but has set its eyes on one building near Downtown Nashville.
Ron Green, Chief Professional Officer of the Boys and Girls Club of Nash/Edgecombe Counties, along with Boys and Girls Club Board Members Pell Cooper and Mark Edwards, came before Nashville's Town Council on Tuesday night to provide an update on the club and its search for a new building.
Green was before the board in October asking for the board's support and leadership in moving forward with the building search.

More ...
AMANDA CLARK, GRAPHIC STAFF WRITER
Spring Hope manager sets retirement date


Spring Hope Town Manager John Holpe officially announced his retirement Monday night after a closed session meeting during the Spring Hope Board of Commissioner's meeting. Holpe's retirement will be effective December 11, 2015.
Holpe was named Town Manager on February 6, 2006, completing a 43-year long career working with local government agencies.
Holpe says he plans to sell his Spring Hope home and then move to the Winston Salem area.

More ...
JO ANNE COOPER, GRAPHIC PUBLISHER
Community holds fundraiser for local woman


Friends and family are showing their support for a local woman in need of a liver transplant.
Lillie Reynolds, of Castalia, was diagnosed around 20 years ago with sarcoidosis, an auto immune disease where the immune system fights against the organs in the body.
"Most people, it goes to their lungs, but in my case it went to my liver," Reynolds said.

More ...
AMANDA CLARK, GRAPHIC STAFF WRITER
OATH OF OFFICE


Bernard W. (B. W.) Collier II took the oath of office last week as Director of the State Bureau of Investigation at the State Capitol in a ceremony attended by his family, Governor Pat McCrory and Department of Public Safety Secretary Frank Perry. The oath of office was administered by Wake County District Court Judge Ned Mangum.
"North Carolina is fortunate to have B.W. Collier lead the State Bureau of Investigation," Governor McCrory said. "Director Collier brings a wealth of experience and knowledge to the office as well as a personal appreciation for the sacrifices SBI and ALE agents make each day to protect us all."

More ...
1 opinion posted
Red Oak Board okays improvements, budget


Several financial decisions were made by the town of Red Oak board members at their regular monthly meeting held Monday.
First, a $1975 bid was accepted from Britt's Yard Works to tear up the grass along the front of the town hall, re-grade the area, and put down sod. This decision comes as a result of the installation of a new electronic marquee sign. The board has contracted with Daniel Britt of Britt's Yard Works to further improve the curb appeal of the town hall.

More ...
Jessica A. Smith, Graphic Correspondent
Nash County again tables Elm City request


Nash County Commissioners once again tabled a request from Elm City to purchase land for expansion of its wastewater treatment facility.
The request was initially brought before the board in May but commissioners delayed taking any action to hold a public hearing on the item.
The Town of Elm City wants to purchase a tract of land owned by Charlotte Bissette for the expansion of its wastewater treatment facility. Because a portion of the property is located in Nash County, the town must first be approved by the Nash County Board of Commissioners before they can purchase the property.

More ...
AMANDA CLARK, GRAPHIC STAFF WRITER
NASHVILLE POLICE REPORTS
INCIDENTS
A larceny was reported on 6/29/15 at Wal-Mart, 1205 Eastern Avenue
An obtaining money/property by false pretense and identity theft was reported on 6/30/15 at 2862 Old Spring Hope Road
An intoxicated and disruptive was reported on 6/30/15 at Brake and S. First Streets
More ...
NASH COUNTY SHERIFF'S OFFICE REPORTS
A larceny of a firearm and felony larceny were reported on 6/29/15 at 1410 E Old Spring Hope Road
A felony possession of heroin and maintaining a vehicle was reported on 6/29/15 on Gold Rock Road
A larceny was reported on 6/29/15 at 12244 Bellamy Mill Road
A felony larceny was reported on 6/30/15 at 3520 S. Church Street
More ...
Nashville Council recognizes, thanks town manager for service


Nashville Town Manager Preston Mitchell sat in his last Town of Nashville Council Meeting on Tuesday night.
Mitchell will be leaving the town to serve as the Town Manager of Reidsville.
During his final report on Tuesday, Mitchell said he had enjoyed working the past decade with the board and the town.
Mitchell said he was fortunate to have served under two great mayors and a supportive town council. He added that he felt the town currently had a great group of department heads.

More ...
AMANDA CLARK, GRAPHIC STAFF WRITER
Nash-Rocky Mount School Board okays administrative assignments
Several Nash-Rocky Mount Schools will see changes in leadership, as the Board of Education approved new administrative assignments last Monday night.
The Nash-Rocky Mount Public Schools board of Education approve the administrative appointments at a special called meeting on Monday, June 29.
The changes include a new principal at Nashville Elementary School. Quintin Mangano, who most recently served as the principal at Benvenue Elementary School, will lead Nashville Elementary in the coming school year. Sharon Huneycutt, who was the principal at Nashville, will serve as the principal at Swift Creek Elementary School.
More ...
ENGAGED
Fran Dement of Louisburg and Steve Dement, also of Louisburg, announce the engagement of their daughter, Ashlee' Danielle Dement to Taylor Robert Neal, the son of Andy and Lisa Neal of Louisburg. The wedding will take place August 1, 2015 at Centerville Baptist Church.
More ...
Institute for Future Agricultural Leaders
NC Farm Bureau President Larry Wooten (right), along with NC A&T State University's Dr. Antoine Alston (left) and NC State University's Dr. David Jones (back and center) congratulate Nash County rising high school seniors, Brandon Bass, Devin Whitaker, and Brandon Lewis (left to right), on their successful completion of NCFB's Institute for Future Agricultural Leaders (IFAL) Program. The program assists exceptional students from across the state in exploring the wide-variety of agricultural-related college majors available at the state's two land-grant universities.
More ...
Action group launches positive image campaign
The Positive Image Action Group, formed in January 2013 from the Twin Counties Visioning Process, launched on Monday the first phase of its regional positive image campaign. The initial phase focuses on educating citizens of Edgecombe and Nash Counties on interesting facts about the combined region through local advertisements and social media.
"The goal of Phase I is to make our own residents aware of the great things happening here, for which we all should be proud," said Don Williams, president of Lewis Advertising and co-chair of the Positive Image Campaign.
More ...
MISSIONARY
Kay Turner will soon leave for Kampong Thom, Cambodia marking her fourth trip. She will teach English at Clever Child International (CCIS) and will work with the children at the Shelter of Love, a children's home for 55 neglected, disadvantaged and orphaned Cambodian children). She will again serve with retired missionary, Sue Singleton, who founded CCIS and the Shelter. Turner says she is thankful for the love, prayers, and financial support from Rock Creek Baptist Church in Nashville.
More ...
PEACHTREE COMMUNITY NEWS


On a bright "Fourth of July" week-end Sunday morning, Peachtree folks gathered at the church for worship. Sanctuary flowers were an arrangement of red, white and blue flowers given by David and Rosemary Bryant. The adult choir sang "America the Beautiful" under the direction of the pastor.
Pastor Whitehouse gave the children's sermon about the American flag and the significance of the colors; the strips; the stars. He talked about the 'Pledge of Allegiance'.

More ...
BARBARA HARDISON
RED OAK NEWS


Thanks go out to the ASP Missionaries from Red Oak United Methodist Church that made homes in the mountains of North Carolina warmer, safer, and drier as part of the Appalachian Service Project. On Sunday, June 28 they shared stories of their trip, the projects they worked on, and the people they met. Their service is greatly appreciated.
Children and chaperones from Red Oak Baptist Church will traveled to Lynchburg, VA this week to attend CentriKid.

More ...
Suzy Pearce
Word for the week


Some folks portray the Christian life as a bowl of cherries or bed of roses. "Come to Christ," they say. "Your troubles will be over." As a certain rental car advertisement once retorted, "Not exactly." Someone forgot to pit the cherries. Someone else didn't take the thorns off the roses.
Becoming a Christian does not suddenly remove all your problems. In fact, conversion to Christ can intensify those difficulties. Not everyone appreciates the followers of Jesus. Don't let this deter you. Christ will teach you how to cope with your problems. Christ will support you in the midst of your troubles.

More ...
DENNIS PRUTOW
AVENTON COMMUNITY NEWS


Hey grandpa, what's for supper (remember the Hee Haw Show?) Trout tar tare, pork belly with spicy sorghum and crushed peanuts, pork chop with blueberry and mustard seed chutney, roasted sweet potatoes and sweet NC kale. Nope, this wasn't part of an old TV show; this was just a few of the items on the menu at SoCo an 11-acre farm and restaurant on Slabtown Road in Wilson. Jennifer and Carl Turner along with Donna and Terry Milligan and other Body Image Gym members from Dortches, including the owner Dennis Ray enjoyed a fine meal creatively prepared using wholesome NC ingredients.

More ...
JOJO RICKS
Nash County Blood Drives for July 2015
Friday, July 10 from 1 until 7 p.m. at Petsmart, 1462 Jeffries Road, Rocky Mount
Monday, July 13 from 2 until 7 p.m. at Northside Community Church, 1660 Beaver Pond Drive, Rocky Mount
Tuesday, July 14 from 9:15 until 11:30 a.m. at Boddie Noell, 1021 Noell Lane, Rocky Mount
Tuesday, July 14 from 2 until 5 p.m. at Wesleyan College, 3400 N Wesleyan Boulevard, Rocky Mount
More ...
When you see smoke -- there just might be fire!
We never learn.
Time and time again, some of the world's greatest philosophers have offered Eureka moments for understanding the human personality and cultural traits, all to no avail.
Way back in the day, Socrates explained human nature when he said "To be is to do." Later, Jean-Paul Sartre, observing that Socrates had not positively impacted the welfare of societies as he had hoped to, opined, "To do is to be."
More ...
The public deserves a "why" from School Board


Why, why, why, why, why?
That seems to be the biggest question going around town at the moment.
Why, oh why, did the Nash-Rocky Mount Board of Education decide to get rid of Dr. Anthony Jackson?
Did they not like him as a person?
Did they not like his policies, his beliefs on education?

More ...
Amanda Clark
Shark week: Darwinism at its best


A slow news cycle and a cluster of shark attacks have created a media frenzy on the North Carolina coast. Disaster awaits.
Before you jump to the conclusion that I am making light of the young victims in May who lost limbs or the terrible wounds faced by other swimmers as recently as this week, don't. Those events were awful, life-altering attacks.
What is of more concern is what the media and people are doing.

More ...
Mike Brantley
Backward Glances


ECOLOGY FIELD DAY -- This photo comes from The Graphic's May 7, 1981 archives. Carl Betsill (right) a wildlife biologist, is pictured talking to students from Northern Nash High School during their visit to the I.C. Lamm farm north of Nashville for the annual Ecology Field Day. Students from all high schools attended the event held annually on the farm. The event was sponsored by the Nash County Soil Conservation service with the participation of the Wildlife Commission and the division of forestry.

More ...
A PICTORIAL LOOK INTO THE PAST
To whom did the School Board members pray?


Dear Editor,
There is something wrong about the way Dr. Jackson's contract is being terminated and the season of it. If those who voted against him can't tell the public why they voted and have objective means, they are out of order and will be held responsible for the chaos and discord that follows their private, prayerful decision.

More ...
LETTER TO THE EDITOR
Thankful for our police officers


Dear Editor,
I wanted to write a letter about our police officers. The police across the nation have been getting piled here lately. But our police are there to protect and serve the public.

More ...
LETTER TO THE EDITOR
GUEST COLUMN: Beware of Imposter Scams


The love we have for our children or grandchildren is one of the strongest forces in the universe. I bring this up because there are individuals who will try to exploit this by trying to scam us out of money. Imagine for a second that someone calls your phone and says that your son, daughter, grandchild has been kidnapped and you must send $1,000 dollars for their safe return. Here is another one...you receive a phone call from someone claiming to be friends with your child. They tell you that your son has been arrested and needs $1500 in order to bail them out of jail.

More ...
By Thomas Bashore, Nashville Chief of Police
Nash County Animal Friends' Notebook


Four puppies were turned into the Shelter after the fifth pup had died. Everyone thought they had parvo. They were weak and had explosive diarrhea. The Shelter vet was going to euthanize. Our group cannot afford to treat parvo pups, especially four of them. The bill for one can run over a thousand dollars and you still might lose them. But we took a chance, sent them to the vet to be tested and it was negative for parvo! So we decided to save them and they will go to a Rescue this week.

More ...
Carol Vierela, NASH COUNTY ANIMAL FRIENDS

JORDAN GETS THE JOB DONE. Nash Rec's Jordan O'Leary makes a strong push toward the finish during last Thursday's home swim meet.

Nash Rec's Meet Suspended


NASHVILLE -- Last Thursday's much-anticipated matchup between Roanoke Valley and host Nash Rec never made it to the finish line.
The squads -- both expected to be in competition for the Nash-Halifax Swim League Championship -- dueled through three events before action was called due to poor weather.
Because of that, the final results don't county. The clubs will try again July 23 at 5 p.m. at the Roanoke Rapids Aquatic Center.

More ...
GEOFF NEVILLE, Graphic Sportswriter

TRIPLE THREAT FOR THE BARRACUDAS. Birchwood Country Club's Cannon Puckett delivered a trio of victories for his team during last Thursday evening's home matchup against Nash-Halifax Swim League opponent Westridge.

HOLIDAY HEROES


NASHVILLE - With the threat of poor weather looming, the decision was made to start last Thursday's swim meet between Westridge and host Birchwood about 15 minutes ahead of schedule.
The strategy proved to be a smart one as the event was staged in full, with Westridge earning the Nash-Halifax Swim League victory by a 309-200 margin at the BCC Pool.

More ...
GEOFF NEVILLE, Graphic Sportswriter

LEADOFF ACE. Nehemiah Browning batted at the top of the order for the Nash County All-Stars during Monday's tourney matchup.

Nash Co. stopped at event


KNIGHTDALE -- Before the game started, members of the Nash County All-Stars coaching staffs reminded their players that the Louisburg foe would probably be the toughest opponent the stars would face this year.
That proved to be a correct assessment as Louisburg put together an effective performance to defeat Nash County by a 13-2 margin in Monday's opening-round contest of the Tar Heel 9-10 District 6 Baseball Tournament.

More ...
GEOFF NEVILLE, Graphic Sportswriter
Mudcats fall against MB


ZEBULON -- Mark Zagunis hit a three-run double in the second, Victor Caratini drove in two with a bases-loaded single in the fifth and had a solo home run in the eighth as the Myrtle Beach Pelicans pounded out a 12-0 win against the host Mudcats at Five County Stadium on Sunday night in a Class A Carolina League baseball event.
The game started one hour and 48 minutes late because of rain and was called after the top of the eighth when the rain returned for the second time.

More ...
Staff Reports
Central will host campers


ROCKY MOUNT -- Nash Central High School will host its annual Youth Volleyball Camp from July 13-15 at the NCHS Gymnasium.
Cost is $30 per athlete, and the event is open to youngsters in grades 6-12.
The event will run from 6-8 p.m. each day. Check-in will begin July 13 at 5:30 p.m. Each camper will receive a T-shirt at this time.
Appropriate attire is required, including knee pads and tennis shoes.

More ...
Staff Reports
STANDOUT SWIMMERS
WHAT A DAY FOR THE BARRACUDAS. Among the Birchwood Country Club competitors during last Thursday's home swim meet against Westridge were (above) Franklin Davis.
More ...
SUPER SHARKS IN ACTION
COMPETITIVE EDGE. Among the Nash Rec swimmers from last Thursday's home meet against Roanoke Rapids were (above) Chance Savage.
More ...
STRONG SHOWING
The Nash County Nationals All-Stars tangled with the Nash County American Red Oak All-Stars during a Nash County Parks and Recreation Spring Baseball Coach-Pitch finale last Wednesday at Spring Hope Elementary School.
More ...
C-P campaign concludes


NASH COUNTY -- Nash County's Parks and Recreation Department wrapped up its Spring Baseball League with a Coach-Pitch showdown last Wednesday at Spring Hope Elementary School.
Red Oak was a 24-9 winner over the Nash County Nationals in the contest.
Hitting leaders for the game were as follows:

More ...
Staff Reports
NASH COUNTY 9-10s ROSTER


NASH COUNTY -- Listed is the player roster for the Nash County 9-10 Baseball All-Star Team.
The club is currently taking part in the Tar Heel League District 6 9-10 Tournament at Knightdale Community Park in Wake County.
Nash County lost its tourney opener on Monday evening.

More ...
Staff Reports
CLOSE ONE
Nash County All-Star shortstop Jordan Vick (left) tags out a Louisburg baserunner at second during Monday's game at the Tar Heel 9-10 District 6 Baseball Tournament at Knightdale Community Park. Louisburg won the contest bya 13-2 tally to advance into the winner's bracket of the double-elimination format. Nash County was in action against Tuesday night in the loser's bracket.
More ...
OUR TURN WILL COME SOON
(L to R) Birchwood Country Club swimmers Berkeley Miller and Roslyn Smith patient await their respective events during last Thursday evening's Nash-Halifax Swim League home contest against Westridge out of Rocky Mount.
More ...