Subscribe/Access
Advertisements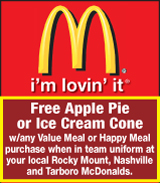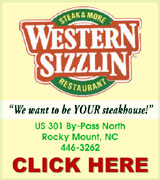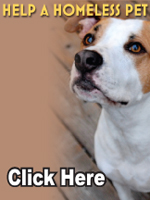 Sections
Member Options
Back


TOMMY ROGERS

Councilmen Rogers, Street plan run for mayor
Following November elections, Mayor Warren Evans will turn over his title and two council members have expressed an interest in running for the position.
On July 6, filing for elections will begin and councilmen Tommy Rogers and Donald Street have both expressed their intentions to run for the mayor's seat. More ...
By Amanda Clark, Graphic Staff Writer - 1 opinion posted
Nash Arts hosts membership drive
To Nash Arts, membership is everything. New members equals new, better events so it's important the Nashville arts center reaches its goal of $25,000 during its current membership drive. More ...
By Amanda Clark, Graphic Staff Writer
GRADUATION
Over 1,000 students graduated from Nash-Rocky Schools Saturday morning. W.L. Greene Alternative School held graduation services Friday, June 9, with 24 students graduating, the largest the school has had. Pictured left, Nash Central High School students take a minute to pose before graduation begins. Pictured above on the front row is Ryan Fitzgerald. On the back row (L-R) is Drew Fairman, Dustin Faithful and DJ Fox. More ...

Local business owner's son competes on reality show
You can find Frank and Bette Sue Hunt in front of the television every Tuesday night. That's because their son, Andrew, has a chance to win $1 million dollars and a shot to direct a movie.
Featured on the newest reality show, "On the Lot," Andrew is competing with other contestants for a shot to make a movie. Each week, contestants make a short movie, which is critiqued by judges. And, like all other reality shows, a contestant is voted off each week. More ...
By Amanda Clark, Graphic Staff Writer
Graphic wins state awards
The Nashville Graphic received 14 North Carolina Press Association awards recently for its winning entries in the 2007 Best Ad Contest.
The advertising staff merited six first place awards, including Best Niche Publication for its Guide to Nash County which has received numerous compliments from around the entire county. More ...

Local National Guard Company to deploy to Iraq
Local soldiers are preparing for deployment to Iraq and hope the community will fill up Englewood Baptist Church to wish them farewell.
The 1132nd Military Police Company of the North Carolina National Guard, headquartered in Rocky Mount, will deploy to Iraq in a few months after training at Camp Shelby, Mississippi. Over 100 soldiers are expected to deploy, including Nashville resident Staff Sergeant Timothy Spence. More ...
By Amanda Clark, Graphic Staff Writer
MILITARY NEWS
Army Pvt. Eric J. Glassey has graduated from basic combat training at Fort Jackson, Columbia, S.C. More ...

NRMPS students, staff walk over 75,000 miles
Angie Miller, Nash-Rocky Mount Public Schools Healthful Living Coordinator, announced first year results for "Hot Feet in Action," a fitness program created to assist students in the development of positive fitness habits beyond standard physical education classes. More ...

Area students receive degrees at NCSU
North Carolina State University Chancellor James Oblinger conferred 4,074 degrees on 3,828 graduating students when the university held 2007 Spring Commencement on Saturday, May 12, at the RBC Center in Raleigh. More ...

Scholarship awarded to NCHS senior
The Boice-Willis Clinic is pleased to announce that Maggie "Nikki" Leonard, a senior at Nash Central High School, has been awarded the 2007 "Anne McBride Smith Memorial Scholarship". More ...

Avada honors locals
Avada Hearing Care Centers, the operating subsidiary of Hearing Healthcare Management, Inc. (HHM), honored Jeff Hartney, Becky Israel and Allison Vaughn as the select few chosen to receive the organization's 2006 All Star award. More ...

Winstead recognized by NSWMA
Thomas Winstead, East Division Vice President, Waste Industries in Wilson, received the National Solid Wastes Management Association's (NSWMA) Distinguished Service Award for years of service to NSWMA. NSWMA is the trade association representing private solid waste collection and disposal companies throughout North America. Waste Industries currently operates more than 40 solid waste collection operations in the Carolinas, Virginia, Tennessee, Mississippi, and Georgia. More ...

Red Oak student raise over $11,000 for AHA
Red Oak Elementary students spent their third year jumping for a cause, as they raised over $11,000 for the American Heart Association. This year, students had two faces to go with heart disease. Two of their own students had battled heart problems, both undergoing heart surgery this year. More ...
By Amanda Clark, Graphic Staff Writer
North Carolina Union Soldiers - part one
It was awhile back when I was researching some ancestors that I came across an interesting character in my family.
Listed in some places as Wright Stephen Batchelor and others as Stephen Wright Batchelor, this old fellow joined the Confederate Army as a private in 1862 at age 33. More ...
Mike Brantley
Castalia Mayor invites all to July 4th celebration
Once again it is my pleasure to invite and welcome you to "Castalia, the place to be on the Fourth of July." This year may be the very best ever; the July 4th committee has been busy for months and has put together a day of events that will appeal to all ages. It takes endless hours of work and dedication to create an event of this magnitude. I commend this committee for their job well done! More ...
Letters to the Editor:
Scientists state facts but cannot offer proof
It is amazing how the news people lie to us and get away with it. Thomas Friedman of the New York Times, in a recent article, "U.S. needs an energy policy," states, "The vast majority of scientists tell us that global warming caused by our burning of fossil fuels is a real danger." More ...
Letters to the Editor:
Habitat provides good homes to good people
Many letters to the editor come through our office. We run most letters as long as they follow our guidelines. We at The Graphic don't always agree with these letters but that's the great thing about America: You are entitled to your opinion. More ...
Amanda Clark
ALTON WAYNE FREEMAN
LOUISBURG – Alton Wayne Freeman, 86, died Friday, June 8, 2007. A gathering to celebrate his life was held on Tuesday at Forest Hill Cemetery in Nashville with Father Phil Tighe officiating. Burial followed in Forest Hill Cemetery, Nashville. More ...

DONALD GLENN CHAPPELL
Donald Glenn Chappell, 41, passed away, Friday, June 7, 2007. He was born October 1, 1965 in Edgecombe County. He was preceded in death by his father, Roger Wayne Chappell. More ...

FRANCES LORINE DAVIS
Frances Lorine Davis, 83, passed away June 5, 2007. Graveside services were at 2:00 pm Wednesday, June 6, 2007 at Pineview Cemetery. Arrangements are entrusted to Johnson Funerals and Cremations. More ...

LANCEY HERBERT WINSTEAD
ROCKY MOUNT – Lancey Herbert Winstead, 86, died Thursday, June 7, 2007. A gathering to celebrate his life was held Sunday at Johnson Funerals and Cremations. Burial followed in Samaria Baptist Church Cemetery. More ...