Habitat provides good homes to good people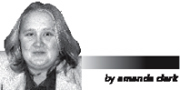 Many letters to the editor come through our office. We run most letters as long as they follow our guidelines. We at The Graphic don't always agree with these letters but that's the great thing about America: You are entitled to your opinion.

Recently, Mr. Bob Phillips submitted a letter with his opinion on the recent recipients for Nashville's next Habitat for Humanity home. Though Mr. Phillips is certainly entitled to his opinion, I was appalled at some of the things he insinuated.

I myself grew up in a single-family home and was not afforded the opportunity to be raised by two parents. It bothers me to think people looked down upon my father and I because my mother made the choice to leave. It bothers me even more that Mr. Phillips thinks Ms. Patricia Hunter is not worthy of a nice home because she is a single mom.

First, I doubt Mr. Phillips knows the circumstances surrounding the Hunter family. I don't know either. The father figure could be dead. It could also have been a situation where it were best for the mother to leave. Or the father figure could have made the conscious decision to walk out on his family. It happened in my family. It can happen to anyone.

Mr. Phillips obviously has no idea what the purpose of Habitat for Humanity is. If he did, he would know these houses are built mostly by volunteers but also by the home's occupants. Ms. Hunter and her two sons will put in at least 200 hours of work on this home. They are not simply given the home. They do have a mortgage payment but they also have a down payment. Nashville Habitat members hand pick each home's occupants, using strenuous guidelines. Ms. Hunter was not simply given a home. She earned it.

Ms. Hunter is not the one Mr. Phillips should be complaining about. I certainly don't believe Habitat is sending a wrong message by choosing someone like Ms. Hunter.

I'm curious what lifestyle Mr. Phillips thinks Habitat is supporting. To me, it looks as if Habitat is supporting a lifestyle which applauds parents for their hard work, their dedication to their children and their determination to ensure a safe, happy home for their family, no matter what the family unit looks like.

Ms. Hunter has worked over 20 years for Nash-Rocky Mount School. She is the proud parent of two polite, young men and is probably a role model to many other children at Coopers Elementary School. I think this is exactly the type of person Habitat needs to fill its homes.

Ms. Hunter has taken her lemons and made lemonade. It seems Mr. Phillips is squeezing something out of nothing.
Printer-friendly format
---
---