Subscribe/Access
Advertisements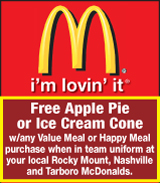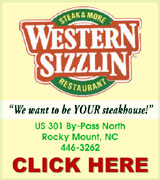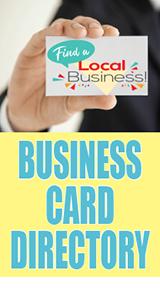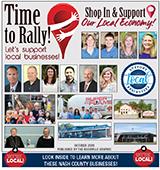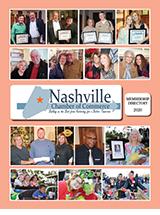 Sections
Member Options
Back
Nash County man arrested for murder


An altercation at a party Saturday morning has left one man dead and another charged with first degree murder.
According to Lt. Todd Wells, of the Nash County Sheriff's Office, deputies were called to 3030 Como Road, Rocky Mount, around 3:30 a.m. on Saturday, November 29 in reference to a subject shot. When deputies arrived, they found 31-year-old Tony Pittman, Jr. in the back yard of the home deceased.

More ...
AMANDA CLARK, GRAPHIC STAFF WRITER
Locals remember two long-time businessmen


Nashville citizens are mourning the loss of two Nashville business owners, who passed away over the Thanksgiving holiday.
Roy Cooper, Jr. passed away at his Nashville home early Friday, morning, November 28. Henry Fisher passed away Saturday, November 29. Both served as attorneys in Nashville for many years. Fisher was still practicing when he passed away.

More ...
AMANDA CLARK, GRAPHIC STAFF WRITER

TAKING OATH OF OFFICE –– Keith Stone is officially sworn in as Nash County's new Sheriff by Judge Quentin Sumner. Stone's family stands by his side during the ceremony.

Stone is sworn in as Nash County Sheriff


Keith Stone was officially sworn into office on Monday afternoon, along with over 100 of his command staff, sworn staff and detention center staff, most of who are returning personnel.
Stone was elected in November to serve as Nash County's Sheriff, taking the place of Sheriff Dick Jenkins.
He was sworn in on Monday with his wife, Karen and three daughters, Carolina, Frances and Emma, looking on.

More ...
AMANDA CLARK, GRAPHIC STAFF WRITER
Newkirk resigns from Spring Hope Board


Spring Hope Commissioner Bill Newkirk has resigned from the town board, effective immediately.
The three-term commissioner announced his resignation in a letter to Town Manager John Holpe. Holpe presented the letter to Mayor Buddy Gwaltney, who announced the resignation on Monday evening at the board's regular meeting.
Holpe said health issues are the primary reason for Newkirk's resignation. Holpe said Newkirk felt like it wasn't right to continue to serve on the board when he couldn't attend meetings.

More ...
AMANDA CLARK, GRAPHIC STAFF WRITER
Officers earn Livesaving Awards


Two Nashville Police Officers were recognized on Tuesday night for their heroic actions in rescuing three people from a house fire.
Nashville Police Chief Tom Bashore and Nashville Mayor Donald Street recognized Sergeant George Bottoms and Officer Wayne Boykin with a Lifesaving Award at the Nashville Town Council's regular meeting on Tuesday night.

More ...
AMANDA CLARK, GRAPHIC STAFF WRITER
Washington, Doll win school board seats


There will be another new face on the Nash-Rocky Mount Board of Education, as LaShawnda Washington defeated incumbent Robert Bynum in run-off races held Tuesday.
In addition, Wayne Doll defeated Steve Williams in Tuesday's run-off race. Doll had previously defeated incumbent Bonnie Batts in the November races but due to the tight race between Doll and Williams, a run-off was requested.

More ...
AMANDA CLARK, GRAPHIC STAFF WRITER

Nash County EMS officials prepare to pick up an Ebola patient at LifeCare Hospital on Tuesday morning during an Ebola Response Training.

Nash County agencies train for Ebola response


A training exercise Tuesday morning helped prepare numerous Nash County agencies on their response if a person in Nash County becomes affected with Ebola.
Scott Strufe, Nash County EMS Program Manager and Training Officer, said the drill may never become a reality. However, Strufe added, it was better to be prepared.

More ...
AMANDA CLARK, GRAPHIC STAFF WRITER
Nashville's Christmas Celebration is Saturday
Nashville's Christmas Celebration, which is sponsored by the Nashville Chamber of Commerce, will be held Saturday, December 6.
Events will kick off at 4 p.m. on the courthouse steps with performances by the Nash Central High School Chorus and Red Oak Middle School Band.
More ...
NASH COUNTY SHERIFF'S OFFICE REPORTS
An injury to real property was reported on 11/17/14 at 222 W Washington Street
A damage to personal property was reported on 11/18/14 at 7253 NC 48
A fraud was reported on 11/18/14 at 3477 South NC 231
A breaking, entering and larceny were reported on 11/18/14 at 9464 Beaver Dam Road
More ...
NASHVILLE POLICE BRIEFS
INCIDENTS
A larceny (shoplifting) was reported on 12/1/14 at Wal-Mart, 1205 Eastern Avenue
A possession of marijuana and possession of drug paraphernalia were reported on 11/24/14 at L&L #14, 479 W Washington Street
More ...
Nash Board tables solar farm to receive more info


A controversial solar farm was tabled on Monday by Nash County Commissioners, who requested more time to read over the material presented.
The request was for a conditional use permit for a solar farm in the A-1 zoning district on around 139 acres on both sides of Frazier Road between Worth Road and US Highway 64 Bypass.

More ...
AMANDA CLARK, GRAPHIC STAFF WRITER
NRMS Board to buy property to help with traffic issues at Bailey school


The Nash-Rocky Mount Board of Education called a special meeting on Monday in order to discuss purchasing property to improve the traffic flow and safety issues at Bailey Elementary. The Board met in closed session for over an hour to discuss details of the contract before coming into open session to approve the contract contingent upon its approval by the Nash County Commissioners.

More ...
AMELIA HARPER, GRAPHIC CORRESPONDENT
Senior Center partners with Walgreens in "Santa for Seniors" program
The Nash County Senior Center is partnering with Walgreens to provide gifts for senior citizens during this holiday season. The Fourth Annual Santa for Seniors program provides the community a chance to give back and brighten an older adult's holiday.
To participate in the program, stop by the Nash County Senior Center or any of the four Walgreens stores located in Rocky Mount and Nashville and pick an ornament off of the tree.
More ...

Nashville Police Chief Tom Bashore (far left) talks with former Nash County Sheriff Dick Jenkins (at right) while Bashore's daughter, Melanie (center), looks on. (Graphic photos by Amanda Clark)

Nash County Sheriff Jenkins retires


Honorable. Encouraging. Tough. Loving. Fair. Grateful. Dedicated.
Those are some of the words employees of the Nash County Sheriff's Office used to describe former Nash County Sheriff Dick Jenkins at a retirement celebration last week.
Jenkins retired last week with over 30 years in law enforcement. Nine of those years were spent as Nash County's Sheriff. Keith Stone took over as Nash County's Sheriff on Monday, when he was officially sworn in.

More ...
AMANDA CLARK, GRAPHIC STAFF WRITER
Bailey business earns marketing award
Reinke is excited to announce that Brock Equipment Company of Bailey, has received a Silver Reinke Pride award in recognition of the company's 2013-2014 marketing year success. The Reinke dealership was honored during Reinke's recent annual convention held October 23-25, 2014, in Palm Springs, Calif.
"Congratulations to Brock Equipment Company on this well-deserved recognition," said Reinke Director of Marketing Tom Palmertree.
More ...
WRAL-TV reporter is grand marshal of Rocky Mount parade
The grand marshal for this year's Rocky Mount Christmas Parade will be Brian Shrader of WRAL-TV in Raleigh.
Shrader is a reporter for WRAL.com and the traffic anchor for WRAL Morning News. Prior to joining WRAL-TV in 2006, Shrader worked as a web producer for WTVD-TV in Durham, N.C. Shrader has also worked as a producer, reporter and anchor for News 14 Carolina and WPTF-AM in Raleigh, N.C.
More ...
NASHVILLE CHURCH HONORS VETERANS
Social Union Baptist Church recognized its Veterans on Sunday, November 9 at the church, located on Cooper Road, Nashville. NC House Rep. Dr. Bobbie Richardson spoke to the veterans and presented a Certificate of Appreciation to each veteran in attendance.
More ...
Word for the week


After miraculously delivering them from slavery, God led Israel on a four-decade journey through the desert. As the crow flies, the trip was only eleven days (Deuteronomy 1:2). Why this long and arduous pilgrimage?
It was a test to show the people their hearts. "God has led you in the wilderness these forty years, that He might humble you, testing you, to know what was in your heart, whether you would keep His commandments or not.

More ...
DENNIS PRUTOW
RED OAK NEWS


More than 40 people from Red Oak United Methodist Church gathered together on Saturday, November 22 to share a traditional Thanksgiving dinner of turkey, gravy, and all the trimmings.
St. John Missionary Baptist Church hosted the annual Community Thanksgiving Service on Sunday, November 23.  Members from Red Oak Baptist Church, Red Oak Methodist Church, and Calvary Chapel also attended.

More ...
Suzy Pearce
Castalia native to speak at open house event for former School
The Castalia Community Development Corporation (CCDC) – formerly the Castalia School Club – was organized to use and preserve the Castalia School as a facility for meetings and activity in the Castalia community. The group recently announced that after decades of disrepair, the old school on the side of the road has been renewed and will again be a centerpiece of Castalia's history and its future.
More ...
Clark sworn in as President of NC Wesleyan College
Dr. Dewey G. Clark, a 1982 graduate of North Carolina Wesleyan College, was inaugurated as the college's seventh president on October 24 in a ceremony in Minges Auditorium of the Dunn Center for the Performing Arts. The theme of the event was "Faith Forward. Our Foundation. Our Future."
Clark officially assumed duties as president of the college on May 4. The inauguration, however, marked Clark's formal induction into Wesleyan's highest office.
More ...
Nash County Blood Drives for December 2014
Saturday, December 6 from 9:30 a.m. until 2:30 p.m. at Capital Ford Lincoln, 2012 Stone Rose Drive, Rocky Mount
Thursday, December 11 from 11 a.m. until 5 p.m. at the Environmental Services Building on Thorpe Road in Rocky Mount
Wednesday, December 17 from 1:30 until 6 p.m. at Sunset Avenue Baptist Church, 3732 Sunset Avenue
More ...
Nash Community administrators make presentation at conference
A team of Nash Community College administrators recently outlined best practices at the 45th Annual Association of Community College Trustees Leadership Congress in Chicago, Illinois.
The title of the program, presented by NCC Board Chair Sam Dickens, NCC President Dr. Bill Carver, NCC Business Technologies Department Chair Dr. Amy Harrell and NCC Humanities and Social Sciences Department Chair Lisa Cooper, was "Transforming a College Culture Through the First Year Experience."
More ...
Grant-in-Aid
The Delta Kappa Gamma Society Mu Chapter recently gave a Grant-in-Aid monetary award to Kayla White, a student at North Carolina Wesleyan College who is preparing to become a teacher.
More ...
LOCALS ATTEND CONVENTION
UDC Bethel Heroes Chapter 6 members Edith Whitby (at left) and Margaret Sink (at right) attended the UDC 121st General Convention in Richmond, Va.
More ...
A Soap Box Christmas gift guide for 2014


With Thanksgiving barely in the rearview mirror, it is already December 1. This can mean only one thing: soon, TV news people will be doing countless stories on how lots of people are out shopping at malls for Christmas gifts.
This also means it is time for the Soapbox to help you help yourself make the holidays low stress. So, we present out 2014 Christmas Gift Buying Guide:

More ...
Mike Brantley
Local police officers are most deserving of special recognition


While other, larger news media outlets are reporting on the unrest in Ferguson, Missouri following the announcement of the grand jury not deciding to indict an officer, The Graphic this week has an article of a different nature.
Two Nashville Police officers recently went into a burning house to save three people.
I'm sure the three whose lives were saved are thankful for those officers, who risked their lives to do something that was really their decision.

More ...
Amanda Clark
Backward Glances


NEW BROWNIE SCOUTS –- This photo was originally published in The Graphic on November 11, 1976. These 14 girls were inducted as Brownie Scouts in Nashville's Girl Scout Troop 474 at investiture ceremonies at the Nashville Baptist Church.

More ...
A PICTORIAL LOOK INTO THE PAST

BRANCH IS BACK. Senior Kendall Branch (left) is a veteran performer for the Northern Nash High School wrestling squad. The Knights, coached by Corey Mercer, hosted the annual I-95 Duals last Thursday at the NNHS Gymnasium.

I-95 EXCELLENCE


RED OAK -- Northern Nash's wrestling squad should showcase an effective blend of veteran leadership and newcomer potential during the 2014-15 campaign.
Long-time NNHS head coach Corey Mercer hopes that mix will put his Knights in the hunt for one of the top spots in the always-competitive Big East Conference.

More ...
GEOFF NEVILLE, Graphic Sportswriter
NCPR's Blaser is honored


NASHVILLE -- There's a tinge of selflessness involved in Troy Blaser's job as he provides invaluable, behind-the-scenes planning and logistics so others can be recognized for their athletic achievements in the Nash County Parks and Recreation Department.
But Blaser was in the spotlight last month when he received the Young Professional Awards from the North Carolina Recreation and Park Association during a workshop in Winston-Salem.

More ...
GEOFF NEVILLE, Graphic Sportswriter

IN THE CLUTCH. Nash Central's Keven Darden (top) takes control of a match as part of his team's event against Louisburg at the I-95 Duals Wrestling Tournament, which was held last Wednesday at Northern Nash High School in Red Oak.

Central Back On Mat Track


RED OAK -- It wasn't that long ago when Nash Central ruled the Big East Conference -- and beyond -- in the late 2000s and early 2010s area wrestling scene.
But then the bottom fell out and the one-time league champion Bulldogs suddenly found themselves in the lower tier of the Big East standings.

More ...
GEOFF NEVILLE, Graphic Sportswriter
Southern wins first matchup


WENDELL: The Southern Nash Firebirds kicked off their 2014-15 boys varsity basketball season last Tuesday with a road victory against Corinth Holders in Johnston County.
Marquise Wright delivered 17 points to go with eight rebounds as Southern streaked to a convincing 56-39 decision over the Pirates.

More ...
Staff Reports
STATE FOOTBALL PLAYOFF GAMES


CHAPEL HILL -- Here are last Friday's third-round results and this Friday's semifinal matchups in the North Carolina High School Athletic Association's State Football Playoffs:

More ...
Staff Reports

TEAM EFFORT. Northern Nash's Shelby Godwin (center) poses with teammates (l to r) Kayla Tucker and Susie Sykes after signing last week to play softball at Chowan University.

Godwin Goes With CU


RED OAK -- Shelby Godwin couldn't have faced a more contrasting decision when comparing the geographical influences of her two favorite college choices.
In the end, small-town America won out over the big City as Godwin signed a letter-of-intent to continue her softball career at Chowan University in nearby Murfreesboro.

More ...
GEOFF NEVILLE, Graphic Sportswriter
Rocky Mount will host XMAS event


ROCKY MOUNT -- The 2014 Nash County Christmas Basketball Tournament will be held Dec. 16-18 at the Rocky Mount High School Gymnasium.
Defending champions are Northern Nash (girls) and Rocky Mount (boys).
Tickets are $6 for the first two days and $8 for the championship night. Tickets will be available at the gate.

More ...
GEOFF NEVILLE, Graphic Sportswriter
NC Wesleyan holds off Mary Washington


ROCKY MOUNT -- The North Carolina Wesleyan College men's basketball team held on for a 57-54 win over the University of Mary Washington last Tuesday night in Everett Gym.
The Bishops, who led by as many as 18 in the second half, survived a furious UMW rally down the stretch that saw the Eagles get off a pair of three-point attempts in the final four seconds.

More ...
Staff Reports
Bishops to 1-1 at tournament


ROCKY MOUNT -- The men's basketball team of North Carolina Wesleyan College hosted its annual Roger Taylor Invitational on Saturday and Sunday.
The host Bishops went 1-1 at the two-day event, as did the Wolverines of Wesley College.
Greensboro College went undefeated in the tourney by earning victories over Wesley and Maryland Bible College, respectively.

More ...
Staff Reports
Ticket discount offered by Canes


RALEIGH -- Jon Chase, Director of Promotions and Community Relations for the National Hockey League's Carolina Hurricanes, has announced that the team's annual toy drive is now underway.
This year's toy drive will benefit Friends of Wake County Guardian Ad Litem, the Ronald McDonald House of Durham and the Ronald McDonald House of Chapel Hill.

More ...
Staff Reports
FIND A WAY OUT
Northern Nash's Kendall Branch (bottom) gets ready to get out of this hold as part of a match with Louisburg at last Wednesday's I-95 Duals Wrestling Tournament at the NNHS Gymnasium.
More ...
GREAT ESCAPE FOR NN
Northern Nash High School's Deonte Daniels (bottom) fights to get out of a hold during last Wednesday afternoon's action at the annual I-95 Duals Wrestling Tournament. The mat event was staged at the NNHS Gymnasium in Red Oak.
More ...
IN CONTROL
Nash Central's Josh Brice (right) collects points against Rosewood during last Wednesday's I-95 Duals Wrestling Tournament at the Northern Nash High School Gymnasium.
More ...
PINNED YA, PINNED YA AGAIN
Nash Central's Alton Noble (top) finishes off this pin against Louisburg High School as part of last Wednesday afternoon's action at the I-95 Duals Wrestling Tournament. The event was held at the Northern Nash Gymnasium in Red Oak.
More ...
TRAVIS' TIME
Freshman Travis Andrews (right) is a varsity newcomer this season for the Northern Nash High School wrestling squad. Andrews and the Knights took part in the annual I-95 Duals Mat Tournament last Wednesday at the NNHS Gymnasium in Red Oak.
More ...
HENRY FISHER
Henry Fisher passed away November 29,  2014. A memorial service will be held Saturday, Dec. 6, 2014 at 2 pm at Cornerstone Funeral Home, Visitation will follow. Arrangements by Cornerstone Funeral Home and Cremations, Nashville.
More ...
BOBBY GENE JONES
Bobby Gene Jones, 75, passed away, Tuesday November 25, 2014. He was born May 12, 1939 in Wilson County to the late Thurman, Sr. and Clara Jones.  In addition to his parents, he is preceded in death by his wife, Linda Wyndham Jones, a son, Dennis Allen Jones and a sister, Judy Ezzelle.
More ...
ANNA CHRISTINE BAIN
Anna Christine Bain, age 81, passed away on Saturday, November 29, 2014. Born in Edgecombe County on March 4, 1933, she was the daughter of the late Callie B. Braswell and Mary Ann Braswell Webb. Anna was preceded in death by her husband of fifty-nine years, Robert H. Bain, Sr.; two sisters, Mary Ruth Thompson and Annie Lee Braswell; and five brothers, Paul Braswell, Lloyd Braswell, Marvin Earl Braswell, Jack Braswell and Dorsey Braswell.
More ...
BENJAMIN KILGO GARDNER
Benjamin Kilgo Gardner, Jr., 75, passed away, Friday November 28, 2014. He was born July 10, 1939 in Franklin County to the late Benjamin K. Sr. and Beulah Griffin Gardner.
More ...
BOBBY MATT DANIEL
SPRING HOPE - Bobby Matt Daniel, 79, passed away November 27, 2014. He was born November 28, 1934 in Wake County. He was the son of the late, James Matt and Annie Daniel. He was preceded in death by his wife, Ella "Janice" Daniel of 51 years, nine sisters and three brothers.
More ...
DAVID LEE HARVEY
David Lee Harvey, age 75, passed away on November 25, 2014. Born in Detroit, Michigan on May 2, 1939, he was the son of the late Stephen A. Harvey and Ethel Browning Harvey. David was predeceased in death by his brother, Jim Harvey and a sister Caroline Morris.
More ...
FLOYD CARY THOMPSON
Floyd Cary Thompson, age 83, passed away November 27, 2014. Born January 29, 1931, to the late John James and Elizabeth Fly Thompson, he was predeceased by a son, Glenn Wayne Thompson; a sister, Rachel Batchelor; brothers, David, Earl, Lloyd, Willie, Harvey, Lester Thompson and Frank Winters.
More ...
JAMES L. "PAPPY" MANNING
James L. "Pappy" Manning, 79, passed away on November 26, 2014. He was born September 15, 1935 in Pitt County to the late Lindsey and Lovie Harris Manning.  In addition to his parents,  James was  preceded in death by his wife, Bertha T. Manning, and his brother, Landris Manning.
More ...
JAMES LINWOOD JOYNER
James Linwood Joyner was born October 22, 1962 and died November 28, 2014.  James was preceded in death by his father, James Evans Joyner. 
More ...
JEANETTE BATTS BATTS BELL
Jeanette Batts Batts Bell passed away November 25, 2014.  Born Myrtle Jeanette Batts in Wilson County on November 29, 1932, she was the youngest child of Jerry Lawrence Batts and Mary Bama Robbins Batts. Her parents and three older brothers, Lawrence (Pete), James Earl and Leon Feutrell, preceded her in death. Her first husband, David O. Batts, died in 1995, and in 2003 her second husband, Ephraim Wright Bell, passed.
More ...
JEFFERY ALLEN RACKLEY
Jeffrey "Jeff" Allen Rackley, 44, passed away, Monday December 1, 2014. He was born August 8, 1970 in Nash County to the late Jessie, Sr. "J.W." and Joann Wood Rackley.
More ...
JIM ERVIN JENKINS, JR.
Jim Ervin Jenkins, Jr., age 60, died on Saturday, November 22, 2014. Born in Nash County, on September 10, 1954, he is the son of Jim Ervin Jenkins, Sr. and Barbara Hathaway Jenkins of Rocky Mount.
More ...
LATHAN NELSON LEGGETTE
ROCKY MOUNT - Lieutenant Colonial Lathan Nelson Leggette, age 90, passed away on Monday, November 24, 2014. He was born on September 13, 1924 near Robersonville in Martin County to the late Henry and Martha Leggette.
More ...
ROY ASBERRY COOPER, JR.
Roy Asberry Cooper, Jr. died peacefully at his home in Nashville, N.C. early Friday morning at the age of 87.  Born to Lois Clark Cooper and Roy Asberry Cooper, Sr., he graduated from Wake Forest College with a Bachelor of Science in 1949 and from the UNC School of Law with a Juris Doctor in 1956.  Roy and his beloved wife Beverly, who died last November, were childhood sweethearts who wed in September of 1952.
More ...
TERRY VIRGINIA BENNETT
Terry Virginia Bennett, 64, passed away, November 23, 2014.  She was born December 1, 1949 to the late John and Maude Phillips Thomasson. In addition to her parents, she is predeceased by her brother, Johnny Thomasson.
More ...
TONI ANNETTE CAREY
Toni Annette Carey, 49, passed away, Sunday November 23, 2014. She was born October 15, 1965 in Nash County. Toni was preceded in death by her father, Jettie Harrison Carey.
More ...
TONY PITTMAN, JR.
Tony Pittman, Jr. passed away November 30, 2014. Arrangements are incomplete at this time and will be announced by Cornerstone Funeral Home and Cremations, Nashville.
More ...