Subscribe/Access
Advertisements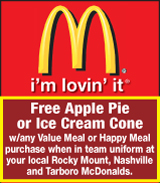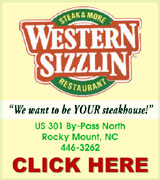 Sections
Member Options
Back
Nashville man to run for Sheriff
A Nashville man has announced his intentions to run for Nash County Sheriff in 2014.
Stanley Griffin, better known as "Big Grif," is getting out in the community and talking to citizens, hoping to find out their wishes for the county's new sheriff.
Nash County Sheriff Dick Jenkins announced last year that he would not seek re-election when his term expires next year. More ...
Amanda Clark, Graphic Staff Writer
Middlesex to hold public meeting
Middlesex Mayor LuHarvey Lewis is hosting a public meeting on Tuesday to give citizens a chance to ask questions about the town's parks.
Lewis said the meeting is being held at the request of concerned citizens.
Brandie and Eric Holt and Robert Johnson have been attending Town of Middlesex Board meetings for several months with concerns about the town's parks. More ...
Amanda Clark, Graphic Staff Writer
EASTER BUNNY!
Lucy McGhee, 22 months, got a chance to meet the Easter bunny on Saturday at Ennis Park in Red Oak during Nash County Parks and Recreation's Annual Easter Egg Hunt. Pictured with Lucy is her dad, Wyatt McGhee. More ...

Online gun permits now available
Nash County residents wanting to purchase gun permits can now do so online, thanks to a new online gun permit purchase program the Nash County Sheriff's Office is offering.
The new system will go into effect Monday, April 1.
Lt. David Wooten said for the most part, the gun permit process will remain the same. The only change, Wooten said, is that the application will be filled out online and all correspondence will be handled via email. More ...
Amanda Clark, Graphic Staff Writer
School tests negative for black mold
A classroom at Nashville Elementary was evaluated for black mold last week.
According to Ashley Simmons, Chief Public Information Officer for Nash-Rocky Mount Public Schools, the school system received a report asking to look into the possibility of black mold growing on glue sticks in one of the classrooms at Nashville Elementary. More ...


Cleveland Hunt presents John Sherrod with a gift during a retirement ceremony held honoring his 27 years of service.

Sherrod retires from Nash EMS
John Sherrod completed his final shift with Nash EMS on March 15, after 27 years of service to the county.
Nash County Emergency Services held a retirement party on March 15 and presented Sherrod with a plaque of appreciation.
"I'd like to thank John for 27 years of service," said Brian Brantley, Nash County Emergency Services Director. More ...
Amanda Clark, Graphic Staff Writer
Middle and high schools detailed in facility report
Earlier this month, the Nash-Rocky Mount Schools (NRMS) board began its review of the long-range facility needs report, as the first step in creating the NRMS capital improvement plan. The nearly 300-page report is the conclusion of the work of Smith Sinnett Architecture (SSA), NRMS maintenance department, and Brady Trane.
More ...
Michele A. Cruz, Graphic Correspondent
Former Spring Hope Commissioner dies
Stanley Hawley, Sr., who served on the Spring Hope Board of Commissioners, passed away on Tuesday, March 19. He was 67 years old.
Hawley served as a commissioner for eight years until his official resignation in November 2011. Prior to his resignation, Hawley had stopped attending town board meetings. More ...

Law enforcement collects over 9,000 pills as part of Operation Medicine Drop
Nashville Police Officers collected over 6,300 pills as part of Operation Medicine Drop.
Nashville's Police Department held two Operation Medicine Drop events, one at Nashville's Wal-Mart on Saturday, March 23 and another on Tuesday, March 19 at Nashville Elementary School.
Officer Steve Glover said at both events, 6,314 pills were collected. Of those, 4,141 were prescription and the rest were over-the-counter. More ...

NASH COUNTY SHERIFF'S OFFICE REPORTS
A larceny of copper wire was reported on 3/19/13 at 11662 Taylors Store Road
Found property was reported on 3/20/13 at 117 W Church Street
A narcotics violation was reported on 3/20/13 at 9413 Harrison Street
A domestic violence was reported on 3/21/13 on Brantley Road More ...

NASHVILLE POLICE BRIEFS
INCIDENTS
A simple physical assault was reported on 3/20/13 on S. Brake Street
A non-criminal detainment was reported on 3/22/13 on S. Alston Street
A larceny - shoplifting was reported on 3/22/13 at Wal-Mart, 1205 Eastern Avenue More ...

Easter Egg Hunt
Mason Scott displays his basket of eggs he found on Saturday at Ennis Park in Red Oak during Nash County Parks and Recreation's Annual Easter Egg Hunt. More ...

Blooming Festival plans 17th year
Nashville's 17th Annual Blooming Festival is set for Mother's Day Weekend. This year's event will include performances on May 10-11 by the Embers, Fantastic Shakers, East Coast Rythym and Blues, the Country Roads Band along with other local talent. New to this year's event will be a festival kick-off evening of music as part of the NC Arts Council's Carolina Rhythm Roads which will be held at Nash Arts on Thursday, May 9th. More ...

DENIM AND DIAMONDS GALA
Barbara Valentine looks at items that were on silent auction at Nash Arts' gala fundraiser held on Friday night. Around 100 attended the event, which is one of two fundraising events Nash Arts holds each year. Shelly Gray, Nash Arts Director, said she was pleased with the turnout and the money raised. More ...

Paws in the Park celebrates third year
Rocky Mount native Ellen Matthews owns three beagles. Her love for her "spoiled" beagles, as she describes them, as well as for all dogs, has prompted her second year as a participant on the Paws in the Park committee.
"I feel like dogs are often abandoned or mistreated by society, and I have been feeling the need to do something for dogs," says Matthews. "So, I am trying to save more dogs by working with Paws in the Park." More ...

76th annual 4-H Livestock Show and Sale is next week
Over 175 youth from Nash, Edgecombe and Halifax Counties are slated to participate in this year's Eastern Carolina 4-H Livestock Show and Sale.
This year will mark the event's 76th anniversary of being held.
The Livestock Show and Sale will be held on April 2 and 3 at the Eastern Carolina Livestock Arena in Rocky Mount. More ...
Amanda Clark, Graphic Staff Writer
ENGAGED
Mr. and Mrs. Ryland Lee Harrelson of Columbus Ga., are pleased to announce the engagement of their daughter, Leslie Claire Harrelson, to Duncan Powell Blackwell, son of Mrs. Dean Franklin Martin of Midlothian, Va. and the late James Dulaney Blackwell. More ...

ENGAGED
Mr. and Mrs. Eugene Freeman Holland Jr. of Rocky Mount announce the engagement of their daughter, Morgan Brittany Holland, to Richard Ted Williams II, son of Mr. and Mrs. Richard Ted Williams, of Rocky Mount. More ...

District Scout Show
Scouts from the Tar River District participated in the District-wide Pinewood Derby at Golden East Crossing Mall on Saturday, March 2. Along with the derby competition, a scout show was held to showcase what the scouts have to offer. Pictured above, five-year-old Ethan Harrell tries his hand at archery with help from scout leader Matt Brueschaber. More ...

Fire Department visits
Nashville's Fire Department visited the Boys and Girls Club of Nashville last Monday afternoon as part of a special celebration for Sparky's 62nd birthday. Youth had a chance to look at the fire trucks and equipment as part of the visit. Pictured above are Boys and Girls Club youth with Nashville Fire Department staff, which included Firefighter Chris Jenkins, Engineer Lee Coppedge, Captain Scott Whitford and Lt. Tracey Goldbach. More ...

Native returns home to raise money for foundation
A Rocky Mount native returned to her hometown recently to raise money to support two issues she feels needs more awareness; heart disease and medical neglect.
Timika Hall lost her 16-month-old daughter, Caylee, on Aug. 21 due to what she says is medical neglect. More ...
Amanda Clark, Graphic Staff Writer
Fleming writes book
An Edgecombe County woman has published her fifth book on local history, "Legendary Locals of Edgecombe and Nash Counties."
Monika S. Fleming worked with the Twin County Museum and Hall of Fame, Braswell and Edgecombe libraries, and the Edgecombe County Veterans Military Museum to identify more than 180 local legends who are highlighted in the book. More ...

MILITARY NEWS
Army Pvt. Adam J. Hatchel has graduated from basic combat training at Fort Jackson, Columbia, S.C. More ...


Pictured above (L-R) is: Martha P. Worrells, who received an award for her father WIllie Parker and her uncle Fess Parker, Curtis Oliver Powell, George Cecil Parker, and Ronnie Parker.
Bethel Heroes Chapter of UDC honors local veterans
Six local Veterans were honored, two posthumously, on March 14, 2013 at a Military Service Awards Bestowal Ceremony by the Bethel Heroes Chapter 636, United Daughters of the Confederacy.
Military Service Awards are an outgrowth of the Southern Cross of Honor bestowed on Confederate Veterans by the United Daughters of the Confederacy and have been established as a testimonial to the patriotic devotion of Confederate Veterans and their descendants.
More ...
MOUNT ZION FWB CHURCH NEWS
We had 70 in Sunday school today. It seems that we are stuck in the seventies. That is better than 30 or 40. I'm hoping to reach 80, then 90, then 100 and over. We have to have a desire to grow. Our choir sang "Majesty" for the call to worship. Pastor Aycock welcomed everyone and prayed the prayer of invocation. Hymns of worship were "When I See the Blood" and "One Day." More ...
ROSALENE BASS
PEACHTREE COMMUNITY NEWS
On a cold, rainy Palm Sunday Pastor Whitehouse greeted those Peachtree folks who had come to worship. Sanctuary flowers were given by Patsy and Beth Baines in memory of their parents, Kezia Sykes and Willie Griffin and their brother, Spencer Griffin. More ...
BARBARA HARDISON
RED OAK NEWS
The Adult II Sunday School Class of Red Oak Baptist Church made Easter baskets for the children at The Bassett Center in Rocky Mount. Each basket included the traditional items like chocolate bunnies, jelly beans, toys, and stuffed rabbits as well as something that shared the gospel message. More ...
SUZY PEARCE
Nash County Blood Drives for April 2013
Wednesday, April 3 from 12 until 4 p.m. at Eaton Corporation, 8171 Planer Mill Road, Middlesex
Thursday, April 4 from 12 until 6 p.m. at Englewood Presbyterian Church, 100 South Englewood Drive, Rocky Mount
Friday, April 5 from 11 a.m. until 5 p.m. at Englewood Presbyterian Church, 100 South Englewood Drive, Rocky Mount More ...

How did we get here? Holly is turning 13!
Dear Holly,
How did we get here so quickly?
You know what I mean. When all those "old people" went out of their way to tell me how time moves in the blink of an eye, they're grown before you know it, and well, blah, blah, blah. It is a wonder my eyes didn't get stuck in one of those rolls. More ...
Mike Brantley
Happily anticipating the next nine years
What do you give someone after nine years of marriage?
Nothing! At least, I hope that's the answer.
Today is Allen and my nine-year wedding anniversary and I don't have a present.
We aren't really doing the present thing anymore. I don't think it's because we don't want to but more so because we can't afford to.
More ...
Amanda Clark - 1 opinion posted
Backward Glances
CUB SCOUTS RECEIVE NEW FLAG –– This photo was originally published in The Graphic on May 3, 1973. Tommy Sasser (center) presented a new Pack flag to Cub Scout Pack 76 on behalf of the Nashville Jaycees. More ...
A PICTORIAL LOOK INTO THE PAST
Nash County Animal Friends' Notebook
Puppies and kittens plus the adults are dying at the Nash County Animal Control Shelter. It is not the fault of the Nash County Animal Shelter staff. It is the fault of people with pets that aren't fixed. People without their pets fixed also have to worry about their pets roaming in search of love, plus a whole lot more. More ...
Carol Vierela, Nash County Animal Friends

CLOSING IN. (L to R) Northern Nash's Alexus Hill and Bunn's Yesenia Ascencio try to gain possession of the ball during last Friday's non-conference girls soccer showdown on the NNHS campus in Red Oak.

One Goal In Mind
RED OAK -- With talented forward Whitney Bunn unavailable due to her commitment to the North Carolina-South Carolina All-Star Basketball Game, Bunn High School was destined to have difficulty scoring during its non-league girls soccer showdown last Friday at Northern Nash.
Just one day earlier, the Ladycats, with Bunn already in South Carolina for the hoops contest, were shut out during an overtime loss at Franklinton. More ...
GEOFF NEVILLE, Graphic Sportswriter

KELLY CLUBS ONE. Nash Central High School veteran second sacker Dana Kelly rips a single during Monday's non-conference home softball meeting with the Bunn Ladycats. Central has lost just once this season.

ON THE RISE AGAIN
ROCKY MOUNT -- Two teams with a strong softball tradition -- both currently and in the past -- met Monday for a frigid non-league fast-pitch showdown.
The contest featured a battle between host Nash Central and Bunn -- and a battle with the elements as high winds and cool temperatures meant that players from both sides were as bundled up as possible. More ...
GEOFF NEVILLE, Graphic Sportswriter

THE RIGHT APPROACH. Nash Central's Dylan Laviner likes the look of this shot during Monday afternoon's Big East Conference Golf Match. The event was held at Birchwood Country Club in Nashville.

Coolest Customers
NASHVILLE -- The mental aspect of golf was in abundant display during Monday's Big East Conference match at Birchwood County Club.
Competitors braved heavy winds, cold temperatures and Birchwood's slick greens as part of the third league event of the 2013 campaign. More ...
GEOFF NEVILLE, Graphic Sportswriter
SN goes 1-2 for the week
STANHOPE -- After rolling through the early portion of their soccer schedule with an undefeated record, the Southern Nash Ladybirds went 1-2 in action last week.
Southern Nash fell 1-0 at home versus Bunn and was also topped 2-1 by Northern Vance, with Jamise Harris-Baker scoring the lone goal for SN with an assist from Laney Ezzell off a corner kick. More ...
Staff Reports
NC BASEBALL HIGHLIGHTS
CENTRAL ON THE DIAMOND. The Nash Central High School baseball team stepped out of Big East Conference action last Wednesday for a home game with Northern Vance. The Bulldogs won the contest to remain undefeated for the campaign. In game action (above), Tyler King delivers a pitch toward home plate. More ...

ECU Pirates swept at Houston
HOUSTON, TEX. --Jacob Campbell's sac fly to left field scored Justin Montemayor helping No. 28 Houston University (21-4, 3-0) to a 5-4 extra-inning win over East Carolina University (11-13, 0-3) Sunday afternoon at Cougar Field in Conference USA baseball action. More ...
Staff Reports
Central effective on courts
ROCKY MOUNT -- Nash Central High School continued its boys tennis schedule last week with a pair of key Big East Conference matches.
On Tuesday, NC hosted backyard rival Northern Nash, which topped the Bulldogs by an 8-1 team score.
Nash Central bounced back nicely on Thursday afternoon with a 5-4 road decision at Wilson Hunt. More ...
Staff Reports
Central honors its top winter athletes
ROCKY MOUNT -- Nash Central High School's top winter athletes were saluted recently at the NCHS Winter Awards Ceremony.
Here is a list of Nash Central's award winners, by sport: More ...
Staff Reports
NC Wesleyan enjoys a diamond weekend
ROCKY MOUNT -- The Battling Bishop baseball team of North Carolina Wesleyan College turned in a three-game sweep of USA South foe Greensboro College this weekend.
NC Wesleyan downed the Pride by a 12-4 score last Friday, then swept Saturday's doubleheader by 3-1 and 5-3 scores. More ...
Staff Reports
Erwin in charge at County Line
ELM CITY -- County Line Raceway, the three-eighths-mile clay track that is beginning its 25th anniversary season, was the site of the inaugural Roger Matthews Memorial 125, a 49-lap Late Model event with a $2,500 winning prize that honored the memory of one of the track's favorite racers.
This event, which was held last weekend, was scheduled originally for Oct. 27 of last year but Hurricane Sandy wiped out those plans. More ...
Staff Reports
Baseball camp offered
ROCKY MOUNT -- Englewood Baptist Church is hosting an All-Star Baseball Clinic on April 20 at the facility on 1350 South Winstead St.
Times are as follows: More ...
Staff Reports
BALMY AT BIRCHWOOD
Southern Nash coach Scott Collie (right) looks more dressed for an Arctic expedition during Monday's Big East Conference Golf Match at Birchwood Country Club in Nashville. Competitors were greeted with chilly temperatures and gusty winds, but they made it through. More ...

FEELING CHIPPER
Southern Nash's Jarred Purvis sends a chip toward the hole as part of Monday's golf action. More ...

HARLEY HEADS HOME
Nash Central's Harley Winders (right) crosses home plate for a run during the Lady Bulldogs' home victory Monday evening against non-conference softball opponent Bunn High School. More ...

LANDING SPOT
Northern Nash's Zach Stussie waits for his tee shot on a par-3 hole to find the green during Monday's Big East Conference golf match at Birchwood CC. More ...

ON THE MOVE FOR NN
Northern Nash's Quatasia Harris (left) dribbles while being defended by Bunn's Yesenia Ascencio during last Friday evening's non-conference girls soccer contest in Red Oak. More ...

MINNIE PEARL WILLIAMS
Minnie Pearl Williams, age 84, passed away Sunday, March 24, 2013. She was born in Greene County on November 05, 1928 to the late Daniel Gusta Walston and Nannie Walston Taylor. She was also preceded in death by her husband Clarence Mitchell Williams Sr. who died March 18, 2005; brothers, Dalton, Runie, Edward, Carl, T.D., and Guy Walston; and sisters, Louise Ranes, Martha Jones and Marie Johnson. More ...

CHESTER LEE MITCHELL
Chester Lee Mitchell, 95, passed away Thursday, March 21, 2013. He was born in Johnston County June 16, 1917 to the late Ellie and Bertha Mitchell. More ...

ANNE POPE HICKS MURRAY
Anne Pope Hicks Murray passed away on March 20, 2013. She was born June 13, 1923 in Edgecombe County, one of three children, to the late Alonza Leon Pope and Emily Stewart Pope. She was the wife of the late Alfred Cooper Hicks for 38 years and the late Phillip Murray for 26 years. She is also predeceased by a brother Alonza Leon Pope, Jr. (Jack) More ...

TOM WRIGHT
Tom Wright passed away on March 18, 2013. He was born June 30, 1961. He is survived by his wife of 31 years, Rusty; children Justin and Lauren; brother, Peter Wright (Ann); two sisters, Karen Blount and Nancy Moore (Ron); nieces and nephews; parents-in-law Jerney and Freddie Minshew; brothers-in-laws Don Ulrich (Leigh) and Ed Ulrich More ...

LULA JEAN BURGESS DANIELS
Lula Jean Burgess Daniels of Rocky Mount, age 74, passed away Thursday morning, March 21, 2013. She was born in Cherokee County, NC on March 12, 1939. More ...

NETTIE BARNES
CATONSVILLE, MD ––Nettie Barnes, 85, of Catonsville, Maryland, and formerly of Edgecombe County, died on Tuesday, March 19, 2013. More ...

EMMA M. BATCHELOR
NASHVILLE - Emma Louise McDougald Batchelor 92, passed on Friday, March 22, 2013. She was born December 18, 1920 in Richmond County, NC the first of nine children of the late Zeb and Annie Roller McDougald. She was preceded in death by her husband Lewis T. Batchelor; brothers Zeb McDougald, Monroe McDougald, Jack McDougald; sister Lucille M. Mosby. More ...

RUTH MAE THOMPSON HAWKINS
WASHINGTON, DC- Mrs. Ruth Mae Thompson Hawkins, 77, of Washington, DC, and formerly of Edgecombe County, died on Wednesday, March 20, 2013. More ...

ETHEL LUCILLE PETWAY
ROCKY MOUNT - Mrs. Ethel Lucille Petway, 76, of Rocky Mount, died on Sunday, March 17, 2013, at Nash General Hospital in Rocky Mount. More ...

MARY FRANCIS RICHARDSON
NASHVILLE - Funeral services for Mary Francis Richardson, 91, who died on Tuesday, March 19, 2013 were at 1 p.m. on Saturday, March 23 at Pine Chapel Baptist Church. Burial followed in the Tilman Lynch Cemetery with Rev. Robert Hedgepeth officiating. More ...