Subscribe/Access
Advertisements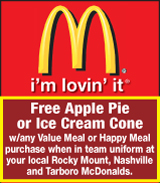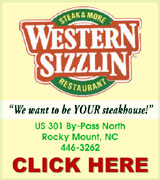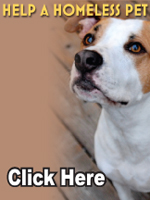 Sections
Member Options
Back
Nash Commissioners review financial status
Nash County Commissioners received a mid-year budget review as well as a brief glimpse into next year's budget at a special work session held on February 16.
County Manager Bob Murphy told commissioners he felt the county was in good shape when compared to last year. More ...
Amanda Clark, Graphic Staff Writer
School Board mulls adding moment of silence
In a preliminary vote, the Nash-Rocky Mount Schools (NRMS) board voted 8-2 at their work session Monday night in favor of adding a moment of silence to open their meetings. The two members who voted against the idea were Bob Jenkins and Greg Camp; board member Joe Edge was not present to cast his vote.
Discussion in favor of the proposal centered on the appropriate reason and wording of the moment of silence. More ...
Michele A. Cruz, Graphic Correspondent
Nashville youth win VFW essay competition
Lindsey Sendek has always known how important veterans were to our country. But it wasn't until she began participating in the Voice of Democracy competition that she truly gained an understanding of just how important veterans really are.
Sendek, of Nashville, was recently recognized by the Rocky Mount VFW Post 2057 for winning first place for both the post and for District 3 in the annual Voice of Democracy competition. More ...
Amanda Clark, Graphic Staff Writer
Two more file for Nash Board
A Spring Hope woman has filed for election to the Nash County Board of Commissioner's District Four Seat, leaving incumbent Danny Tyson facing two challengers in the upcoming election.
Lisa Barnes, a Republican, filed for the seat on Monday. On February 13, the opening day of filing, Bert Daniel also filed for the seat. Tyson, who currently serves the District Four seat, also filed for re-election on February 13. More ...
Amanda Clark, Graphic Staff Writer
Local 4-H youth compete in Science Fair BLAST
Nash County 4-H wants youth to get excited about science. Last Tuesday, 4-H held its first annual 4-H Science Fair BLAST.
Twelve youth participated in a Science Fair during the event. In addition to the Science Fair, members of Nash Community College's Science and Math Club had hands-on demonstrations that guests could participate in. More ...
Amanda Clark, Graphic Staff Writer
NASHVILLE POLICE BRIEFS
ARRESTS
Kelly Wayne Waldrop - 2/16/2012 - charged with driving while license revoked
Kelly Wayne Waldrop - 2/16/2012 - charged with simple possesion and paraphernalia
Sergio J. Johnson - 2/17/2012 - charged with driving while license revoked More ...

American Legion Post 110 honors Wilson at dinner
A table full of medals was presented to Amy Wilson last Monday night during the American Legion's annual Ladies Night celebration.
Pictured (Above): WILSON'S MEDALS – Amy Wilson (center), the wife of Joe Wilson, was presented several medals on behalf of her husband on Monday. Joe Wilson passed away in December 2010. Pictured with Amy Wilson is her son, Bill Wilson (far right). Colonel Anthony Hale (far left) congratulated Wilson during the presentation. More ...
Amanda Clark, Graphic Staff Writer
SPECIAL RECOGNITION
Allan Lantman (at left) received a special US Navy motorcycle helmet from Post 110 last Monday night. The helmet was presented by James Eason (at right). (Graphic photo by Amanda Clark) More ...

MILITARY NEWS
Air Force Reserve Airman Hassan Q. Pierce graduated from basic military training at Lackland Air Force Base, San Antonio, Texas.
The airman completed an intensive, eight-week program that included training in military discipline and studies, Air Force core values, physical fitness, and basic warfare principles and skills. More ...

Nash County Blood Drives for March 2012
Monday, March 12 from 3 until 7 p.m. at Nashville United Methodist Church, 209 East Washington Street, Nashville
Tuesday, March 13 from 2:30 until 7:30 p.m. at Englewood Baptist, 1350 Winstead Avenue, Rocky Mount
Thursday, March 15 from 12 until 6 p.m. at Englewood Presbyterian, 100 South Englewood Drive
More ...

Davis receives quarterly DAISY Award
Katelyn Davis recently received Nash Health Care's quarterly DAISY Award for outstanding nursing. The DAISY Award is a nationwide program that rewards and celebrates extraordinary clinical skill and compassionate care given by nurses. Davis works on the third floor medicine unit of Nash General Hospital. More ...

ENGAGED
Darryl and Fran Gschwind of Nashville announce the engagement of their daughter, Emily Francine Gschwind to Michael Brock Morris, the son of Jerry and Diane Morris, of Black Mountain. The wedding will take place July 21, 2012 at Sunset Avenue Baptist Church in Rocky Mount. More ...


Cadet Samantha Hill watches the refueling process.

Southern Nash Cadets take flight with KC-135 Tanker Crew
Six Southern Nash High AFJROTC cadets recently flew on a real Air Force mission with the Air Force Reserve. Cadets Trevon Davis, Lorell Dupree, Austin Fennel, Samantha Hill, Cristal Raya and Trebor Walker flew with a KC-135 Tanker crew from the 77th Air Refueling Squadron and watched as they refueled a C-17 in flight. The 916th Air Refueling Wing at Seymour Johnson AFB offers orientation flights to AFROTC, AFJROTC, and CAP units. More ...

54 annual banquet
The Stony Creek Volunteer Fire Department and Rescue Squad held its 54 annual banquet on January 21 at the Stony Creek Station, 651 Country Club Road in Rocky Mount. Several awards were presented to members and citizens for outstanding service to Stony Creek during 2011. More ...

BEULAH COMMUNITY NEWS
I hope everyone had a good week-end and attended a church of your choice. You are invited to worship with us at Beulah Church of Christ and pray you will attend sometime. Sunday school begins at 9:45 followed by church service at 10:45. Please know you are always welcome. More ...
WILMA ENROUGHTY
RED OAK NEWS
Join us at Red Oak Baptist Church on Sunday, March 4 for Baptist Men's Day. The men will be leading the worship service at 11:00 AM and the Men's Choir will also sing.
The Baptist Men also have a variety of activities coming up.
More ...
SUZY PEARCE
Word for the week
Does each day greet you with an unwelcome chill? Do your circumstances frown? Here is some perspective.
Look ahead in hope. Because of God's work within your heart, you confess "the sufferings of this present time are not worthy to be compared with the glory that is to be revealed to us" (Romans 8:18). More ...
DENNIS PRUTOW
MOUNT ZION FWB CHURCH NEWS
It was another cold day, but we had 89 in Sunday school. Next Sunday will be the beginning of a new Sunday school year for us. We will have our annual Sunday school kick-off breakfast in the Fellowship center at 9 a.m. Then, Sunday school as usual. Come and bring a visitor. Next Saturday is the date for the annual Sunday school Institute at Mt. Olive College. It is an all day of workshops for all ages and Sunday school leaders. More ...
ROSALENE BASS

Nash Health Care Board member Rosa Brodie; Executive Vice President and Chief Operating Officer of Nash Health Care Systems Brad Weisner; with Edgecombe-Nash RSP President Laurette Lewis.

EDGECOMBE-NASH RETIRED SCHOOL PERSONNEL
The Edgecombe-Nash RSP met February 14, 2012, 10:30 a. m. in the Warner Room at Braswell Memorial Library. President Laurette Lewis welcomed everyone. "The Real Thing" devotion was about love and given by Ms. Karen Moore.
Information from Committee Chairpersons: More ...
DEE LONG
AGENT OF YEAR
HB Webster, agent at Farm Bureau of Nash County in Nashville, was named the 2011 District 6 Agent of the Year. This award is presented to the top agent in the 6th Sales District for NC Farm Bureau Mutual Insurance Company. The award was presented at its annual Kick-Off party held recently in Rocky Mount. More ...

Nash farmers participate in tobacco course at NC State
Five young farmers, who grow tobacco in Nash County, were among 37 participants who took part in a "Skills for Tobacco Growers: SUCCEED IV" short course held recently at NC State University. The young farmers included: Robert Glover of Bailey; Randy Williams of Nashville; Nicholas Perry, Josh Robbins, and Dale Winstead, all of Spring Hope. More ...

The love lives of spiders and other stuff
Recently, I was flipping through a recent issue of Smithsonian Magazine, my favorite periodical, and about the only one I read from cover to cover each month.
The magazine combines literature, art, history, science, travel, nature and pop culture in side one issue. I read things I'd never run across anywhere else, and never does an issue disappoint. More ...
Mike Brantley
Local recognition is better than any other
Last Monday night, I attended the American Legion's Ladies Night events here in Nashville.
I've attended this event for several years now so I'm pretty familiar with how it works and what goes on.
After dinner, I had my camera and pen and notebook ready to snap pictures of those recognized while at the same time taking notes. More ...
Amanda Clark
Mama's legacy lives on in special places
I have written several columns on this page about people who have passed away and who were special to this community –– and very special to me personally.
Some of those people made huge differences in our lives by volunteering with local organizations or through leadership roles in our community. Some may have not done either, but instead made a personal impact in our lives. More ...
Jo Anne Cooper
Backward Glances
COOPERS LADIES – This photo was found in The Graphic's 1961 archives of the Coopers girls basketball team. We're not sure which team they're playing against. If you recognize anyone, call The Graphic at 459-7101. More ...

Is There Pride in Serving Our Military?
In Spanish, it's "orgullo." In German, it's "stolz." In French, it's "fierte." The word pride, in any language, carries with it a feeling of self-respect and personal worth. It gives us a feeling of honor. It is the satisfaction we feel in our achievements. Pride enables us to see the full potential within ourselves and in others. More ...
Lindsey Sendek
Why Citizens Should Be Proud of America
America, the greatest nation the world has ever known, is indeed a country which lays claim to many unique things in which its citizens should be proud. Our nation was founded by and established upon the wisdom of some very impressive men, such as: George Washington, Thomas Jefferson, Benjamin Franklin, John Adams, and James Madison, just to name a few. More ...
Kaitlyn Baker
Nash County Animal Friends' Notebook
I just wanted to take a moment to comment about the Shelter plans, according to their administrators.
~ Saturday Hours – To quote Mr. Hunt From a recent article: But Hunt said that's something that probably won't happen anytime soon. More ...
Carol Vierela, Nash County Animal Friends

MOTION CONTROL. Northern Nash's Kelsey Bass (left) advances the ball during action last Thursday afternoon at the Lady Knights Soccer Jamboree, which was held on the Northern Nash campus in Red Oak.

SOCCER SKED STARTS
RED OAK -- Northern Nash's girls soccer fortunes improved instantly with the return of standout Claire Fleming, who is back in the lineup after missing the 2011 campaign due to a serious knee injury.
But NN's talent infusion doesn't just stop with Fleming as veteran head coach Joe McCarthy will be in charge of a young squad that is loaded with developing skill. More ...
GEOFF NEVILLE, Graphic Sportswriter

SOUTHERN NASH NEWCOMER. Lea Dam, an exchange student from Denmark, dribbles the ball at left for the Southern Nash Ladybirds during a scrimmage against Louisburg as part of last Thursday's action at the Lady Knights Jamboree.

SNHS Shines At Jamboree
RED OAK -- With a veteran defense and potential-rich offense, this promises to be a solid season for the Southern Nash High School girls soccer squad.
As long as all of the pieces fit together.
SNHS head coach John Matthews is confident that his Ladybirds will improve on last year's 3-11-3 mark. More ...
GEOFF NEVILLE, Graphic Sportswriter
All-ACC squad is released
GREENSBORO -- The Atlantic Coast Conference has released its women's basketball all-league squad for the 2011-12 campaign.
The lone players from the state of North Carolina on the First Team were Duke's Elizabeth Williams and Chelsea Gray. More ...
Staff Reports

GAME ACTION. Northern Nash's Alexus Hill drives toward the basket.

Next Stop: Regionals
ROCKY MOUNT -- Rocky Mount versus Northern Nash, Part 5, took place last Friday evening at a packed RMHS gym as the girls basketball teams from both schools were meeting for the fifth time this season for the biggest prize the two old rivals have ever fought over – an NCHSAA Class 3-A sectional title and a spot in this week's East Regionals. More ...
CHARLES ALSTON, Graphic Correspondent
Nash Central squads wrap up campaigns
VANCEBORO -- Nash Central High School's basketball teams saw both their seasons end this past week.
The Lady Bulldogs, seeded 13th, had to travel to face No. 1 West Craven for the East sectional title in the Class 3-A State Playoffs.
Led by sophomore and UNC recruit Jamie Cherry, the Lady Eagles posted a 74-47 win over Nash Central last Friday evening. More ...
CHARLES ALSTON, Graphic Correspondent

SEVENTH STANDOUT. Seventh-grader Stuart Whitehead will be a key player in 2012 for the Red Oak boys tennis team.

Tigers On The Court
RED OAK -- Is a three-peat in order this spring for the Red Oak Middle School boys basketball squad?
The talented Tigers have tamed Tri-County Conference and Nash County foes over the past two years -- rolling through their schedule without a loss on each occasion.
But for Red Oak to dominate once again, the Tigers will have to do so without long-time standouts Nathan Norris and Tremel Davis, both of whom are now freshmen at Northern Nash High School. More ...
GEOFF NEVILLE, Graphic Sportswriter
Ferrum defeats NCWC
ROCKY MOUNT -- The North Carolina Wesleyan Battling Bishop baseball team opened up conference play with a two-game home series against Ferrum last weekend, falling by 5-1 and 6-5 scores on Friday and Saturday, respectively.
The sweep leaves the Bishops with a 5-6 overall record and 0-2 mark in the USA South. More ...
Staff Reports
Pirates fall versus Maryland
GREENVILLE -- Alfredo Rodriguez' RBI single in the top of the ninth inning lifted Maryland (5-1) to a 2-1 victory over No. 20 East Carolina University (5-2) in the final game of the Ninth Annual Keith LeClair Classic at Lewis Field inside Clark-LeClair Stadium Sunday afternoon.
With the score knotted at one, Rodriguez stepped to the plate with the bases loaded and singled through the left side, scoring Andrew Amaro for the go-ahead run. More ...
Staff Reports
TOP TIGER
Returnee Jacob Kauer will be the No. 1 Singles player this season for the Red Oak Middle boys tennis team. More ...


ON TOP OF THE PODIUM. Rocky Mount Academy's Cameron Anderson (center) won first place in the Boys 100 and 200 Freestyle events during last week's NCISAA State Swim Meet in Greensboro.

State Splash For RMA
GREENSBORO -- Rocky Mount Academy made one final splash to its best-ever swim season last Monday.
The Eagles posted school-best team finishes at the North Carolina Independent School Athletic Association Class 1-A/2-A State Championships at the Greensboro Aquatic Center.
Of the 30 entrants, RMA earned seventh place in the girls and 10th place in the boys. More ...
Staff Reports
NASH PARKS & REC RESULTS
NASH COUNTY -- Listed are updated results from the Nash County Parks and Recreation Department's Youth Basketball Season: More ...
Staff Reports
NC State topped on diamond
MYRTLE BEACH, S.C. – North Carolina State University dropped a 3-2 baseball decision to Coastal Carolina despite 10 strikeouts from Carlos Rodon in the Baseball at the Beach finale Sunday at BB&T Coastal Field.
NC State is coached by Northern Nash alum and Aventon native Elliott Avent. More ...
Staff Reports
NASH COUNTY LEAGUE CHAMPS PART ONE
The Clippers won the Nash County Parks and Recreation Department's 16-18 Boys Basketball Championship. Demeatria 'Meat' Vick served as the head coach for the squad. Also pictured are (in no particular order) Trovoy Lee, Brandon Avent, K'Lajonte Hunter, Quentine Rogers, Davin Moore, Christopher Yarborough, Jonathan Burgess and Ken Richardson. More ...

NASH COUNTY LEAGUE CHAMPS PART TWO
The Pacers won the Nash County Parks and Recreation Department's 13-15 Boys Basketball Championship. Bill Newkirk Jr. served as the head coach. Also pictured are (in no particular order) D'Antae Pridgen, Maqua Walker, Kendal Parker, Malcolm Allen, Bryan Vines Jr., Aaron Newkirk and Jordan Newkirk. More ...

HIGHLY QUALIFIED FROM RMA
Rocky Mount Academy's qualifiers for the State Swim Meet in Greensboro were (back, l to r) Cameron Anderson, Deanna Mayo, Grace Mayo, Ashley Bissette and Phillip Ward; (middle, l to r) Colby Kirkpatrick, Leah Anderson and Claire Stanovich; (front, l to r) Sarah Lane and Samuel Lane. More ...

RMA SWIMMING MEDALISTS
Rocky Mount Academy's state meet medalists were (l to r) Claire Stanovich, Leah Anderson, Grace Mayo, Cameron Anderson and Deanna Mayo. More ...

EDDIE BYNUM
ROCKY MOUNT –– Eddie Bynum, 73, of Rocky Mount, died on Tuesday, February 21, 2012, at Nash General Hospital in Rocky Mount. More ...

PATTY LINDSAY DAVIS
ROCKY MOUNT –– Patty Lindsay Davis, 93, of Rocky Mount, died on Friday, February 17, 2012 at South Village Nursing Center in Rocky Mount. More ...

WILBERT STAMPER
Wilbert Stamper, 82, of Bronx, New York, and formerly of Nash County, died on Tuesday, February 21, 2012, at West Chester Square Hospital in Bronx, NY. More ...

JAMES "RUDY" BATCHELOR
James "Rudy" Batchelor, 66, passed away Tuesday February 21, 2012. He was born April 6, 1945 in Nash County. Rudy was the son of the late Raymond and Ruth Cooper Batchelor. More ...

CAITLIN ELIZABETH DAVIS
Caitlin Elizabeth Davis, 18, passed away Friday February 24, 2012. She was born July 1, 1993 in Lewel MD. Visitation will be Thursday March 1, 2012 from 7:00-8:30 p.m. at Cornerstone Funeral Home. More ...

LETTIE JOYNER JOYNER
SANDY CROSS - Lettie Joyner Joyner, 90, passed away Saturday, February 25, 2012. She was born on August 4, 1921 to the late Percy C. Joyner and Viola Roberson Joyner. In addition to her parents she was preceded in death by her husband, Henry Thomas Joyner and a son, Adie Ronald Taylor. More ...

MILTON J. LEE
Milton J. Lee passed away on February 24, 2012. He was born in Faison, NC on May 1, 1919 to Matthew Lee and Ida Boone Lee. He was preceded in death by his wife of 55 years, Rebecca Bass Lee; brothers, Deems, Raymond, and Leslie Lee, and sister, Margaret Armstrong Gurganus. More ...

WILLIE B. RICHARDSON
NASHVILLE - Funeral services for Willie B. Richardson, 80, who died on Friday, Feb. 24, 2012 were Tuesday, Feb. 28, at 1 p.m. at Pine Chapel Baptist Church. Burial followed in Oakland cemetery with Rev. Robert Hedgepeth officiating. More ...

MARY JO EVANS
HOLLISTER - Funeral services for Mary Jo Evans, 60, who died Friday, Feb. 24, 2012, will be Thursday, March 1, at 1 p.m. at Pleasant Grove Baptist Church. Burial will follow in the Pleasant Grove Church cemetery with Rev. Thomas Richardson officiating. More ...