Subscribe/Access
Advertisements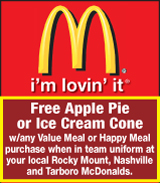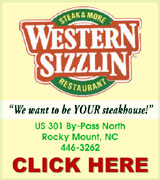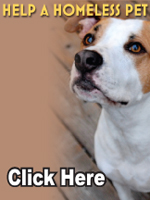 Sections
Member Options
Back

HURRICANE IRENE – Pictured above, a home in the Oak Level Community is damaged by a downed tree.

GOODBYE IRENE!
A Nashville man was killed Saturday morning during Hurricane Irene after a tree fell on him while he was out feeding his horses.
Captain Pat Joyner, of the Nash County Sheriff's Office, said 63-year-old Ricky Webb, of Pinetree Lane, went out around 5:30 a.m. to feed his horses. Joyner said Webb's wife went back to sleep and when she woke up around 10:15 a.m., discovered that part of a tree had fallen on him. More ...
Amanda Clark, Graphic Staff Writer
Area farmers hit hard by Hurricane Irene
Nash County farmers are in a race to save what crops they can, after Hurricane Irene tore through the county and damaged thousands of acres of fields.
Charlie Tyson, Nash County Cooperative Extension Director, said tobacco was hit the hardest. The county has 9,000 acres of tobacco whose profit could be cut in half as a result of the storm. More ...
Amanda Clark, Graphic Staff Writer
Nash starts process to expand county landfill
Nash County's C&D Landfill will need more room in 2018 and commissioners are moving forward with the long process of preparing for an expansion of the current landfill.
Vance Moore, who serves as the county's Solid Waste Engineer, spoke to commissioners about the proposed expansion at a work session on Monday, August 22. Moore went over the process the county would have to go through to get the expansion approved, including letting the public know about the process. More ...
Amanda Clark, Graphic Staff Writer

Nash County Senior Center Director Christy Southall (at left) presented the Senior Center Volunteer of the Year Award to Judy Stallings (at right) during a volunteer social last week.

Volunteers of the Year announced
Volunteers are like pieces of a puzzle and for the Nash County Senior Center, they are essential pieces.
Two volunteers received special recognition last week at the Senior Center's annual Volunteer Appreciation Social.
Senior Center Director Christy Southall presented the award for Senior Center Volunteer of the Year to Judy Stallings. More ...
Amanda Clark, Graphic Staff Writer
County seeks public input on welcome signs
Nash County Commissioners are asking for the public's help in coming up with a slogan for six "Welcome to Nash County signs" that will be located along major highways.
Earlier this month, commissioners voted to spend $27,500 on the six signs, which will be located on U.S. Highways 64 and 264, in both directions and in both directions of I-95. More ...
Amanda Clark, Graphic Staff Writer
Hurricane Irene hits Nash County, pics 1
Nash County residents wait in line at the Department of Social Services Building in Nashville for Emergency Food Stamps on Tuesday morning. Emergency Food Stamps are being offered to residents who lost food during the power outages from Hurricane Irene. More ...
Graphic photos by Amanda Clark, Jo Anne Cooper and Amelia Harper
Local business owner says rumors of closing not true
The owner of the Nashville Exchange wants to put to rest rumors that the restaurant is closing.
Lisa Hattaway, who owns the Nashville Exchange, said there have been rumors spreading that she is closing down and a sports bar is opening up in the restaurant's place.
"All of a sudden, it's gotten around town that Lisa's closing," Hattaway said. "It's not true. We're not closing our doors." More ...
Amanda Clark, Graphic Staff Writer
Theresa Shaw honored at Phil Ford Classic Gala
Theresa Shaw, the former Executive Director of the Boys and Girls Club of Nash/Edgecombe Counties, made her way back to Rocky Mount August 12 and 13 to show her support for the annual Phil Ford Golf Classic.
Shaw left the Boys and Girls Club of Nash/Edgecombe Counties at the end of June to take on a similar position with the Boys and Girls Club in Naples, Florida. More ...
Amanda Clark, Graphic Staff Writer
Nash offers settlement to Wilson over Sanderson
In an effort at compromise, Nash County officials have reportedly offered a settlement solution to the City of Wilson designed to allay environmental concerns regarding a proposed Sanderson Farms poultry processing plant. However, attorneys representing the City of Wilson feel that such a settlement between the two parties is unlikely in the near future. More ...
Amelia Harper, Graphic Correspondent
NRMS work to reopen following Hurricane Irene
Students of Nash-Rocky Mount Schools enjoyed two full days back before having to take more time off because of the effects of Hurricane Irene.
Hurricane Irene came through Nash County on Saturday, leaving down trees and power lines all over the county. More ...
Amanda Clark, Graphic Staff Writer
Local residents earn MaEd degrees
Dr. Terrence L. Grimes was the featured speaker at the inaugural Master of Education commencement exercises of Barton College held recently in Hardy Alumni Hall. Dr. Jackie Ennis, dean of the School of Education, presented the first graduating cohort of 22 teacher-scholars who were awarded the Master of Education degree with a specialization in Elementary Education. More ...

TEACHERS REUNION
Twenty-six retired teachers and assistants from Coopers Elementary School recently gathered at Paul's Italian Restaurant for a reunion. This is the ninth year the group has gathered to share old times and renew friendships. These former faculty members worked under the principalship of Thorp Smith of Wilson. More ...


Pictured above, NRMS Superintendent Dr. Anthony Jackson speaks to staff members last week during the convocation.

NRMS holds convocation to jump start new school year
Over 2,200 NRMPS employees gathered in the gymnasium at Nash Central High School to jump start the new school year. All 4 high school bands gave a rousing welcome to staff members as cheerleaders from Nash Central, Northern Nash, Rocky Mount and Southern Nash High Schools gave an enthusiastic welcome back to staff. More ...

RMA starts school year with changes
There are major changes at Rocky Mount Academy with the start of the new year. Students opened the 2011-12 year on Thursday with a new emphasis on technology in the classroom and with a new Head of School overseeing the operation of the 43-year-old independent college preparatory school. More ...

Pregnancy Care Center to host Walk for Life September 24
On Saturday, September 24 hundreds of supporters will gather at Englewood Park for the Pregnancy Care Center's (PCC) 21st annual major fundraising event, Walk For Life. Registration for the Walk will begin at 9:15 a.m. and the two-mile Walk will begin at 10:15 a.m. More ...

OIC honors Butterfield
Congressman G.K. Butterfield received an award from the National Association of Community Health Centers on Thursday, August 11 at the OIC Family Medical.
"Rep. Butterfield has worked hard to ensure that citizens in the First Congressional District have access to quality and affordable care," said Genotre J. Penny-Boone, OIC Board Chair. More ...

DSS EMPLOYEE OF MONTH
Dale Joyner has been selected as Nash County Department of Social Services Employee of the Month for August 2011. She is employed as an Income Maintenance Caseworker in Family and Children's Medicaid and has worked for the agency for 17 years. More ...

Rocky Mount native receives Order of the Long Leaf Pine
Jackie G. Colbert, a Rocky Mount native, is the recipient of one of North Carolina's highest honors, the Order of the Long Leaf Pine. The award was presented by the State Board of Education at its August meeting. Lieutenant Governor Walter Dalton presented the award. He was joined by State Superintendent June Atkinson, State Board Chairman Dr. Bill Harrison, and Board Member Wayne McDevitt.
More ...

Word for the week
An old hymn intones, "Only believe. Only believe.   All things are possible. Only believe." Wait. At the end of empty faith there are empty dreams. Faith that is worthy of the name always has an object. People believe in someone or something, even if it's themselves. More ...
DENNIS PRUTOW
Largest BLET class graduates from Nash Community College
Twenty-two cadets recently graduated from Nash Community College's thirty-third Basic Law Enforcement Training (BLET) class. These students represent the largest graduating BLET class in the College's history. During the twenty-seven week training, students learned essential skills required for entry-level employment as law enforcement officers with state, county, or municipal governments, or with private enterprise. More ...

Speaker
Trent Mohrbutter, center, principal of Early College High School on the campus of Nash Community College, spoke to the Rocky Mount Kiwanis Club on August 25 about this unique curriculum programming offered by Nash Rocky Mount Schools. More ...

Scholarship
The Coopers Ruritan Club recently awarded a scholarship to Christopher Poland of Elm City. The Coopers Ruritan Club wish much success to Christopher in his efforts to achieve his educational goals. Pictured (L-R) is Peggy Winstead, Scholarship Committee of Coopers Ruritan with Christopher Poland, the scholarship recipient. More ...

What's so good about a hurricane?
Life is relative, no matter what the books, magazines or TVs may tell you.
If you ask most people who make it through a major natural disaster – be it a hurricane, tornado, earthquake, et al– with their life and the lives of their loved ones unthreatened, they will usually say they are blessed, or at least lucky. More ...
Mike Brantley
Irene was a temporary inconvenience for us
Hurricane Irene brought back some not-so-fond memories and worries for many of us. And after Monday night's storm dumping heavy rain across the area, we are all anxiously hoping we don't face another storm anytime soon fearing the worst – flooding such as back in 1999 from Floyd. More ...
Jo Anne Cooper
Earthquake followed by Irene makes for busy time
Yes, I felt it too and yes I now have power.
What a crazy week we have had here in Eastern North Carolina. First, an earthquake and then a hurricane, all in the same week!
The earthquake was definitely a first for me. I am still in shock that it even happened and of course, it happened on a Tuesday, just as we were putting the paper to bed. More ...
Amanda Clark
Backward Glances
CALENDAR GIRLS – This photo originally published September 19, 1974. The picture appears on calendars sold by the Nashville Business and Professional Womens Club. The 36-member club completed selling the calendars as a fund-raising project. More ...
A PICTORIAL LOOK INTO THE PAST
Nash County Animal Friends' Notebook
Last week, we came right out and asked the Shelter to be open on Saturdays. An official letter. Well, apparently, we cannot have the Shelter open. Not as volunteers. Not with the new rules and regulations that they gave us last week when we met with them (them/they being Mr. Hill & Mr. Hunt). Let me explain. More ...
Carol Vierela, Nash County Animal Friends

WHAT'S THE CATCH? Wilson Beddingfield's Tim Eatmon (left) comes up with this reception while being chased by Southern Nash's Zack Parris during last Thursday's prep football showdown.

PILE UP THE POINTS
STANHOPE -- Preseason questions about the Southern Nash Football Firebirds centered on how well a revamped offensive line would perform following the graduation of several key standouts.
Southern's answer has been prolific as the Firebirds have opened the season with a pair of impressive offensive displays against quality opponents SouthWest Edgecombe and Wilson Beddingfield. More ...
GEOFF NEVILLE, Graphic Sportswriter

SEND IT. Northern Nash forward Jose Rodriguez (left) delivers a pass for the Knights during their road soccer contest last Wednesday afternoon against the Franklinton Red Rams. Host Franklinton won the non-conference event by a 5-0 margin.

Northern Struggles Vs. Rams
FRANKLINTON -- After two tough losses to regarded foes to open the season, members of the Franklinton High School boys soccer team found things more to their liking last Wednesday afternoon.
That's when the young but potential-filled Red Rams earned their initial conquest of 2011 with a 5-0 decision over a rebuilding Northern Nash contingent at the Franklinton Recreation Park. More ...
GEOFF NEVILLE, Graphic Sportswriter
Firebirds a winner in soccer
STANHOPE -- The Southern Nash Firebirds delivered the final five goals of the contest and went on to defeat Wilson Beddingfield by a 7-3 margin last Thursday in a non-conference, boys soccer event on the SN campus.
Southern, coached by John Matthews, improved to 2-1 overall with the conquest. More ...
Staff Reports
HIGH SCHOOL GRID SCORES
NASH COUNTY -- Listed are the results from Week Two of the North Carolina High School Athletic Association's 2011 prep football campaign: More ...


MACK ON THE MOVE. Nash Central's Khalil Macklin (left) picks up yardage during last Thursday's home football victory against the Smithfield-Selma Spartans.

Nash Central Now 2-0
ROCKY MOUNT -- Playing on an unusually short week apparently had no effect on the Nash Central High School football team.
After shocking two-time defending NCHSAA 2-A champion Tarboro the previous Monday, the Bulldogs entertained Smithfield-Selma at the Dawg Pound three days later -- on just two days rest. More ...
CHARLES ALSTON, Graphic Correspondent
ENCFL's gridiron schedule is released
NASH COUNTY -- The Eastern North Carolina Football League will kick off its 2011 youth regular season gridiron schedule on Sept. 10.
Eight teams will be featured in the ENCFL this fall, including Nash County entrants Nashville, Rocky Mount and Nash County. More ...
GEOFF NEVILLE, Graphic Sportswriter
Wesleyan adds selections to Hall of Fame
ROCKY MOUNT -- Since 1999, North Carolina Wesleyan College has honored 48 former athletes, administrators, teams, coaches and contributors by enshrining them in its Athletics Hall of Fame.
These individuals have created a higher standard for Battling Bishop athletics and were selected based on their outstanding accomplishments and/or contributions to the College.
More ...
Staff Reports
Montgomery masters Mudcats
MONTGOMERY, ALA. -- Isaias Velazquez had three hits and two RBI to lead Montgomery past Carolina 4-3 at Riverwalk Stadium on Sunday afternoon in a Class AA Southern League baseball matchup.
Trailing 4-1 in the ninth, Carolina loaded the bases with no outs against closer Zach Quate.
More ...
Staff Reports
RACE TO THE BALL
(L to R) Wilson Beddingfield's Kelvin King and Southern Nash's Marcus Hicks dive for a loose ball during last Thursday's game at Firebird Stadium. More ...

DOWN BUT NOT OUT
Southern Nash runner Exzavier Ruffin lands on his head during a carry versus Wilson Beddingfield. More ...

Nash Arts accepting applications for Grassroots Arts Grant
Nash Arts is now accepting applications for Grassroots Arts Grant for fiscal year 2011-2012. The Grassroots Arts Program is state-funded through the North Carolina General Assembly and allotted through the North Carolina Arts Council to counties based on population. More ...

"Taking Care of Mimi" opens September 8 at Nash Arts
In September, 2007, Marilynn Anselmi's world fell apart. Her 21 year old son, Ricci, was killed in an accident while attending DePaul University in Chicago. The Red Oak resident and director of the ECU/NCSU Collaborative at the Gateway Technology Center in Rocky Mount, Anselmi found herself questioning everything about life. The answers led her to strange, new places. Those places including writing plays. More ...

WILLIAM "DEAN" HARPER
NASHVILLE - William "Dean" Harper, 49, passed away, Tuesday, August 23, 2011. He was born October 11, 1961 in Nash County. He was the son of the late Rufus and Lillie Mae Harper. He was preceded in death by two sisters, Jackie Harper and Bonnie Bonnie Harper. More ...

ZELMA GRAY CREEKMORE
NASHVILLE - Zelma Gray Creekmore, 84, passed away, Wednesday, August 24, 2011. She was born May 24, 1927 in Franklin County. Zelma was the daughter of the late Burbon and Betty Pierce Medlin. She was preceded in death by her husband William Lee Creekmore. More ...

VERA MAE SAUNDERS
Vera Mae Saunders, 82, passed away, Friday, August 26, 2010. She was born May 22, 1929 in Sumter, SC. She was the daughter of the late, Edward and Lillie Peele Williams. More ...

RICKY VANCE WEBB
Ricky Vance "Our Cowboy "Webb, 63, passed away, Saturday, August 27, 2011. He was born July 25, 1948 in Riverside California. "Our Cowboy" was the son of the late Wilbur and Mae Longuevan Webb. More ...

MARGARET ANN PROCTOR GOUDE
Margaret Ann Proctor Goude, 74, died Sunday, August 28, 2011. She was born January 25, 1937 in Franklin County, daughter of the late Thurston and Claudia Bell Pierce Swanson.
More ...

GOLDIE LINDER MILLER
Goldie Alberta Linder Miller, 88, passed away on August 25, 2011. She was born December 24, 1922 in Cedar Rapids Iowa, daughter of Alford and Alice Linder. She was preceded in death by her husband, George Clem Miller; sister, Emma Bruns, sister, Ellen Kullander; and brother, Roy Linder. More ...

EVELYN THOMPSON WILSON
Evelyn Thompson Wilson, 83, passed away Thursday, August 25, 2011. Born in Halifax County on January 2, 1928, she was the daughter of the late John Henry Thompson and Minnie Bell Toppings. She was also preceded in death by husband, Robert Louis Wilson and brother, Horace Toppings of Elizabeth City. More ...

RUSSELL LEO GOWER
ROCKY MOUNT – Russell Leo Gower, age 93, passed away Friday, August 26, 2011. Born in Auburn on August 05, 1918, he was the son of the late Earl Morey Gower and Emma Wall Gower. He was also preceded in death by his wife of 64 years, Dorothy Smith Gower. More ...

LOIS DOZIER NORVILLE
Lois Dozier Norville, 86, passed away on Sunday, August 28, 2011. She was born in Nash County on May 8, 1925 to Roland W. and Lois Boone Dozier. She was preceded in death by her husband of 62 years, Ray Pitt Norville. More ...