Subscribe/Access
Advertisements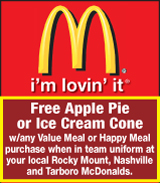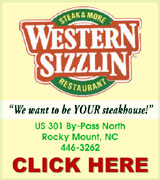 Sections
Member Options
Back
County okays rezoning request
Despite an auditorium full of people opposed to the idea, Nash County's Board of Commissioners moved forward with approving a rezoning request that could pave the way for a chicken processing plant in the southern end of the county.
The request was brought before the board by Coastal Plain Land, LLC and sought to rezone 150 acres at 3025 and 3279 E. NC 97 from RC and R-40 to General Industrial. More ...
Amanda Clark, Graphic Staff Writer

NEWTON

ELECTION COVERAGE: County commissioner incumbents win
The North Carolina State Senate District 11 seat will have a new face, as Buck Newton beat out longtime incumbent A.B. Swindell, unofficial election results revealed on Tuesday night. In other races, Nash County's Board of Commissioners will remain the same as all three incumbents took home wins.
Voter turnout was unusually high for a general election, with 46.97 percent of registered voters casting their votes. More ...
Amanda Clark, Graphic Staff Writer - 1 opinion posted
SCOOBY DOO, WHERE ARE YOU?
Nashville Elementary Kindergarten students visited downtown businesses Friday for the annual Halloween Trick-or-Treat. Pictured dressed as Scooby-Doo is little Jackson Figlewski walking with mom and dad, Krissy and Stash Figlewski. More than one-hundred trick-or-treaters visited downtown Nashville this year.
More ...

4-H is "Hungry to Help"
Nash County 4-H will skip its annual 4-H Gala to instead give back to the community.
Sandy Hall, Nash County 4-H Extension Agent, said the Gala committee met and discussed whether it was appropriate to hold a Gala with the economy like it is.
"With the economic crisis and so many people suffering, they feel like maybe we should sit back on it a year," Hall said. More ...
Amanda Clark, Graphic Staff Writer
Town gives homeowner deadline to repair house
Nashville's Town Council approved an ordinance on Tuesday night that will require the owner of a home on Circle Drive to repair it or demolish within 90 days.
The home at 118 Circle Drive in Nashville is vacant and the town has been dealing with its owner, James Earl Ricks, for years.
More ...
Amanda Clark, Graphic Staff Writer
Red Oak votes yes for more resident sewer connections
Red Oak Commissioners voted unanimously to expand the planned sewer system to include five properties located on the north side of Red Oak Road, behind Griffins Mart and in front of Red Oak Elementary School. The expansion will cost the town approximately $100,000. More ...
Amelia Harper, Graphic Correspondent
Eagle Scout project honors Willard Inscoe
Members of Rock Creek Baptist Church have always wanted a nature trail in the woods behind their facility. Tyler Lawrence made that dream a reality.
Lawrence recently completed a nature trail at the church as part of his Boy Scout Eagle Project. Lawrence is a member of Red Oak Troop 16. More ...
Amanda Clark, Graphic Staff Writer
Firefighters participate in national pilot program
Local Firefighters recently participated in an assessment that will eventually allow structural firefighters to also combat wildland fires.
The North Carolina Division of Forest Resources has partnered with an international group of wildland and structural fire-fighting experts as they visited several locations through North Carolina in late September to conduct interviews with local emergency responders as part of a pilot program known as the Recognition of Prior Learning. More ...
Amanda Clark, Graphic Staff Writer
Halloween at Cooley Library pics 2
Blaine Hale, 3, shows off his cowboy moves during a game at Nashville's Cooley Library on Saturday. The library partnered with Nashville Recreation and the Fire Department for this year's Halloween festivities.
More ...
Graphic photos by Amanda Clark
Skeletal remains identified
The Nash County Sheriff's Office is looking for a Michigan man in connection with two skeletal remains found in September on a rural road outside of Red Oak.
Captain Pat Joyner, of the Nash County Sheriff's Office, said two warrants for first degree murder have been obtained for Jorge Alfredo Urias Sanchez in connection with the two skeletons found on Quarter Road on September 7. More ...

Dunn, Winstead unite in marriage
Beth Nicole Dunn and Dale Spencer Winstead were married Saturday, August 28, 2010 at Gibson Memorial United Methodist Church, Spring Hope. The officiating minister for the 4 p.m. ceremony was Rev. Scott Dodson, assisted by Rev. Jimmy Reavis.
The bride is the daughter of Mr. and Mrs. Robert Earl Dunn of Spring Hope. More ...

FIREBIRDS TRICK-OR-TREAT FOR UNICEF
Members of the Key Club at Southern Nash High School gathered during the week before Halloween to begin soliciting donations for the United Nations Children's Fund. The Trick or Treat for UNICEF project is an annual joint effort by over 5,000 Key Clubs, including those in the Carolinas District of North and South Carolina.
More ...

90 YEARS
It was just a low-key get together for Mr. John "Shorty" VanHook and twenty of his close friends at the Hardees in Nashville. Judging from his youthful appearance and catchy two-step, you'd never know that they were there to help him celebrate his "ninetieth" birthday unless you tried to hear yourself think over the noisy well-wishers all gathered 'round.
More ...

75th birthday
Robert Speight Talbott better know as "Bobby" celebrated his 75th birthday September 7th. His daughters Bobby Jo Talbott Newsome, Jackie Godwin Mallory, and Jennie Godwin Sessoms, gave him a party at Parkers in Wilson to celebrate the big day. His wife Jean Talbott, a retired Nash County employee, and other family members also attended the birthday party.
More ...


Zatiyah Brooks, Ajah Harrison and TaBreya Massenburg (L-R) take a break from reading to pose for a photo at Nashville's Cooley Library.

B&G Club participates in Lights on Afterschool program
Nashville's Boys and Girls Club visited Cooley Library on October 21 for a Lights on Afterschool Program. Youth participated in a scavenger hunt to familiarize themselves with the library. Nashville Unit Director Sophia Edmonds said the kids will be spending more time at the library and she wanted them to learn where everything is and how to find books. After the scavenger hunt, Battle handed out awards. Everybody received some type of award for their achievements in the club.
More ...
Graphic photos by Amanda Clark
Lights on Afterschool program, pics 2
Bradley McAdams (back center), who serves on the Board of Directors for the Boys and Girls Club of Nash/Edgecombe Counties, visited the library during the Nashville Club's Lights On Afterschool Program.
More ...
Graphic photos by Amanda Clark
Lights on Afterschool program, pics 3
The Ravens football team received certificates for their hard work this year. Pictured on the front row (L-R) is: Octavius Lynch, Keyon Lynch and Camron Addison. On the back row (L-R) is: Dekalon Stample, Team Manager Jaylon Addison and Quante Downey.
More ...
Graphic photos by Amanda Clark
Lights on Afterschool program, pics 4
Sophia Edmonds (at left) presents an award to Trevor Tucker (at right) for "a job well done." Tucker has volunteered with Edmonds since 2008, when she was at the Princeville Boys and Girls Club. When Edmonds moved to the Nashville unit, Tucker followed. He now works part-time for the club.
More ...
Graphic photos by Amanda Clark
FIRE PREVENTION EDUCATION
Nashville Fire Department attended Nashville Elementary School during Fire Prevention Week. All the students at the school met in the gym. Captain Chris Joyner spoke to children about fire safety giving tips such as knowing two ways out of your house, knowing what number to dial in case of an emergency, crawl low in smoke, and to not play with lighters or matches. Pluggie also visited with the children, and the kids got to ask pluggie some questions about fire safety.
More ...

MOUNT ZION FWB CHURCH NEWS
We have been studying the book of Psalms in Sunday school this month. Praise is a theme in Psalms, so we will begin with our praises; Praise God for our good attendance today in Sunday school. 95 was the big number. I trust everyone learned something from the study of the lesson and hope you will come back again next Sunday. Dot Matthews praises God that her washing machine is replaced. More ...
ROSALENE BASS
Red Oak News
Youth Sunday was Oct. 31 at Red Oak Baptist Church. The youth did a great job teaching the Sunday School classes in addition to leading the morning worship service. Jessica Woodburn and Brittany Bass shared their testimonies and Rev. Bert Woodburn brought the morning message. More ...
SUZY PEARCE
EPHESUS NEWS
God's display of beauty was all around us as we gathered in His house on Sunday to worship. Our service began with special music provided by Pam Peele as she sang "Spirit Song". More ...
DEBBIE PHILLIPS
Pastor speaks
Pastor James Gailliard (center), chairman of Word Tabernacle, the Impact Center, and Word Alive outreach ministries at 820 Nashville Road, spoke at the October 28 luncheon meeting of Rocky Mount Kiwanis Club. He was greeted by President Jon Wiggs (left) and Program Chair Richard Joyner (right).
More ...

BEULAH COMMUNITY NEWS
I hope you all had a Happy Halloween and saw lots of cute little kids! I hope all the kids were safe and enjoyed the fall event. I have two important announcements this week. This Friday night, Nov. 5, from 5-8 will be our monthly fish fry at the Beulah church of Christ annex on Reges Rd. We really appreciate all the support each of you have given us over the past years, each month. More ...
WILMA ENROUGHTY
PEACHTREE COMMUNITY NEWS
The service at Peachtree begun on Sunday morning with the Ordinance of Baptism. It was a beautiful service as Stephanie Denis and Jeremy Browder entered the baptismal pool and were baptized by Pastor Whitehouse. Special music was "Center of My Joy", with Jane May playing the piano accompaniment as David Griffin whistled. More ...
BARBARA HARDISON
Handbook to coaching pee-wee soccer
Maybe no one else realized it, but for me, it was a sweet moment, one to be savored – the highlight of my rec league soccer coaching career.
With just a few minutes left in the last game of the season, the ball was struck well enough to cross the goal line before the thundering herd of defenders could sweep it clear. Unable to control myself and caught up in the moment, I threw both arms in the air and let out a "Yeah!" More ...
Mike Brantley
Citizens deserved more time to learn about new industry
On Monday, commissioners voted 4-3 to rezone a piece of property that will eventually be the home of Sanderson Farms, a chicken processing plant.
First of all, let me just say that the county claims this is not a done deal yet, that Monday's meeting was just to rezone the property, not to approve any specific industry. But in reality, the rezoning just puts the county one step closer to signing the deal. Of course, in my opinion, this whole thing is already a done deal. More ...
Amanda Clark
Advertising campaigns have not impressed me
Boy am I ever glad this year's election is over.
Though while I'm writing this column, things are still in full swing, by the time it's published, all will be said and done!
The political mudslinging has been abundant this year, mostly between candidates running for state seats. Local school board and county commissioner candidates have run clean, positive campaigns, which I respect far more than the desperate last-minute attempts to turn voters in a different direction. More ...
Jo Anne Cooper
Backward Glances
This photo of Town of Nashville employees hanging Christmas decorations over the streets in downtown Nashville was found in The Graphic's 1958 archives.
More ...
A PICTORIAL LOOK INTO THE PAST - 1 opinion posted

HARVEY RUNS HARD. Nash Central Middle School running back Charles Harvey (2) breaks through the Speight defense during last Thursday afternoon's football showdown on the NCMS campus in Nashville.

TROJANS TAKE SPEIGHT
NASHVILLE -- It didn't take long for the Nash Central Middle School Trojans to get their offensive revving during last Thursday's home gridiron meeting against Wilson Speight.
The Trojans found the end zone on the second play of the game -- and would strike paydirt time and time again en route to a 35-12 decision over the Bobcats at the NCMS Football Field. More ...
GEOFF NEVILLE, Graphic Sportswriter

FOSTER FLINGS ONE. Nash County quarterback Zack Foster (14) passes the ball during the Firebirds' home victory against Sharpsburg last Saturday morning in an Eastern North Carolina Football League matchup at Southern Nash High School.

One Victory From Perfection
STANHOPE -- Only one opponent remains in the way for the Nash County Firebirds in their quest to wrap up a perfect varsity season in the Eastern North Carolina Football League.
Last Saturday, Nash County roared in its next-to-last game as the Firebirds rolled to a 47-0 victory over the Sharpsburg Gators in NC's regular season home finale at picturesque Firebird Stadium on the campus of Southern Nash High School. More ...
GEOFF NEVILLE, Graphic Sportswriter
Central wins the regional
GREENVILLE -- Nash Central sported the Top Three individual finishers and went on to dominate the Class 3-A East Regional Cross Country Meet, which was held last Saturday at Boyd Lee Park in Greenville
Nash Central's amazing 19-point team total was far ahead of second-place West Carteret, which closed with 85 points.
Rocky Mount was sixth at 169, and Southern Nash was 15th at 405. More ...
Staff Reports

A LITTLE BIT OF TRICKERY. It looks like the ball is loose in this photo, but Southern Nash quarterback Devon Lavender (28) is actually pitching to running back Tracey Coppedge (22) during the Firebirds' home gridiron victory last Friday night.

Big Wins For Squads
WILSON -- Northern Nash and Southern Nash moved one step closer to a possible share of the Big East Conference football title with big wins last Friday evening.
The two teams entered the weekend in a four-way tie along with Nash Central and Wilson Hunt for first place in the league at 3-1 with two games remaining. More ...
CHARLES ALSTON, Graphic Correspondent

COUSINS COLLIDE. Cousins Isai Gonzalez (left, from Northern Nash) and Moises Gonzalez (right, from Southern Nash) met on the field last week at the annual Big East Conference Boys Soccer Tournament.

The Tourney That Wasn't
RED OAK -- The tourney that wasn't wrapped up -- sort of -- last Wednesday at the Northern Nash High School Soccer Complex.
The Big East Conference Tournament was supposed to be a three-day showcase of the league's individual talent and overall team depth. More ...
GEOFF NEVILLE, Graphic Sportswriter
Wesleyan surges to home league victory
RED OAK -- Sophomore Dwayne Hollis turned in an 87-yard return for a touchdown on the game's opening kickoff last Saturday, and the Blue & Gold of North Carolina Wesleyan College did not look back en route to a 56-6 victory over USA South foe Methodist University at the Northern Nash Football Complex. More ...
Staff Reports
Nash County JV Firebirds win at home
STANHOPE -- This past Saturday, the Nash County Parks & Recreation JV Firebirds took on the Sharpsburg Gators at Firebird Stadium on the campus of Southern Nash High School.
The Firebirds received the ball first and managed to push the ball down the field, showing signs of life on the offensive side of the ball. More ...
Staff Reports

PASS RUSH. Nashville Hornets' defensive lineman Wrayshon Battle (52) gets a hand on a pass attempt from Wilson's Cameron Hill during last Saturday morning's game at The Hornets Nest.

Wilson: Too Much
NASHVILLE -- Wilson Boys and Girls Club's skill-position speed proved to be too much for the Nashville Hornets to handle during last Saturday's Eastern North Carolina Football League varsity matchup at The Hornets Nest at Glover Park.
The visiting Jets took control early and went on to defeat Nashville by a 37-0 margin. More ...
GEOFF NEVILLE, Graphic Sportswriter
NCWC nabs soccer conquest
ROCKY MOUNT -- On Senior Day at Scalf Field, the North Carolina Wesleyan men's soccer team secured the program's sixth USA South Regular Season Championship last weekend with a 5-0 shutout of Shenandoah University.
The regular season crown is the fourth of head coach Jason Kilby's tenure and gives the Bishops (12-3-2, 5-0-1 USAS) the #1 seed entering next week's USA South Tournament, the winner of which receives an automatic bid to the NCAAs. More ...
Staff Reports
HERE THEY ARE, FOLKS
Members of the Nash Central Middle School football team take to the field before last Thursday afternoon's home matchup against the Speight Cougars.
More ...

Nash Arts Schedule
Following are events scheduled at Nash Arts this fall. The center is located at 100 East Washington Street, downtown Nashville. More ...

Cherry Hill concert set for Sunday
The second concert of 2010 fall season at Warren County's historic Cherry Hill will feature violinist Carol Chung and pianist Tyler Wottrich.
They will present a program of music from Roussel, Janacek and Faure beginning at 3 p.m. Sunday, Nov. 7. More ...

SUSIE MAE HART
ROCKY MOUNT - Mrs. Susie Mae Hart, 59, of Rocky Mount, North Carolina, died on, Tuesday, October 26, 2010 at her residence. More ...

LARRY DEAN HULL
NASHVILLE - Larry Dean Hull, 56, passed away on Friday, October 29, 2010. He was born October 23, 1954 in Nash County. More ...