Subscribe/Access
Advertisements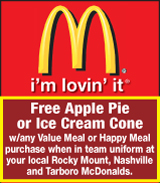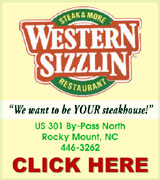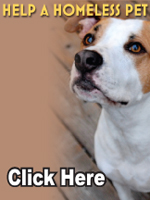 Sections
Member Options
Back
Mark Bowling pleads guilty
After just three days of testimony, Mark Bowling accepted a plea deal that will put him in prison for up to 19 years.
Bowling pled guilty to charges of second degree murder and conspiracy to committ first degree murder in Pitt County Superior Court. The plea put an end to what would have been a lengthy trial that had up to 40 witnesses testifying for each side. Judge Quentin Sumner sentenced Bowling to no less than 189 months, or just over 15 years, and no more than 236 months, or over 19 years, in prison. More ...
By Amanda Clark, Graphic Staff Writer
Phase 2 of annexation to hit Nashville's back door
Over two hundred residents that live in phase two of Rocky Mount's proposed annexation plan showed up at Nash Central High School to voice their disapproval with the plan.
City of Rocky Mount officials held a community meeting on Monday night in the media center at Nash Central High School. However, because of the large number of residents that turned up, the meeting was moved to the gymnasium. The meeting was held to discuss the plan with residents and answer questions about the proposed annexation. A similar meeting was held on Tuesday night. More ...
By Amanda Clark, Graphic Staff Writer
Nash welcomes new Extension Agent
When Traci Dixon graduated from North Carolina Wesleyan College in Rocky Mount in 1995, she had no idea she'd end up returning to Nash County.
But 12 years later, Dixon not only lives in Nash County but also works here.
"I just really fell in love with Nash and surrounding areas," Dixon, a Spring Hope resident, said. "I just liked everything about the area when I went to school here." More ...
By Amanda Clark, Graphic Staff Writer
Area mourns the loss of Nash County Commisioner Alford
County Commissioner Jay Alford passed away on Wednesday, September 24, leaving a vacancy on the Board of Commissioners as well as in the hearts of his family, friends, and associates. Alford, who was the youngest commissioner on the current board, was just 46 at the time of his death from heart-related issues.
Alford served as a county commissioner for nearly 10 years and was first elected to the board in 1998, representing Nash County's Fifth District. Since then, he has served his community tirelessly, earning the respect of his colleagues and the appreciation of many of those citizens whom he served. More ...
By Amelia Harper, Graphic Correspondent

NRMPS Superintendent Rick McMahon with Teacher of the Year Kristi Henry.

NRMPS names teacher, principal of the year
Kristi Henry hopes being named Teacher of the Year will prove how important electives are in schools.
Henry, an art teacher at W.L. Greene, was one of 28 teachers selected as the 2008-2009 Nash-Rocky Mount Public Schools Teacher of the Year.
"It's a small school and being an art teacher, it's such an honor," Henry said of being named Teacher of the Year. "I think it proves how important electives are." More ...
By Amanda Clark, Graphic Staff Writer
Bailey man arrested twice for careless and reckless
A Bailey man was arrested twice in one weekend for careless and reckless driving.
According to Trooper Mike Leonard, of the North Carolina Highway Patrol, possible racing on Highway 64 West led to a three-car accident.
Leonard said Christopher Holland of Bailey and Adam Richardson of Hollister were driving at speeds of 90-95 miles per hour on Friday, Setpember 12 when Richardson's vehicle crossed the center line, causing Holland to swerve and run off the road and into an embankment. Richardson ran off the left side of the road and came back onto the road, hitting a pickup truck, causing it to overturn twice. Leonard said the female driver of the truck received minor injuries. More ...
By Amanda Clark, Graphic Staff Writer - 1 opinion posted
Coggins, Smith wed
Amanda Kay Coggins and Timothy James Smith were married Friday, September 26, 2008 at Creek Club at I'ON, Mt. Pleasant, SC. The officiating minister for the ceremony was Dianne Shawver. More ...

Hopper, Ezzell marry
Melissa Belle Hopper and Jerry Lee Ezzell, Jr. were married at 4 p.m., Saturday, September 27, 2008 at Parkwood Baptist Church, Rocky Mount. More ...

Hunter graduates from Strayer University
A Rocky Mount resident recently received a degree online from Strayer University. Tracey Hunter received a Bachelor's Degree in Accounting during a new virtual commencement ceremony designed for 2008 online graduates. More ...

UNC medical student to train under Nashville physician
As clinical assistant professor, Dr. Broderick Bello will take on the role of faculty for the Area L AHEC/University of North Carolina at Chapel Hill School of Medicine family medicine clerkship. For four weeks, each third-year student from the UNC School of Medicine is taught in a community setting as a required part of their medical training. From September 29 – October 24, 2008, Mr. James Fraser will be working at Boice-Willis Clinic – Nashville with Dr. Bello. More ...

Hunter Sykes Bell
Jeremy and Heather Bell announce the birth of their son, Hunter Sykes Bell, born August 25, 2008 at Nash General Hospital in Rocky Mount. He weighed 8 pounds and was 20 1/2 inches long. More ...

Northern Nash Round Table Band Competition is Saturday
The Marching Knights of Northern Nash High School in Rocky Mount will be hosting their 21st annual Round Table Band Competition on Saturday, October 4th.  Bands from around eastern North Carolina have been invited to compete in the competition.  Bands will perform their program on the field and aspects of their music and visual performance will be judged.    More ...
Contributed
Mt. Zion FWB Church News
Sunday was homecoming at Mt. Zion and we had a wonderful day of worship, fellowship and food. In Sunday school, we studied a good lesson on serving others. Our key verse was "The Son of man came not to be ministered unto, but to minister, and to give His life a ransom for many." (Matt. 20:28). More ...
By ROSALENE BASS
Beulah Community News
Sunday school began at 9:45, followed by church at 11:00. Flowers were really pretty and were placed in the church by Frances and Kenneth Massengale. Leader of the junior church was Amy West who also works with the youth on Sunday night. Mary Lee Bass is organist and choir director. Other pianists are Lois Hedgepeth and Bonnie Matthews. More ...
By WILMA ENROUGHTY
Peachtree Community News
Homecoming at Peachtree on Sunday was a glorious day.  It was a time for family and friends to come together and worship.  The Rev. Richard Pridgen, a former pastor, brought a message so suitable to the occasion.  His sermon was titled, "The Church is God's Family".  It was based on scripture found in Ephesians 1.   The choir selection featured David Griffin, whistling solo parts of "Amazing Grace".  This was directed by and accompanied by Jane May, Music Director. The sanctuary flowers were given by Janice and Bobby Sykes in memory of their son-in-law, Tom Barker.  More ...
By BARBARA HARDISON
Who says there's nothing to do around here?
It isn't everyday a national treasure comes to within 30 minutes of your house and invites you over for a visit.
Well, maybe "the invite" is stretching it a bit. But last Friday, one of North Carolina's most famous citizens — Doc Watson — made an appearance at Louisburg College in the school's auditorium.
If that wasn't enough, he shared the stage with another well-known North Carolinian, David Holt. You can't get much more bang for a $25 ticket than that. More ...
Mike Brantley
Ms. Henry at W.L. Greene is most deserving of award
It's been 10 years and almost four months since I graduated from high school. It's been almost six years since I graduated from college. Yet, no matter how much time goes by, there are still a handful of teachers that I will never forget.
Good teachers are like that. More ...
Amanda Clark
Rocky Mount is sneaking up to our back door
Way back yonder in 1997, one of the hot topics at a candidates forum for folks running for Nashville's Town Council was that of the proverbial 900 pound gorilla, i.e., Rocky Mount.
Some folks who were in leadership roles in town with The Business Council, which no longer exists, said it was absurd to even think that Rocky Mount would ever try to come close to interfering with Nashville's growth or try to annex right up to our city limits. More ...
Jo Anne Cooper
Gryphon Ground Work
ROCKY MOUNT - Most area high school soccer teams prefer an aerial offensive attack -- as in send a glory ball downfield, with the hope that a forward will be able to run it down for a scoring attempt.
It's an effective strategy to an extent, but it's not exactly soccer at its highest level, where possession is usual the key to success. More ...
By Geoff Neville, Graphic Sportswriter
Hornets Bested By Rocky Mount
NASHVILLE -- Jim Glover can't remember the last time -- if ever -- that both Nashville Hornets' squads were shut out in the same day.
But it happened last Saturday as the Hornets' varsity and JV clubs were both unable to score against a powerful Rocky Mount contingent. More ...
By Geoff Neville, Graphic Sportswriter
N. Central will host FCA event
ROCKY MOUNT -- Nash Central High School will host a Fellowship of Christian Athletes Evening of Champions on Nov. 5
Dinner will begin at 6 p.m., followed by a program at 7 p.m.
Guests will include Albert Long (last four-sport letterwinner at the University of North Carolina-Chapel Hill); Ron Lievense (Barton College Men's Basketball Coach) and Tanya Crevier (known as the world's greatest ball-handler). More ...
From Staff Reports
NCWC sets marks in win
RED OAK -- Tailbacks Stedman Mathis and Antonio Harris combined for 330 rushing yards and five touchdowns last Saturday afternoon as the Battling Bishop football program earned its unprecedented 12th consecutive USA South victory with a 42-0 pounding of Methodist University at the Northern Nash Football Complex. More ...
From Staff Reports
Back To Crudup's Future
ROCKY MOUNT -- When he took the head football coaching job at Nash Central High in the off-season, Kevin Crudup desired to bring some of the successful intangibles that he learned during his days as a player at Bunn under David Howle.
Crudup has done exactly that as his Bulldogs, after a stunning, lopsided loss to Tarboro to begin the season, have rattled off four consecutive on-field victories. More ...
By Geoff Neville, Graphic Sportswriter
Hudgins a record breaker in SoCon
ELON -- Breaking records is becoming old hat for former Rocky Mount High School quarterback Terrell Hudgins, the 2005 NCHSAA Male Athlete of the Year.
He has virtually every passing record at RMHS.
As a redshirt junior wide receiver, he's torn apart Elon's record book. More ...
By Charles Alston, Graphic Correspondent
Northern Nash nabs a final-second victory
RED OAK -- For the most part, Northern Nash's current crop of seniors had never tasted a varsity football victory -- until last Friday evening.
Coming off a game that got away from the Knights at Bertie, they found the resolve to pull out a wild 20-15 win over Southern Vance at Death Valley for their first victory, technically, since the start of the 2007 season. A forfeit by Wilson Beddingfield to open the season gave the Knights a win -- with an asterisk. More ...
By Charles Alston, Graphic Correspondent
Nash Central claims pair
ROCKY MOUNT -- Nash Central posted two volleyball wins last week -- both in NEW 6 Conference action.
Last Thursday, the Bulldogs bested visiting SouthWest Edgecombe 3-1, and earlier in the week, NCHS handed cross-county rival Southern Nash a 3-0 defeat. More ...
By Kent Wheeless, Graphic Correspondent
Rocky Mount rolls to a win over Southern Wayne
ROCKY MOUNT -- Rocky Mount High football fans had been waiting for a breakout effort from junior running back Marquavis Alston.
A Homecoming crowd at the Rocky Mount Athletic Complex last Friday evening saw just that -- and more. More ...
By Charles Alston, Graphic Correspondent
Mudcats align with Cincinnati
ZEBULON -- Last Friday afternoon, the Double-A Carolina Mudcats and National League's Cincinnati Reds jointly announced the signing of a two-year player development contract running through the 2010 season.
Additionally, the Mudcats will be hosting a major league exhibition game with the Reds on Friday, April 3, 2009 at Five County Stadium. More ...
From Staff Reports
Nash County splits with SW Edgecombe
PINETOPS -- Grant Jones picked up a pair of rushing touchdowns and Zack Foster added another as the Nash County Firebirds picked up a 24-18 victory last Saturday at SouthWest Edgecombe in youth football action.
Both of Jones' touchdowns came in the first half, which closed with the Baby Birds holding a 16-12 advantage against the Cougar Cubs. More ...
From Staff Reports
Auditions for "A Christmas Carol" begin
Nash Arts is gearing up for a busy fall and holiday season. Following are events planned at the center located in downtown Nashville.
Auditions for the annual presentation of "A Christmas Carol" at Nash Arts will be held Wednesday, October 1 and Thursday October 2 from 7-9 p.m. This year's theme is based on the traditional story. The producers are seeking actors, singers, piano players and dancers. All ages welcome, 10 - 80! Call 459-4734 for more details. More ...

CORA LARKINS
NASH COUNTY - Cora "Piggy" Larkins, 62, passed away Friday, September 26, 2008. More ...

J.P. MANLEY
ENFIELD - J.P. Manley, 79, passed away on Thursday, September 25, 2008. Funeral services will be held on Wednesday, Oct.1 at 2:00 p.m. at Pleasant Grove Baptist Church with Rev. Thomas Richardson officiating. Burial will follow in the Pleasant Grove Baptist Church Cemetery. More ...

ROBERT PAGE YARBOROUGH
NASH COUNTY - Robert Page Yarborough, son of the late Mary and Robert Yarborough, was born on October 29, 1947 in Nash County. He passed away Saturday, September 20, 2008 at his home. More ...

SIDNEY C. MILLS
NASHVILLE - Sidney C. Mills, 75, passed away on Thursday, September 25, 2008 at Nash General Hospital. More ...