Subscribe/Access
Advertisements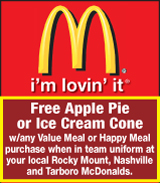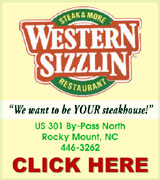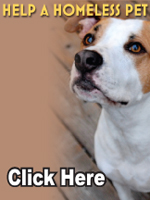 Sections
Member Options
Back
Body found in Castalia home
A man's body was found in a Castalia home early Monday morning.
Nash County Sheriff Dick Jenkins said the incident is being investigated as a suspicious death and an autopsy will be conducted on Tuesday.
"Hopefully we'll find out the cause," Jenkins said. More ...
By Amanda Clark, Graphic Staff Writer
Board picks local architect for new RM high school
The Nash-Rocky Mount Schools (N-RMS) board chose the Oakley Collier (OC) and Fanning-Howey (FH) architectural team to design the new Rocky Mount high school at their meeting Monday night with a vote of 10-1.
The main reason for their choice, many board members stated, is because Oakley Collier is a Rocky Mount firm. OC explained in their presentation to the board in last month's work session that FH, a national firm with experience designing large urban high schools, would be doing the actual design work, all of the work on the front end of the project. More ...
By Michele Cruz, Graphic Correspondent

Manly Wilder

4-H HALL OF FAMERS
Nash County 4-H held its First Annual Gala on Monday night, naming four long-time supporters to its Hall of Fame.
Peggy and Joe Enroughty, along with Wilmer A. "Sonny" Brantley and Manly Wilder, were all honored as the first recipients to the Nash County 4-H Hall of Fame.
Barbara High Tyre, 4-H Gala Committee Chair, presented the Hall of Fame Award for the Enroughty's. Tyre said Peggy Enroughty always had a smile on her face and was always willing to do what was needed for 4-H. More ...
By Amanda Clark, Graphic Staff Writer
Nash County 4-H holds first Gala
Peggy and Joe Enroughty were named to the Nash County 4-H Hall of Fame on Monday night. Pictured (L-R) is Joe Enroughty with his daughter, Susan, who accepted the award on behalf of her deceased mother. Both Peggy and Joe were involved with 4-H for many years. More ...

Spring Hope makes ordinance changes
At their regular business meeting, Spring Hope Commissioners amended two town ordinances. The move took place on Monday, September 8 in the chambers of the new town hall.
After a public hearing held during the course of the meeting, commissioners amended a zoning regulation to allow chain link fences to be installed in the back of houses in the Spring Hope area. Previously, such fences had been prohibited in the town. More ...
By Amelia Harper, Graphic Correspondent
Nash Health Board approves changes to ECC
The Nash Health Care Board approved a proposal during its meeting last week that could help make the emergency care center more efficient.
Leslie Hall presented to board members an update on the emergency care center, or ECC. "The biggest issue we continue to face is volume," Hall said. More ...
By Amanda Clark, Graphic Staff Writer
Nash County holds public hearing on '09 revaluations
Nash County's Board of Commissioners will move forward with adopting the 2009 Revaluation Schedule of Values, following a public hearing on Monday.
Though no citizens came before the board to speak on the revaluations, Commissioner Robbie Davis questioned whether the schedule of values would be valid if the economy did not improve. Rountree said despite the slump the housing economy is in nationwide, Nash County hasn't been hit as hard. In fact, property values have increased. Rountree said figures for how much property will go up with this revaluation were not ready to be made public just yet. More ...
By Amanda Clark, Graphic Staff Writer
Nash reports minor damage from Hanna
Tropical Storm Hanna caused little damage in Nash County as it came through Eastern North Carolina early Saturday morning.
Brian Brantley, Emergency Services Director, told Nash County Commissioners during its regular meeting on Monday, that all county departments responded well to the storm.
"It was a pleasure to see all the agencies come together," Brantley said. More ...
By Amanda Clark, Graphic Staff Writer
NASHVILLE POLICE BRIEFS
ARRESTS
Christopher Shelton Jones - 9/4/08 - charged with stalking
Anthony Richshawn Wilder - 9/8/08 - charged with failure to appear for assault on a female More ...

Castalia looks at updating ordinances
Castalia commissioners spent much last Tuesday's regular business meeting discussing the best way to accomplish updating the town's ordinances and zoning ordinances. In the meeting, which was held on September 2, Mayor Ellene Leonard said that "there is much discussion that we are not satisfied with our ordinances and zoning ordinances and that the planning board feels that it needs to be updated." More ...
By Amelia Harper, Graphic Correspondent
Rocky Mount Fair open through Saturday, September 13th
ROCKY MOUNT – The 2008 running of the annual Rocky Mount Fair is set to start on Monday September 8, 2008 with the fair gates officially opening at 4 p.m. This marks the first time in over 25 years that the fair has operated during the early part of September. The 2008 fair will operate for six days through Saturday September 13. More ...

CROP Program receives new telemetry equipment
New state-of-the-art telemetry equipment will provide exercise specialists with a valuable tool to help rehabilitation patients at Nash Health Care. The equipment is used as a part of the Cardiopulmonary Rehabilitation Program (CROP), housed at the HealthFirst Rehabilitation and Fitness Center. CROP is a state-regulated, medically supervised and EKG-monitored program designed for individuals with cardiovascular and pulmonary-related complications. Patients enrolled in the CROP program may have had previous heart attacks, angina or coronary by-pass surgery and/or pulmonary (lung) complications such as COPD, asthma or emphysema. More ...

Harper, Haselden marry
Hilary Ann Harper and Brett Jeremy Haselden were married Saturday, August 2, 2008 at First Baptist Church, Spring Hope. The officiating minister for the 6:15 p.m. ceremony was Chris Ehrlich.
The bride is the daughter of Mr. and Mrs. Craig Harper, of Spring Hope. More ...

Hernandez, Evans unite in marriage
Mara Lisa Hernandez and Thomas Nead Evans were married Saturday, August 2, 2008 at Elm Grove Baptist Church, Nashville. The officiating minister for the 7 p.m. ceremony was Rev. Mike Edwards.
The bride is the daughter of Teresa Turner, of Morrisville and David Hernandez, of Watsonville, CA. The groom's parents are Keith and Ann Evans of Nashville. More ...

Ephesus Community News
The Pregnancy Care Center's 18th Annual walk For Life will be held on September 20 at 9:15 a.m. at Englewood Park. Call Margie Collie for more details. More ...
By LOTTIE LOU DICKENS
Mt. Zion FWB Church News
On Aug. 31, we had 94 including 2 visitors in Sunday school. Welcome to each of you. The pretty roses were given in memory of Curtis Batchelor by his family. Thank you, Mozelle. More ...
By ROSALENE BASS
Brooklyn Community News
The Brooklyn Area Community Watch would like to thank the Boys & Girls Club and The Nashville Progressive Men Club for helping make our 4th Annual School Expo on August 1, a success. Thanks to some of the community mothers that walked at least a mile to get their children school supplies, and the other parents from near and far. 77 kids from the community and surrounding area attended, 34 from Nashville Boys and Girls Club. This was our largest group yet. More ...
By LENA SESSOMS
Church hosts annual car show
The sun rises over a glistening fountain dotted on the fringes by…polished chrome, roaring engines, smooth Harley seats, and boxes full of canned food? Doesn't sound like your everyday August sunrise, but for Fellowship Church of Nashville, this set the perfect scene for 2008's Second Annual Auto Show and Food Drive- held on August 9th and hosted by the Blazin' Chariotz Christian Car Club. Under the leadership of Elder Glenn Ricks of Fellowship Church, Blazin' Chariotz is not your typical "run of the mill" ministry team. This club seeks to spread the Gospel of Christ to our local area in style. "We're not just a car club, we're a ministry," said Glenn Ricks. More ...
Special to The Graphic
Peachtree Community News
The storm, Hanna, passed over on Friday night and brought with it a blessed rain- around 4 inches. Thankfully there were no severe winds and very few power outages. Peachtree Community was very fortunate. More ...
By BARBARA HARDISON
Beulah Community News
Thank you all for attending the fish fry on Friday night. We really had a great turn out, especially since the weather was rainy and uncertain conditions. Also thank all those who helped with the fish fry. More ...
By WILMA ENROUGHTY
Red Oak Community News
Red Oak Baptist Church hosted a celebration for Rev. and Mrs. Rucker Burnette at the Red Oak Middle School on Saturday, Aug. 30. The celebration was in recognition of Rev. Burnette's retirement. He had served Red Oak Baptist Church faithfully as pastor for 33 years. More ...
By SUZY PEARCE
Locals elected to NCC Board of Trustees
Nash Community College recently announced that Gerald P. Cox of Rocky Mount was re-appointed to the Board of Trustees by the Nash County Board of Commissioners for his third full term. Cox is the President and Chief Executive Officer of Autumn Corporation based in Rocky Mount and past chairman of the board of trustees for Nash Community College. More ...

Nash County Blood Drives for September 2008
Monday, 9/15/08 from 4 p.m - 8 p.m. at Castalia Volunteer Fire Department, 11065 Lancaster Store Rd, Castalia
Tuesday, 9/16/08 from 4 p.m. - 8 p.m. at Cooper's Volunteer Fire Department, 3628 Volunteer Rd, Elm City More ...

Gamma Tau News
The Gamma Tau chapter of Alpha Delta Kappa will resume its monthly meetings in September with new officers for the 2008-2010 biennium. President Joe Green will preside over the 35 women-educator members with her slate of officers. President-elect: Billie Odum, Vice President: Catherine Flye, Recording Secretary: Beth High, Corresponding Secretary: Theresa Nettin, Treasurer: Sandy Fretz, Historian: Patricia Powell, Sergeant-at-Arms: Anita Turner, Chaplain: Roslyn Gragg, and Immediate Past President: Kay Hargrove. More ...

Why talk about one topic when there are so many?
As I mentioned a few weeks ago, there are so many interesting "episodes" and comments going around my house these days, I'd try to keep a running update here before I forget them.
Here are a few recent samples from my three-year-old, Kent:
•Riding up I-77, we pass a shopping center. Kent who cannot read, leans over to his sister, after pointing to a well known pet store chain in the shopping center.
"Hey, Holly [his 8-year-old sister], is it Pets Mart or Pet Smart?" More ...
Mike Brantley - 2 opinions posted
What else would you expect at a college football game?
I'm not a huge football fan but I do like to keep up with my Pirates as well as the Tarheels and in pro football, the Panthers.
East Carolina is my Alma mater. I am proud to be a graduate and even prouder of the accomplishments ECU has made in athletics. This weekend was no exception.
ECU beat up on West Virginia on Saturday and ended the game with a 24-3 victory. This puts the Pirates at 2-0 for the season so far, which is pretty exciting for Pirate fans. More ...
Amanda Clark
Doom and gloom predictions are far cry from reality
You've probably heard the gloom and doom stories about some of the corporate-owned newspapers across the nation having to cut costs by reducing staff and some even outsourcing their circulation departments and ad sales to overseas companies. Some of the corporations are tossing their community newspapers and some dailies on the market to be sold.
All markets are going through some tough times, but honestly, not as tough as what some of the reports from the corporate chains might make you think. More ...
Jo Anne Cooper
Spike Standouts
BUNN - With five starters returning, the expectation levels were high this fall for the Northern Nash High School volleyball squad.
The Lady Knights have lived up to that promise early on, playing a competitive match last Wednesday at Bunn before coming back one day later and collecting a NEW-6 Conference victory over the Rocky Mount Lady Gryphons. More ...
By Geoff Neville, Graphic Sportswriter
Firebirds rally past Warren
STANHOPE -- Southern Nash got its first football victory of the season last Thursday with a 21-18 win over Warren County at Firebird Stadium.
The game, along with contests at Nash Central and Northern Nash, were moved up to Thursday from Friday due to the bad weather expected in the area with Tropical Storm Hanna. More ...
By Charles Alston, Graphic Correspondent
Rocky Mount forfeits game
ROCKY MOUNT -- Normally, Rocky Mount's highly touted football program makes headlines on the field.
Last week, it made them off the field -- twice, no less.
For the first time in school history, the football program has had to forfeit a game due to the use of an ineligible player. Rocky Mount High School and Nash-Rocky Mount Schools combined to issue a release last Friday that one of its football players was ineligible when he participated in the Gryphons' season-opener -- a 43-14 endowment game win over East Forsyth Aug. 22. More ...
By Charles Alston, Graphic Correspondent
Southern wins pair on court
STANHOPE -- Southern Nash's volleyball team claimed the final two games and went on to defeat Nash Central during a NEW-6 Conference girls volleyball matchup last Thursday at the SNHS Gymnasium.
Scores were 25-23, 21-25, 25-15, 25-18 in Southern Nash's favor.
The victorious Ladybirds are now 3-3 overall to go with a 1-0 league mark. More ...
From Staff Reports
NC Wesleyan drops regular season opener
RED OAK -- The North Carolina Wesleyan football team opened its 2008 season on Sunday afternoon, dropping a 33-23 contest to the visiting Tigers of Hampden-Sydney at the Northern Nash High School Football Complex.
Both teams showed signs of first-game jitters as the two squads combined for 11 turnovers on the day. More ...
From Staff Reports
Mudcats edged in finals of SL
ZEBULON -- Twelve-year minor league veteran catcher J.C. Boscan hit a run-scoring double to right field in the top of the 10th inning to score Van Pope from first base, lifting the Mississippi Braves to a Game 1 Southern League Championship Series victory over the Carolina Mudcats 5-4 Monday night at Five County Stadium in front of 1,183 fans. More ...
From Staff Reports
PATRICIA L. HOWARD
ROCKY MOUNT - Patricia L. Howard, 42, passed away Friday, September 5, 2008 at Heritage Retirement Center, Rocky Mount. Funeral arrangements will be announced by H.D. Pope Funeral Home. Condolences may be sent to www.hdpopefuneralhome.com. More ...

HAYWOOD L. FOSTER JR.
LOUISBURG - Haywood L. Foster Jr., age 53, passed away Saturday, August 30, 2008. Funeral services were held Saturday, September 6, 2008 at 1:00 at Perry's School Alumnae Building with Rev. Bishop Geanie Perry officiating. Burial followed in the Foster family cemetery. More ...

WILLARD HERMAN COPPEDGE
ROCKY MOUNT - Willard Herman Coppedge, 86, passed away on September 8, 2008 at his home in Rocky Mount. He was born March 3, 1922 in Nash County to the late Joseph and Annie Lou Braswell Coppedge. He is preceded in death by three sisters, Pearl Bowden, Martha Wester and Onea Aycock; and one brother, Harvey Coppedge. More ...

HERBERT CYRUS JR.
EAST ORANGE, NJ - Herbert Cyrus, Jr., 73, formerly of Hollister, passed away Saturday, September 6, 2008. Funeral services will be held on Saturday, September 13, 2008 at 2 p.m. from Pleasant Grove Baptist Church, with Rev. Thomas Richardson officiating. Burial will follow in the church cemetery. More ...

JULIAN RAY THOMAS, JR.
ROCKY MOUNT - J. Ray Thomas, Jr., 47, died Monday, September 1, 2008. Mr. Thomas was born in Nash County. He is survived by his wife of twelve years, Melissa Miller Thomas. Ray was preceded in death by his beloved mother, Susie Thomas and brother, Robert Mitchell Thomas. More ...

LUCILLE RICHARDSON
NASH COUNTY - Lucille Richardson, age 79, formerly of Bayonne, NJ, passed away Sunday, August 31, 2008. Funeral services were held on Sunday, September 7, 2008 at 2:30 p.m. at Pleasant Grove Baptist Church with the Rev. Thomas Richardson officiating. Burial followed in the church cemetery. More ...


NASHVILLE - Dr Bill Hancock, of Nashville NC, died on September 2nd, 2008. He was born on January 18th, 1932 in Belton, "Anderson County" South Carolina to the late James Ansel and Nellie Eufaula Ingram Hancock. He was preceded in death by his daughter Patricia Anne Hancock, two of his sisters: Catherine Cotton and Nancy Hancock, four brothers: John Hancock, Wilton Hancock, Jack Hancock, and David Hancock. More ...

JONAS SMITH
ROCKY MOUNT - Jonas Smith passed away Friday, September 5, 2008 at Nash Rehabilitation and Nursing Center, Inc., Rocky Mount. More ...

ERNEST RICHARDSON
HOLLISTER - Ernest "Big Ernest" Richardson, 72, passed away Saturday, August 30, 2008. Funeral services were held on Saturday, September 6, 2008 at Pleasant Grove Baptist Church at 2:00 p.m. with the Rev. Thomas Richardson officiating. Burial followed in the Richardson family cemetery. More ...

CARVIE LYNCH
HACKENSACK, NJ - Carvie Lynch, age 73, formerly of Enfield, passed away on Thursday, August 28, 2008. Funeral services were held on Wednesday, September 3, 2008 at 2:00 p.m. at Pine Chapel Baptist Church with Rev. Robert Hedgepeth officiating. Burial followed in the church cemetery. More ...