Subscribe/Access
Advertisements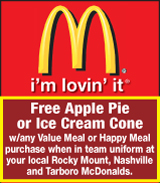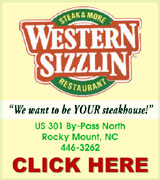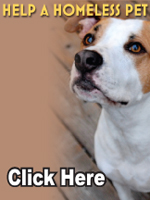 Sections
Member Options
Back
East Coast Equipment to build in Nashville
A John Deere Sales and Service business is making plans to locate in Nashville.
East Coast Equipment, LLC will locate on three acres of land off of Eastern Avenue, just outside of the city limits. Nashville's Board approved a request Tuesday night to rezone the property from agriculture to general business. The business will be located across from Kamlar Drive on the edge of Fairway Homes, a mobile home dealership. More ...
By Amanda Clark, Graphic Staff Writer
Child shot during domestic dispute
An 11-year-old boy was shot on Saturday after a domestic dispute between the boy's parents.
According to Lt. Pat Joyner, of the Nash County Sheriff's Office, Bonaga and Bobby Drake, of 2593 West Castalia Road, were arguing when Bonaga allegedly grabbed a gun and threatened to kill herself. Joyner said Bobby grabbed the gun out of Bonaga's hand and asked her how she would shoot herself with a gun that wasn't loaded. Bobby then allegedly pointed the gun at the wall and shot it, thinking it was not loaded. The gun went off and fired through a wall of the home, hitting the couple's 11-year-old son. More ...
By Amanda Clark, Graphic Staff Writer - 1 opinion posted
Criminal Justice Camp
Trooper M.C. Horne, of the North Carolina Highway Patrol, speaks with Nash County youth at a Criminal Justice Camp last week. Horne, along with Trooper M.W. Hill, flew the Highway Patrol Helicopter to NCC's Training Field to talk to the youth about what services the helicopter provides. The week-long camp was taught by the Nash County Sheriff's Department. More ...

Town hall design is presented to council
A preliminary design of Nashville's Town Hall was presented to council members Tuesday night during its regular board meeting.
Ann Collier, of Oakley Collier Architects, presented a first draft of the proposed 3,974 square foot facility, which will be located on Barnes Street next to the current Fire and Police Department. Collier said a site plan had not been developed yet. More ...
By Amanda Clark, Graphic Staff Writer - 1 opinion posted
Nash okays $2 million for new Rocky Mount High design funds
Nash County's Board, in a 4-3 vote, authorized the Nash-Rocky Mount School System to move forward with architectural services for a new Rocky Mount High School.
The new school will be built on 60 acres on Bethlehem Road in the City of Rocky Mount. Rick McMahon, Superintendent of N-RMS, came before the county board during its regular meeting Monday requesting authorization to move forward with the design phase of the project. More ...
By Amanda Clark, Graphic Staff Writer
Masked men force drivers off road
The Nash County Sheriff's Office has received two separate reports of a black SUV running lone females off the road in rural Nash County.
According to Lt. Pat Joyner, a call was received around 6:15 a.m. on Tuesday morning from a female who said a black SUV pulled into her lane causing her to run off the road on NC 33. The woman was on her way to work. She described the SUV as black with dark, tinted windows and occupied by two black males with white hoods over their faces. More ...
By Amanda Clark, Graphic Staff Writer - 3 opinions posted
Fields and Cooper buys theater building in downtown Nashville
The Law Offices of Fields and Cooper, PLLC will soon be moving to another downtown location.
Nash County's Board authorized the purchase of the current location, at 113 Court Street, following a closed session on Monday. With the purchase of the law office, the county now owns all the buildings on the block from Court Street to Boddie Street, with the exception of the Nashville Town Hall. More ...
By Amanda Clark, Graphic Staff Writer
Nashville Fire receives $60,000 AFG grant
Nashville's Fire Department recently received a grant that will go towards purchasing an automatic sprinkler system for the newly renovated Fire and Police Station.
The department received $60,000 from the Assistance to Firefighter's Grant, or AFG. The town will contribute the five percent match towards the grant, or $3,000. More ...
By Amanda Clark, Graphic Staff Writer
Few N-RM schools achieve AYP for 07-08 school year
According to preliminary data released at the end of July by the state Department of Public Instruction (DPI), five of 28 schools in the Nash-Rocky Mount Schools' (N-RMS) system achieved Adequate Yearly Progress (AYP) last school year.
Four N-RMS schools that made AYP for 2007-08 are Bailey, Middlesex, Pope, and Swift Creek elementary schools. Red Oak Elementary is a K-2 feeder school that does not participate in grades 3-8 testing, so its status is equal to the school it is linked to, Swift Creek. More ...
By Michele A. Cruz, Graphic Correspondent
NASHVILLE POLICE BRIEFS
ARRESTS
Kelly Elizabeth Finch - 7/05/08 - charged with DWI; damage to property
Jesse Nicholson Gray - 7/5/08 - charged with assault on a female
Charles Arthur Whitley, Jr. - 7/8/08 - charged with assault on a female More ...

Grant targets gang prevention
United Way, Nash County Sheriff's Department and Rocky Mount Police Department have received a $131,247, two-year grant, from The Governor's Crime Commission, to establish a program that educates about and helps prevent gangs in our community. GRASPP (Gang Resistance, Awareness, Suppression & Prevention Program) will have several major components, including education and awareness training, web site development and community marketing, a gang intervention team and a graffiti reduction plan. More ...

Red Oak opts to buy stoplight
At the regular August business meeting held on Monday, August 5, Red Oak Commissioners voted to spend a total of $45,000 in order to convince NC Department of Transportation to install a stoplight at the intersection of Old Carriage Road and Hwy. 43. Commissioners hope that the new light can be installed within the next two months. More ...
By Amelia Harper, Graphic Correspondent
Wal-Mart employee recognized for helping catch armed robbers
A Wal-Mart employee was recognized by Nashville's Town Council and Police Department Tuesday night for his role in capturing armed robbers on July 26.
Police Chief Bill Creech said employee William Currin was outside in his car on his break around 2:30 a.m. when four men allegedly entered Wal-Mart and demanded money. The store was closed but the stocking crew was at the store. Two of the men had guns, Creech said. A fifth suspect was outside waiting in the car. More ...
By Amanda Clark, Graphic Staff Writer
Ayala, Strickland unite in marriage
Maria de La Luz Ayala and Matthew Paul Strickland were married Saturday, June 1, 2008 at Nashville Baptist Church, Nashville. The officiating minister for the 4 p.m. ceremony was Rev. Jason A. Gault. More ...

BIRTHS
Billy and Angela Henry of Castalia are proud to announce the birth of their daughter, Mallory Grace Henry, born June 12, 2008 at Nash General Hospital in Rocky Mount. She weighed 8 pounds, 1 ounce and was 20 inches long. More ...

Red Cross honors volunteers, local hero at annual meeting
The Frederick E. Turnage Chapter of the American Red Cross held its Annual Meeting for volunteers, donors and Board Members last Wednesday evening at the Chapter offices at 326 S. Franklin Street. During the meeting American Red Cross Regional Executive Lynwood Roberson provided a statistical review for the year. From the period July 1, 2007 through June 30, 2008 the American Red Cross Frederick E. Turnage Chapter responded to 140 single family disasters serving 488 individuals; the Chapter trained 4,557 individuals in life saving CPR and First Aid; assisted in collecting 11,792 pints of blood which served 35,376 individuals; and provided 255 emergency messages for local families with members serving in the Armed Forces. More ...

Red Oak Park nears completion
The W.B. (Bill) Ennis, Jr. Memorial Park in Red Oak is nearing completion and a ribbon cutting is planned for September.
According to Sue Yerkes, Nash County Parks and Recreation Coordinator, the completion date was initially set for July 18 but due to rain, the date was pushed back some. But for the most part, Yerkes said, the park is complete. More ...
By Amanda Clark, Graphic Staff Writer
Cliff Joyner elected to serve on CFIC Board of Directors
Cliff Joyner, of Nashville, was elected to serve on the 2008-2009 Board of Directors for the Carolinas Food Industry Council (CFIC). The formal announcement was made during the CFIC Fourth Annual Convention held July 24-27 at the Hilton Resort in Myrtle Beach, South Carolina. More ...

UNC medical students to work at Boice-Willis Clinic
As clinical assistant professor, Dr. Broderick Bello will take on the role of faculty for the Area L AHEC/University of North Carolina at Chapel Hill School of Medicine family medicine clerkship. For four weeks, each third year student from the UNC School of Medicine is taught in a community setting as a required part of their medical training. More ...

Peachtree Community News
August with all of its oppressive heat has arrived. Most people- especially- the farmers – are longing for some cooling showers to quench the thirsty fields. Many folks are trying to escape the heat by going on vacation. They want to get away so that they can "recharge their batteries" before school opens and all of the busy activities of fall begin. More ...
By BARBARA HARDISON
Castalia Baptist & Community News
This past weekend at CBC was Friend Day. Not that you need a set Sunday to come to CBC, but this was a special time to invite that someone. It all started on Saturday night with a great time of fellowship and music featuring The Smith Brothers and Friends. They are group of Christian men from the surrounding area spreading the word of God through music. More ...
By LISA R. JORDAN
Red Oak Community News
Tonia Taylor and the Adult II Sunday School Class of Red Oak Baptist Church honored Rev. Rucker Burnette with a retirement party at Nash Grove Manor on Tuesday, July 29. Tonia planned the party with balloons, cake, ice cream, chips, and drinks. Everyone enjoyed this special time together. Those attending included Rucker Burnette; Jim, Rachel, and Isaiah Upchurch; Jim and Jackie Ennis; Steve and Mary Jones; Carla Smith; Audrey Pearce; Suzy Pearce; Jean Mellor; Maribeth Wooten; and Nell Boone. More ...
By SUZY PEARCE
Ephesus Community News
Rev. Dougald McLaurin's message on Sunday morning was "Every Day with Jesus", taken from 2 Peter 3:14-18 and we were blessed. More ...
By LOTTIE LOU DICKENS
Mt. Zion FWB Church News
We had 87 in Sunday school today. I shared some of my pretty zinnias from my yard for the flowers today. They were colorful. More ...
By ROSALENE BASS
Brooklyn Community News
On July 17, 2008 I attended a very informative health fair, sponsored by Dr. Yasmin Heater. I did not know who I would meet but to my surprise, I saw old classmates, family and friends of the community. I had a great time. We were treated with the utmost courtesy and the staff went the extra mile to ensure that we were comfortable. More ...
By LENA SESSOMS
Beulah Community News
Thank you all for your attendance at our monthly fish fry. We had a really great turnout. We really enjoyed the fellowship with you all. More ...
By WILMA ENROUGHTY
Ministry to host back to school bash
CEM Ministries will present the third annual "Back to School with Jesus Bash" on August 22, 23 and 24 at Ebenezer Pentecostal Holiness Church.
Staff will provide bags of school supplies, relevant to each child's grade level, as recommended by the Nash County-Rocky Mount Education Board's website. More ...

It's just a cell phone, right?
The iPhone by Apple is "just" a cellphone, right?
I mean, it doesn't make you smarter, make you more money, attract the ladies/fellows, or come with a person who cleans your house and takes care of your children, right?
The reason I ask is that I was at the Apple Store in Durham a couple of weeks ago and there were half a dozen people waiting outside — in the rain — to purchase an Apple iPhone on a Monday morning. More ...
Mike Brantley - 1 opinion posted
Can it be true the big 3-0 is sneaking up on me?
I have a birthday coming up this month and it's made me realize that I am officially not young anymore.
The cut-off point for being considered young is 25. I discovered that recently and was a little upset because I didn't realize it until now and had I known, I would have celebrated my 25th birthday a little harder. But instead, I will soon celebrate veintiocho anos, which is Spanish for 28 years. More ...
Amanda Clark - 1 opinion posted
Officer's actions were inexcusable
Dear Editor,
My name is William Sereday. I prefer to be called "Bil." On August 2, 2008 after a day of shopping with my daughter and grandchildren, my daughter decided to get in her car and head home. It was between 7:30 and 8:30 p.m. when she had left. About 15-20 minutes later she called me from her cell phone and informed me there was a police car behind her. My daughter's a very careful driver, especially with her children aboard. She had just turned at Strickland's Crossroads onto 97 heading towards Stanhope. More ...
Letters to the Editor
It's Nash Rec -- Again!
ROANOKE RAPIDS - When it matter most, the Nash Rec Swim Team came away with yet another league title.
After dropping two matches during the regular season, Nash Rec came to last Saturday's Nash-Halifax Swim League Championships in the uncharacteristic role of an underdog.
Westridge had gone through the summer without suffering a loss, and host Roanoke Valley was loaded with talent and depth. More ...
By Geoff Neville, Graphic Sportswriter
Northern will open August 20
RED OAK -- Northern Nash will open its boys soccer season Aug. 20 at home against non-league foe Northern Vance.
The Knights, coached by Joe McCarthy, will have a tough early-campaign schedule to get ready for the rigors of their NEW-6 Conference worksheet.
NN will take part in the annual Brittany For The Boys Soccer Showcase on Aug. 23 in Wilson. The Knights will also compete in the eight-team Franklinton High School Tournament from Aug. 26-30. More ...
From Staff Reports
Mudcats soaring in first place in SL
SEVIERVILLE, TENN. -- First-place Carolina built up a 14-1 lead and stiffarmed a second-place Tennessee rally as the Mudcats took a three-game divisional lead with a 15-11 win Sunday night at Smokies Park in a Class AA Southern League diamond meeting.
Gaby Sanchez homered twice and drove in six runs while Dante Brinkley had four hits to lead Carolina (26-17) past the Smokies (23-20) for the second straight night. More ...
From Staff Reports
GENEVA JOYNER BAKER
NASHVILLE – Geneva Joyner Baker, 90, passed away Wednesday, July 30, 2008. She was born September 15, 1917 to the late John and Della Weaver Joyner; In addition to her parents, she was preceded in death by her husband, Lacy L. Baker; her sisters, Lessie Joyner, Maggie Latta, and Mamie Boyd; her brothers, Paul and Silas "Red" Joyner, son-in-law, Mitchell Tyson; daughter-in-law, Ginger Baker. More ...

MARY ELIZABETH SINGLETARY BENSON
BATTLEBORO - Mary Elizabeth Singletary Benson, 95, passed away, Thursday, July 31, 2008. She was born January 10, 1913 in Bladen County. Survivors include one daughter, Sarah Segura and husband Daniel of Battleboro, one brother, Steve Singletary and wife Eunice of Clarkton, two sisters, Jane Sampson and husband Russell of Terril, Iowa, Betsy Tilley and husband Ray of Granite Falls, NC, sister-in-law, Virginia Singletary of Clarkton, NC, three grandchildren, and four great-grandchildren. More ...

DORIS ANN BROOKS
NASHVILLE - Doris Ann Brooks, 71, passed away, Wednesday, July 30, 2008. She was born May 7, 1937 in Nash County. She was the daughter of the late Phillip Henry and Martha Arnold Rogers. She was preceded in death by her husband, James Brooks, three brothers and two sisters. More ...

JOSHUA LEE FOSTER
NASHVILLE - Joshua Lee "Josh "Foster, age 27, passed away on Thursday, July 31, 2008. Funeral services were held Sunday, August 3, 2008 from Union Hill Baptist Church. Burial followed in Oakland Cemetery. More ...

ROBERT "BOB" RAY KELLER
CASTALIA - Robert "Bob" Ray Keller, 79 died on Wednesday, July 30, 2008. He was born in Avery County April 21, 1929 to the late Dan and Sylena Anderson Keller. More ...

BRUCE LEE GRAY
ROCKY MOUNT - Bruce Lee Gray, age 55, passed away Monday, July 28, 2008 at Nash Health Care Systems. More ...

BOBBY LEWIS JOYNER
ROCKY MOUNT - Bobby Lewis Joyner, age 55, passed away on Sunday, July 27, 2008. Funeral services were held on Thursday, July 31, 2008 from the Richardson Funeral Home Chapel with the Bishop Wallace Baines officiating. Burial followed in the Baker Cemetery. More ...

THURMAN ZACKARY LAMM
BAILEY - Thurman Zackary Lamm, age 78, of 3766 Strickland Rd., passed away Friday, August 1, 2008 at Nash General Hospital in Rocky Mount. Funeral services were held on Sunday, August 3, 2008 at 7:00 p.m. in the chapel of Shingleton Funeral Home in Wilson, conducted by Rev. Shelton Whitman. More ...

INEZ GEAR LANCASTER
ROCKY MOUNT - Inez Gear Lancaster, age 74, passed away on Tuesday, July 29, 2008 at Nash Health Care Systems. More ...