Subscribe/Access
Advertisements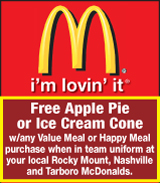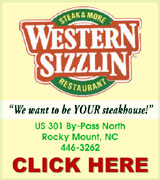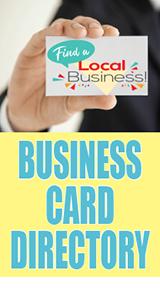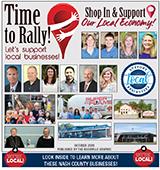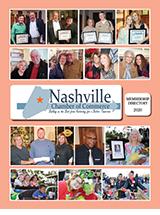 Sections
Member Options
Back

Diana Alejandra Keel, 38, was reported missing Saturday. (Contributed photo)

Missing woman's body found


Friends and family are mourning the loss of a 38-year-old mother whose body was found Tuesday.
Diana Alejandra Keel was reported missing on Saturday, March 9 by her daughter, who is away at college and had not heard from her mom. According to the Nash County Sheriff's Office, she was last seen by her husband, Lynn Keel, on Friday, March 8.
On Tuesday, a Department of Transportation worker reportedly found Keel's body in Edgecombe County.

More ...
AMANDA CLARK, GRAPHIC STAFF WRITER
Nashville approved for state program


The Town of Nashville has been notified that it was accepted to be a part of the newly formed Downtown Strong Initiative.
The North Carolina Department of Commerce is investing $260,000 in Downtown Strong, a program developed to help build local government capacity by providing economic development planning and revitalization resources and guidance.

More ...
AMANDA CLARK, GRAPHIC STAFF WRITER
Freeman is 2019 Distinguished Citizen


Wherever Anne Freeman goes, she's likely to share a blessing.
It may be through a meal, a dessert, a hug, a prayer, a visit or an act of service but Freeman is likely to be giving of herself.
Freeman's service to others was recognized last Thursday during the Nashville Chamber of Commerce's annual Distinguished Citizen Award's Ceremony and Reception.

More ...
AMANDA CLARK, GRAPHIC STAFF WRITER
Nashville man nabbed for robberies
A Nashville man was charged with robbing the Sandy Cross L&L Convenience Store twice over four month period.
The first armed robbery happened on October 30. Sergeant Walker and K-9 Dako, of the Nash County Sheriff's Office, conducted a canine track from the L&L, located at 5862 NC Highway 58, Nashville, and tracked the suspect to Batchelor Road. The canine track ended on Batchelor Road with no further lead.
More ...
Sandy Cross to get Dollar General store


Nash County Commissioners approved a rezoning request that will pave the way for a new Dollar General to open up in the Sandy Cross area.
The request was to rezone 1.58 acres on the north side of Sandy Cross Road from R-40 (Single-Family residential) to GC-Cu (General Commercial Conditional Use) for the development of a general merchandise retail store.

More ...
AMANDA CLARK, GRAPHIC STAFF WRITER
NPD to host block parties for local youth


Nashville's Police Department is hosting several block parties in the coming weeks for youth in the area.
The first will be held on Saturday, March 16 from 3 until 5 p.m. in the Nashville Elementary School gym.
Interim Police Chief Joey Corbett said the event is a way to bring youth in the community together with police officers.

More ...
AMANDA CLARK, GRAPHIC STAFF WRITER
New senior center opens in southern Nash County


Nash County celebrated the opening of a new, state-of-the-art senior center in the southern end of the county on Friday, a project that's been in the works for many years.
A ribbon cutting was held for the new senior center, which is located at the Bailey-Middlesex Park.

More ...
AMANDA CLARK, GRAPHIC STAFF WRITER

Nashville Mayor Donald Street (right) welcomes Scooter Station owner Ashley Whitley (left) to his new location at 122 South Boddie Street.

Scooter Station moves to new location


The Scooter Station is celebrating its 10th year in business with a new location.
Nashville's Chamber of Commerce held a ribbon cutting for Ashley Whitley and his new location on Monday.
Whitley recently opened up at 122 South Boddie Street, moving from his previous location at 708 South Alston Street.

More ...
AMANDA CLARK, GRAPHIC STAFF WRITER
Sheriff Stone releases video of officer shooting


The Nash County Sheriff's Office released on Sunday audio and video files related to a February 9 officer-involved shooting.
The files were released after a court hearing last Thursday. Superior Court Judge Quentin Sumner ordered the files be released at the request of the family of Jonathan Ramirez and media outlets.

More ...
AMANDA CLARK, GRAPHIC STAFF WRITER
NASHVILLE POLICE REPORTS
INCIDENTS
A possession of marijuana was reported on 3/3/19 at NC 58 and E Old Spring Hope Road
A damage to property (Vandalism) was reported on 3/8/19 at Wal-Mart, 1205 Eastern Avenue
An aggrivated simple possession of marijuana was reported on 3/9/19 at US 64 and Old Carriage Road
More ...
NASH COUNTY SHERIFF'S OFFICE REPORTS
A breaking, entering and larceny was reported on 2/24/19 at 2840 Pole Cat Lane
A fraud was reported on 2/25/19 at 7060 Frazier Road
A domestic was reported on 2/25/19 at 3637 Old County Home Road
More ...
Illegal alien charged in Nash County
A federal grand jury in Raleigh has returned an indictment charging Victor Nahum Perez-Colindres, 40, of Honduras, with illegal re-entry of a deported alien.
Perez-Colindres was previously deported and found in Nash County.
Perez-Colindres has felony charges of possession of a firearm and ammunition.
More ...
Robinson to lead Rocky Mount PD
Rocky Mount City Manager Rochelle D. Small-Toney has appointed Captain George D. Robinson to serve as police chief for the city of Rocky Mount.
Robinson has filled the role of interim police chief since January.
More ...
DMV confirms move to Rocky Mount location
The North Carolina State Division of Motor Vehicles will make its home in Rocky Mount, the Council of State decided last week.
The Council of State approved the move from Raleigh to Rocky Mount for the office of the Division of Motor Vehicles. The relocation will place the new headquarters in the six-story former Hardee's Food Systems building, located on North Church Street.
More ...
Tea Parties revisited
"Oh, Those Tea Parties!" A Women's History Month presentation by Suzanne Adair, award-winning author of a mystery series set during the American Revolution, is being planned for 3 p.m. Sunday, March 24, in the Benson Chapel of Louisburg College.
Adair will discuss how ladies' tea parties in the Old North State underscored the ways that the women of the Revolution controlled the economy and blindsided the British.
More ...
Nash County Animal Friends' Notebook


Miracles do happen... but they take a lot of work! Lavetta was a sweet dog, a favorite of the AC Officers. She loved people, as so many pit mixes do. She had been there since the end of January, which in itself is a miracle that she survived that long. You see, Lavetta was a bit alpha. She dominated other dogs which would have caused problems. This made her ineligible to be rescued, since Rescues use fosters who have other pets.

More ...
CAROL VIERELA, NASH COUNTY ANIMAL FRIENDS
Where does your food come from?


Where does your food come from? If you're like many Americans, the answer is the grocery store, which is disturbing. The grocery store isn't where food comes from - it's just from where it's distributed. In reality, far too many people are unaware of the role of American agriculture in their daily lives . . . and what it really takes to have food on their dinner table.

More ...
Courtesy of National Ag Day.org
Firefighters salute
Pictured above, Nashville Firefighters (Station 14) and Rocky Mount Firefighters (Engine 6), stand on NC 64 looking down I-95 as they salute fallen Atlantic Beach Fire Chief Adam Snyder, whose body was being returned to his home after passing away from injuries due to a snow skiing accident at Wintergreen Resort in Virginia. Virginia State Police escorted the chief's body to North Carolina followed by a North Carolina Highway Patrol escort.
More ...
How do we know if we are spiritually drifting?


How do we know if we're spiritually drifting? The Bible certainly acknowledges that it can happen. But what are the early warning signs that we are moving away from God?
Maybe today's column doesn't apply to you. How about your spouse, your friend, or your child? Were they once closer to the Lord than they now appear? Before you turn the page, see if you recognize warnings in the life of someone you love.

More ...
MIKE RUFFIN
RED OAK NEWS


The Baptist Men will have their monthly breakfast on Sunday, March 17 at 8:30 am at Red Oak Baptist Church.
The Women in Action will meet on Tuesday, March 19 at 6:30 pm at Red Oak Baptist Church. Their mission action project for this month is collecting pet supplies for My Sister's House. My Sister's House is a shelter for women, children, and men who are survivors of domestic violence and abuse.

More ...
SUZY PEARCE
DAR delivery
Members of Bethel Heroes Chapter 636, UDC and Micajah Pettaway Chapter of DAR delivered Christmas gifts to the veterans living in the Men's Christian Fellowship Home for Veterans. Men in the home are honorably discharged Veterans from the Armed Forces and are homeless at the time of admission. This is the third year that these chapters have donated gifts to assure that these men are not forgotten at Christmas as well as other times throughout the year.
More ...
Luke's Word for the Week


Okay fellow followers, we are in the homestretch of our "Sanctity of Life" series. I'm thankful you have stuck with me thus far. Let's pick up a prayer from Ephesians as we start, "I do not cease to give thanks to you, remembering you in my prayers, that the God of our Lord Jesus Christ, the Father of glory, may give you the Spirit of wisdom and of revelation in the knowledge of Him, having the eyes of your hearts enlightened, that you may know what is the hope to which he has called you..." (1:16-18a).

More ...
LUKE WHITEHEAD
Intersections: God and Life


Martyn Lloyd-Jones once said, "The glory of the gospel is that when the Church is absolutely different from the world, she invariably attracts it. It is then that the world is made to listen to her message, though it may hate it at first."
I'm currently preaching through the Sermon on the Mount as recorded in the Gospel of Matthew beginning in chapter 5.

More ...
CARLYLE HALL
PEACHTREE COMMUNITY NEWS


The Peachtree Baptist Church Congregation and friends met Sunday a nice warm day.
The Sanctuary flower arrangement Sunday was presented to glorify God by Dianne Tucker in honor of her husband, Ricky.
Sunday School: Fran Bunn welcomed the Sunday School gathering.

More ...
FRAN BUNN
North Carolina Wesleyan inducts 75 into NSLS
North Carolina Wesleyan College held its second annual National Society of Leadership & Success (NSLS) Induction Ceremony at The Dunn Center for the Performing Arts. Seventy-five student leaders were inducted in the organization, the nation's largest leadership honor society.
The Wesleyan chapter seeks to foster personal reflection, goal setting and leadership development amongst its members. The focus this fall was to lead new students through completion of the national requirements to become fully inducted members.
More ...
Scout Leader Service Award
The Coopers Ruritan Scout Leader Service Award was presented to Charles and Linda Etheridge at the February meeting of Coopers Ruritan Club. Pictured (L-R) is: Peggy Winstead, Secretary, Charles Etheridge, Linda Etheridge and Steve Williams, President.
More ...
Ruritan 4H Leader Service Awards
Ruritan 4H Leader Service Awards were presented to Jane Tyson and Cheryl Glover at the February meeting of Coopers Ruritan Club. Pictured (L-R) is: Peggy Winstead, Secretary, Jane Tyson, Cheryl Glover and Steve Williams, President.
More ...
NC Highway Patrol holds promotional ceremony
The State Highway Patrol honored 55 sworn and 11 civilian members recently during a promotional ceremony held at Colonial Baptist Church in Cary.
The ceremony began with an invocation offered by Pastor Steve Stadtmiller followed by the singing of the National Anthem by Trp. Joey Garrett. Offering welcome and remarks to those in attendance, Colonel Glenn McNeill Jr. spoke of the expectations required by each individual rank.
More ...
Checkout lines: making poor choices


Here is some advice: if you're in a store and see me in the checkout line, run.
Get in another line.
The line I am in is not the line you want to be in. Trust me.
It doesn't matter if it is a big box store, the convenience store, any number of grocery stores, or the concession stand line at the ball game.

More ...
Mike Brantley
Anne Freeman is most deserving of award!


Wednesday, March 13 marked a pretty important milestone in my life.
It was my 13-year anniversary of being a reporter at The Nashville Graphic.
Thirteen years!
It doesn't seem quite that long (most days anyway!).

More ...
Amanda Clark
Cooley Library goes live next week!


On March 20, 2019, the Harold D. Cooley Library will be celebrating its Go Live Day as it officially joins the NC Cardinal Consortium. Cardinal consists of 141 member libraries throughout North Carolina who are dedicated to expanding access for patrons by sharing resources with other libraries. In preparation for this momentous transition, the library staff has had to perform an inventory of their 20,000+ items as well as a full weeding of outdated materials, and a rebarcode of all items. All of the old library cards have had to be replaced as well.

More ...
GUEST COLUMN: Emily Enderle, Cooley Library Director
Backward Glances


This picture originally published in The Nasvhille Graphic on April 29, 1971. The Children's Museum in Rocky Mount displayed a large brown bear as one of its many exhibits. The museum was reported as having 85,000 visitors in 1970.

More ...
A PICTORIAL LOOK INTO THE PAST

SPEEDY SIX. Southern Nash's Brisa Savilla-Castro (left) heads up the sideline during last Saturday's Brittany showdown against Camden County in Wilson.

SN Shuts Out Camden


WILSON -- Looking for a few subtle differences between Southern Nash's girls soccer program from 2018 to 2019?
Well, there aren't any. In fact, nothing about the Ladybirds resemble where they were last spring -- and where they could possibly go this season.
Certainly, Southern Nash is experiencing a 180-degree turnaround within the program, which was winless in 2018.

More ...
GEOFF NEVILLE, Graphic Sportswriter

NASH CENTRAL'S BIANCA RICKS (LEFT)

Central Surges At The Brittany


ROCKY MOUNT -- Nash Central High School continues to field competitive girls soccer squads every spring -- but this season promises to be a bit more of a challenge for veteran head coach Ryan Ruiz and his Lady Bulldogs.
That's because Nash Central was hard-hit by graduation last year, including the likes of long-time keeper Anna Shaye Thompson (now playing at Charleston Southern University) and leading scorer Linzi Long.

More ...
GEOFF NEVILLE, Graphic Sportswriter

STRONG DEFENSE. Northern Nash's Kylar Wiggins (right) shadows a Pasquotank player during last Saturday's action at The Brittany Girls Soccer Showcase.

Knights Pick Up A 1-0 Conquest


WILSON -- During his high school days, Cameron Avery was a star quarterback at Wilson Fike -- and he hopes to bring some of that toughness and intensity to the Northern Nash girls soccer program.
Avery is one of the youngest coaches in the area, and he is learning on the job about soccer as he guides the Lady Knights this spring for the first time.

More ...
GEOFF NEVILLE, Graphic Sportswriter

NORTHERN NASH SENIOR STAR DAVONTAE 'CRANK' WIGGINS

Special Season


NASH COUNTY -- From whatever part of the county you look from, it was an exceptional season for Northern Nash and Southern Nash in the Big East Conference and beyond during the 2018-9 boys basketball campaign.
Northern Nash continued its amazing recent stretch by winning the Big East's regular season and tournaments en route to a fourth-round performance in the North Carolina High School Athletic Association's Class 3-A State Playoffs.

More ...
GEOFF NEVILLE, Graphic Sportswriter

BATTLE FOR THE BALL. (L to R) Nash Central's Sarah Radjail and Southern Nash's Layla Austin joust for possesion during Monday's girls soccer contest in Stanhope.

Southern Nash surges past foe Nash Central


STANHOPE -- Just 48 hours after his club secured a key victory at The Brittany Girls Soccer Showcase, Southern Nash first-year coach Robbie Kennedy wondered how the Ladybirds would respond to yet another challenge in a short period of time.
Certainly, the thought process has changed at Southern Nash, which is experiencing a program resurgence this spring under the direction of Kennedy.

More ...
GEOFF NEVILLE, Graphic Sportswriter
The Quakers Call


STANHOPE -- Donovin Thompson is hoping to turn a negative into a positive as he continues his football career.
Thompson, a senior at Southern Nash High School, suffered a torn ACL during an early-season game against West Johnston in 2018 and missed the remainder of the Firebirds' storybook campaign.

More ...
GEOFF NEVILLE, Graphic Sportswriter
Wesleyan spring teams in action


ROCKY MOUNT -- The North Carolina Wesleyan College baseball team split its non-conference doubleheader with Roger Williams University (RI) last Saturday, shutting out the Hawks 4-0 in game one before falling 3-1 in game two.
In the opener, Senior 1B Trey Croom led the Bishops with a leadoff solo home run in the third inning, his first of the year, while fellow senior catcher Brandon Wheat (.415 average) and junior RF Trey Posilero each went 2 for 2 in game one.

More ...
Staff Reports
State rallies to defeat Charlotte


CHARLOTTE -- Off to its best start in program history and one of the nation's two remaining unbeaten teams, the second-ranked North Carolina State University baseball team continues to find ways to win as the visiting Wolfpack rallied for a 6-5 win against Charlotte Tuesday night at BB&T Ballpark.
Charlotte jumped out to a 2-0 lead in the contest before extending the lead to 4-1, but a three-run homer from Patrick Bailey in the top of the eighth knotted the score at four.

More ...
Staff Reports
Pirates secure a weekend sweep


GREENVILLE -- Turner Brown paced No. 14 East Carolina University's 14-hit attack going 3-for-5 with a pair of triples and scored twice as the Pirates completed the weekend baseball sweep over Marist, 10-5, Sunday afternoon at Lewis Field inside Clark-LeClair Stadium.
With the win, the Pirates improved to 12-5 on the season while the Red Foxes dropped to 4-8.

More ...
Staff Reports
BACKTRACKING
Northern Nash's Charlize Evans makes a quick turn to gain possession for the Lady Knights during last Saturday's action at The Brittany Girls Soccer Showcase in Wilson.
More ...
MATCHUP OF TITANS
(L to R) Southern Nash's Nef Gonzalez and Nash Central's Hailey Dinota challenge each other during Monday's girls showdown at the SNHS Soccer Complex in Stanhope.
More ...
NOT TO BE DENIED
Northern Nash's Janiah Godley (right) races toward the ball during last Saturday's victory over Pasquotank at The Brittany Girls Soccer Showcase at Gillette Park in Wilson.
More ...
NUMBER NINE
Nash Central's Kendall Proctor (9) tries to win a ball against Elizabeth City Northeastern as part of last Saturday's The Brittany Girls Soccer Showcase at Gillette Park in Wilson.
More ...
THIS BALL IS MINE
Nash Central's Sarah Radjail (right) gains possession for the Lady Bulldogs during last Saturday's contest at The Brittany Girls Soccer Showcase at Gillette Park in Wilson.
More ...
"Mamma Mia!" opens April 3rd
Rocky Mount High School's Gryphon Theatrical students perform "Mamma Mia!," a Greek Island comedy that features the 1970s music of ABBA. On the eve of her wedding, a daughter's quest to discover the identity of her father brings three men from her mother's past back to the island they last visited 20 years ago. This sets the scene for a hilarious series of assumptions and miscommunication until the identity of the true father is revealed. This musical blockbuster fills the theater with joyful music and dancing that celebrate life, love and family.
More ...