Subscribe/Access
Advertisements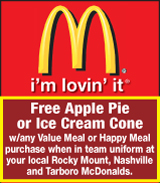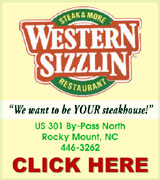 Sections
Member Options
Back
NPD welcomes new dispatcher


Nashville's Police Department has a new dispatcher. However, Nashville isn't new to Derrick Jones.
Jones was born and raised in Nashville and recently moved back from Clayton, where Jones served as a 9-1-1 dispatcher for Johnston County for six years.
Jones got his career start as a dispatcher after serving in customer service in a car center.
"It got stagnant," Jones said. "I was looking a change."

More ...
AMANDA CLARK, GRAPHIC STAFF WRITER
Residents speak in favor of Birchwood purchase


The majority of people attending the Town of Nashville's special called meeting showed their support for the town's plans to purchase the Birchwood Country Club Property to use for recreation.
Over 150 people attended meeting on Thursday night in the town's council chambers. So many showed up that many had to stand in the hallway during the meeting.

More ...
AMANDA CLARK, GRAPHIC STAFF WRITER
Middlesex couple killed in car accident Friday night
A Middlesex couple were killed in an accident on Friday night and their infant son was injured.
According to the North Carolina Highway Patrol, the accident happened just before 8 p.m. on Friday, January 25.
Amber Lynn Wilson, 26, was driving west on Finch Road when she reportedly failed to stop for the stop sign at the intersection of Finch Road and Highway 581.
More ...

Ravin Carpenter and James Ervin attend the North Carolina Chapter of Honor and Remember Gold Star Banquet Saturday night which was hosted by Nash Community College.

HONOR AND REMEMBER


The North Carolina Chapter of Honor and Remember paid tribute to six families from across the nation during the annual Gold Star Banquet on Saturday night.
Nash Community College hosted the banquet, which honored six families with Honor and Remember Flags by North Carolina Chapter President Kathy Russell Moore.
A gold star represents the ultimate sacrifice of a family member.

More ...
AMANDA CLARK, GRAPHIC STAFF WRITER
FCS students perform with theatre legends


Theatre students at Faith Christian School received a surprise while attending the Junior Theater Festival in Atlanta, Georgia recently.
Students were selected to perform on stage with music team Benj Pasek and Justin Paul (The Greatest Showman, Dear Evan Hansen, La La Land, James and the Giant Peach), performing back up vocals to the song "You Will Be Found" with soloist Cynthia Erivo. Erivo won the 2016 Tony Award for Best Actress in a musical for her performance as Celie in "The Color Purple."

More ...
AMANDA CLARK, GRAPHIC STAFF WRITER
HOPE vigil is Feb. 9th
The HOPE Initiative of Nash County is celebrating three years by hosting a candelight vigil on the steps of the Nash County Courthouse.
The event is set for Saturday, February 9 at 6 p.m.
The candelight vigil will be held to remember those HOPE has helped, those who have lost their battled with addiction and for those who continue to struggle.
More ...
NASH COUNTY SHERIFF'S OFFICE REPORTS
A breaking and entering was reported on 1/20/19 at 4013 Watson Seed Farm Road
A simple physical assault was reported on 1/20/19 at 4972 Kristie Lane
A breaking and entering a motor vehicle was reported on 1/20/19 on Redman Road
More ...
CITI High School Honor Rolls
Nash-Rocky Mount Schools has released its Honor Roll lists for the second semester of the 2018-2019 school year.
The following students at CITI High School made the A or A/B Honor Roll.
More ...
Nash County Animal Friends' Notebook


What Does an Indoor Only Cat Miss?
Being hit by a car, injuries or sometimes a slow death.
Being stolen and maybe being used as bait in dog fighting.
Fights with cats, dogs, skunks foxes, coyotes & raccoons.

More ...
CAROL VIERELA, NASH COUNTY ANIMAL FRIENDS
Students complete Firefighter Training Academy
Students in Nash Community College's Recruit Firefighter Training Academy #080718 were recognized for program completion in a ceremony held January 23, 2019.
NCC President Dr. Bill Carver thanked fire service agencies for their partnership. "You see the people in uniform here tonight who are supporting these cadets, and helping the College spread the word about the program, lending their expertise," he said. "This program cannot be done by NCC alone," he said.
More ...
Cummins staff complete business leadership course
Nash Community College recognized 27 employees from Cummins Rocky Mount Engine Plant for completion of Business Leadership and Practical Supply Chain Management certificates. The College worked with the company to provide specialized online instruction tailored to meet industry needs. As a result, two cohorts were formed and employees earned the two certificates, each consisting of 15-16 college credit hours that can be applied to further educational opportunities.
More ...
Governor appoints Edgecombe Sheriff to board
Governor Roy Cooper recently appointed 28 new members to 23 North Carolina Boards and Commissions.
"I'm thankful for the expertise each appointee brings to serving North Carolina, and for their help as we work to move North Carolina forward," said Gov. Cooper.
Cooper appointed Sheriff Clee Atkinson of Rocky Mount to the North Carolina Local Governmental Employees' Retirement System Board of Trustees as a law enforcement officer.
More ...
Children learn more in church than you think


The late Art Linkletter's 1957 book, Kids Say the Darndest Things, still reminds us that kids not only say those things that sometimes embarrass their parents, but they also blurt out occasional pearls of wisdom that help us to realize we're doing some right things with them. My wife, Robbie, recounted a conversation she had with her niece and nephew when they were very young. It reminded me of Linkletter's book and underscored the importance of child-like faith.

More ...
MIKE RUFFIN
RED OAK NEWS


Red Oak Baptist Church welcomes new members, Alfred and Bonnie Perry, Cameron and Maelyn McIntyre, Justin and Amy Waters, and Jennifer Vire. Also, Ryland McIntyre joined the church and will be baptized Sunday, February 3!
Pastor Chris Fowler will begin a new Bible study series for adults on Wednesday, January 30. The series will be 1 Thessalonians: Setting Our Hearts for Life Change.

More ...
SUZY PEARCE
Luke's Word for the Week


One of my favorite things of being in ministry, is being active and present around children and youth. In doing so I am reminded that the church is multigenerational, no generation is to be left out and that we, no matter what our age, all have a part to play in Christ's church.
I enjoy being around children and youth because they are not afraid to ask hard questions concerning theology, the Bible, and life in general. Whenever I am around them I know that usually nothing is off limits so I had better be ready (1 Peter 3:15).

More ...
LUKE WHITEHEAD
PEACHTREE COMMUNITY NEWS


We have all been so blessed that the lord has provided us with these beautiful days lately. The Peachtree Baptist Church Congregation met on one of those beautiful days last Sunday.
The Sanctuary flower arrangement Sunday was presented to glorify God by Cheryl and Doug Hayes in loving memory of Cheryl's brother and friend, Steve Johnson, who would have been 72 on January 26th.

More ...
FRAN BUNN
Cooperative Extension to host "Growing Agritourism" sessions
Nash County Cooperative Extension will start a four-session series next month on 'Growing Agritourisum in Nash County."
Agriculture is a huge industry in Nash County. According to the Nash County annual financial report, the county has more than 450 farming operations of various sizes, and these farming operations face many challenges for survival. These challenges range from feeding an expanding global population while meeting strict government requirements to producing more food on fewer acres minimizing their environmental footprint.
More ...
HONOR AND REMEMBER, pics 3
Kristin Moore, far right, makes a presentation to the family of PFC McKenzie Fisher Callihan on Saturday at the Honor and Remember Banquet.
More ...
A tale of two cities and their management


In the past year, Nashville and her big sister Rocky Mount have had city manager problems.
The problems were far different, but the bottom line was the same: changes in leadership needed to be made.
The solutions from the two cities were also far different, sadly, despite the fact what needed to be done was obvious.
Nashville's Town Council did the right thing.

More ...
Mike Brantley
It's truly about competency


Dear editor: To allude to a crowd of citizens as mostly White at a called meeting with City Council recently by Nehemiah Smith has no bearings on the reality of the mess our city is in.
The consistent documentation of fiscal mismanagement, biased recruiting, and gross favoritism at high dollar costs are reasons to be totally upset with the current leadership.

More ...
LETTERS:
Park is a dream come true


Dear editor: I would like to thank the Nash County Commissioners for making my dream come true to build a park in the Coopers Community.
In 2005, I organized the Coopers Community Development Corp. to represent the Coopers, West Mount and Macedonia communities to promote the building of a park in the Coopers area of Nash County.

More ...
LETTERS:
Backward Glances


This is a photo of the Nashivlle High School graduating class of 1957. The photo was submitted by Ravin Carpenter of Nashville.

More ...
A PICTORIAL LOOK INTO THE PAST
Padgetts To Play For Wesleyan


ROCKY MOUNT -- Twins Chandler and Drifton Padgett have been teammates their entire lives, so why break up a good thing now?
After graduating from Nash Central High School later this year, the Padgetts will remain together as members of the baseball program at North Carolina Wesleyan College.

More ...
GEOFF NEVILLE, Graphic Sportswriter

RED OAK MIDDLE'S MALIK HILL

DATE WITH DESTINY


NASHVILLE -- As if the Red Oak Tigers weren't strong enough, head coach Kristian Cox came up with a plan a few weeks ago to make his squad even more effective heading toward the close of the 2018-19 regular season.
Attempting to play toward the Tigers' greatest strength -- their overall team speed and athleticism -- Cox decided to implement a full-court pressure defense designed to create scoring opportunities.

More ...
GEOFF NEVILLE, Graphic Sportswriter

SN'S KENDRELL WOODARD

THE MAT KINGS


STANHOPE -- Wilson Fike continues to be the standard bearer for wrestling in the Big East Conference.
After winning the league's team championship one week earlier, the Golden Demons boasted six weight-class champions during last Saturday's Big East Individual Tournament at the Southern Nash High School Gymnasium.

More ...
GEOFF NEVILLE, Graphic Sportswriter

RED OAK MIDDLE'S HOPE LEE

Red Oak rolls to a road win


NASHVILLE -- Defense ruled the day during last Thursday's girls basketball meeting between backyard rivals Red Oak and homestanding Nash Central Middle.
Both teams struggled to dent the scoreboard in the first half, but the visiting Lady Tigers were able to pick up the pace down the stretch en route to pulling away for a 24-15 decision over the Lady Trojans at the historic NCMS Gymnasium in Nashville.

More ...
GEOFF NEVILLE, Graphic Sportswriter
County P&R offers signups


NASH COUNTY -- Registration for Nash County Parks and Recreation Department Youth T-Ball, Baseball, Softball, Soccer and Flag Football will run through February 15.
The T-Ball program will have two divisions: Minor T-Ball for ages 3-4 and Major T-Ball for ages 5-6.
For players participating in the Major Division, each child will be awarded three pitches from their coach.

More ...
Staff Reports
Wesleyan secures upset triumph


LOOKOUT MOUNTAIN, GA. -- The North Carolina Wesleyan College men's basketball team pulled out a big road win last Saturday by upsetting previously undefeated Covenant College (Ga.) 80-77 on a clutch three-pointer from senior Robert Wilson.
After Covenant (12-7, 11-1) got out to a 34-26 lead in the first half, the Bishops would then go on to finish the half on a 12-1 run to lead by three, 38-35, at intermission.

More ...
Staff Reports
Mudcats announce coaching staff


ZEBULON -- The Milwaukee Brewers have announced that Joe Ayrault will once again return as manager of the Carolina Mudcats for the 2019 season.
Ayrault enters his third year as manager of the Mudcats and will be joined this year by Pitching Coach Cameron Castro, Hitting Coach Bobby Bell, Coach Fidel Peña, Athletic Trainer Matt Deal and Strength and Conditioning Specialist Jonah Mergen.

More ...
Staff Reports
QUICK MOVE TO THE BUCKET
Red Oak Middle School's Jessiah Atkinson (left) heads toward the basket during last Thursday's road victory against the Nash Central Trojans in Nashville.
More ...
SHOOTING STAR
Isabella Daza (with ball) was strong offensively for the Red Oak Lady Tigers during last Thursday's road victory against Tri-County Conference opponent Nash Central Middle.
More ...
Astronaut exhibit launches at Imperial Centre
The Children's Museum & Science Center at the Imperial Centre for the Arts & Sciences will allow youth to have a hands-on learning experience upon their first visit of the year.
"Be the Astronaut" is an interactive learning exhibit that teaches STEAM (Science, Technology, Engineering, Arts and Mathematics)-based content via state-of-the-art video game technology, as well as traditional methods.
More ...