Subscribe/Access
Advertisements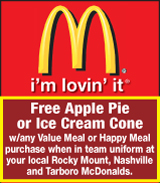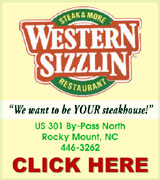 Sections
Member Options
Back
Spring Hope Chamber to focus on businesses


The Spring Hope Chamber of Commerce is working on a strategic plan focusing on helping to advance businesses in town.
Mary Penny Kelley, President of the Spring Hope Chamber of Commerce, said the plan includes several parts: promoting and retaining existing businesses, recruiting new businesses, making strong connections through the Chamber's membership program, and revitalizing vacant spaces.
To devote more time and energy to businesses, some events of the town have been "skinnied down," she said.

More ...
KENDRA JONES, GRAPHIC CORRESPONDENT
School Board okays reduction in force plan


The Nash-Rocky Mount Board of Education accepted a proposal that will cut a portion of funding for assistant principals and clerical staff in the 2017-2018 school year.
Superintendent Dr. Shelton Jefferies presented a Reduction in Force proposal to board members on Monday that would cut assistant principals employment to 10-10.5 months instead of 12 months. The proposal would also cut all clerical staff, except book keepers and data managers, to 10 months of employment.

More ...
AMANDA CLARK, GRAPHIC STAFF WRITER

Nashville Fire Department Battalion Chief Jason Edwards presents Samuel Smith the 2017 Nashville Chamber of Commerce Junior Achievement Award.

Chamber honors Macon and Elaine Robertson


Nashville's Chamber of Commerce recognized a couple last week that have given back to Nashville for over 50 years.
Macon and Elaine Robertson were presented the chamber's Distinguished Citizen Award last Thursday during a special ceremony at Nash Arts.
Jordan Lytton, a longtime friend of the couple, presented the award to the Robertsons.
"Since 1960 when Nashville became home to this couple, these recipients have put forth countless hours building and strengthening Nashville," Lytton said upon presenting the award.

More ...
AMANDA CLARK, GRAPHIC STAFF WRITER
Nash County denies rural rezoning request


In a split vote, Nash County Commissioners denied a request to rezone property in the Sandy Cross community from residential to agricultural.
The request was presented by William Brian Colbert and Kimberly Colbert, who own the property.
The property consists of three tracts of land totaling around 89.5 acres on the west side of S NC Highway 58 on Cabin Path Lane.
The request was to rezone the property from R-40 Single Family Residential to A-1 Agricultural.

More ...
AMANDA CLARK, GRAPHIC STAFF WRITER
Nashville Town Council mulls bee hive request


Nashville's Town Council is considering a request to allow bee hives in the town limits.
Charles Vester, a resident of the Birchwood Subdivision, brought the request before town council on Tuesday during the board's regular meeting. Vester said he hoped the board would consider changing the town's ordinance to allow for citizens to have bee hives at their residences.
Vester said bees have many positive attributes.

More ...
AMANDA CLARK, GRAPHIC STAFF WRITER
MAKING A DIFFERENCE


Determination to save an animal's life can make all the difference.
Suzanne Murray is proof of that.
Murray spent 48 days driving from her Spring Hope home to Nashville to check on and feed an abandoned dog, who she named Cookie.
Murray discovered the Chow dog in a field on Cooke Road when driving home one rainy, Sunday night.

More ...
AMANDA CLARK, GRAPHIC STAFF WRITER
Three out-of-town school buses involved in accident on Highway 64 in Nash County


Three school buses on the way to Raleigh for a field trip were involved in an accident on Highway 64 Tuesday morning.
The buses, which were from Gaston College Preparatory School in Northampton County, were all traveling on Highway 64 West, just east of Old Carriage Road when one of the bus drivers slowed down to avoid hitting a bumper that was in the travel lane.
Sgt. Quintin Stanton, of the NC Highway Patrol, said the second bus slowed down in time to miss the bumper but the third bus rearended the second bus, causing it to hit the first bus.

More ...
Amanda Clark, Graphic Staff Writer
Two injured in accident on Hwy 581 near Spring Hope
Two Nash County residents were transported to Wake Medical Center after an accident on Monday afternoon.
According to the NC Highway Patrol, Anna Wall, 16, of Bailey, was traveling on Macedonia Road towards Highway 581 around 5:15 p.m. when she failed to stop for the stop sign.
Wall's car was t-boned by a truck driven by Jonathan Curtis, of Elm City. Curtis was traveling on Highway 581.
More ...
Town of Nashville receives good financial report


The Town of Nashville is in good financial shape, Dale Place reported to town council members during the board's annual budget retreat.
Place, of May and Place, P.A., performed the town's audit and presented his report to the board during their retreat, which was held on Friday, February 24.
Highlights of the audit were:

More ...
Amanda Clark, Graphic Staff Writer
Flu related deaths on the rise in North Carolina


The number of confirmed flu cases and flu-related deaths are on the rise, the North Carolina Department of Health and Human Services reported last week.
Since the start of flu season, which began on October 2, 63 people in North Carolina have died from the flu. That's four more than died during all of last year's flu season.
Influenza, or flu, is widespread throughout most of North Carolina.

More ...
Amanda Clark, Graphic Staff Writer

Pay It Forward Civitan member Stacey Knapp delivers Backpack Buddies to Aaron Jones, Principal of Phillips Middle School.
Civitans expand Backpack Buddies Program
Pay It Forward Civitan's Backpack Buddies Program is continuing to grow thanks to a grant from Tyson Foods, Inc. Pay It Forward (PIF) Director and Tyson Foods, Tarboro, employee Robin Sanders applied for the $25,200 grant to further benefit the food insecure children of Nash and Edgecombe Counties through PIF Civitan's Backpack Buddies Program. Childhood hunger can lead to developmental, health and behavioral problems, and can make it more difficult to concentrate and succeed in school.
More ...
NASHVILLE POLICE REPORTS
INCIDENTS
A larceny after a breaking and entering and breaking and entering a motor vehicle was reported on 2/28/17 at the Ag Center, 1006 Eastern Avenue
An involuntary commitment was reported on 3/1/17 on S. Alston Street
A damage to property (vandalism) was reported on 3/2/17 at 1782 NC 58 South
More ...
NASH COUNTY SHERIFF'S OFFICE REPORTS
A breaking, entering and larceny were reported on 2/19/17 at 5964 Edge Street
A misdemeanor larceny was reported on 2/19/17 at 3967 N Old Carriage Road
A possession with intent to sell and deliver marijuana and felony possession of marijuana was reported on 2/20/17 at 1465 I95 Southbound
A larceny from a personal trailer was reported on 2/20/17 at 7976 Harris Road
More ...
Town of Castalia sets rules, adopts ordinance for park use


At its regular monthly meeting on Tuesday, the town board of Castalia adopted an ordinance related to the park and set dates for future meeting.
The ordinace details the rules of the park, such as hours of operation, that children should not be left unattended, that no smoking, animals, or glass containers will be allowed, etc. It also mentioned that the picnic shelter can be rented, and applications are available at the town hall. The next Park and Fourth of July meeting is scheduled for Tuesday, March 14th at 7 pm in the town hall.

More ...
Jessica A. Smith, Graphic Correspondent

Voices of Truth, of Wendell, were the first place winners in the Gospel Jubilee, held Saturday at the O.D. Moore Building in Nashville. The a cappella group have been together six years.

Gospel Jubilee event raises funds for O.D. Moore Scholarship Foundation


"Let every thing that has breath praise the Lord."
Promise Radio Host Partice Smith started Saturday's Gospel Jubilee off with scripture before welcoming the seven groups who had come out to compete in the first ever Gospel Jubilee fund-raising event.
The event raised money for the O.D. Moore Scholarship Foundation.

More ...
BY AMANDA CLARK, GRAPHIC STAFF WRITER

Ronnie Ezzell gave his best "Blues Brothers" impression on Friday night at the BPW Opry.

Annual Opry raises funds for youth scholarships


The first ever Opry hosted by Nashville's Business and Professional Women (BPW) was held 39 years ago and lasted for 12 straight hours.
BPW President Barbara Tyre said auctions were held in between each of the performances and lots of fun was had by all who attended.
Tyre said she recalls auctioning off a pig and a chicken at the first event, thanks to a donation from a local farmer.
Times have changed but the purpose of the event is just as important today, Tyre added.

More ...
Amanda Clark, Graphic Staff Writer
Nashville Boys and Girls Club SPOTLIGHT MEMBERS - Damel Neville
Damel Neville is an eighth grader who has attended the Nashville Area Unit for four years now. He says his favorite things about coming to the club are getting to play sports and hang out with his friends, as well as getting to interact with the fun and helpful staff. His dream for the club before he leaves is to have a gym that he could play basketball in with other club members, as well as a library to complete homework and other tasks. In school, Damel maintains straight A's in all his classes including his favorite class, social studies.
More ...
Nashville Boys and Girls Club SPOTLIGHT MEMBERS - Christian Walker
Christian Walker is a fourth grader who attends the Boys & Girls Club. He has been a member of the club for four years. A few of his favorite things about coming to the club are his friends that also attend the club and the staff members that work with him on a daily basis. In school, Christian enjoys math and one day plans to become a doctor. He is definitely on the right path, consistently receiving AB Honor roll at school.
More ...
Nash County Animal Friends' Notebook


Do you do Facebook? Then check out what we do there! Do you Photograph also? Retired? Maybe you would like to volunteer? It is a very rewarding thing to do, when a photo makes a difference. Just message us there! We can always use the help!
Volunteers are gold and we appreciate them so much! In addition to photography, people help temp foster as a transition from the Shelter to Rescues and some transport during the day to vets or meeting their rides to their Rescues.

More ...
CAROL VIERELA, NASH COUNTY ANIMAL FRIENDS
Nashville Boys & Girls Club Director invites community to visit club


National Boys and Girls Club Week is a time for clubs around the nation to open their doors and show communities just how great club kids are.
Youth at Nashville's Boys and Girls Club are excelling, said Unit Director Gregory Spence.
Since joining Nashville's club in September, Spence has been working hard to build up Nashville's Boys and Girls Club after the club closed over the summer for renovations.

More ...
AMANDA CLARK, GRAPHIC STAFF WRITER
Cedar Grove wins Battle of the Books
Teams representing every elementary school in the Nash-Rocky Mount Public Schools (NRMPS) district competed in the Elementary School Battle of the Books on Tuesday, February 28, 2017 in order to crown a district winner.
Battle of the Books is a competition that requires participants to read a list of 18 books, and each team is quizzed on the list of books read.
"It is very competitive and the students have worked all year for this competition," explained Danny Plyler, NRMPS Director of Instructional Technology, who planned the event.
More ...
Gift
Bailey's Fine Jewelry of Rocky Mount recently presented a gift of $677.32 to the Nash Community College Foundation from their Watch Battery Program. In February, Bailey's Fine Jewelry provided watch battery replacement to customers at no charge, giving all donations to Nash Community College to assist with student scholarships.
More ...
Gamma Beta Phi Honor Society at NCC inducts 11 new members
Eleven new members were inducted into the Gamma Beta Phi honor society during a ceremony held at their recent chapter meeting.
Nationally, Gamma Beta Phi has approximately 40,000 active student members in its comprised chapters.
Nash Community College chapter members must maintain a 3.0 or higher cumulative GPA and have completed 12 or more semester hours of college level work towards a degree.
More ...
Livestock Judging Contest
Nash County youth fared well at the North Carolina Junior Hereford Association Livestock Judging Contest held in January at N.C. State University. Youth judged Hereford cattle, pigs, lambs and goats. It was the first judging competition of the year. Pictured above (L-R) is the Nash County Junior Judging Team Payton Whiltey, Olivia Daughtridge, Seth LaHay and Cullin Whitley.
More ...
Speaker
SBI Agent Kevin Roughton spoke to parents and students at Southern Nash High School during the February Parent Teacher Organization (PTO) meeting in the media center. Roughton shared information about Internet safety, specifically social media sites and apps.
More ...
Nash County Blood Drives March 2017
Saturday, March 11 from 10 a.m. until 2 p.m. at the Nashville Fire Department, 501 S. Barnes Street
Monday, March 13 from 2 until 6 p.m. at the Frederick E. Turnage Chapter of the American Red Cross, 326 S. Franklin Street, Rocky Mount
Tuesday, March 14 from 12:30 until 4:30 p.m. at Swift Creek Elementary School, 2420 Swift Creek School Road, Whitakers.
Tuesday, March 14 from 2:30 until 7 p.m. at Englewood Baptist Church, 1350 Winstead Avenue, Rocky Mount
More ...
Luke's Word for the Week


Let's get back to the basics, shall we? Let's return to whose we are and who we are, shall we? Let's return to the beauty of John 3:17 (You thought I was going to say 3:16 didn't you!) As we all know, when we think about the basics of the Christian faith, we often turn to John 3:16, as it is certainly the crux of our confession. However, we must be careful in thinking that if we know John 3:16, it is sufficing to say we know everything we need to know about the Bible. After all, it is John 3:16 that teaches us that God loves the world, that he gave his Son, and that if we call upon the name of Jesus we will have eternal life.

More ...
LUKE WHITEHEAD
RED OAK NEWS


Spring will be another busy season at Red Oak United Methodist Church!
Jacob's Friends continues to grow and in March they will meet for a cook out and kite flying. For more information or to RSVP please call the church office.
The Red Oak United Methodist Church annual BBQ chicken sale was an incredible success with over 1600 plates sold. Thanks go out to all the volunteers, cooks, cleaners, ticket sellers, and of course the entire community for again supporting this ministry. You may recall that proceeds from the sale support Alzheimers NC.

More ...
SUZY PEARCE
PEACHTREE COMMUNITY NEWS


On a chilly but beautiful spring morning, Peachtree folks gathered for worship at the church. Sanctuary flowers were given by Bob and Fran Bunn in honor of her father, Jake Robertson, and their grandsons, Georgio and JR. Other flowers were given by Dianne and Ricky Tucker. The offertory played by Jane May, was a beautiful rendering of "He's Been Faithful".
Beverly Wilson's sermon for the children was a recap of the "Bible School Camp" which had been held on Saturday. The theme was "Miriam and Joseph".

More ...
BARBARA HARDISON
A triangle of the most perfect kind: barbecue


"You don't know what you've got until it's gone," is not just a song by the big hair, one-hit wonders of the 1980s, Cinderella. It is a nugget of wisdom.
What those boys with long hair, makeup and dangerously tight leather pants screeched over power cords, was of course, regarding love or lust or whatever combination occurs among the young and pop music.
However, the same could be applied to something more tangible: eastern North Carolina barbecue.

More ...
Mike Brantley
Congratulations to chamber award recipients


For many years, Nashville's Chamber of Commerce has hosted a special event to recognize citizens of the town that really go above and beyond to give back to their hometown.
The Distinguished Citizen event is truly special and everyone who has been recognized is also special and very deserving of the honor. This year's recipients certainly are deserving of the honor.

More ...
Amanda Clark
Backward Glances


This photo originally published in The Graphic on May 23, 1974. Pictured is the 1974 Nash Central Junior High baseball team which ended the season with a 12-2 record. From left to right are B. Braswell, bat girl, R. Langley, D. Greene, R. Wells, W. Arrington, R. Smith, J. Worthington, A. Pope and T. Wells, bat girl. Second row: P. Haskings, J. Davis, M. Williams, J. Willis, D. Walston, M. Adams, M. Leonard, and Coach John Windley.

More ...
A PICTORIAL LOOK INTO THE PAST

NORTHERN NASH'S DARIUS SPRAGLEY

TOUGH WAY TO END


RED OAK -- As time passes, members of the Northern Nash High School boys basketball team will be able to erase the pain, and instead focus on the numerous accomplishments the Fighting Knights achieved this winter as part of one of the school's most historic hoops campaigns.
But that scenario was difficult for the Knights to comprehend in the aftermath of last Tuesday's home loss to Eastern Guilford in the Elite Eight of the Class 3-A State Playoffs at the NNHS Gymnasium.

More ...
GEOFF NEVILLE, Graphic Sportswriter
Nashville offering athletics


NASHVILLE -- The Town of Nashville's Parks and Recreation Department is expanding its offerings to include adult athletics.
In an effort to work in to adults' busy work/life schedules, they are planning a series of one-day tournaments throughout the year.
They are currently accepting registrations for an Adult Co-Ed Chicago Style Softball Tournament.
Chicago style softball is played with a larger ball, no glove needed, on a smaller field size, so less running.

More ...
Staff Reports
NCWC has big weekend


ROCKY MOUNT -- North Carolina Wesleyan College's baseball, softball, and tennis teams were all in action over the weekend.
The Battling Bishops combined to go 8-5 overall, which included six victories versus USA South opponents.

More ...
Staff Reports
League standings released


CHAPEL HILL -- Wells Fargo, along with the North Carolina High School Athletic Association, has announced the final standings in the Wells Fargo Conference Cup competitions for the 2017 winter sports season.
The Wells Fargo Cup award, sponsored by Wells Fargo and the NCHSAA, recognizes the schools that achieve the best overall interscholastic athletic performance within each of the state's four competitive classifications.

More ...
Staff Reports
NAMA HOSTS BELT TESTS
TINY NAMA TOTS. Two students in the Tiny NAMA Tots (T.N.T.) class earned belts during belt testing from the Nashville Academy of Martial Arts. Pictured (L-R) are: Garrett Causeway and Davis Grover.
More ...
GREEN BELT TESTS
Nashville Academy of Martial Arts recently held a best test for students. Six students earned green belts during the test. Pictured on the back row (L-R) are Brandon Bunn and Johnathan Bass, who helped conduct the test. On the middle row (L-R) are Asher Nichols, Jonas Moore, Brian Moore, Kevin Banks, Mercedes Brouard and Micah Rackley. On the front row is Sensei Allen Clark, owner and instructor for Nashville Academy of Martial Arts.
More ...
Pirates secure another victory


MT. PLEASANT, S.C. -- Spencer Brickhouse, T.J. Riles and Eric Tyler each belted home runs helping No. 8 East Carolina University to a 12-7 road baseball victory over the College of Charleston Tuesday afternoon at Patriots Park in the Palmetto State.
With the win, the Pirates improve to 9-3 and extended their current win streak to nine games, while the Cougars dropped to 7-5 on the season.
Sam Lanier (2-1) picked up the win allowing one run (earned) on two walks with two strikeouts in 1.2 innings of relief.

More ...
Staff Reports
STATE FINALS SCHEDULE


CHAPEL HILL -- Here is this weekend's schedule for the North Carolina High School Athletic Association's State Basketball Championships:

More ...
Staff Reports
DARQUEZ DELIVERS
Northern Nash's Darquez Flowers (right) glides for a basket during last Tuesday's home loss against Eastern Guilford.
More ...
TREMENDOUS CAREER
Darius Spragley (right) wrapped up his exceptional career last Tuesday night for the Northern Nash Fighting Knights.
More ...