Subscribe/Access
Advertisements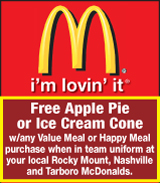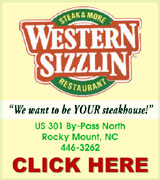 Sections
Member Options
Back
Superintendent puts "boots on the ground"


NASHVILLE - Nash-Rocky Mount Public Schools Superintendent Dr. Shelton Jefferies presented a "boots on the ground" approach to help enhance the level of student and staff achievement in schools throughout the district.
Jefferies presented the internal review process to the Board of Education on Monday night at the board's work session. Jefferies said the process was something new that was recently instituted in the Nash-Rocky Mount Public School System.

More ...
AMANDA CLARK, GRAPHIC STAFF WRITER
Addiction Rally moved to Oct. 15th


Due to Hurricane Matthew, the first Nash County Addiction Awareness Rally will be moved to October 15.
Heather Moore, who is the founder of local organization The Anchor Holds, said after keeping an eye on the storm, she decided to move the event back a week.
Hurricane Matthew has caused many cities in North Carolina, South Carolina and Florida to evacuate and many airports are rearranging flight schedules as well. Several of the speakers planned for the event were coming from out of state.

More ...
AMANDA CLARK, GRAPHIC STAFF WRITER

Billy W. Perry
Castalia couple face child abuse charges
LOUISBURG -- A Castalia couple is slated to appear in court next week on child abuse charges.
At the end of September, Franklin County sheriff's deputies arrested Renee M. Perry, 20, and Billy W. Perry, 31, alleging they were responsible for injuries that required medical attention for a five month old.
Renee Perry was charged with felony child abuse inflicting serious physical injury and filing a false police report.
More ...

The C.C. Spaulding's Miss Spaulding waves to parade watchers on Saturday.

PUMPKIN FESTIVAL 2016


Thousands of people visited Spring Hope this weekend to check out the 45th annual Spring Hope Pumpkin Festival.
The weather was perfect for this year's event, which included more entertainment and a slightly different route for the festival's parade.
The Liquid Pleasure Band entertained festival goers on Friday night, with their Super Show. Entertainment continued on Saturday with various acts throughout the day.

More ...
AMANDA CLARK, GRAPHIC STAFF WRITER
Board nixes sidewalk swap proposal


NASHVILLE - Nashville's Town Council denied a request made by planning staff to allow developers the option to make a payment to the town in lieu of constructing sidewalk.
A public hearing was held on the request last Wednesday night at the board's agenda meeting. Though no public comments were received on the request, several council members expressed concern over the request.

More ...
AMANDA CLARK, GRAPHIC STAFF WRITER
Citizen voices concern over local event


RED OAK -- The town board of Red Oak entertained several visitors at its regular monthly meeting on Monday.
Philip Boistard presented concerns he has related to events held on his neighbor's property. "I'm just concerned about this thing getting out of control," he said. Boistard is referring to the obstacle course competitions held on Mike Cook's property twice a year. Cook has appeared on American Ninja Warrior and has built obstacle courses like those featured on the show in his backyard.

More ...
JESSICA A. SMITH, GRAPHIC CORRESPONDENT
Officials celebrate opening of EMS station


NASHVILLE - Just over a year after breaking ground at the site of Nashville's EMS Station, Nashville leaders, along with Nash County Commissioners, planning staff and Emergency Services staff, celebrated the building's completion.
An official ribbon cutting was held on Monday afternoon at the new building, located on Western Avenue in Nashville's Business Park.
Nash County Emergency Services Director Brian Brantley said already, the Nashville station has responded to 181 calls since opening on August 31.

More ...
AMANDA CLARK, GRAPHIC STAFF WRITER

Lester Langley's book, "Lester's Life: Been there, Done that," was released last month. Langley, 99 years of age, shares his life's journey in the book.

Local man pens book


Lester Langley has lived a long, interesting life and decided he wanted to share his experiences with others so the 99-year-old wrote his very own book.
Langley's book, "Lester's Life: Been there, Done that," came out last month and already, 50 copies have been sold and/or given away to family. His niece, Linda Strickland, said more books should be in soon.
Langley grew up in Nash County but moved to New Jersey as a young man to work with the railroad. He came back to North Carolina and lived at the coast for a while before returning to Rocky Mount.

More ...
AMANDA CLARK, GRAPHIC STAFF WRITER
Area officials prepare for possible hurricane impact


Prepare for the worst. Hope for the best.
That's what officials with Nash County Emergency Management are doing this week in response to potential threats Hurricane Matthew may bring to the area.
The hurricane is anticipated to impact North Carolina Friday night into Saturday morning but how it will impact Nash County is still unclear but as the storm gets closer, Nash County Emergency Services Director Brian Brantley said it will be easier to tell the track of the storm in this area as it gets closer.

More ...
Amanda Clark, Graphic Staff Writer
Spring Hope mulls Board of Adjustment plan


The Spring Hope Board of Commissioners are being considered to possibly serve as the town's Board of Adjustment as well.
The town's Board of Adjustment is made up of members appointed by the Board of Commissioners with one member appointed by the County Board of Commissioners. Out of those appointed members, one serves as the chairperson. They make quasi-judicial decisions including hearing zoning appeals, variance requests, and interpretations, according to Town Manager Jae Kim.

More ...
Kendra Jones, Graphic Correspondent
NASHVILLE POLICE REPORTS
INCIDENTS
A larceny was reported on 9/25/16 at 520 E Park Avenue
A possession of marijuana was reported on 9/27/16 on Sixth Street, on the roadway near Brake Street
An involuntary commitment service was reported on 9/27/16 on Lumber Street
More ...
NASH COUNTY SHERIFF'S OFFICE REPORTS
Found property was reported on 9/25/16 at 222 W Washington Street
A breaking and entering a motor vehicle and injury to personal property was reported on 9/26/16 at Old Raleigh Wilson Road and Taylors Mill Road
An injury to real property was reported on 9/27/16 at 6341 Main Street
An injury to real property and assault on a female was reported on 9/27/16 at 7387 Southern Nash High Road
More ...
Historic Preservation Society holds inaugural meeting
RED OAK -- A group in Red Oak want to use the town's history to help build its future.
The Red Oak Area Historic Preservation Society recently formed and held its formal organization meeting last Thursday, September 29.
Officers elected include Dr. Diane Price Fleming as President, Linda Fisher as Vice President, Carolyn M. Vick as Secretary and Agnes B. Moore as Treasurer.
More ...
Locals win lottery
Two Nashville residents had lucky days recently, as they won top prizes in the North Carolina Education Lottery.
Shelton Williams was the first player to win a top $250,000 prize playing the new $250,000 Platinum Payout scratch-off game.
Williams claimed his prize September 26 at lottery headquarters in Raleigh. After required state and federal tax withholdings, he took home $173,126.
Williams bought the $5 ticket at the L&L Food Stores on Hunter Hill Road in Rocky Mount.
More ...
Nash County wraps up water deal with Castalia


Nash County Commissioners finalized the purchase of Castalia's water system at their regular meeting on Monday morning.
The Town of Castalia has been in discussions with Nash County for several months over the purchase of the water system. The two entities finally came to an agreement over the purchase and Castalia's Board passed a resolution last month accepting the county's offer to buy the town's water system. The town will receive $50,000, plus permission to continue to use the water tower for town revenues.

More ...
AMANDA CLARK, GRAPHIC STAFF WRITER
Stony Creek celebrates 60th anniversary


Stony Creek celebrated its 60th anniversary with a banquet on October 1, 2016. Special honor was given to past and present fire and rescue chiefs. Stony Creek volunteer fire department began its fire service in 1956 and its rescue squad in 1959. Members volunteer their time donating numerous hours to work to train and to maintain equipment and apparatus. Chief Officers are elected by the department members. Officers take on the additional charge of the logistics and leadership of the department.

More ...
Special to The Graphic By Todd Joyner
Scholarships
West Mount Ruritan member Gold Joyner (seated) presents scholarships to local high school seniors Joseph Lloyd, Kali Thompson and Matthew Alford.
More ...
Donation
West Mount Ladies Auxiliary presents a donation to the West Mount Fire Department. Pictured (left to right) are Gladys Winstead, Ronald Cobb, Assistant Fire Chief, Buck Pittman, Assistant Fire Chief, Johnny Baines, Fire Chief, Trish Pittman and Pat Joyner.
More ...
Nash County Animal Friends' Notebook


POTTY DANGER ~ Do you let your dog out to go to the bathroom without being in a fenced area, put on a cable or even going out with them? We just want to WARN you if you do! There are dog thieves, people who take an opportunity to grab a dog. It could be they will wait for a reward to be offered or they will sell your dog. Sometimes, they will just use the dog as bait for training fighting dogs. But even more often that that, dogs are being killed in the roads or at the least, badly hurt.

More ...
Carol Vierela, NASH COUNTY ANIMAL FRIENDS
Constitution Week
David Combs, Mayor of Rocky Mount, at right, presented a proclamation to claim the week of September 17 through 23, 2016 as "Constitution Week in Rocky Mount." Accepting the proclamation is Meg Cressionnie, at left, member of the Micajah Pettaway Chapter of the Daughters of the American Revolution.
More ...
Luke's Word for the Week


I'd like to pose a question to us concerning our lives and the way we grow as disciples of Jesus Christ. This question is for all people within all denominations who confess Jesus Christ as Lord and Savior. The question is, "Why are we not hearing constant testimonies of healings on a daily basis in our churches?" Now for those reading this and grasping for air because I mentioned the word, "healing" please catch your breath and dive into the Scriptures with me, let's go to Mark 1:21-28.

More ...
LUKE WHITEHEAD
RED OAK NEWS


Mission: My Life was the theme for the GA/RA/Mission Friends Kick-Off Party on Wednesday, September 28. The event was held in Burnette Hall in the Family Life Center of Red Oak Baptist Church. Over 30 children in addition to parents and leaders enjoyed the secret agent theme. Everyone received a passport as they entered and were fingerprinted. Then they went to different stations practicing their secret agent skills and learning about missions.

More ...
SUZY PEARCE
Local chapter of DAR to host essay contest
The Micajah Pettaway Chapter of the Daughters of the American Revolution is inviting students in grades 5 to 8 to participate in the American History Essay Contest.
The topic for the 2016-2017 essay contest is: "The National Park Service was established by Congress in 1916. The National Park Service manages approximately 84.4 million acres of national parks. Pretend you are writing a journal while visiting one of the 58 national parks.
More ...
AVENTON COMMUNITY NEWS


No Aventon News this week, just thoughts.
Grandkids are just that...GRAND! Easton, my five-year-old grandson, youngest son of Chason and Jennifer Ricks and brother Carter from Red Oak, gave me a chuckle one morning when I opened a kitchen cabinet and found his hidden treasure from the day before. Sunday afternoon playing around the house, I gave him a bag of Cotton Candy (it was ok; his parents were picking him up soon).

More ...
JOJO RICKS
Recognized
The North Carolina Veterans of Foreign Wars (VFW) Moore-Ezzell Long Post 2057 of Rocky Mount recognized Emersone "Pete" Porter (center) for his years of service to the VFW and Rocky Mount on Monday, September 12 at their regular meeting. A catered dinner was attended by 30 post members and members of Porter's family. Porter was presented a plaque which read, "Presented to Emerson "Pete" Porter in recognition of countless years of service and dedication to Veterans of Foreing Wars by Post 2057, Rocky Mount, NC." The award was presented by Commander Joseph C. Pisarik (far right).
More ...
Speaker
Brig. General Arnold Gordon-Bray ( at left) spoke at the September meeting of Micajah Pettaway Chapter of the Daughters of the American Revolution. Gray spoke on "The Constitution Today." Each year the DAR celebrates Constitution Day on September 17. With General Bray is Frances Powell (at right) Regent of the Micajah Pettaway Chapter.
More ...
Harper named to BJU choral organization
Andrew Harper of Nashville has been named to Bob Jones University's University Singers, BJU's largest choral organization.
Harper is a Sophomore majoring in Computer Science.
All students at BJU are welcome to audition and are placed in a choral group according to their classification and abilities. Singers are re-auditioned periodically to determine proper placement.
More ...
Local leaders earn scolarships
Local Government Federal Credit Union (LGFCU) recently announced that Jae Kim, Town Manager for the Town of Spring Hope and Stacie Shatzer, Director of Recreation and Senior Services for Nash County, are the recipients of a UNC School of Government (SOG) Scholarship award in the latest round of LGFCU winners for 2016. Kim and Shatzer will use the funds toward attending the course Municipal and County Administration at the School of Government at UNC-Chapel Hill.
More ...
Speaker
Kenneth Mullen (left) , Co-Chair, Nash Health Care Patient and Family Advisory Council, speaks to Local Kiwanis Club about his work helping to enhance the patient experience while they are undergoing treatment at the hospital. The Patient and Family Advisory Council also educates the public on important Nash Health Care subjects like new hospital services, procedures, and the role that hospitalists play in providing quality patient care. With Mullen is Ben Moore, club president.
More ...
Farm market summary for Sept. 26-30


North Carolina's egg prices were steady on small and medium, lower on the balance when compared to last week. Supplies are heavy on larger sizes, other moderate to meet a moderate demand. The North Carolina weighted average price quoted Thursday, Sep 29, 2016 for small lot sales of delivered, cartoned, grade "A" eggs was 83.18 for Extra Large, 77.62 for Large, 52.86 for Medium, and 37.00 for Small eggs.

More ...
Federal - State Market News Service, Division Of Marketing - NCDA&CS
Smithsonian: cat takeover of the world has begun


Cats are planning to take over the world.
Those of us who have had the experience of co-habitating with felines have known this for a long time. It seems science may finally be catching up with what experience has taught us.
Look at these connections:

More ...
Mike Brantley
Guest column: Keep food safe if disaster strikes


With a hurricane looming in the forecast, now is the time to consider what you will do in case of an emergency. Loss of power can affect many, and be detrimental if you use your freezer for food storage. Here are food safety tips to keep in mind:
•Keep the refrigerator and freezer doors closed as much as possible to maintain the cold temperature.
•The refrigerator will keep food cold for about 4 hours if it is unopened.

More ...
Jayne McBurney, Nash County Cooperative Extension Office
Superintendent's plan seems to be a positive step for schools


Dr. Shelton Jefferies, the superintendent for Nash-Rocky Mount Schools, made a pretty interesting presentation on Monday night during the board's work session.
I hope the reality of his presentation is awesome as it sounds!
The presentation was on a task that has a team of folks spending time in each school in our district. That team of folks includes Dr. Jefferies as well as other Central Office staff.

More ...
Amanda Clark
Backward Glances


HOMECOMING QUEEN -- This photo was originally published in The Nashville Graphic on November 10, 1966. Linda Ricks is shown being crowned Homecoming Queen of 1966 by Dr. Kenneth Hall, principal of Northern Nash High School. The crowning took placed during halftime ceremonies at the Northern Nash-Hobbton game, which the Knights won 7-0.

More ...
A PICTORIAL LOOK INTO THE PAST

BACKHAND BLAST. Nash Central High School No. 2 Singles performer Lyndsey Taylor rips a backhand during her team's road girls tennis matchup last Friday afternoon against backyard rival Northern Nash in Red Oak.

NN TAKES THE FIFTH


RED OAK - Fifth place in the Big East Conference was at stake -- and much more -- when Northern Nash hosted Nash Central last Friday afternoon in a key area girls tennis showdown at the NNHS Courts.
It was also Senior Night for Northern Nash, which celebrated the careers of upperclassmen Chelsea Lucas, Jessica Cary and Emma Thomas.
The day would prove to be one to remember as the Lady Knights finished off a regular season sweep over Nash Central with an 8-1 overall team decision.

More ...
GEOFF NEVILLE, Graphic Sportswriter
Bishops The Best At Scalf Invite


ROCKY MOUNT -- North Carolina Wesleyan College's golf team hosted its annual Don Scalf Invitational last Monday and Tuesday at Rocky Mount's par-72 Northgreen Country Club.
With a pair of 295 team rounds, the Bishops took top honors, led by freshman Mariano Silvestri's 1st-place finish.
Silvestri carded rounds of 70 and 76 to finish at +2 in the two-day event.

More ...
Staff Reports
Southern rolls past Gryphons


ROCKY MOUNT -- Southern Nash registered four goals in the first half and never looked back en route to securing a key 4-1 boys soccer victory last Wednesday at leagueopponent Rocky Mount.
The Firebirds, coached by Carlos Barron, are now 6-4-2 overall to go with a 2-1 mark in Big East Conference action.
Jalen Baker, Cristian Salazar each found the back of the net, while Justin Vazquez came through with two goals along with one assist.

More ...
Staff Reports
FINAL APPROACH
Northern Nash's Njsaja Thomas prepares to send a forehand over the net during last Friday afternoon's Big East Conference girls tennis foe Nash Central.
More ...
SERVICE SUCCESS
Northern Nash's Grayson Tanner watches her serve sail over the net as part of last Friday afternoon's home contest tennis match against rival Nash Central High School.
More ...
STAND AND DELIVER
Nash Central High School's Haley Baker prepares to serve during the Lady Bulldogs' road tennis contest last Friday against Northern Nash. The homestanding Lady Knights were 8-1 winners in the Big East Conference court event.
More ...