Subscribe/Access
Advertisements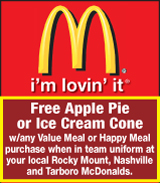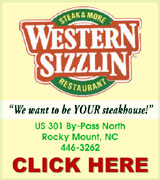 Sections
Member Options
Back
Nashville's water rates may increase


The Town of Nashville held its annual retreat this week on Tuesday and Wednesday, to examine in depth financial aspects of the town and to make plans for future endeavors. Though the results of a recent audit suggest that the town is in better than average financial shape, recent changes to income from the enterprise fund may herald a significant water rate increase to residents in the coming fiscal year.

More ...
AMELIA HARPER, GRAPHIC CORRESPONDENT
A DAY IN COURT
Approximately 40 AIG Students from Englewood Elementary School visited the Nash County Courthouse Tuesday afternoon to learn about the duties of the Clerk of Court and the court system. Nash County Clerk of Court Rachel Joyner spoke to the students and engaged them in a mock trial to give them an idea of the roles in the courtroom. Pictured above is Harrison Janke who played the judge for the mock trial.
More ...
Chamber seeks nominations for citizen award
The Nashville Chamber of Commerce is seeking nominations for this year's Distinguished Citizen.
Nominees do not have to be a chamber member nor does the nominating individual or group. The nominee should be a citizen or business person from the Nashville area and should be a person who strives to make our community a better place for all.
More ...
School Board studies increased funding needs for ESL students


A review of federal funding sources and expenditures by the Nash-Rocky Mount School Board on Monday revealed a growing need for funding for students who are from homes where English is not the first language (ESL). The southern part of the county in particular faces unique challenges in this area. These needs and others were reviewed as school board members reviewed the nearly ten million dollars in funding the system is receiving from the federal government in the current fiscal cycle.

More ...
AMANDA CLARK GRAPHIC STAFF WRITER AND AMELIA HARPER
Spring Hope appoints Lucas to town board


Two women addressed the Spring Hope commissioners Monday night with hopes to fill a vacant seat on the town's board.
The vacancy is due to the announcement in December that Bill Newkirk was resigning because of  health issues. He was serving his third term on the Spring Hope Board.

More ...
JO ANNE COOPER, GRAPHIC PUBLISHER
Red Oak appoints Langley as Mayor Pro-Tem


Red Oak Town Commissioners have appointed Commissioner Levell Langley to fill in as Mayor Pro-Tem until Red Oak Mayor Alfred Wester is able to return to his duties. The move took place at the January town meeting after Wester reportedly suffered a major stroke.
Wester is now recovering from the stroke at a facility in Rocky Mount, sources say.

More ...
AMELIA HARPER, GRAPHIC CORRESPONDENT
Locals aim to open microbrewery and restaurant


One of Chris and Erin Flora's favorite pastimes is walking their dog, Braxton, along the sidewalks that line the charming streets of Nashville. The couple has lived there for two years and enjoys the small town for its shopping and dining experiences and unique culture. "The beautiful buildings have always inspired our imaginations and we often thought it was a shame that some were vacant. What a great place that would be to work, looking out over Washington Street and the Nash County Courthouse," Chris Flora said.

More ...
CONTRIBUTED BY NASH COMMUNITY COLLEGE
NASHVILLE POLICE BRIEFS
INCIDENTS
A false info to LEO, conspiracy to commit felong larceny and larceny by byapss of anti-theft device was reported at Wal-Mart, 1205 Eastern Ave., on 1/26/15
A larceny was reported at Wal-Mart, 1205 Eastern Ave., on 1/26/15
More ...
NASH COUNTY SHERIFF'S OFFICE REPORTS
01/26/15 - Breaking and entering; 8668 Davis Store Rd
01/26/15 - Breaking and entering motor vehicle; 3205 Volunteer Rd
01/26/15 - Poss controlled substance and possesion of tobacco by an inmate; 222 W. Washington St.
01/26/15 Breaking, entering and larcney; 7603 Old Smithfield Rd.
More ...
Nash County Medical Director retires


Nash County Commissioners, at their January meeting, approved a resolution honoring the service of long-time Nash County EMS Medical Director Dr. Ted Westover.
Westover is retiring with over 20 years of service as the county's medical director.
Emergency Services Director Brian Brantley requested commissioners approve a resolution honoring his service at their regular meeting, held on January 5.

More ...
AMANDA CLARK, GRAPHIC STAFF WRITER
ENGAGED
Phillip and Winnie Johnson of Rocky Mount announce the engagement of their daughter, Hilary Beamon Johnson,  to Dexter Dennis David, son of Royal and Elizabeth David, also of Rocky Mount. The wedding is planned for May 16, 2015 at Lakeside Baptist Church in Rocky Mount.
More ...
ENGAGED
Johnny and Mary Shook, of Nashville, announce the engagement of their daughter, Jessica Lynne Newbold, of Nashville, to Jerry Lee Ezzell, Jr., of Rocky Mount. He is the son of Jerry and Beth Ezzell, of Rocky Mount. A June 6, 2015 wedding is planned in Rocky Mount.
More ...
Nashville man named to college Dean's List
Michael Francis Bertolino, of Nashville, made the Dean's List at Randolph-Macon College.
Bertolino, a freshman, is the son of Mr. and Mrs. Michael Bertolino.
Randolph-Macon is a private, coeducational liberal arts and sciences college located 15 minutes north of Richmond in the scenic town of Ashland, Virginia.
More ...
Local man earns Sudan Shriner honor
Noble Carl Wayne Smith, of Nashville, was elected as the Oriental Guide at the annual Winter Sudan Shriners Ceremonial on January 24, 2015. 
The term, "Oriental Guide" is a ceremonial title given to one of the seven elected officers of Sudan Temple and as such is a member of the Board of Directors.  He was originally appointed to the Sudan Divan by Past Potentate Bruce Bullock in 2011.
More ...
Local man wins lottery
Michael Tyndall, a 51-year-old handyman from Whitakers in Nash County, claimed the top prize in the $1,000 a Week for Life! game and will get $52,000 a year for the rest of his life.
"This is like winning a salary every year," Tyndall said. "It's basically my retirement."
Tyndall purchased the lucky $2 ticket at the Journigan's Food Stores on N.C. 43 in Whitakers on Sunday evening.
More ...
DONATION
The Nashville Chapter 332 Order of the Eastern Star recently donated $473.66 to Hospice of Nash General Hospital. Chapter treasurer Susan Ayers (third from left), presents the contribution to Hospice manager Cynthia Hall-Thomas (second from right), Medical Director Dr. Douglas Boyette (far right), Janelle Ezzelle (far left) president of Friends of Hospice and conductress of the Eastern Star, and Ken Ezzelle (second from left), the treasurer for the Hospice of Nash General Hospital Board of Directors.
More ...
NCC Math Tank earns President's Cup
The 2014 President's Cup was presented to Nash Community College's Math Tank faculty and staff for their commitment in assisting and supporting math students and helping facilitate student success. The College's most prestigious award is bestowed annually upon any individual or group who has made an indelible mark on the campus.
More ...
Nash County Blood Drives
Thursday, February 5 from 1 until 5 p.m. at Draka Elevator Products, 2151 North Church Street, Rocky Mount
Wednesday, February 11 from 8:30 a.m. until 1:30 p.m. at Nash Community College, Building A, 522 N Old Carriage Road, Rocky Mount
Thursday, February 12 from 2:30 until 7 p.m. at the Rocky Mount Moose Lodge, 521 Country Club, Rocky Mount
More ...
New graduates
A total of 39 new graduates turned their tassels Friday night at the Tar River Academy commencement ceremony. Achieving a goal that once seemed out of reach; the new graduates walked the stage proudly as they received their high school diplomas. Every step taken was representative of each graduate's transition to adulthood, higher education and/or professional careers. A total of 31 out of 39 graduates will continue on to community college.
More ...
NEW OFFICERS
The West Mount Ruritan Club recently installed new officers for 2015. Pictured (L-R) is: Sam Batchelor (first year director), Gold Joyner (second year director), Jeff Joyner (third year director), Lester Weaver (treasurer), Bob Alford (treasurer), Wayne Outlaw (vice-president), Johnnie Massie (president) and George Brothers, District Governor for the Rocky Mount/Durham District, who installed the new officers.
More ...
Recently retired
Leorita Hankerson (left) and John Denton (right) recently retired from  Southern Bank's Nashville Board of Directors. Amy Beasley (center), Vice-President, City Executive of Southern Bank, Nashville  said  Hankerson and Denton have been very instrumental in the growth of Southern Bank and that the bank is very appreciative of the time they spent on the Nashville Board.
More ...
55 years of service
Russell Cockrell was recently recognized for 55 years of service to the West Mount Ruritan Club. West Mount Ruritan Club President Buck Pittman (at left) presented Cockrell (at right) with the special award.
More ...
NCC announces partner for new training program
Nash Community College has announced a partnership with Waste Industries resulting in a new Class B CDL Truck Driver training program including 40 hours of combined in-class learning and behind-the-wheel training. Through an existing training partnership, NCC also offers Class A CDL training for students interested in driving a vehicle with a semi-trailer or trailer with two or more axles.
More ...
PEACHTREE COMMUNITY NEWS


On a beautiful Sunday morning Peachtree folks gathered for worship.  It was on this date, 206 years ago, that the church first met and organized.  Since that time many events have occurred in the world.  The church building has burned three times, but God has always enabled this people to rebuild.  He has continued to bless them as they have sought to honor Him.

More ...
BARBARA HARDISON
RED OAK NEWS


Pat and Melinda Griffin hosted a gathering at their home on Super Bowl Sunday for the youth and their families.
Everyone's invited to WMU Focus Sunday on February 8.  WMU members will lead the service.
Several Women on Mission groups will meet next week at Red Oak Baptist Church.

More ...
Suzy Pearce
Word for the week


Four thousand years ago, God spoke to a man by the name of Abraham and told Him to leave home and family. "By faith Abraham, when he was called, obeyed by going out to a place which he was to receive for an inheritance; and he went out, not knowing where he was going" (Hebrews 11:8).

More ...
DENNIS PRUTOW
AVENTON NEWS


Recently the Bobby Godwin Family along with Richard and Linda Journigan celebrated Rachael Anne Godwin's 10th birthday with a trip to Orlando, Fla.  Rachael got to fulfill her dream of swimming with the dolphins.  She got to be a dolphin "Trainer" for the day.  Rachael got to swim, feed, pet, ride and take care of the dolphins and some of the other cool animals at Discovery Cove.  Fun was had by all!  Happy Birthday Rachael!

More ...
JOJO RICKS
BEULAH COMMUNITY NEWS


Please mark your calendar for something special at Beulah Church of Christ. Our revival begins March 1st. The minister will be brother Charles Lucas. He has brought several sermons to us recently and is a great speaker. He will speak on Sunday morning at 10:45 a.m. on March 1st and also again that night at 6 p.m. The revival will continue Monday, Tuesday, and Wednesday nights, and will begin those nights at 7 p.m.

More ...
WILMA ENROUGHTY
Locals pass CPA exam
The North Carolina State Board of Certified Public Accountant (CPA) Examiners recently announced that 173 North Carolina candidates successfully completed the Uniform CPA Examination during the October through December 2014 testing window.
Nashville residents completing the examination include Adam Shelton Lanier and John David Pike.  Benfield Gordon Hicks, of Rocky Mount, also completed the exam. 
More ...
Pot refunds may buy chips and cookies


In Alaska, each of the state's more than 640,000 residents will be getting a nice little piece of mail soon.
Every eligible state citizen will receive a check for nearly $1,900 from the wealth trust fund set up in the early years of the Reagan administration. The oldest recipient is 109, while the youngest are infants.
The amount is more than twice of the previous year, but still down from a high of over $2,000 a few years ago.

More ...
Mike Brantley
Baby Boy Clark is here!


You may recall last week I mentioned  that our reporter, Amanda Clark,  was merely a week away from giving birth to her third son. Due to some pre-existing circumstances, she was scheduled for a cesarean today (Feb. 5th) in Greenville. But little baby Clark had a different idea. I also mentioned last week I thought the little fellow was going to have his mom's sense of humor, and I believe I was right!

More ...
Jo Anne Cooper - 1 opinion posted
Reader responds to NAACP letter


Dear editor:
Ever since the end of the civil rights era, a new form of activism has been added to the ever increasing list of ways people can make money off of those that are less fortunate in our society, and this particular brand is known as "race pimping."

More ...
Letters to the Editor:
Backward Glances


FIRST AID LESSON –– This photo was originally published in The Graphic on Feb. 7, 1977. Marta Latta (kneeling center) member of Nashville Girl Scout Troop 502, practices mouth-to-mouth resuscitation on the dummy Resuci-Anne during a first-aid class at Nashville Methodist Church.

More ...
A PICTORIAL LOOK INTO THE PAST
Nash County Animal Friends' Notebook


At the beginning of every year, we humans love to make resolutions. The majority of them are unsuccessful because we set lofty goals that sound great in our minds, but are not likely achievable due to our busy lives or lack of long-term motivation. Many of those resolutions include eating healthier food (and less of it) and getting more exercise.

More ...
Kristy Carney, NASH COUNTY ANIMAL FRIENDS

ZERO FOR TWO. Nash Central's Michaela Nelms (with ball) drives for a basket during last Friday's home loss against the Rocky Mount Gryphons.

Central Can't Shake RMHS


ROCKY MOUNT -- Nash Central High School's girls basketball squad might be ahead of development schedule this season as the young Lady Bulldogs are in the mix for a possible spot in the Class 3-A State Playoffs out of the always-tough Big East Conference.
Central, with just one senior starter, is loaded with solid players in its sophomore class -- and potential-rich freshman Robbi Allen is essentially serving a redshirt year due to a serious knee injury.

More ...
Staff Reports

I'VE GOT THIS. Nash Central High School's Jahkele Goins (top) finishes off a pinfall during last Saturday's action at the Big East Individual Wrestling Tournament at the Southern Nash HS Gymnasium in Stanhope.

FINALS COUNTDOWN


STANHOPE -- With team playoff and individual regional positions already determined, just one order of business remained in the regular season portion of the Big East Conference wrestling campaign.
That business was taken care of last Saturday as the Big East Individual Tournament was staged at the Southern Nash High School Gymnasium.

More ...
GEOFF NEVILLE, Graphic Sportswriter

SEE YA. Nash Central High School veteran guard Josh Mullins (with ball) drives for a basket for the Bulldogs during last Friday's home win over Big East Conference boys basketball rival Rocky Mount.

Bulldogs Bag A Big Win


ROCKY MOUNT -- If this was football, Nash County's high schools might receive a piling on penalty against the Rocky Mount Gryphons.
Rocky Mount, which has dominated the area boys basketball scene over the past several campaigns, has now suffered an uncharacteristic three losses in a row against county squads -- and that has moved RM into the basement of the tightly bunched Big East Conference standings.

More ...
Staff Reports

TUCKER'S TIME. Nash Central Middle School's Stephen Tucker soars for a basket for the Trojans during last Thursday's road setback against the Red Oak Tigers.

Tigers on path for playoffs


RED OAK -- Despite its season-long dominance of the North Division of the Tri-County Conference boys basketball standings, Red Oak Middle School needed a strong finish just to qualify for the league tournament.
That's because Red Oak dropped a pair of non-division matchups to Toisnot -- but those setbacks counted in the division standings.

More ...
GEOFF NEVILLE, Graphic Sportswriter

HOWARD'S HAUL. Nash Central's Naudika Howard (right) comes down with a rebound for the Lady Trojans during last Thursday's narrow Tri-County Conference defeat at Red Oak Middle School.

Tigers Take A Thriller


RED OAK -- Red Oak Middle School's speedy path toward a potential undefeated season was marked with a potential bump last Thursday in the form of the Nash Central Lady Trojans.
Red Oak had stopped Central -- the defending league champion -- before the holiday break, but needed a late rally in order to achieve that feat.

More ...
GEOFF NEVILLE, Graphic Sportswriter
Buffaloe claims second at event


LOS ANGELES -- Christian Buffaloe, 15 year old local Kyokushin knockdown fighter, recently gained 2nd Place in the youth division(15 yrs) of the "2015 Kyokushin USWC Championship Tournament" in Los Angeles, California.
There were competitors from Japan, Poland, the Ukraine, Costa Rica, New Zealand, Russia, Canada and the United States.

More ...
Staff Reports
Duerler selected for USA South's HOF


FAYETTEVILLE -- The USA South Athletic Conference has released its 2015 Hall of Fame Class, which includes four former student-athletes from Greensboro College, Methodist University and North Carolina Wesleyan College.
NCWC has announced that former women's soccer standout Julie Duerler has been selected as Wesleyan's first female inductee.

More ...
Staff Reports
NC Wesleyan endures a tough weekend


ROCKY MOUNT -- North Carolina Wesleyan College's hoops squads hosted a trio of USA South games over the weekend, beginning with a league doubleheader versus Greensboro last Saturday and concluding with a men's matchup with Averett on Sunday.
Saturday's opener proved to be the most exciting contest of the weekend as the Pride men (13-6, 6-2 USA South) held on for a slim 74-71 victory.

More ...
Staff Reports
USA South announces spring favorites


FAYETTEVILLE -- The USA South Athletic Conference has released its 2015 spring sport preseason polls for baseball, softball, tennis and golf. 
North Carolina Wesleyan College's tennis teams led the way with the men being pick to win a seventh straight title and the women grabbing five first place votes en route to a 3rd-place billing. Baseball was tabbed 6th in its poll, while softball was picked to finish in 7th-place. Golf rounded out the voting in 9th-place.

More ...
Staff Reports
NASH CO. REC REPORT


NASH COUNTY -- Here are recent scores from the Nash County Parks and Recreation Department's Youth Basketball League:

More ...
Staff Reports
Highfield named new coach at LC


LOUISBURG -- Louisburg College has named Trevor Highfield the new Head Football Coach, effective immediately. 
The new hire follows a job search of roughly 30 applicants, three of which took part in on-campus interviews.
Highfield is no stranger to Louisburg College Football as he has been the defensive coordinator and recruiting coordinator for the past seven seasons. He played at the University of Washington.

More ...
Staff Reports
BIG EAST TOURNAMENT WRESTLING HIGHLIGHTS, 1
CONFERENCE CALL. There were plenty of outstanding matches during last Saturday's Big East Conference Individual Wrestling Championships, which were held at Southern Nash High School. Among the event competitors were (above) Southern Nash's Chris Lazarte.
More ...
BIG EAST TOURNAMENT WRESTLING HIGHLIGHTS, 2
CONFERENCE CALL. There were plenty of outstanding matches during last Saturday's Big East Conference Individual Wrestling Championships, which were held at Southern Nash High School. Among the event competitors were (above) Nash Central's Josh Brice (left) and Southern Nash's Saul Orduna.
More ...
DESTINY CALLING
Nash Central's Destiny Davis makes a strong move toward the basket during last Friday night's home defeat against rival Rocky Mount.
More ...
DOING THE SPLITS
Nash Central's Chris High (with ball) splits the Red Oak Middle School defense during last Thursday's Tri-County Conference basketball showdown.
More ...
JUMPER
Nash Central's Aaron Spivey (right) drains a jump shot for the Bulldogs during last Friday night's home victory against the Rocky Mount Gryphons. NCHS is tied for second in the Big East standings.
More ...
MOORE IS GOOD
Red Oak's Alexis Moore was effective from her point guard position during last Thursday's win against the Nash Central Trojans.
More ...
The Platters to perform in Rocky Mount
For one night only the Gateway Convention Centre in Rocky Mount is undergoing a transformation to a classic 60s nightclub. On Friday February 13th the legendary smooth vocal group The Platters will perform at what will be known for one night as Club T-R-O-C.
The Platters will make this transformation real filling the room with impeccable harmonies singing their long list of smooth stylized uptown soulful hits.
More ...
Tenor to sing at Cherry Hill Plantation
The 2015 season at Cherry Hill in Warren County begins on February 8th with a performance by Timothy Sparks, tenor. Mr. Sparks will be accompanied on the piano by Deborah Hollis as he presents works by Ralph Vaughan Williams, Faure', Britten, and Schuman.
Timothy Sparks has appeared with opera companies in the United States and Europe.
More ...
ANN ELIZABETH MELROSE
Ann Elizabeth Melrose, 68, passed away Friday, January 30, 2015. She was born June 29, 1946 in West Monroe, La. Private family service.
More ...
ANNIE JO CREDLE
Annie Jo Credle passed away January 29, 2015. She was born in Collins, Mississippi on May 25, 1925. She is the daughter of the late Joseph F. Davis and Annie Mae Godard She was also preceded in death by her brother, James C. Davis and her husband, Benjamin Silas Credle.
More ...
EFFIE WALSTON BASS
Effie Walston Bass, 97, passed away Monday, February 2, 2015. She was born October 1, 1917 in Edgecombe County to the late Levi Edward Walston  and mother, Mittie Effie G. Walston.
More ...
ELMO MULLEN
Elmo Mullen, 76, of Wilson, died Friday, January 30, 2015. A graveside service was held  Tuesday, February 3, 2015 at Peachtree Baptist Church Cemetery.
More ...
JEAN MARSHA RIDDLE HEATH
Jean Marsha Riddle Heath, 90, passed away Sunday, February 1, 2015. She was born July 10, 1924 in Edgecombe County. Family will have a private burial service.
More ...
NORMAN ANDRE WHITLEY
Norman Andre Whitley, age 72, of Rocky Mount, passed away Monday, February 2, 2015. Born February 14, 1942 in Wilson County,   he was the son of the late Eddie Thomas Whitley and Bessie Griffin Whitley. In addition to his parents, Norman is predeceased by his daughter, Catherine Elizabeth Whitley; sisters, Esther W. Wiggins, Virginia W. Balkeum, Frances W. Edwards and Margaret W. Martin; and brothers, Clyde Whitley, David Whitley and Harvey Whitley.
More ...
REBECCA LAMM PADGETTE
Rebecca Lamm Padgette 50, passed away  January 27, 2015. She was born January 30, 1964 in Rocky Mount, daughter of the late Ervin Louis Lamm and Dorothy Smith Lamm. She is also preceded in death by her brother, Kevin Scott Lamm.
More ...
REV. JAMES RAY ALLEY
Rev. James Ray Alley, age 64, passed away  Tuesday, January 27, 2015. He was born in Greensboro,  on April 27, 1950 to the late B.C. "Pete" Alley and the late Blanche Fulp Alley. He is also preceded in death by his father-in-law, Col. William E. Lewis.
More ...
ROBERT "BOB" CLIFTON GRAY, JR.
Robert "Bob" Clifton Gray, Jr., age 72, of Rocky Mount, passed away Sunday, February 1, 2015. Born October 21, 1942, he was the son of the late Robert Clifton Gray, Sr. and Mary Holland Gray. He is predeceased by his wife of forty-six years, Lilah R. Gray.
More ...
RUTH MICHELLE CONERT
Ruth Michelle Conert, age 58, passed away on Tuesday, January 27, 2015. She was the daughter of the late Reverend David Edmund Conert, Sr. and Mary Ruth Parker Conert. She was preceded in death by her brother-in-law, Edward Moxley.
More ...
WILLIAM "BILL" E. MCCRACKEN
William "Bill" E. McCracken, 44, passed away February 1, 2015. He was born in Hampton County to William and Frances McCracken. He is preceded in death by his mother, Frances McCracken.
More ...