Subscribe/Access
Advertisements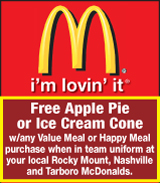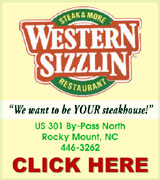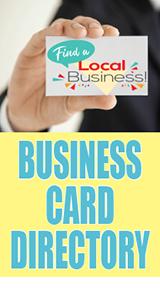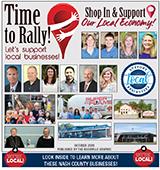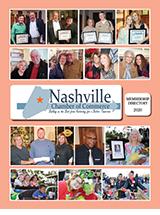 Sections
Member Options
Back
Local choir to hold event at Courthouse


A local church's community choir hopes to bring healing to Downtown Nashville next week during a special event on the courthouse steps.
"New View" will be held on Tuesday, December 23 at noon on the steps of the Nash County Courthouse.
The event will feature singing, dancing and remarks from various people. The focus of the event is to bring healing to the community, said Lisa Webb, the choir director for Selah!, the Community Choir at Church on the Rise.

More ...
AMANDA CLARK, GRAPHIC STAFF WRITER
Social media pic sparks concern at NRMS


A photograph posted on social media has made headlines and caused a stir at Nash Central High School.
The photo, which was allegedly taken over the Thanksgiving break, shows six unidentified Nash Central High School students wearing white cone-shaped hats and white shirts similar to Ku Klux Klan costumes. The students are also making gestures with their hands.

More ...
AMANDA CLARK, GRAPHIC STAFF WRITER

PERFECT FIT –– Nash County Sheriff's Major Brandon Medina (at left) shows his approval to a Ninja Turtle bicycle helmet that Thomas Nichols, 6, (at right) tried on at Wal-Mart on Wednesday as part of the Kids and Cops Christmas program.

Nashville Police Department hosts second round of holiday giving


On Wednesday morning, Nashville police officers made their second trip to Wal-Mart to help local youth shop for Christmas.
Nashville's Police Department has been overwhelmed with donations this holiday season for its Kids and Cops Christmas program.

More ...
AMANDA CLARK, GRAPHIC STAFF WRITER
Sidewalk project slated for Nashville in 2015


In just a few months, work will begin on a big sidewalk project in the Town of Nashville.
The project will provide sidewalk from First Street Extension all the way to Wal-Mart on Eastern Avenue. Another part of the project will provide sidewalk on S. Alston Street from Circle Drive to Circle Drive.
The project is part of Nashville's long-range plans of making the town more pedestrian friendly.

More ...
AMANDA CLARK, GRAPHIC STAFF WRITER
Nashville Chamber pursues business incubator idea


Nashville's Town Council is considering allowing the town's Chamber of Commerce to start a business incubator in the town's old library facility.
Chamber President Dylan Bunch came before council members at the December 2nd meeting with the request.
Bunch said the chamber was interested in leasing the building, which is located at 202 S. Alston Street, for $1 per year.

More ...
AMANDA CLARK, GRAPHIC STAFF WRITER
Local teen collects toys for foster children


"Be the Change."
That has been Kennedy Brown's motto over the past year, since attending the Junior Peace Corps this summer.
But the motto is something Brown has followed for the past four years, since she began collecting toys and other items for youth in foster care.
Brown recently donated 130 items to Nash County's Social Services Foster Care Program.

More ...
AMANDA CLARK, GRAPHIC STAFF WRITER

Pictured above is a display of firearms and drugs which were seized during an investigation last week.

Sheriff's investigation nets four arrests


The Nash County Sheriff's Office apprehended four people last week as part of a month-long drug investigation.
Sheriff Keith Stone held a press conference last Wednesday, December 10 to discuss the investigation, where several pounds of cocaine, U.S. Currency and guns were all seized after search warrants were executed.
Stone said the investigation proved that guns and drugs were in this area. But, he added, the Nash County Sheriff's Office was committed to working to get the drug dealers and violence off the streets.

More ...
AMANDA CLARK, GRAPHIC STAFF WRITER
NASHVILLE POLICE BRIEFS
INCIDENTS
A larceny (shoplifting) was reported on 12/8/14 at Wal-Mart, 1205 Eastern Avenue
An involuntary committment service was reported on 12/9/14
A breaking and entering of a commercial building and damage to property (vandalism) was reported on 12/10/14 at the Nash County Animal Hospital
More ...
NASH COUNTY SHERIFF'S OFFICE REPORTS
A felony larceny was reported on 12/8/14 at 3530 Watson Seed Farm Road
Trafficking cocaine was reported on 12/8/14 at 2301 Goosebranch Drive
A possession with intent to sell and deliver cocaine, possession of marijuana and maintaining a vehicle/dwelling/place was reported on 12/8/14 at 10496 Village Heights
More ...
Nash-UNC Health Care announces board changes


At the December meeting of the Nash UNC Health Care Board, board members celebrated the service of four members who will be leaving the board. Vincent C. Andracchioa and Michael T. Bryant, who have both served as chairman during their term of service, will be leaving, in addition to Carl M. Daughtry and Betty Anne Whisnant, who had each served as officers. Combined, they have given more than 30 years of services to the board of Nash UNC Health Care.

More ...
AMELIA HARPER, GRAPHIC CORRESPONDENT
Red Oak pursues water, sewer expansion issues


At the December 1 meeting of the board of the Town of Red Oak, Board members discussed several issues relating to the town's infrastructure, including the expansion of water and sewer services to selected areas of Red Oak.
Mayor Alfred Wester said that he would be attending a meeting in the near future with Derek Hawkes and other Nash County officials to discuss the future of the water expansion to the area.

More ...
AMELIA HARPER, GRAPHIC CORRESPONDENT
Johnson, Gault unite in marriage at Red Oak Baptist
Shannon Jeannette Johnson and Robert Gregory Gault were married at 5:00 p.m. November 1, 2014 at Red Oak Baptist Church in Red Oak, NC. Mr. Robert Tillery Wynn of Covenant Church, Greenville, NC officiated the ceremony.
The bride is the daughter of Mr. and Mrs. Charles Douglas Johnson of Red Oak.
Grandparents of the bride are Mrs. Barbara Sue Edwards and the late Mr. Grover W. Edwards of Red Oak, and Mrs. Jeannette Worsley Johnson and  the late Mr. Gerald Kent Johnson of West Edgecombe.
More ...
BIRTHDAY CELEBRATION
Mrs. Alice Reams celebrated her 90th Birthday on December 7th at Momeyer Baptist Church with family and many special friends.  Her Birthday is on Christmas Eve.  Pictured with her children (L to R) Tammy Warren, Butch Reams, Vicky Hyde and Wallace Reams.
More ...
Military Brief
Air Force Reserve Airman 1st Class Tavon   Mosley graduated from basic military training at Joint Base San Antonio-Lackland, San Antonio, Texas.
The airman completed an intensive, eight-week program that included training in military discipline and studies, Air Force core values, physical fitness, and basic warfare principles and skills.
More ...
Christmas ~N~ Middlesex 2015, 1


Jayden and Nathan Crumel are pictured with their Godmother, Dominque Pilkerton, at the Christmas parade held in Middlesex Saturday.

More ...
GRAPHIC PHOTOS BY JO ANNE COOPER
NCC Phi Theta Kappa Honor students sign pledge
On November 19, 1918, Phi Theta Kappa Honor Society was founded. The Beta Upsilon Delta Chapter at Nash Community College, founded 2012, celebrated by hosting a Community College Completion Challenge Signing Event in the college's Midway Cafe. The event was hosted by Nash Community College's Beta Upsilon Delta Chapter of Phi Theta Kappa along with the support of the Nash Community College Alumni Association and college administrators.
More ...
NCC Gamma Beta Phi Honor Society holds induction ceremony
Referencing William Shakespeare's play, Henry the Fifth, Joshua Jones, Nash Community College Gamma Beta Phi Vice President of Membership, addressed those in attendance at the College's Gamma Beta Phi Honor Society Fall Induction Ceremony. "We are like many arrows, each coming from a different source, each with unique talents and varied interests; but as members of the Gamma Beta Phi Honor Society, we all promise to support one another and to focus our energies on the Society's goals," Jones said.
More ...

Abigail Hardy and Emma Camp (L-R) fill boxes up at Faith Christian School on Friday afternoon as part of the school's annual Toys for Tots Drive.

Faith Christian hosts annual Toys for Tots Drive


The gymnasium at Faith Christian School overflowed with boxes of toys Friday, as the school participated in its fifth year of contributing to the local Toys for Tots campaign.
At the end of the evening, well over a dozen boxes of toys were collected.
Tyler Hendricks, Physical Education Instructor at Faith Christian, got the program up and running at the school in 2009.

More ...
AMANDA CLARK, GRAPHIC STAFF WRITER
CHRISTMAS IN SPRING HOPE, 1


SANTA GIGGLES! - Pictured above, Kyle Hammett, eight months, is all smiles while meeting Santa Claus at the library on Monday afternoon. Santa and Mrs. Claus were on hand for storytime and to hear any last minute wishes for boys and girls.

More ...
Graphic photos by Amanda Clark
CHRISTMAS IN SPRING HOPE, 2
Pictured above, Benjamin Dupree, 3, looks at a horse in between carriage rides with the help of Randall Whitley. Carriage rides were offered around Downtown Spring Hope as part of the town's Christmas festivities on Friday night.
More ...
Members of Crisis Intervention Team complete training
Several members of the Nash County Emergency Services recently graduated from Crisis Intervention Training.
Nash County Emergency Services currently has 12 CIT trained staff members and will continue to train additional staff in 2015.
The Crisis Intervention Team (CIT) is made up of emergency services personnel who have completed specialized training in mental illness and crisis intervention techniques.
More ...
NCC Director of Cosmetology recognized
Nash Community College Director of Cosmetology, Karey D. Parker was recognized at the October meeting of the North Carolina Community College Cosmetology Instructors Association (NCCCCIA) as one of six recipients of a Lifetime Achievement Award. The meeting was held at the Raleigh Convention Center as part of the North Carolina Community College System Conference. Recognition was allocated to Karey for her 20 plus years of service in the Cosmetology field, in addition to her service and contributions made to the NCCCCIA.
More ...
BEULAH COMMUNITY NEWS


Several friends have called and wondered why I have not written the news for several weeks. Due to some sickness in the family there was not ample time to get it completed. I promise I will try to do it more regular as the health problems seem to be going better. My husband, William, is now home from the hospital and doing much better. Our great granddaughter Autumn Fisher was in the hospital in Charlotte from her birth, October 8 until last week.

More ...
WILMA ENROUGHTY
PEACHTREE COMMUNITY NEWS


It was a busy time at Peachtree Church this week-end.  It began on Saturday evening when the church hostesses served a delicious meal.  It was the annual Christmas dinner for church members and guests.  The Fellowship hall was festive with a Christmas décor.  The food was abundant and delicious.  Entertainment was by a group of young singers from Samaria Baptist Church, called "The Faithful Five."

More ...
BARBARA HARDISON
Word for the Week


A promise made: "For a child will be born to us, a son will be given to us; and the government will rest on His shoulders; and His name will be called Wonderful Counselor, Mighty God, Eternal Father, Prince of Peace" (Isaiah 9:6).
The fulfillment announced: "In the same region there were some shepherds staying out in the fields and keeping watch over their flock by night.

More ...
DENNIS PRUTOW
VOICE MEETING
SBI Special Agent Dirk German (pictured fifth from the left) was special guest speaker for the Voice of Nashville November meeting that were held at the Town Council Chambers located at 114 Church Street Nashville NC. German shared his knowledge about his line of work as an investigator for matters of national security. He may be called upon to perform many functions, ranging from field duties that includes a list of functions to researching information.
More ...
Nash Health Care receives grant for Outreach Project
Nash Health Care was awarded a $124,663 grant from The Kate B. Reynolds Charitable Trust in support of its new Access Outreach Project.  This project is designed to increase understanding of the Affordable Care Act (ACA) and to target areas in Nash, Edgecombe, and Halifax counties that have a high percentage of low-income uninsured and low-income residents.
More ...
FARM MARKET SUMMARY Dec 8-12, 2014


North Carolina's egg prices were steady on small and medium, higher on large, lower on extra large when compared to last week. Supplies are moderate to meet a moderate demand. The North Carolina weighted average price quoted Thursday, Dec 11, 2014 for small lot sales of delivered, cartoned, grade "A" eggs was 227.00 for Extra Large, 229.20 for Large, 155.86 for Medium, and 114.00 for Small eggs.

More ...
Contributed by FEDERAL - STATE MARKET NEWS SERVICE, DIVISION OF MARKETING – NC
Fight off the blues by looking ahead and back


Many of us have felt the feeling.
After the build up to Christmas — decorating, shopping, school programs, community theater, Charlie Brown specials, big meals, family, friends, gift exchanges — there is the inevitable. It can happen as early as Christmas night or a couple days after, but it is the letdown people often call the Christmas Blues.

More ...
Mike Brantley
Not a typical week at The Nashville Graphic newspaper office!


Everything was moving right along like most typical  Tuesday mornings at the Graphic office this week –– or at least what is typical for us newspaper folks! But what happened mid-morning was even beyond our strange encounters!
Nashville Graphic veteran advertising sales representative Deborah Tucker calmly notified all of us that a bird had entered the building through our back door. My first thought was a small bird had flown in since they love to nest in the outside nooks and crannies of some of these old buildings.

More ...
Jo Anne Cooper
Reader weighs in on teenagers' social media photo and community's response


Dear Editor:
A recent report has brought to our community's attention regarding our local teenagers who decided that a display on the Internet with them wearing white sheets, white hoods and hands drawn in an image that would indicate "shoot" was and is a bad idea that may have its roots in something much deeper than a "whimsical actions of an unguarded moment."

More ...
Letters to the Editor:
Backward Glances


SANTA CLAUS! –– This photo originally published in The Graphic December 23, 1976. Nashville's Fire Department, which was volunteer based in 1976, arranged for a brief visit from Santa. Saint Nick rolled into town on one of the department's trucks and sat in front of the fire department building which was then located on Washington Street. The department prepared approximately 1,000 bags of candy for Santa to give out during his visit.

More ...
A PICTORIAL LOOK INTO THE PAST - 1 opinion posted
Nash County Animal Friends' Notebook


Don't forget to do something special for your pets this holiday season! We're sure they'd love a little stocking with treats. You could wrap up a pet-safe bone in some wrapping and let them have the joy of opening it! The kitties usually love a little catnip-enhanced toy with a jingle bell. How about a new stuffed toy or ball for your dog? Remember that they don't care how much it costs. Their stocking can be an old sock!

More ...
Kristy Carney, NASH COUNTY ANIMAL FRIENDS

BUTTERBALL WITH THE BALL. Bunn's Bernadette 'Butterball' Cooke drives against Southern Nash's Eyla Santos during last Friday night's game.

Southern Swept By Ladycats


STANHOPE -- Heading into the middle portion of December, the Bunn Ladycats have staked a claim to being one of the top girls basketball squads in the area.
That's a fact Nash Central and Southern Nash found out earlier in the month, as both Nash County clubs suffered defeats against the Ladycats.

More ...
Staff Reports

RIGHT BEHIND YOU. Red Oak's Victor Ward (right) knows an Edwards player is trailing him during Monday's contest at the ROMS Gymnasium.

BIG YEAR FOR RO?


RED OAK -- Even though it's still early in the season, veteran Red Oak Middle School boys basketball coach Jeff Dodrill can't help but compare his current club to past championship squads in 2005 and 2013.
In each of those campaigns, Red Oak struggled the year before with a lineup dotted with seventh-graders. When those players returned the next season, the Tigers were able. Red Oak won't be able to achieve that goal in 2014-15 after an early loss to Toisnot.

More ...
GEOFF NEVILLE, Graphic Sportswriter

SURE SHOT. Nash Central Middle School's Mykel Hedgepeth drives for a layup during last Thursday afternoon's home hoops victory vs. Rocky Mount.

Trojans a winner on the court


NASHVILLE -- Another game, another lopsided victory for the Nash Central Middle School girls basketball squad.
The Lady Trojans scored the first 18 points of the contest last Thursday and never looked back on their way to delivering a convincing 49-12 home conquest against Rocky Mount Middle.
Central is the defending Tri-County Conference champion, and the Lady Trojans have looked the part of a possible repeat team this winter in the early  portion of the campaign.

More ...
GEOFF NEVILLE, Graphic Sportswriter

IT'S MY BALL. Nash Central's Montre Cash (right) maintains possession for the Bulldogs during last Tuesday evening's home victory over non-conference opponent Bunn at the NCHS Gymnasium.

NC Responds With Win


ROCKY MOUNT -- Over the past handful of seasons, Nash Central's boys basketball squad would have been unable to compete following the loss of a key player -- lead alone the squad's top scorer.
But that's what happened last Tuesday when the Bulldogs hosted non-conference foe Bunn for a matchup at the NCHS Gymnasium.

More ...
GEOFF NEVILLE, Graphic Sportswriter

SUPER SCOOP. Southern Nash's Bryan Vines (left) elevates for two points during last Friday night's home boys basketball triumph against the Bunn Wildcats.

A New Streak Begins


STANHOPE -- After seeing one winning streak snapped two nights earlier, the Southern Nash Firebirds embarked on another one last Friday night at the SNHS Gymnasium.
Southern had opened the 2014-15 boys basketball campaign with five straight victories, but the Firebirds suffered their first setback last Wednesday on the road against the C.B. Aycock Falcons in Wayne County.

More ...
Staff Reports
STATE FOOTBALL PLAYOFF GAMES


CHAPEL HILL -- Here are last weekend's championship matchups in the North Carolina High School Athletic Association's State Football Playoffs:

More ...
Staff Reports
Mudcats announce new coaching staff


ZEBULON -- The Carolina Mudcats have unveil edtheir 2015 field staff as they prepare for their first season as the Advanced-A affiliate of the Atlanta Braves.
Luis Salazar, who has 15-plus years of major league coaching experience, will helm the Mudcats this summer.
Carlos Mendez will serve as the team's hitting coach, while Derrick Lewis joins the staff as the pitching coach.

More ...
Staff Reports

FULL EXTENSION. Red Oak's Kristian Johnson (left) grabs a rebound for the Lady Tigers during Monday afternoon's girls basketball decision over Edwards Middle School at the ROMS Gymnasium.

Pressure Packed


RED OAK -- Despite the loss of some key performers from last year's conference runner-up team, the Red Oak Lady Tigers look primed for another successful campaign this time around.
The Lady Tigers are currently undefeated and  earned another Tri-County Conference victory Monday afternoon at the ROMS Gymnasium.

More ...
GEOFF NEVILLE, Graphic Sportswriter
Lady Bishops drop tight contest


ROCKY MOUNT -- Up 55-45 with 5:34 to play, the North Carolina Wesleyan College Battling Bishop women's basketball team looked poised to pick up its second USA South win of the season on Sunday afternoon in Everett Gym.
Unfortunately for NC Wesleyan, the Cougars of Averett University had other ideas, using a 13-2 run over a two-minute span down the stretch to erase the deficit and secure an eventual 65-62 win.

More ...
Staff Reports

ON THE REBOUND. (L to R) Bunn's Tainasha Vines and Nash Central's Rebecca Speight go for a rebound during last Tuesday night's girls basketball matchup at the NCHS Gymnasium.

Halfway There


ROCKY MOUNT -- With the outcome of the game in doubt at halftime, the Bunn Ladycats turned to a reliable ally to break open last Tuesday's road basketball showdown at Nash Central.
Central led by as many as three points in the opening quarter and stayed to within six points of the Ladycats at the break.

More ...
GEOFF NEVILLE, Graphic Sportswriter
Annual Whitfield event is targeted


GOLDSBORO -- The baseball clinic run by North Carolina High School Athletic Association Hall of Famer George Whitfield is set for its 43rd annual renewal.
The clinic is scheduled for Goldsboro High School on January 10, 2015, and features another tremendous lineup.
Registration is scheduled from 7:30-9 a.m., and then the clinic will run until 6 p.m.

More ...
Staff Reports
NASHVILLE BELT TESTING, 1
BELTS AWARDED. The Nashville Academy of Martial Arts held a belt test on November 15, with nine students receiving belt advancements. Sensei Allen Clark, the owner/instructor of Nashville Academy of Martial Arts, presented the awards. Asher Nichols received his gold with white stripe belt. Nicholas is in the Tiny Nama Tots program for 4-6 year olds.
More ...
NASHVILLE BELT TESTING, 2
BELTS AWARDED. The Nashville Academy of Martial Arts held a belt test on November 15, with nine students receiving belt advancements. Sensei Allen Clark, the owner/instructor of Nashville Academy of Martial Arts, presented the awards. Two students earned their gold belts in the 14 and up class. Pictured (L-R) is Brandon Bunn, Sensei Allen Clark and Taylor Weaver.
More ...
GOING UP STRONG
Southern Nash's Marquise Wright elevates for a stickback last Friday night against the Bunn Wildcats.
More ...
INSIDE THREAT
Red Oak Middle's Kayla Richardson scores in the paint against rival Edwards during Monday's game.
More ...
INTENSE BOARD WORK
Red Oak's Victor Ward (right) tries to claim a rebound Monday against rival Edwards Middle in Tri-County Conference boys basketball action.
More ...
NUMBER ONE
Nash Central's Kathryn Wilkins (left) scores in the paint for the Lady Bulldogs during last Tuesday's home meeting with Bunn.
More ...
SWAT TEAM
Nash Central Middle School's Naudika Howard (left) prepares to tip the ball away from a Rocky Mount Middle player during last Thursday's girls basketball contest in Nashville.
More ...
TWENTY-TWO FOR TWO
Red Oak's Carresian Whitaker (right) scores in transition for the Tigers during Monday evening's home boys basketball conquest against Edwards Middle School.
More ...
UP FOR TWO
Southern Nash's Tatyana Pulley goes up for a basket during last Friday's contest against Bunn at the SNHS Gymnasium in Stanhope.
More ...
PAULINE EVELYN TURNER JOYNER
Pauline Evelyn Turner Joyner, age 88, passed away on Friday, December 12, 2014. She was the daughter of the late Jake Turner and Pauline Evelyn Jones Turner. Pauline was also preceded in death by her spouse, Hubert Harrison Joyner; sister, Betty Crooker; brothers, Billy, Leroy, Earl and Freddie N. Turner; and son-in-law, Kenneth R. Pollard.
More ...
CHARLES DAVID HOUSE
MIDDLESEX — Charles David House, 57, passed away Tuesday, Dec. 16, 2014. Funeral services will be held 7 p.m. Thursday in the Chapel of Spring Hope Funeral Home. Pastor Pam Denton will conduct the service. Visitation will follow the service at the funeral home. Interment will be held 11 a.m. Friday at Bailey Town Cemetery.
More ...
GREGORY SCOTT PERNELL
CASTALIA    -  Gregory Scott Pernell, 41, passed away December 10, 2014.  He was born in Nash County March 11, 1973.   He was preceded in death by his father, Roger Franklin Pernell, Sr. and brothers, Frankie and Milton Scott Pernell.
More ...
JAMES ROGER WARD
James Roger Ward, age 85, passed away on Monday, December 15, 2014. He was born in Nash County on March 18, 1929, to the late George Dempsey Ward and Carrie Sledge Ward. James was also predeceased by his sister, Annie Mae Saunders and husband, John and one brother, William Bill Ward.
More ...
MILDRED JEANETTE STONE PARKER
NASHVILLE - Mildred Jeanette Stone Parker, 63, passed away Thursday, December 11, 2014. She was born April 30, 1951 to the late Nuby "Bud" Stone and Edna Baxley Stone Williams. In addition to her parents, she was preceded in death by her step-father, Amos Williams, three brothers, David, Richard and Rufus Stone, and her companion of 25 years, Hoyt Coggins.
More ...
PATRICIA JOAN GIBSON QUINN
Patricia Joan Gibson Quinn, age 66, passed away on Saturday, December 13, 2014. Born on January 21, 1948, she was the daughter of the late Christian Frederick Gibson and Eileen Francis Scott.
More ...
STEPHEN CLAY BENNETT
Stephen Clay Bennett, age 71, passed away Saturday, December 13, 2014. He was the son of the late Noah Roberson Bennett and Opal Nugent Bennett. Stephen was also predeceased by his sister, Jeanette Bennett Moore.
More ...
WARNER LLOYD THROWER
Warner Lloyd Thrower, age 80, a Rocky Mount native passed away on December 13, 2014. He was the son of William Alfred Thrower and May Denson Thrower of Rocky Mount.
More ...