Subscribe/Access
Advertisements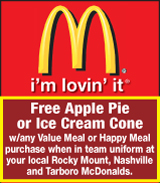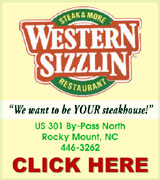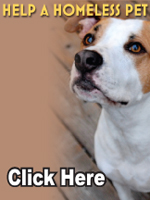 Sections
Member Options
Back
State budget impacts local schools


Several decisions by the recent NC State Legislature have affected the Nash-Rocky Mount School System budget and teacher pay, some in negative ways and some in positive.
The biggest hit to the school system came in the form of $1,021,182 in cuts to teaching assistant positions for the school system. The cuts only affect regular classrooms and do not impact programs for children with special needs, which actually received a $481,744 increase in allocations above what was planned by the school system.

More ...
AMELIA HARPER, GRAPHIC CORRESPONDENT
Justice VFD firefighter dies in accident


Justice and the emergency responding community was in mourning this week after a firefighter was killed in the line of duty.
According to authorities, Justice Firefighters John Gupton and Kyle Horton were responding to a fire call at Lake Royale at about 5 p.m. on Tuesday when the tanker they were riding in rounded a curve on Sykes Road.

More ...
CAREY JOHNSON, Special to The Graphic

AWARDS –– Dr. Mark Cockrell, Principal of Southern Nash High School, (left) receives the Nash-Rocky Mount Public Schools Principal of the Year Award. Pictured presenting the award is NRMPS Superintendent Dr. Anthony Jackson.

ACADEMIC ACCOLADES


Nash-Rocky Mount Public Schools honored teachers and principals on Tuesday night, naming its 2014-2015 Teacher and Principal of the Year.
Superintendent Dr. Anthony Jackson said the night was about honoring the school system's teachers.
"Tonight we are here to celebrate you, the best of the best, our bright and shining stars," he said.

More ...
AMANDA CLARK, GRAPHIC STAFF WRITER
County finance director retires


Last Monday morning, Nash County Finance Director Lynne Hobbs attended her final County Commissioner meeting.
It was her 232nd meeting since joining Nash County's Finance Department in 1994.
On September 30, Hobbs will retire.
Hobbs began as the Assistant Finance Director for Nash County in 1994.  In 1997, Hobbs was named the county's Finance Director.

More ...
AMANDA CLARK, GRAPHIC STAFF WRITER
Nashville is venue for Bark for Life event


Nashville's Stoney Creek Environmental Park will play host to Nash County's first ever Bark for Life event.
The event is a part of Relay for Life and like Relay, is a fund raising event for the American Cancer Society.
The event honors the contributions of canine caregivers. Canine caregivers include canine companions, guide dogs, service dogs, rescue dogs, therapy dogs, police dogs, cancer survivor dogs and diagnostic dogs.

More ...
AMANDA CLARK, GRAPHIC STAFF WRITER

Runners take off Saturday morning at the start of the third annual Warren "Sneak" Lewis 5K Memorial Race. Over 300 runners participated in the race, which is a fundraiser for the Warren "Sneak" Lewis Law Enforcement Foundation.

Runners raise money for foundation


The rain held off for runners Saturday at the Third Annual Warren "Sneak" Lewis 5K Memorial Race.
The race brought out over 300 runners to raise money for the Warren "Sneak" Lewis Law Enforcement Foundation.
Miste Strickland, one of the organizers of the event, said she was pleased with festivities on Saturday.
"Everything went great and the rain held off so that made it even better," Strickland said.

More ...
AMANDA CLARK, GRAPHIC STAFF WRITER
NASHVILLE POLICE BRIEFS
INCIDENTS
An involuntary commitment service was reported on 9/8/14 on Nashville Commons Drive
A larceny was reported on 9/8/14 at 222 W Washington Street
A larceny after a breaking and entering, breaking and entering a residential and damage to property (Vandalism) were reported on 9/11/14 at 123 Circle Drive
More ...
NASH COUNTY SHERIFF'S OFFICE REPORTS
Found property was reported on 9/8/14 at the I95 North rest area
A breaking, entering and larceny of a residence and burning personal property was reported on 9/8/14 at 7430 Windy Court West
A larceny from a residence was reported on 9/8/14 at 3797 Loop Road
More ...
Spring Hope Police Chief announces retirement


Spring Hope's Police Chief has announced his retirement.
Chief Tim Denton plans to retire on October 10, after almost 30 years with the town.
Town Manager John Holpe said Sgt. Allen Proctor has been appointed the Interim Police Chief, which he will begin serving on October 11.

More ...
AMANDA CLARK, GRAPHIC STAFF WRITER
Coopers Elementary PTO presents funding for AC unit


Members of the Coopers Elementary School PTO presented the Nash-Rocky Mount Board of Education with a check for $100,623.25 to cover the cost of installation of a new air conditioning system at Coopers Elementary gymnasium. The group has spent several years trying to raise the funds for the project. The school board also approved a bid for construction of the HVAC system and construction should begin soon.

More ...
AMELIA HARPER, GRAPHIC CORRESPONDENT
Medical Assistants graduate at NCC
Nash Community College recently held a pinning ceremony to recognize eleven graduates from the medical assisting diploma program. Each individual completed the academic and clinical work required to become Medical Assistants as determined by the American Association of Medical Assistants (AAMA). According to program director Nancy Worsinger, "Some have chosen to enter the workforce at this time, while others have returned to campus this fall for additional coursework leading to an associate's degree in applied sciences."
More ...
Fundraiser
The Nashville Kiwanis Club recently sponsored a fund raiser by selling tickets for four $100 gas cards.  The winners of the four $100 gas cards were Hannah Jones, Larry Taylor, Joe Michalenko and Latishea Faison.  The proceeds of the raffle will be used to recognize and honor Kiwanis "Terrific Kids" at area elementary schools.  Pictured above are members of the Nashville Kiwanis Club prior to the drawing.
More ...
Azia Clark
Locals selected to compete in Miss Teen Rocky Mount/Raleigh pageant
Azia Clark, of Castalia, and Jessica Brindle, of Bailey, were recently selected to participate in the 2014 Miss Teen Rocky Mount/Raleigh pageant competition that will take place on Saturday October 4, 2014.
Azia, a junior at Northern Nash High School, and Jessica, a freshman at Southern Nash High School, each learned of their acceptance into this year's competition when the pageant announced their selections following interviewing in the local Rocky Mount/Raleigh area.
More ...
West Mount Ruritans to sponsor Duke K.I.D.S Golf Tournament
The West Mount Ruritan Club will once again sponsor the Duke K.I.D.S. Golf Tournament on Friday, October 31, 2014 at Belmont Lake Golf Club.
The club has raised over $32,500 since the tournament's inception four years ago. All proceeds have donated to Duke Children's Hospital.
More ...
Nash County Blood Drives for Sept 2014
Thursday, September 18 from 2:30 until 7 p.m. at the Spring Hope Volunteer Fire Department, 415 W Nash Street, Spring Hope
Monday, September 22 from 3 until 7 p.m. at Bethlehem Baptist Church, 305 S. Halifax Road, Rocky Mount
Monday, September 22 from 2 until 6 p.m. at Nash Correctional Institute, 2869 US Highway 64 Alt, Nashville
More ...
WMU MEETS
The Nash County Women's Missionary Union (WMU) met last Tuesday at Rock Creek Baptist Church to hear Sue Singleton speak. Singleton (pictured) is a recently retired missionary from Cambodia, where she served for over 20 years. Singleton still lives in Cambodia. Singleton shared stories on her time as a missionary.
(Graphic photo by Amanda Clark)
More ...
PEACHTREE COMMUNITY NEWS


On a cool autumn morning Peachtree folks gathered for worship.  Pastor Eugene Whitehouse greeted those present.  Sanctuary flowers were given by Cheryl and Doug Hayes in memory of Steve, Betty and Harold Johnson.  The choir sang "Let Freedom Ring" under the direction of the pastor.

More ...
BARBARA HARDISON
Word for the week


People often do not see the work of Christ in His perfect life of obedience and His death on the cross in payment for sins as applicable to them.  They need an additional work of God.  Signing all the papers for a new home is not enough.  The buyer must take occupancy. 

More ...
DENNIS PRUTOW
RED OAK NEWS


Register now to participate in the first Fruit of the Spirit 5K Fun Run and Walk!  The race will be held on October 11 and will begin at 8:00 am.  All proceeds go toward helping those in need in the community and supports future Stop Hunger Now projects.  Go to  http://fruitofthespirit5k.eventbrite.com to register.

More ...
Suzy Pearce
FARM SERVICE AGENCY NEWS


USDA North Carolina Farm Service Agency (FSA) Executive Director, Bob Etheridge, recently announced that starting Sept. 2, 2014, farmers can enroll in the new dairy Margin Protection Program. The voluntary program, established by the 2014 Farm Bill, provides financial assistance to participating farmers when the margin – the difference between the price of milk and feed costs – falls below the coverage level selected by the farmer. 

More ...
SHARON TAYLOR, NASH COUNTY FSA EXECUTIVE DIRECTOR
UDC Bethel Heroes
UDC Bethel Heroes Chapter  636 member, Claudia Linkous  (at left) was recently presented two supplementals for her ancestors who served in the War Between the States.  Both served in Co. B, 33 NC Infantry Regiment. They included her great-great grandfather Joseph Powell and her great-great grandfather William H. Tolston.  Making the presentation was Margaret Sink (at right), registrar for Bethel Heroes.
More ...
Athletes behaving badly affects more than paychecks


I think Baltimore Ravens fans who are out wearing Ray Rice jerseys have lost their minds.
The insane comments I heard them make on television and radio regarding the player and the incident with his wife were disturbing, to say the least. The things said by the male fans were awful, but were certainly trumped by the women.

More ...
Mike Brantley
Pipeline public meeting is Monday at Rose Hill


I'm sure there are tons of questions that have been asked by property owners, reporters, elected officials and others of Dominion Power representatives on the proposed gas line that will come straight through our county.
Last Monday, I sat and listened as a representative from Dominion gave a presentation to Nash County Commissioners. I listened pretty intently, as just a few weeks earlier I had done a story on the proposal after landowners had brought letters to the office showing Dominion's plans.

More ...
Amanda Clark
North carolina voter law creates hardship for its senior citizens


Dear Editor:
In the September 15, 2014, edition of the Rocky Mount Telegram, the editor expressed the spirit of Voter Suppression behind the new NC Voter ID law. It is the Opinion of the Telegram that rather than encouraging voter participation, this law does just the opposite.

More ...
Letters to the Editor:
Backward Glances


DEMONSTRATION –– This photo originally published April 19, 1962. The correct placement of fertilizer in tobacco, cotton, and corn rows was demonstrated on the Lloyd Jenkins farm in the Philadelphia Community with Farm Agent F.E. Peebles in charge. Shown are several of the 24 farmers attending.

More ...
A PICTORIAL LOOK INTO THE PAST

FAB FIVE FOR THE KNIGHTS. Northern Nash's Alex Shearin (left) dribbles upfield for the Knights during last Thursday afternoon's non-conference road soccer victory against Bunn High School in Franklin County.

STATEMENT MAKERS


BUNN -- Through the years, Northern Nash has gained the reputation of boasting a boys soccer program that thrives on positioning, hard work, togetherness and fundamental excellence.
Veteran Knights' head coach Joe McCarthy wouldn't have it any other way.
"That's all we've ever been,'' McCarthy said. "We've never been flashy -- even when we were really good back in 2008. We're always about hard work all-around.''

More ...
GEOFF NEVILLE, Graphic Sportswriter

FIFTEEN ALIVE. Nashville's Jimmandre Hilliard picks up yardage during last Saturday's Eastern North Carolina Football League junior varsity contest vs. Sharpsburg.

Nashville JV squad on a roll


NASHVILLE -- Following a loss to Enfield one week earlier to open the season, the Nashville Hornets showed some bounceback resiliency last Saturday against Sharpsburg in Eastern North Carolina Football League junior varsity action.
The Hornets put together a strong performance and evened their overall mark at 1-1 with a 32-0 decision over the Gators at The Hornets Nest at Glover Park.

More ...
GEOFF NEVILLE, Graphic Sportswriter

ON HIS WAY. Nashville's D.J. Macklin (left) heads upfield during last Saturday's varsity football showdown against the Sharpsburg Gators.

Gators Get The Big Win


NASHVILLE -- While Jim Glover appreciates when his Nashville Hornets can put together a time-consuming, grind-it-out drive, he also understands that big plays after often the key to success in the Eastern North Carolina Football League.
Through two games, Glover's Hornets have been hampered by their lack of big-play ability, mainly due to a lack of overall team speed.

More ...
GEOFF NEVILLE, Graphic Sportswriter
SN STOPS RRHS


NASH COUNTY -- Both Northern Nash and Southern Nash broke two-game losing streaks on the gridiron last Friday night.
But Nash Central's long skein continued in heartbreaking fashion against Hertford County at The Dawg Pound on the NCHS campus in Rocky Mount.

More ...
Staff Reports
Wilson Fike stops Northern in tennis


RED OAK -- Host Northern Nash dropped a 9-0 decision to Wilson Fike last Thursday in Big East Conference girls tennis action.
Northern is now 2-4 overall and 1-3 in the league. Wilson Fike upped its mark to 8-2 and 3-0.
The Lady Knights returned to the court Tuesday with a road matchup against Rocky Mount.

More ...
Staff Reports
Northern Nash claims key volleyball triumph


STANHOPE -- Northern Nash overcame a second-set blip and went on to defeat Southern Nash in four sets last Thursday in a Big East Conference volleyball showdown at the SNHS Gymnasium.
Scores were 25-7, 10-25, 25-6 and 25-12 in favor of the Lady Knights.
Senior veteran Caroline Jenkins was exceptional for the Lady Knights as the setter came through with 19 service points to go with 11 assists.

More ...
Staff Reports
Wesleyan delivers road shutout victory


LINCOLN UNIVERSITY, PA. -- Behind trio of rushing touchdowns by senior Jacques Alston and a nearly flawless defensive performance, the Battling Bishop football team of North Carolina Wesleyan College picked up its first win of the season last Saturday, downing host Lincoln University by a 27-0 score.
The shutout was the fourth in program history and the first since the 2011 season.

More ...
Staff Reports
Big East golf season kicks off


ROCKY MOUNT -- The initial Big East Conference girls golf match of the season was held last week at Northgreen County Club.
A total of 27 competitors took part in the 18-hole event, which was held in challenging conditions due to recent heavy rains.

More ...
Staff Reports
NC Wesleyan athletes are honored


FAYETTEVILLE -- The USA South Athletic Conference has released its weekly awards for September 15, with a pair of  North Carolina Wesleyan College Battling Bishops garnering football recognition.
Jacques Alston was tabbed the league's Offensive Player of the Week, while teammate Travonne Marshall earned Defensive Player of the Week accolades.

More ...
Staff Reports
County teams in action


NASH COUNTY -- Both the Nash County and Northern Nash youth gridiron squads were in action last weekend in their respective leagues.
The Nash County Firebirds fell on the road against Rocky Mount in both the junior varsity and varsity levels in Eastern North Carolina Football League action.

More ...
Staff Reports
DOINK
Northern Nash's Justin Ricks heads the ball forward through the midfield during last Thursday afternoon's non-conference boys soccer showdown against the host Bunn Wildcats.
More ...
DUEL OF 11s
Northern Nash's Justin Ricks (left) tries to hold off a Bunn player during last Thursday's matchup.
More ...
WON'T BE DENIED
Nashville Hornets runner Zyshone Pearce (left) steams his way toward more yardage during his team's home victory Saturday vs. Sharpsburg.
More ...
Country Doctor Museum presents "History Alive"
A daylong celebration at the oldest museum in the nation dedicated to the history of rural health care will be held Saturday, Sept. 20.
From 10 a.m. until 4 p.m. the Country Doctor Museum will host its fourth annual "History Alive!" – a family-friendly event that aims to offer visitors a glimpse into the past. Free activities will include museum tours and horse drawn carriage rides from 11 a.m. until 2 p.m.
More ...
BESSIE JOHNSON PAGE
Bessie Johnson Page passed away September 8, 2014. She was born on September 28, 1932.  She is preceded in death by her spouse Thomas Franklin Page, and her three daughters Pam Sturgil, Debbie Swick, and JoAnn Hughes.
More ...
CHARLOTTE BAILEY MACRAE
Charlotte Bailey MacRae, 97, passed away on Sunday, September 14, 2014. Born in Plymouth, NC, she was the daughter of the late I.B. Gailey and Kate Loane Bailey.
More ...
CLORINE WILLIAMS EGERTON
ROCKY MOUNT –– Clorine Williams Egerton, 73, of Schertz, Texas and formerly of Franklin County, died on September 12, 2014 in New Braunfels, Texas.
More ...
ORENE BROWN
ROCKY MOUNT –– Orene Brown, 88, of Rocky Mount, died on September 11, 2014.
More ...
THOMAS CARLTON PIERCE
Dr. Thomas Carlton Pierce, 78, passed away Monday, September 15, 2014.  He was the son of the late Thomas Reggie Pierce and Annie Mae Smith Pierce. He was also preceded in death by his brothers, Edsel Pierce, Hardy Pierce and Franklin Pierce and by one sister, Nina Pierce Bethune.
More ...
WILLIAM EDWARD HUNT
William Edward Hunt, 71, passed away September 13, 2014. He was born in Halifax County to the late Eugene Hunt Sr. and Elizabeth Lindsey Hunt. In addition to his parents he was preceded in death by brothers, Wilson, Harvey and Eugene Hunt Jr.; sisters, Alice Virginia Smith, Jackie Walker, Helen Chalker and Frances Hunt.
More ...