Subscribe/Access
Advertisements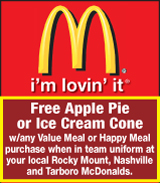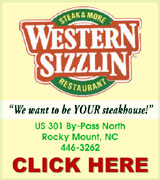 Sections
Member Options
Back
Extension Service plans restructure


A century-old organization has announced its strategic plan for restructuring, a plan that will limit its focus to three areas to better serve Nash County and the state.
The North Carolina Cooperative Extension Service at N.C. State University released the strategic plan last week.
Dr. Joe Zublena, the Director of the Extension Service, announced the plan to employees across the state during a webinar.

More ...
AMANDA CLARK, GRAPHIC STAFF WRITER
Hospital board mulls impact of recent legislature


Hugh Tilson, Executive Vice President of the NC Hospital Association (NCHA) was on hand at the Nash UNC Health Care Board Meeting August 7 in order to present his impressions of the most recent actions by NC state legislature. He also discussed the impact he felt that these actions would have on the financial health of NC hospitals across the state.
Tilson said that the NCHA had several goals for the recent  NC legislative session and had hoped to influence the legislature in these areas.

More ...
AMELIA HARPER, GRAPHIC CORRESPONDENT

LOSING IT –– Craig Arrington, 162 pounds lighter, stands beside a full size photo of himself that was taken when he started his journey of weight loss on the reality television show "The Biggest Loser."

"Biggest Loser" contestant visits Nashville church


When Craig Arrington signed up for the reality television show, "The Biggest Loser," he had three people in mind: his wife and his two daughters.
Arrington was one of 15 selected to compete in the 15th season of the show, which ended in February. Arrington was voted off the show during the fifth week but went on to lose a total of 162 pounds.

More ...
AMANDA CLARK, GRAPHIC STAFF WRITER
Nash native files for NC Court of Appeals
A former Nash County resident and the daughter of a longtime Nashville attorney recently announced her candidacy for the North Carolina Court of Appeals.
Elizabeth Davenport Scott filed for the seat vacated by John Martin.
Scott is the daughter of John Edwin Davenport and Mary Lip Pope Davenport. Ed Davenport practiced law in Nashville for over 50 years and served in the NC House of Representatives from 1973 to 1978.
More ...
Town of Nashville to hold public hearings


Nashville's Town Council will receive comments on two separate public hearings at the board's next meeting next week.
One hearing is for an annexation request for .72 acres. The annexation is for property at 2386 East Old Spring Hope Road. The annexation was requested by property owners Susan and Jeffrey Lucas.
Nashville Planning Director Brian Hassell said the Lucas' request was so that they can receive town services.

More ...
AMANDA CLARK, GRAPHIC STAFF WRITER
CRIMINAL JUSTICE CAMP
Investigator Jason Bryant helps Dusty Hall (far right) document a crime scene during the 4-H Criminal Justice Camp that was held August 4 through 8. On the final day, youth were able to look at a mock crime scene and take steps investigators take to solve the crime. The Nash County Sheriff's Office hosts the camp each year.
More ...
NRMPS Lockdown Drill Scheduled
In collaboration with multiple law enforcement agencies throughout Nash County, NRMPS will hold a full scale Lockdown Drill at Southern Nash Middle School Thursday, August 21, 2014 beginning at 8:00 am.
The purpose of this drill is to ensure NRMPS administrators, staff and schools are prepared in the event we have a major crisis in one of our schools.
More ...
NASH COUNTY SHERIFF'S OFFICE REPORTS
A larceny from a residence was reported on 8/8/14 at 3967 N Old Carriage Road
A larceny of a tractor was reported on 8/8/14 at 7979 Edwards Road
A breaking, entering and larceny of a residence and injury to real property were reported on 8/8/14 at 3006 Badin Drive
More ...
NASHVILLE POLICE BRIEFS
INCIDENTS
An involuntary commitment was reported on 8/4/14
A larceny (shoplifting) was reported on 8/8/14 at Wal-Mart, 1205 Eastern Avenue
A maintaining a place/dwelling for a controlled substance, possession of drug paraphernalia and possession of marijuana was reported on 8/8/14 at S Brake and S. First Streets
More ...
NCC staff learn lifesaving techniques
Nash Community College faculty and staff participated in professional development activities to learn life saving techniques this summer. Through the Rocky Mount Fire Department Public Access Program for AEDs, employees are taking a step toward a safer campus by understanding how to use hands only CPR and Automated External Defibrillators (AED) in emergency situations.
More ...
Annual NCC Student Scholarship Golf Classic set for October 2nd
Quiet on the course! The Nash Community College Foundation Golf Committee is preparing for its 25th Annual Student Scholarship Golf Classic. The tournament will be held Thursday, October 2nd at Benvenue Country Club in Rocky Mount to provide deserving students with scholarships. Approximately 144 golfers are expected to play during morning and afternoon tee times.
More ...
NC Hospital Association honors Andracchio with service award
Vincent C. Andracchio, member and past chairman of the Nash Health Care Board of Commissioners, has been awarded the North Carolina Hospital Association's 2014 Trustee Merit Award. The award is given each year to a hospital trustee to recognize unique contributions to the individual's institution and to the healthcare field.
Andracchio received the award July 17 at the NCHA Summer Membership Meeting.
More ...
Nash County aims to expand broadband


Nash County is working with the North Carolina Department of Commerce on a broadband initiative to try to expand service to unserved areas.
In May, a presentation was given to Nash County Commissioners by Jason Semple, Technical Assistance Director for East NC Broadband in the North  Carolina Department of Commerce.

More ...
AMANDA CLARK, GRAPHIC STAFF WRITER
School system to hold drill today at Southern Nash High School
In collaboration with multiple law enforcement agencies throughout Nash County, NRMPS will hold a full scale Lockdown Drill at Southern Nash Middle School Thursday, August 21, 2014 beginning at 8:00 am.
The purpose of this drill is to ensure NRMPS administrators, staff and schools are prepared in the event we have a major crisis in one of our schools.
More ...
Reunion
Coopers School retired staff members recently had a reunion at Ribeyes in Nashville. Thirty-two former teachers and assistants attended.
More ...
100th Commemorative Anniversary
Alumnae and friends of Park View Hospital and School of Nursing recently celebrated the 100th Commemorative Anniversary at Nash Community College's Brown Auditorium. Park View Hospital opened its doors on July 1, 1914 with a 25-bed capacity and served the Rocky Mount community for 57 years, closing in 1971. The Park View School of Nursing began the year the hospital opened and educated nurses until 1969, graduating 55 nursing classes.
More ...
Big Picks
Patsy Jones picked over 150 tomatoes from her home garden last week, including several larger tomatoes. The Nashville woman uses the tomatoes to can spaghetti sauce each year. Pictured above is Jones with two of the larger tomatoes, including the one on the right that weighed in at 1 pound and 14.58 ounces. Last year, Jones won the biggest tomato contest at the Farmer's Market but she was unable to participate this year.
More ...
Remembrance Walk for Steps Never Taken is September 28
Each year, one million American women experience a miscarriage or a stillbirth, and often, these women grieve in silence. To provide comfort and support for area women who have lost an infant, the Women's Center at Nash Health Care will sponsor its second annual Walk of Remembrance for Steps Never Taken on Sept. 28 at 3 p.m. at the Rocky Mount Sports Complex at 600 Independence Drive.
More ...
RED OAK NEWS


Welcome to Ava and Samuel Moore, new members of Red Oak Baptist Church!        
All the "agents" at the Agency D3 Vacation Bible School at Red Oak Baptist Church last week had a great time!  They enjoyed Bible study, missions, crafts, recreation, music, and snacks!  Thanks to Amy Cary for directing the VBS again this year and all the adults and youth who led parts of the program and assisted.

More ...
Suzy Pearce
PEACHTREE COMMUNITY NEWS


Peachtree folks gathered for worship on a beautiful Sunday morning.  Pastor Whitehouse greeted those present.  Sanctuary flowers were given by Jamie Winslow in memory of Betty Weis, Wallace and Dorrie Mae Campbell, and in honor of her parents, Harry Lee and Anna Roe Winslow.  The choir sang "O the Love of My Redeemer", under the direction of the pastor.

More ...
BARBARA HARDISON
BEULAH COMMUNITY NEWS


Sunday School began on Sunday morning with Frances Hedgepeth at the piano and Earl Cary giving the welcome to everyone. After the announcements and an opening song, we went to our classes.
Church service began at 10:45 a.m. Bonnie Matthews, our pianist gave the prelude. Welcome and announcements were given by our minister, Daniel West.

More ...
WILMA ENROUGHTY
NEW OFFICERS
The League of Women Voters of the Twin Counties met on August 7 to elect officers and directors for the 2014-15 years.  Pictured (L-R) is: Barbara Campbell-Davis, officer; Linda Hardy, treasurer; Bettie Kirkpatrick, officer; Evelyn Shaw-Wilson, vice president; Pat Adams, immediate past president, Florence McDonald, secretary; Georgia Grant, incoming president for 2014-15.
More ...
Spaulding Alumni Association reunion set for next weekend
The C.C. Spaulding Alumni Association will host its 40th annual reunion on Friday, August 29 through Sunday, August 31.
The weekend is full of different events, with a fish fry on Friday night at  the Spaulding Gymnasium in Spring Hope, a dance on Saturday at 9 p.m. at the O.D. Moore Building in Nashville and a picnic on Sunday, beginning at 4 p.m. at the Spaulding Teacher's Home.
More ...
SCHOLARSHIP RECIPIENTS
On Memorial Weekend, May 24 thru 26, the members of Nash Central Senior High Alumni Association and the O. D. Moore Scholarship  Foundation celebrated their 39th Reunion and Anniversary.  Jimmie Harris is the president of the National Association and Doris McBride is the president of the Nashville Chapter.There are chapters located in Virginia, Washington, DC, the Upper East Coast and New Jersey.
More ...
Going back to school like it is our job


It became real the day my daughter and I hit Target with three lists, instructions from my wife, coupons and the look of two people about to embark on a mission from which we might not return. It was back-to-school shopping day.
Each of our three children had neatly organized lists of what they would need for the school year — the boys' had theirs sent from the school, Holly's came out of her head.

More ...
Mike Brantley
Back to school with lighter book bags!


School is just about to start and kids, and parents, are getting ready.
I have one that is heading back to his pre-school program and I admit, I am excited for back to school!
I know there are some who aren't!
I remember back to school as an exciting time. It was a time for shopping for new bookbags, supplies and clothes and the thought of a new year with your friends in a new grade was just more excitement than I could even take.

More ...
Amanda Clark
Backward Glances


PARADE –- This photo of children riding on a float during the Harvest Festival was found in The Graphic's 1961 archives.

More ...
A PICTORIAL LOOK INTO THE PAST
Nash County Animal Friends' Notebook


The shelter recently took in a female stray dog that had a heavy, thick chain hanging from her neck. She could not have broken it herself; it was too thick and it weighed at least 10 lbs. Factoring in the size of the chain links, someone had to have let her go on purpose.
To say that we felt angry is an understatement.

More ...
Kristy Carney, NASH COUNTY ANIMAL FRIENDS

MAKING A RUN FOR IT. Nash Central's Charles Harvey heads upfield for the Bulldogs during action against Knightdale as part of last Thursday's Nash County Football Jamboree at Rocky Mount High School.

A FINAL COUNTDOWN


ROCKY MOUNT -- Each of Nash County's four public high schools is expected to have a significant test this Friday during Week One of the prep football season.
First, the squads prepared for their challenging openers by participating in the Second Annual Nash County Football Jamboree, which was held last Thursday at Rocky Mount High School.

More ...
GEOFF NEVILLE, Graphic Sportswriter

BACK IN THE FOLD. Tyler Jones (left) is a key returnee this season for the Northern Nash Knights, who hosted a boys soccer jamboree last Thursday afternoon. NN is coached by veteran skipper Joe McCarthy.

NN Looks To Climb Standings


RED OAK -- Northern Nash's boys soccer playoff streak is now at 14 out of the past 15 seasons -- a trend veteran head coach Joe McCarthy hopes to continue this fall.
But as always, it won't be easy as the Knights compete in the tough Big East Conference.
Northern Nash went 12-10 overall and finished fifth in the league last fall, but still managed to claim a wild-card selection in the postseason.

More ...
GEOFF NEVILLE, Graphic Sportswriter
Nash Co. Knights in action


RED OAK -- The Nash County Knights, in their second year of existence, will boast full squads on the rookie, junior varsity and varsity levels this fall in the Johnston County Football League.
The Knights will open their schedule Sept. 13 at home against Princeton. All home contests will be held at Death Valley on the campus of Northern Nash High School.

More ...
Staff Reports

VETERAN OFFICIAL. Troy Blaser (left) is a long-time area referee who traveled with two cohorts last week to work an All-Star football game in Tuscaloosa, Alabama. Blaser is a Bailey resident. (Graphic photo by Geoff Neville)

Local refs share honor


NASH COUNTY -- Three Nash County officials earned the opportunity of a lifetime last Thursday when they worked an All-Star football game between the Obic Seagulls from Japan and the Southeast United States Amateur to Professional Developmental League squad.
The Obic Seagulls are considered Japan's top team, while the United States contingent featured semi-pro standouts from the Southeast.

More ...
GEOFF NEVILLE, Graphic Sportswriter
P-Nats defeat Mudcats -- again


WOODBRIDGE, VA. -- The Carolina Mudcats turned a four-run deficit into a one-run thriller in the ninth inning on Sunday night, but ultimately fell 7-6 to the host Potomac Nationals at Pfitzner Stadium in a Class A Carolina League baseball event.
The Nationals (29-22, 67-53) won nine straight to finish the season set against the Mudcats (25-30, 54-68), finishing 15-4. 11 of Potomac's 15 wins against Carolina were by two runs or less and included three straight one-run wins.

More ...
Staff Reports
NASH CO. FOOTBALL JAMBOREE HIGHLIGHTS, 1
PITCH MAN. Knightdale's quarterback makes a pitch as Nash Central senior defender Houshun Gaines is in hot pursuit as part of last Thursday evening's action at the Second Annual Nash County Football Jamboree, which was held at Rocky Mount High School.
More ...
ALONG CAME JONES
Tyler Jones (left) is expected to control action in the midfield this season for the Northern Nash High School boys soccer squad. Jones is a junior for the Knights, who opened Monday with a tough 1-0 setback against Northern Vance.
More ...
HOT POTATO
Southern Nash High School head football coach Brian Foster (center) will take his club to Pinetops this Friday for the annual Sweet Potato Bowl Game against SouthWest Edgecombe. Kickoff is scheduled for 7:30 p.m. for the regular season opener.
More ...
LOFTY GOALS
Northern Nash's Sammy Cervantes sends a header toward the net off a corner kick during last Thursday afternoon's Northern Nash Boys Soccer Jamboree on the NNHS campus.
More ...
Beatles tribute band to perform at Dunn Center
For 30 years, 1964 The Tribute has put on an exciting show that Rolling Stone Magazine calls the "Best Beatles Tribute on Earth." 1964 The Tribute will be performing at the Dunn Center of Performing Arts, 3400 N. Wesleyan Blvd. Rocky Mount, NC, on Thursday, October 30, 2014 at 7:30 p.m. Individual tickets are $27.00. This year, the rock group has a brand new show commemorating the 50th anniversary of the 1964 Beatles Tour.
More ...
Nash Arts Center Calendar of Events
Letters from Laura –– A musical drama written by Jim Lee, and directed by Eric Morgan. September 4, 5, and  6 at 7:30 pm; Matinee on September 7 at 2:30 pm. $13 General admission/$11 senior citizens andchildren 12 & under*
Fantasy Art Exhibit with Melanie Statnick will run through August 29. Gallery hours are Monday - Friday 11 am - 4 pm.
Carolina Grass Bluegrass –- Saturday, September 13 at 7 pm. $11 General admission.*
More ...
BERTHA LINDSEY PRIDGEN
Bertha Lindsey Pridgen, 100, passed away August 15, 2014. Bertha was born September 1, 1913 in Nash County to the late Nick and Della Gordon Lindsey. Along with her parents, Bertha is preceded in death by her husband, William "Willie" Vernon Pridgen, several brothers and sisters, her son, William Hardy Pridgen, and grandson, Scottie Ricks.
More ...
CARRIE PITTMAN
Carrie Pittman, 90, of Pinetops, died on August 16, 2014.  Funeral arrangements are incomplete and will be announced by the Rocky Mount location of H.D. Pope Funeral Home.
More ...
DENNIS "POPS" JAMES OUTLAW
Dennis "Pops" James Outlaw, 59, of  Rocky Mount, passed away Thursday, August 14, 2014.  He was born in Nash County to the late Floydie and Bertha Outlaw. In addition to his parents he is predeceased by a sister, Doris Lewis.
More ...
GAIL PARKER TUCKER
Gail Parker Tucker, 63, passed away Friday, August 15, 2014.  Gail was born on January 9, 1951 in Nash County to the late Woodard Lonzie Parker, Sr. and Maggie Langley Parker.  Along with her parents, Gail is preceded in death by her husband Eli Tucker, son Tony Pridgen, and two sisters, Barbara Ann James and Linda Rose Groover.
More ...
GERALD CARLETT COGGIN, JR
NASHVILLE - Gerald Carlett Coggin, Jr. 66, died Monday, August 18, 2014. He was born August 11, 1948 in Nash County, son of the late Gerald and Myrtle Coggin.  In addition to his parents, Gerald was preceded in death by his wife, Jackie Sykes Coggin.
More ...
MABLE ODELL BOONE JOYNER
Mable Odell Boone Joyner, 87, passed away Tuesday, August 12, 2014. She was born August 12, 1927 in Nash County to the late Jack and Susie Carpenter Boone. In addition to her parents, she was preceded in death by her husband Roy Joyner, brothers, Bill and Rudolph Boone, sister, Marie Carpenter.
More ...
MARVIN "EARL" BOTTOMS, JR.
Marvin "Earl" Bottoms, Jr., 58, passed away, August 12, 2014. He was born October 10, 1955 in Nash County. Earl was preceded in death by his father, Marvin Earl Bottoms, Sr., maternal grandparents, Geneva and Harold Joyner, nephew, Matthew Bottoms, special aunts, Doris and Janice.
More ...
MAVIS A. KNIGHT
ROCKY MOUNT –– Mavis A. Knight, 90, died August 16, 2014.  Funeral arrangements to be announced. Arrangements by Stokes Mortuary, Inc.
More ...
RANDY RAY NARRON
Randy Ray Narron, 62, passed away, Thursday August 14, 2014. He was born June 23, 1952 in Nash County. He was preceded in death by his father, Roland Narron and brother, Gilbert Narron.
More ...
ROBERT J. BARRY
NASHVILLE –– Robert J. Barry, 75, passed away on Thursday,August 14, 2014.  Memorial services will be held at a later date.  Arrangements by Richardson Funeral Home in Nashville.
More ...