Subscribe/Access
Advertisements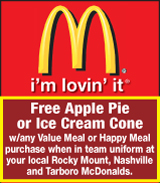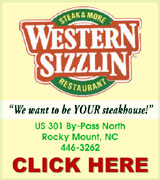 Sections
Member Options
Back
Spring Hope gets new Fire Chief


At 14 years old, Travis Green joined the Explorer Program at the Spring Hope Fire Department.
Ten years later, Green is now leading the department.
Green was named the department's fire chief, a position he has held since August 1.
Green replaces longtime chief David Shelton, who retired.

More ...
AMANDA CLARK, GRAPHIC STAFF WRITER

John Kimber

CIFI breaks ground in Nash County


What started off as merely an idea for a few has become a reality for many, as Carolina Innovative Food Ingredients, Inc. (CIFI) broke ground on its new facility Tuesday morning.
CIFI, a subsidiary of Universal Corporation, plans to utilize advanced technology to produce high quality food grade dehydrated and juiced fruit and vegetable products.

More ...
AMANDA CLARK, GRAPHIC STAFF WRITER

Pictured above with Valentine is his granddaughter Anna Dollar.

NCDOT honors former US Congressman


In a special ceremony held at the Business and Industry Center at Nash Community College on Wednesday August 6, former Congressman Tim Valentine, a Nashville native, was honored by the NC Department of Transportation. As a result, the part of Hwy. 64 which runs through Nash County is now called the Tim Valentine Highway and a special sign acknowledging this will soon be erected.

More ...
AMELIA HARPER, GRAPHIC CORRESPONDENT
Bailey man charged with sex crimes
A Bailey man was arrested and charged with statutory rape on Monday.
According to the Zebulon Police Department, officers received a complaint regarding Daniel Alan Liverman, 33, of Old Smithfield Road, Bailey and an alleged sexual relationship he was having with a 14-year- old female.
Investigators allege that Liverman befriended the victim at a local supermarket and became involved in a sexual relationship.
More ...
Town honors Centenarian


Nashville's Town Council approved a resolution recognizing a local woman who will turn 100 next month.
The resolution was approved last Tuesday night at the board's regular meeting and recognizes Lucille Hart Smith Cooper.
Cooper was born in Halifax County to William and Ceily Smith. She was the youngest of five children and is the only surviving one.

More ...
AMANDA CLARK, GRAPHIC STAFF WRITER
Nashville man charged with shooting
A Nashville man has been charged in a Rocky Mount shooting that happened last Tuesday around noon.
According to the Rocky Mount Police Department, several people were at a home at 407 S. Tillery Street around 12:24 p.m. in Rocky Mount when De'Shawn Jamal Williams, 22, attempted to rob a 24-year-old white male. The victim, whose name is not being released, was flown to Vidant Medican Center in Greenville.
More ...
Community rallies to save elementary school


The Rocky Mount NAACP and the Holly Street Neighborhood Association hosted a community meeting on Monday, August 5, in order to discuss the fate of O.R. Pope Elementary School, which was recently closed by the Nash-Rocky Mount School System. The meeting was held at the Braswell Memorial Library where roughly 45 citizens were in attendance.

More ...
AMELIA HARPER, GRAPHIC CORRESPONDENT
Fire destroys apartment
The cause of an early morning fire in Nashville is still under investigation.
Nashville Firefighters were dispatched to a single story duplex apartment structure fire on Brake Street on Saturday, August 9 in the early hours of the morning. Upon arrival, Captain Jason Edwards said flames were visible from a bedroom and through the roof.
More ...
Nine face drug charges in Nash County
The Nash County Sheriff's Office arrested nine people last week during a continuing effort targeting drug dealers operating in Nash County.
The arrests occurred during the week of August 4 and will continue, as the Sheriff's Office continues to investigate drug crimes in the area.
More ...
NASH COUNTY SHERIFF'S OFFICE REPORTS
A breaking, entering and larceny of a residence was reported on 8/4/14 at 7470 Sara Way
A fraud was reported on 8/4/14 at 12237 Burgess Road
A breaking, entering and larceny of a residence was reported on 8/4/14 at 10835 Smith Road
An assault on a female, breaking and entering and residence and violation of an exparte was reported on 8/4/14 at 11379 Simms Road
More ...
Castalia plans retreat in October


Castalia commissioners are planning to hold a local retreat in October in order to discuss issues of importance to the town and plan for future projects. The six-hour retreat is tentatively scheduled for October 4 at the Gardner's restaurant on Hwy. 301 in Rocky Mount.
Mayor Ellene Leonard said that she felt that the retreat was necessary because she feels that the "morale and actions of the board are in dire need of change."

More ...
AMELIA HARPER, GRAPHIC CORRESPONDENT
Middlesex adds extra bond for administrative assistant


Middlesex Commissioners agreed on Monday night to add an additional bond for the town's new Administrative Assistant.
The town recently hired Tammy Pittman as its Administrative Assistant, after firing the previous assistant Shelly Woodruff for embezzling.

More ...
AMANDA CLARK, GRAPHIC STAFF WRITER
Nurse Aides complete program at NCC
Seventy-five Nash Community College Level I and II Nurse Aides were honored for program completion this month during a graduation ceremony. Nurse Aide I students learned nursing skills to prepare them for patient care including topics ranging from healthcare law to infection control and terminal illness.
More ...
Nurse Aide I
From left: Front Row – Taquanda McGee of Enfield, Barbara Blount of Rocky Mount, Dominuque Baines of Rocky Mount, Aquilla Silver of Rocky Mount, Jasmine Hudson of Rocky Mount and Joetta Stubblefield of Rocky Mount. Back Row – Courtney Gay of Castalia, Alma M. Garcia of Rocky Mount, Carrie Jantzen of Red Oak, Robin Joyner of Castalia and Alexus Williams of Rocky Mount.
More ...
Nurse Aide II
From left: Front Row – Andrea Hucks of Tarboro, Sandra Cone of Middlesex and Ashlee Dement of Louisburg. Back Row – James C. Green, Jr. of Spring Hope, Brianna Cone of Middlesex and Bailey Parker of Rocky Mount.
More ...
FIRST FRIDAY COFFEE
 Phillip Carlisle, Pharmacy Manager at Drugco (left) chats with Nashville Chamber of Commerce Vice-President and co-owner of CLR Media Solutions, Michael Coleman, at the Nashville Chamber of Commerce First Friday Coffee held August 1. The social event is held the first Friday of each month at The Nashville Exchange in downtown Nashville.
More ...
SCHOLARSHIP
The Nashville Business and Professional Women's Club (BPW) recently announced its 2014 Hazel Armstrong Valentine Scholarship Recepient. The recipient was Keiosha L. Vines. Vines is the daughter of Keith and Natosha Vines, of Bailey. She is a 2014 graduate of Southern Nash High School and will be attending North Carolina A&T State University in Greensboro, where she will major in Physical Therapy.
More ...
COFFEE WITH A COP
Providence Bank hosted "Coffee with a Cop" on Friday, July 18th. Nashville Police Chief Thomas Bashore and Community Services Officer Jennifer Bull chatted with guests during the morning event. Pictured above, Chief Bashore (at left) talks with Providence Bank employees Abby Pate and Donna Taylor (far right L-R) at the Coffee with a Cop.
More ...
TRACTOR SHOW
A little rain didn't stop the Antique Tractor Show Saturday at the Rocky Mount Farmers Market. A variety of tractors were on display by Classic Antique Power, Inc. Pictured above, little Thomas Stokesbury, 5, attends the show with his grandfather, Joe Johnson of Whitakers.
More ...
Nash County 4-H hosts "Kids in the Kitchen"
Nash County hosted a Kids in the Kitchen Camp on July 28, 29 and 30 at the Nash County Ag Center. Youth ages five to 18 had the opportunity to learn food safety, nutrition, cooking basics, table etiquette and more as they prepared lunch each day during the camp. Linda Journigan and Anne Godwin taught the camp.
Pictured above, Saylor Newton, 13, cooks hamburgers for sliders during the camp.
More ...
Attend Nationals
Members of Techniques Unlimited Dance Academy(TUDA) in Rocky Mount attended Nationals in Myrtle Beach. Pictured on the front row (L-R) is: Lanie Ricks, Taylor Godwin. Pictured on the back row (L-R) is: Taylor Wachowicz, Rebekah Wallace, Shawn Glancy Reavis, Rayna Bailey.
More ...
CONTRIBUTION
The Southern Bank Foundation recently made a $10,000 contribution to the American Red Cross to assist them with their tornado recovery efforts in Eastern NC. Ken Sawyer, Vice President/Commercial Banker in Rocky Mount (left), presents the check to Lynwood Roberson, Regional CEO for Eastern NC – American Red Cross, Frederick E. Turnage Chapter.
More ...

Annaliese Mowatt wins first place in the ages 8-12 competition.
Nashville Police Department Coloring Contest Winners, pics 1
The Nashville Police Department sponsored a National Night Out Coloring Contest which included Kids Place 2 Bee, Boys & Girls Club, Litte Wonders, A Place to Grow and Precious Moments Summer Camp.  Standing with all winners pictured below is Patrol Lieutenant Joseph W. Corbett, III.
More ...
NCC promotes Pitt to Chair of Mathematics Department
Nash Community College Mathematics Professor Dina Pitt of Rocky Mount has been promoted to Chair the College's Mathematics Department. Beginning in the 2014-2015 Academic Year, the Mathematics and Sciences Department was divided into two unique areas of curricula due to program growth, especially in fundamental math studies.
"Dina Pitt has been instrumental in the cultural shift across campus.
More ...
Galatia AME Church to host Craig Arrington on Saturday
A Nash native and contestant of the Biggest Loser Season 15 television show will be at Galatia AME Church in Nashville on Saturday, August 16 at 1 p.m.
The program is titled "162 G.O.N.E. (Growing Others to a New Excellence)" and will featured Craig Arrington.
Arrington, who now lives in Wilson, is a graduate of Northern Nash High School.
More ...
BEULAH COMMUNITY NEWS


Attention: National Back to Church Sunday, September 21, 2014! Our doors at Beulah Church of Christ are open. We would like to see all our members, friends and readers on that special day! We are making special plans for this special Sunday. I will inform you furhter in the Beulah news in the next few weeks. Just please mark that date, September 21 on your calendar so you won't make other plans.

More ...
WILMA ENROUGHTY
PEACHTREE COMMUNITY NEWS


The community was saddened to learn of the passing of John Harvey Rich on August 4.  He resided in Normal, Illinois, but was born and reared in Peachtree Community.  He received a doctorate in Business Education from Indiana University in 1964 and retired in 1990 from the faculty of Illinois State University.  He is survived by his wife, Joan Strand Rich, and two sons, Jay and Joseph, as well as five grandchildren.

More ...
BARBARA HARDISON
Nash County Blood Drives for August 2014
Thursday, August 14 from 12 until 6 p.m. at Englewood Presbyterian Church, in memory of Ruby Powell, 100 South Englewood Drive, Rocky Mount
Friday, August 15 from 11 a.m. until 4:30 p.m. at Englewood Presbyterian Church, in memory of Ruby Powell, 100 South Englewood Drive, Rocky Mount
More ...

Members of the Nash County Bridles and Halters Livestock 4-H Club competed in the Central Carolina Holstein Association's Annual Show on June 21st. Pictured (L-R) is: McKenzie Kennedy, Brianna Frazier, Maura Kennedy and Casey Strickland.
Bridles and Halters 4-H Club participates in steer shows
Members of the Nash County Bridles and Halters Livestock 4H Club traveled to Hillsborough, North Carolina and competed in the 4H Central Carolina District Dairy Show and the Central Carolina Association Show.  The District Show was held on June 20, 2014. 
The following individuals competed in the Cloverbud competition: Presley Gibbs, Maura Kennedy and McKenzie Kennedy. 
More ...
RED OAK NEWS


Several ladies attended the monthly Bible study at Fountain Correctional Center in Rocky Mount on Monday, August 4.  There were 13 ladies there in addition to those from Red Oak including Karen Girona, Hazel Hill, Audrey Pearce, Suzy Pearce, Jean Mellor, and Marilyn Boone.  Marilyn Boone led the study on who we are in Christ.   

More ...
Suzy Pearce
Haney receives scholarship
John Rhein Haney was awarded the United Daughters of the Confederacy Great Granddaughter scholarship for $500.  He was sponsored by the local UDC Bethel Heroes 636 chapter and is the grandson of Marian Haney, a Bethel Heroes member and is  the son of John Paul and Donna Haney of Nashville, NC
More ...
The great goat experiment comes to an end


As the last three animals rode off in the back of a minivan (more on that later), an era came to an end. My family and I are no longer goat herders. It was a been a strange week.
Five years ago, we started a great experiment on our small slice of the family farm I grew up on in the county. My wife and I wanted to improve the "sourcing" of some of the staples our three children consumed on a regular basis.

More ...
Mike Brantley
It should be a community's fight, not a racial cry


In late June, I had the opportunity to cover the retreat of the Nash-Rocky Mount Board of Education.
It was a long retreat and there was a ton of information presented.
One item that has been a highlight in one Rocky Mount community, was the board's decision to move students from O.R. Pope Elementary School to Fairview and D.S. Johnson Elementary Schools.

More ...
Amanda Clark
Backward Glances


BLUEBERRIES –- This photo was found in The Graphic's archives. We believe it was taken in 1961 or 1962. These young ladies look to be ready to sell fresh blueberries for only 35 cents a quart.

More ...
A PICTORIAL LOOK INTO THE PAST
Nash County Animal Friends' Notebook


Fleas can really wreak havoc on a pet's health and a household.  Once fleas get into your home, they begin to lay eggs and multiply quickly. It is hard work to get rid of them and frankly, who really has time for that?  The shelter has taken in a lot of animals that are truly infested. They've seen kittens that are barely alive due to fleas, as well as dogs that have terrible skin infections from fleas.

More ...
Kristy Carney, NASH COUNTY ANIMAL FRIENDS

CUTTING THROUGH. Northern Nash's Treyvon Clark speeds through a drill during a recent football practice session on the NNHS campus in Red Oak.

BACK IN ACTION


RED OAK -- If the early bird catches the worm, the Northern Nash Knights could very well be in the mix for Big East Conference football supremacy.
That's because Northern Nash has been getting things going bright and early during preseason drills -- starting in the morning in the hollow just below Death Valley.

More ...
GEOFF NEVILLE, Graphic Sportswriter
Bulldogs ready for jamboree


ROCKY MOUNT -- Heading into the most important 48-hour stretch of the preseason, Nash Central's Kevin Crudup had gotten halfway there is his quest to build a quality depth chart for the Bulldogs' football squad.
"We've got our No. 1s,'' Crudup said of his first-team lineup. "Now, we've got to find our 2s and some 3s.''
That mission continued Tuesday as the Bulldogs held a practice/scrimmage session against Bunn on the NCHS campus.

More ...
GEOFF NEVILLE, Graphic Sportswriter
Mosley, Gainey Claim Awards


NASHVILLE -- A career that has spanned nearly four decades was recognized last Monday by Nash-Rocky Mount Schools.
Nash Central High School Athletic Director Michael Mosley was presented with a plaque for becoming a Certified Master by the National Interscholastic Athletic Administrators Association.

More ...
GEOFF NEVILLE, Graphic Sportswriter
Southern opens on the road


STANHOPE -- Southern Nash High School's 2014 boys soccer campaign will begin Aug. 19 with a road match at West Craven.
SN is coming off consecutive deep runs in the Class 3-A State Playoffs.
The Firebirds' first five events will be on the road before the Sept. 3 home opener against the Franklinton Red Rams.

More ...
Staff Reports
Prep jamborees slated in county


NASH COUNTY -- It's Jamboree Week in Nash County as the area's high school football and soccer squads begin to make their final preparations for the 2014 campaign.
The Second Annual Nash County Football Jamboree will be held this Thursday at Rocky Mount High School.
In addition to county squads Rocky Mount, Nash Central, Northern Nash and Southern Nash, other entrants will be Knightdale, Southeast Halifax, Bertie and D.H. Conley.

More ...
Staff Reports
2014 ENCFL GRID SEASON LEDGER


NASH COUNTY -- The Eastern North Carolina Football League has released its schedule for the 2014 campaign.
All clubs will open on Sept. 6. Once again, there will be eight teams in the league.
Here is the complete ledger:

More ...
GEOFF NEVILLE, Graphic Sportswriter
NASH COUNTY FOOTBALL SCHEDULES


NASH COUNTY -- Listed are the 2014 Nash County high school football schedules:
Southern Nash
• August 22 -- at SouthWest Edgecombe
• August 29 -- at Wilson Beddingfield

More ...
Staff Reports
Impact Player


ROCKY MOUNT -- After starring last season for Rocky Mount Academy, Jacob Hunter has been busy this year establishing a name for himself on the collegiate recruiting trail.
A rising junior, Hunter helped RMA claim its first-ever state Eight-Man football championship in 2013 under legendary coach B.W. Holt.

More ...
Staff Reports
Mudcats mastered by Pelicans


ZEBULON -- Cole Sulser tossed six solid innings on Sunday afternoon for the Carolina Mudcats, but it wasn't enough as the Myrtle Beach Pelicans came away with a 5-1 win at Five County Stadium in Class A Carolina League baseball action.
The Pelicans (29-21, 73-45) swept the series. The Mudcats (23-26, 52-64) lost their eighth straight at home.

More ...
Staff Reports
Racing cancelled at County Line


ELM CITY -- Due to the amount of rain received at the track and the impending forecast, track officials made the decision to cancel Saturday night's racing activities at County Line Raceway. 
The next scheduled event for CLR is this Saturday night. This will be Kids Night. 
Kids will have the opportunity to race their bicycles on the same track as their favorite drivers. 

More ...
Staff Reports
Vick earns Carolina League honor


ZEBULON -- A strong week at the plate for outfielder Logan Vick was recognized by the Carolina League on Monday.
The league announced the Kerrville, Texas, native won the Hitter of the Week award for August 4-10.
This is the first such honor for Vick and the second for a Mudcats' hitter this season.

More ...
Staff Reports
A MORNING STROLL
Northern Nash football coach Randy Raper oversees stretching drills during a recent morning practice session on the NN campus in Red Oak.
More ...
READY TO BREAK THROUGH
North Carolina Wesleyan College veteran running back Jacques Alston from nearby North Johnston High School needs just 297 yards to break NCWC's all-time career rushing record. Alston and the Bishops will open their schedule Sept. 6 at home against Stevenson at the Rocky Mount Football Stadium.
More ...
WATCHFUL EYE
Northern Nash High School football coach Randy Raper (right) makes sure a player performs a footwork drill in correct fashion during a recent practice.
More ...
BETTIE BURT WHITE
Bettie Burt White, 74, died August 4, 2014.  Funeral arrangements to be announced.  Arrangements by Strokes Mortuary, Inc.
More ...
CECELIA ELAINE WILLIAMS
Cecelia Elaine Williams, 61, of Rocky Mount, died Saturday, August 9, 2014.  Funeral Arrangements are incomplete and will be announced by the Rocky Mount location of H.D. Pope Funeral Home.
More ...
DOROTHY "TOOTSIE" FARMER FLOWERS
Dorothy "Tootsie" Farmer Flowers, 85, of Rocky Mount, passed away  August 5, 2014. Dorothy was born in Wilson County on March 31, 1929 to the late Julius and Ida Jane Gardner Farmer. She was married to the late Curtis Flowers for 62 years. She was preceded in death by her daughters, Sheila Elaine and Donna Flowers Woodcock.
More ...
DURWOOD LEE SHREVE
Durwood Lee Shreve, 67, passed away Sunday August 10, 2014. He was born January 16, 1947 in Reidsville NC to the late Levi Weldon and Norma Mitchell Shreve. He was preceded in death by a brother, Larry Shreve and sister, Sheryl Hill.
More ...
FREDERICK "FRED" ARMSTRONG JOYNER
Frederick "Fred" Armstrong Joyner, age 87, passed away Friday, August 8, 2014. Born in Edgecombe County on October 18, 1926, he was the son of the late Arthur Charles Joyner and Ethel Dixon Joyner. He was also preceded in death by his wife, Fannie Mae Roebuck Joyner and his son, Randy Wynn Joyner.
More ...
GERALD DOUGLAS DANIELS, SR.
Gerald Douglas Daniels, Sr., 60, passed away August 7, 2014. He was born September 7, 1953 in Wilson County to the late Barnes Eric and Edna Pierce Daniels.  In addition to his parents, Gerald is preceded in death by his sisters, Janice D. Richardson, Annette Daniels, and an uncle, Marvin Pierce.
More ...
JAMES HENRY MOORE JR.
James Henry Moore Jr., 90,  passed away Wednesday, August 6, 2014. He was preceded in death by his parents, James Henry Moore Sr. and Maude Clay Moore, his wife Nellie Daughtridge Moore, and his brothers, Luther Ray and Reuben Moore.
More ...
JUDITH ANN BAINES
Judith Ann Baines, 72, passed away Wednesday, August 6, 2014.  She was born October 7, 1941 in Nash County to the late Gordon W Dawes, Sr. and Lucy Ann Joyner Jordan.  Along with her parents, she is preceded in death by her husband Johnny Garland Baines, step-father Herman Jordan, and step-mother Avis Baker Dawes.
More ...
JUDITH ANNE HILL COOPER
NASHVILLE - Judith Anne Hill Cooper, 74, passed away Saturday August 9, 2014. She was born March 12, 1940 in Negaunee, Michigan to Leo and Mildred Marcotte. Judith was preceded in death by parents, spouse, Marvin J. Hill of 38 years, two sons, Jay L. Hill and Ron A. Hill.
More ...
MARJORIE ELIZABETH BAILEY EDWARDS
Marjorie Elizabeth Bailey Edwards, age 64, passed away Friday, August 8, 2014. Born in Nash County on March 8, 1950, she is the daughter of the late James Harold Bailey and Nina Ruth Bailey. She was also preceded in death by her husband, Robert Edwards and her beloved daughter, Tammy Edwards.
More ...