Subscribe/Access
Advertisements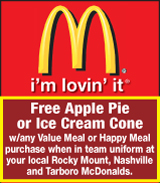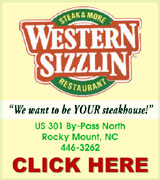 Sections
Member Options
Back
Nashville makes top 50 safe cities


The Town of Nashville was recently named one of the top 50 safest cities in the state.
The SafeWise report lists Nashville as number 30 in the report.
To compile the report, SafeWise used the most recent FBI crime data from 2012 to analyze and rank the cities. To make the top 50 list, a city had to have a population of over 5,000 as of 2012 and needed to meet criteria regarding both violent and property crimes.

More ...
AMANDA CLARK, GRAPHIC STAFF WRITER
GINGRAS
Nashville man killed at Rocky Mount hotel
A homeless couple have been charged with killing a Nashville man at a Rocky Mount motel last week.
The two suspects have been identified as William Richard Gingras, 34, and Natasha Maria North, 21. Both are reportedly from Massachusetts but authorities say more recently they have been homeless. Both suspects were traveling through Rocky Mount and are believed to have only been in the area since Easter weekend.
More ...
BATBOY AT BLOCK PARTY
Little Ryan Jones, 7, enjoys actitivies at the Collins Street Block Party held Saturday afternoon outside of Nashville United Methodist Church. The event was free to the public and offered games and food for the community. The event was also a fundraiser for the church to purchase Bibles for youth in the community.
More ...
Blooming Festival starts May 7th!
The Nashville Chamber of Commerce is gearing up for the 18th annual Nashville Blooming Festival.
The festival is slated for Mother's Day weekend, May 7 through 10 in Downtown Nashville.
Amusement rides will open on Wednesday, May 7 at 5:30 p.m. in the parking lot next to the Nash County Courthouse. There wild be a special price for rides on Wednesday and Thursday nights, with wristbands being available for $20 per night for unlimited rides.
More ...
Nash County meets with NC Legislators


Nash County Commissioners met with state legislators on Monday night to go over priorities they want legislators to consider in upcoming sessions.
All four local state leaders, Senators Angela Bryant and Buck Newton and Representatives Bobbie Richardson and Jeff Collins, attended the meeting, which was held at Texas Steakhouse in Rocky Mount.

More ...
AMANDA CLARK, GRAPHIC STAFF WRITER
LIBRARY LUNCHEON
Celebrity server Victor Fenner serves lunch on Saturday at the annual Cooley Library Ladies Luncheon, which was held at the home of Kate and Marion Barnes. The event is put on  each year by the Friends of the Harold D. Cooley Library. Proceeds from the event goes back to the library.
More ...
NPD Spotlight
The Nashville Graphic is introducing officers of the Nashville Police Department each month as part of an "Officer Spotlight" series.  The articles are featured the last Wednesday of each month  to help Nashville residents get to know the officers who protect and serve their communities.
Officer Name:  Jason Scott Sullivan
More ...

The Wardrick Warriors enjoyed their first year having a Relay for Life team. The group said they look forward to next year's Relay for Life.

Rain interrupts Nash Relay


Cancer doesn't stop for rain and Nash County Relayers showed they don't stop for it either.
Though organizers of the 20th Annual Relay for Life had to eventually call off Friday night events, they held off for as long as possible.
Survivors were able to start the survivor walk but as the rain started to fall  harder, thunder and lightning also became a part of the mix, forcing relayers to seek shelter.

More ...
AMANDA CLARK, GRAPHIC STAFF WRITER
Nashville General Store opens in downtown


The sound of the screen door slamming shut and floor boards creaking are just one way Nashville's General Store takes you back in time.
The store also offers the opportunity for customers to enjoy a coca cola straight out of the bottle as well as some edible treats that will remind you of days past.

More ...
AMANDA CLARK, GRAPHIC STAFF WRITER
Nash Health Care acquires Carolina Otolaryngology
Nash Health Care recently acquired Carolina Otolaryngology---the medical practice of Dr. Michael Crawford, Dr. Robert Hendrix and Dr. Bennie Jarvis. The practice moved to its new location in the Medical Office Building on the Nash Medical Arts Mall on April 15. 
More ...
Deputies find heroin on Nashville man during vehicle search
The Nash County Sheriff's Office arrested a Nashville man last week after discovering heroin in his underwear.
Members of the Patrol and Narcotics Division stopped a vehicle on US 64 Westbound in front of the Nash General Hospital exit on Monday, April 21.
During a search, officers found 28-year-old Justin Pierre Chavirs, of Bass Drive in Nashville, hiding 24 bindles of heroin in his underwear, along with four grams of marijuana.
More ...
I-495 signs go up on 64
Motorists traveling on U.S. 64/264 and U.S. 64 between Interstate 440 in Raleigh and I-95 in Nash County are seeing something new along the highway. Signs began going up last week announcing the current and future designation of I-495.
The N.C. Department of Transportation placed I-495 shield signs along U.S. 64/264 this week between I-440 and I-540.
More ...
NASHVILLE POLICE BRIEFS
INCIDENTS
A possession of marijuana and possession of a concealed weapon was reported on 4/22/14 at Wal-Mart in the parking lot, 1205 Eastern Avenue
A possession of heroin, possession of marijuana and possession of drug paraphernalia were reported on 4/22/14 at 479 W Washington Street, in the parking area of L&L #14
More ...
NASH COUNTY SHERIFF'S OFFICE REPORTS
An assault on a female was reported on 4/21/14 at 4908 Dogwood Drive
An assault on a female was reported on 4/21/14 at 4534 W Castalia Road
An assault on a female was reported on 4/21/14 at 8909 School Street
A narcotics violation was reported on 4/21/14 at W US 64 and Winstead Avenue
More ...
Relay for Life pics, 1


BLOCK PARTY - Avery James, nine months, experiences his first bouncy house at the Block Party.

More ...
Graphic photos by Amanda Clark
Relay for Life pics, 3
Emmett LaHay sets up luminaries on Friday afternoon. Nash County 4-H'ers help with the luminaries. Due to the bad weather on Friday night, the luminary ceremony was unable to be held. However, Relay organizers are hoping to reschedule.
More ...
Middlesex woman hosts luncheon for senior widows


Ten years ago, Brenda Stallings decided to do something for women in the community.
Stallings said since she was retired, she wanted to give back.
"I was inspired to do something for senior ladies," she said.
Stallings contacted a few friends to help and the group put together a luncheon for senior widows in December of 2004.
"We started with four servers," Stallings said. "We now have 16."

More ...
AMANDA CLARK, GRAPHIC STAFF WRITER
EARTH DAY
To celebrate Earth Day, Nash Community College's Student Government Association hosted Green Day activities on Tuesday, April 22. Students, faculty and staff wore green attire, held a tree planting ceremony and picked up litter along Old Carriage Road. The Nash Community College campus comes together annually to acknowledge Green Day by planting trees and hosting a guest speaker.
More ...
Nash Breast Care Center named Pink Ribbon Facility
The Nash Breast Care Center was recently honored by being named a Pink Ribbon Facility. The award is given to digital imaging centers for providing excellence in breast health care coupled with the latest technological innovations. It also recognizes the center's exceptional commitment to the women of its community. The award was presented by Hologic, a health imaging company.
More ...
Girl Scout Leader Appreciation
The Rocky Mount/Nash Girl Scouts celebrated their annual Girl Scout Leader Appreciation on April 10th, 2014. They celebrated with a meal from Doug Sauls, which was served by several members of the Rocky Mount/Nash Girl Scouts Older Girl Advisory Board. Several local businesses gave items or gift cards to be used as door prizes, thanks to those businesses for their support.
More ...
Red Oak man named head at Caledonia
James Vaughan, of Red Oak, has been named by the Division of Adult Correction and Juvenile Justice as the new superintendent at Caledonia Correctional Institution. The prison employs a workforce of about 325 employees and houses about 560 male inmates in medium and minimum custody.  It is the home of Correction Enterprises farming operations and cannery.
More ...
ENGAGED
Rossie and Margaret Williams, of Rocky Mount, announce the engagement of their daughter, Brittany Lauren Williams, of Rocky Mount, to James Christian Reuter, of Raleigh. He is the son of James and Andrea Reuter, of Rocky Mount. A July 19, 2014 wedding is planned at Nashville Baptist Church.
More ...
80th birthday
David Earl Cooke of Momeyer celebrated his 80th birthday Saturday with family and friends. He turns 80 on April 30, 2014.
More ...
UNC-G announces grads and fall honor students
Chancellor Linda P. Brady has announced the names of Summer and Fall 2013 graduates, and of students who attained Deans' List and Chancellor's List honors at The University of North Carolina at Greensboro during the Fall 2013 semester.
More ...
Talk show continues "Health Matters to You and Me" series
East Coast Talking Talk Show (ECT) is continuing its series of health awareness seminars titled "Health Matters to You and Me" between now and December.
The next series will be held on Wednesday, May 7 and will focus on Hepatitis, HIV, Melanoma and Lupus.
The seminars will take place each month at the Booker T. Theatre, at 170 East Thomas Street in Rocky Mount.
More ...

Red Oak Elementary School Principal Eric Mitchell (at left) chats with Red Oak High School alumni Jack O'Neill (at right) in the gym of the school during a tour.
Red Oak HS Class of '64 celebrates 50 years
Alumni of Red Oak High School's Class of 1964 met last Saturday to reminicse over the past 50 years.
Twenty-six students attended the reunion event, which was held at the Red Oak Community Building on Saturday, April 19. Another event was held on Friday, April 18 at the Rocky Mount Shrine Club.
Students were given engraved tea glasses and an up-to-date book with names, addresses and birthdates of all classmates and teachers.
More ...
HANDS ON LEARNING
Rocky Mount Academy Pre-K teacher Amanda Baker helps student Emma Batchelor with a jelly bean project. Students sorted and graphed jelly beans by color. The activity incorporated hands-on math and fine motor skills.
More ...
Jim Haywood Ride to Stop Puppy Mills is May 15
The NC Shelter Project invites the public to join the Jim Haywood Ride to Stop Puppy Mills from 11 am - 2 p.m. on May 15 at the Raleigh Legislative Building at 16 W. Jones Street. A fee of $10 per person is required, all proceeds will go towards Promoting Animal Welfare of NC, a group supporting the Nash County Animal Shelter where Jim volunteered.
More ...
MOUNT ZION FWB CHURCH NEWS


The choir sang "Amazing Love" for the call to worship. Pastor Ronnie welcomed everyone and prayed the prayer of invocation. Robert and Amy Tyner & Friends provided music for today. Amy does most of the singing. The guys all play guitars. There are four of them. Songs they chose today were "Our God," "10,000 Reasons," "Roof Tops," and "Lord I Need You."

More ...
ROSALENE BASS
PEACHTREE COMMUNITY NEWS


On a wonderfully warm spring morning, Peachtree folks gathered for worship.  The sanctuary flowers were given by Catherine Gupton in memory of her husband, G.B., and her parents, Ned and Kate Wester.
The worship began with a solo by Marta Whitehouse.  She sang a beautiful arrangement of "In the Garden".  The observance of the Lord's Table was administered by the pastor, with the assistance of the deacons.

More ...
BARBARA HARDISON
RED OAK NEWS


Women in Action missions group met at Red Oak Baptist Church on Thursday, April 24.  They enjoyed supper, fellowship, program, and planning missions projects.  Those attending were Robin and Julie Kelly, Maureen Williams, Marion Faulkner, Audrey and Suzy Pearce, and Karen Girona.

More ...
Suzy Pearce
BEULAH COMMUNITY NEWS


Each week in my Beulah News I let my readers know that I would like for them to let me know about news from their areas and families if they would like to have it printed. As I began to think about printing the news this week, I was considering not writing it this week. I feel the readers would like to hear something besides who is sick or may have passed away.

More ...
WILMA ENROUGHTY
Parkview Nurses Alumnae celebrate 100th Anniversary
The Park View Hospital Nurses Alumnae Association is celebrating the 100th Commemorative Anniversary of the hospital, and 25 years of the Park View Hospital Nurses Scholarship at Nash Community College. To celebrate both occasions, a luncheon with entertainment will be held June 28, 2014 at the College.
More ...
UDC Bethel Heroes
Dr. Jon Lee Wiggs, center, was the guest speaker at the April meeting of UDC Bethel Heroes 636. He spoke on the devastation of eastern North Carolina countryside during the last major War Between the States battle at Bentonville, NC.  Pictured with Dr. Wiggs, are Bethel Heroes members Donna Boykin (left) and Connie Cobb (right). Contributed photo
More ...
Rocky Mount Rotary Club
Rotarian President-Elect Ron Green, left and President Krista Ikirt, center, stand with John T. Capps, who spoke to the Rocky Mount Rotary Club on Monday, April 21 at the DoubleTree hotel during their 1pm meeting.
More ...
Nash County Blood Drives for May 2014
Friday, May 9 from 8 a.m. until 12:30 p.m. at Rocky Mount Preparatory School, 3334 Bishop Road, Rocky Mount
Friday, May 9 from 10:30 a.m. until 3 p.m. at Braswell Memorial Library, 727 North Grace Street, Rocky Mount
Monday, May 12 from 2 until 6:30 p.m. at Sharpsburg Volunteer Fire Department, 300 Taylor Road, Sharpsburg
Tuesday, May 13 from 3 until 7 p.m. at Stony Hill FWB Church, 9649 Stony Hill Church Road, Middlesex
More ...
MILITARY NEWS
Air Force Airman 1st Class Jordan D. Reynolds graduated from basic military training at Joint Base San Antonio-Lackland, San Antonio, Texas.
The airman completed an intensive, eight-week program that included training in military discipline and studies, Air Force core values, physical fitness, and basic warfare principles and skills.
More ...
The "Last One" is celebrating his 7th birthday


"Uh-huh, uh-huh, uh-HUH," that's how a nightly ritual begins with my youngest son, right after his bath. After a lengthy time of coercion, he at least does the rest of the family the courtesy of putting on underwear as he dances and gyrates near his pajamas before falling over laughing at his hysterics.
Sometimes, his sister or brother will throw something at him, but have learned by now that neither words nor sticks or stones can hurt Lowell.

More ...
Mike Brantley
Thank you to all the Blooming volunteers!


Good grief! It's already time for the Nashville Blooming Festival! Can you believe it?
This year's festival will definitely be an exciting one.
Being a part of The Nashville Graphic gives me a little insight on how Nashville's festival is put together and let me tell you, it's not an easy process that happens overnight.

More ...
Amanda Clark
We are all proud of Nashville's safe status


Congratulations are in order to Nashville, its leaders, town staff and citizens, for being named to the top 50 Safest Cities in North Carolina by the SafeWise report. Nashville was listed as number 30 on the list.
Nashville Police Chief Tom Bashore and his staff are to be commended for their work, on and off duty, in our community.

More ...
Jo Anne Cooper
Backward Glances


SUMMERTIME –– We found this photo in our 1957 archives. We're guessing it was taken at a family picnic or some type of community function during the summer. If you know any of the people or where it was taken, give us a call at 459-7101. (Graphic file photo)

More ...
A PICTORIAL LOOK INTO THE PAST

THIS ONE IS MINE. Northern Nash keeper Olivia Bunn (left) makes a save for the Lady Knights during last Thursday's girls soccer win over Nash Central.

Soccer Showdown To Knights


ROCKY MOUNT -- Hoping to gain a spot in the Class 3-A Girls Soccer State Playoffs, the Northern Nash Lady Knights picked the right time to enjoy a clutch week.
Northern Nash won a pair of matches against league foes Southern Nash (Tuesday) and Nash Central (Thursday) to solidify the Lady Knights' standing in fourth place in the Big East Conference.

More ...
GEOFF NEVILLE, Graphic Sportswriter

BIG THROW FROM THE BIG CAT. Bryan Braswell lets loose with a drive on the seventh hole of the disc golf course he designed at Glover Park in Nashville. Braswell also produced the layout at Nash CC.

DESIGN TAKES FLIGHT


NASHVILLE -- Once known as 'The Big Cat' for his baseball exploits, Bryan Braswell is now a top dog on the area disc golf design circuit.
Braswell, a former diamond standout at Northern Nash and later Campbell University, returned home to Nash County upon his graduation and quickly became immersed in the sport of disc golf.

More ...
GEOFF NEVILLE, Graphic Sportswriter

BASE SWIPE. Northern Nash's Dwight Daniels (right) takes second base for the Knights as part of Thursday's road victory vs. Nash Central.

NN STAYS SHARP


RED OAK -- Northern Nash's upstart baseball team is way ahead of schedule -- and on cusp of a Big East Conference baseball championship.
The underclassman-dominated Knights and first-year coach Leonard Allen could have wrapped up the title on Tuesday with a home victory against Wilson Fike.

More ...
GEOFF NEVILLE, Graphic Sportswriter
Southern wins over Northern


STANHOPE -- Southern Nash kept pace in the Big East Conference softball standings last Tuesday with a 15-5 home victory against the Northern Nash Lady Knights.
The contest was called after five innings due to the mandatory 10-run rule.
Olivia Lamm was the winning pitcher for SN as she went the distance, striking out three and walking three.

More ...
Staff Reports

ATHLETES OF THE YEAR. Josh Morrison (left) and Tiffany Bell (right) receive the North Carolina Wesleyan Athlete of the Year Awards for the 2013-14 school year from NCWC Athletic Director John Thompson.

The Bishops' Best


ROCKY MOUNT -- The North Carolina Wesleyan College Department of Athletics hosted its 49th Annual Awards Ceremony last Wednesday at Minges Auditorium of the Dunn Center.
Coaches, staff and student-athletes came together to celebrate the accomplishments of both individuals and teams from the 2013-2014 season.

More ...
Staff Reports
ECU Pirates claim road series


BOCA RATON, FLA. -- David Lucroy struck out a season-high 11 batters, while Eric Tyler scored the game-winning run on a wild pitch as East Carolina University (27-18, 13-8) claimed the Conference USA baseball weekend series over Florida Atlantic (22-21, 10-14) Sunday afternoon, 2-1.
Tyler darted home on a Bo Logan wild pitch in the top of the fifth giving ECU a 2-1 lead, which proved to the game-winner.

More ...
Staff Reports

EVEN-KEELED. Nash Central's Sarah Keel makes a tag at first base during last Thursday's victory over Northern Nash in Big East Conference softball action on the NCHS campus.

Back In The Race


ROCKY MOUNT -- Thanks to a late-season flurry, the Nash Central Lady Bulldogs are back in the thick of the Big East Conference softball race.
Nash Central is currently part of a three-way tie -- along with Southern Nash and Wilson Fike -- for third place behind league leader Wilson Hunt.

More ...
GEOFF NEVILLE, Graphic Sportswriter
Mudcats can't control the Keys


FREDERICK, MD. -- First baseman Jerrud Sabourin logged four hits in his 2014 debut with the Carolina Mudcats, but the Frederick Keys pulled away for a 10-3 victory on Sunday afternoon at Harry Grove Stadium.
Sabourin doubled in his first at-bat and followed with three singles.
Baltimore Orioles third baseman Manny Machado went 4-for-4 with two doubles, two RBI and three runs scored in his third rehab outing with the Keys (10-13).

More ...
Staff Reports
County players win the league


WILSON -- For the second straight year, the championship podium at the Big East Conference Boys Tennis Tournament was an All-Nash County affair.
Nash Central senior standout Jackson Willis repeated as the singles champ at the annual event, which was held last week at the Barton College Courts.

More ...
Staff Reports
I NEED MY SPACE
Nash Central's Kaley Sharpe (right) tries to gain some operating room while being defended by Northern Nash's Brittany Miller last Thursday.
More ...
MACK ON THE MARK
Nash Central's Khalil Macklin delivers a pitch during last Thursday's home baseball game against backyard rival Northern Nash HS.
More ...
MULTI-TALENTED INDIVIDUAL
Bryan Braswell was a baseball star at Northern Nash and Campbell University, and now he's a low scorer on the area disc golf scene.
More ...
JAMES REDDEN "J.R." WORDSWORTH
James Redden "J.R." Wordsworth passed away Friday, April 25, 2014.  He was born February 19, 1921 in Edgecombe County at Leggett, to the late James R. and Alice J. Wordsworth.
More ...
ANGELA EILEEN WHITLEY
Angela Eileen Whitley passed away Sunday, April 27, 2014.  Angie was born on July 25, 1963 in Rocky Mount.  She was preceded in death by her father, Rudolph Frankin Whitley as well as an infant grandson, Tanner Whitley.
More ...
BOBBY CLIFTON FARMER
Bobby Clifton Farmer, age 74. Passed away on Saturday, April 26, 2014. Bobby was born in Durham, on March 1, 1940. He was the son on the late Clifton Curtis Jones and Ethel Mae Thomas.
More ...
DENNIS "BUD" RAY GODWIN
Dennis "Bud" Ray Godwin, 51, passed away, Friday, April 25, 2014. He was born October 4, 1962 in Nash County to the late Ollie and Annie Mae Winstead Godwin.
More ...
JANICE M. PERRY
BROOKLYN, NY—Funeral services for Janice M. Perry of Brooklyn, N.Y., formerly of Louisburg, who died Wednesday, April 16, 2014, were held Wednesday, April 23, at Perry's Missionary Baptist Church, with the Rev. Randolph Alston officiating. Burial followed in the church cemetery.
More ...
JOHNNY HARRIS PHILLIPS
Johnny Harris Phillips, age 74, passed away on Tuesday, April 22, 2014. He was born in Hertford, NC on November 16, 1939 to the late Ennis T. Phillips and Lillian Harris Phillips.
More ...
LEE THOMAS BARNES
ROCKY MOUNT - Lee Thomas Barnes, Sr., 81, of Rocky Mount, formerly of Tarboro, died on Tuesday, April 22, 2014.
More ...
LEROY TISDALE
LOUISBURG - Funeral services for Leroy Tisdale, 51, who died Sunday, April 20, 2014, were held Saturday, April 26, at Mitchell Baptist Church, with the Rev. Dan Lilly officiating. Burial followed in the church cemetery.
More ...
PEGGY DARLENE BAKER-WHEELESS
Peggy Darlene Baker-Wheeless, 53, passed away, Tuesday, April 22, 2014. She was born May 10, 1960 in Nash County to the late Jimmy Baker Sr. and Inez Joyner Baker.
More ...
THELMA BERGENDAHL LUNDY
Thelma Bergendahl Lundy, 98, passed away on Monday, April 21, 2014. Thelma was born to the late Oscar E. and Cora C. Bergendahl on April 16, 1916 in Roanoke County, Va. She was also preceded by her husband, Claude V. "Bill" Lundy.
More ...
YVONNE BOSEMAN
Yvonne Boseman age 60 passed away Sunday April 20, 2014.  Yvonne was preceded in death by her husband Phil Boseman. She is survived by her son Phillip Boseman and wife Kristin and daughter Amy Abrams and husband Jandon  and 5 grandchildren.
More ...